Apple TV Sign in Loop? Fixed!
5 mins read
Just like iPhone, Apple TV is also an iconic device of Apple. As a smart microconsole, it is mainly used to play videos, music, video games on a connected television. Apple TV can enable its users to download various apps over the network connection. When dealing with these apps, users may need to sign in with an Apple ID account or other ones. In most situations, everything goes well. Nevertheless, the process of signing in may encounter obstacles. Well, this is not the imagination, but real troubles some users are facing. In the Apple Community, several users post the issues of login, such as Apple TV is stuck in a loop of verifying ID, stuck in an endless loop of signing into iTunes account, or stuck in a login loop. For these questions, we can conclude that Apple TVs of some users are being stuck in sign in loop. Well, if you are among these users, try to keep reading this tutorial which will discuss how to fix the Apple TV sign in loop error.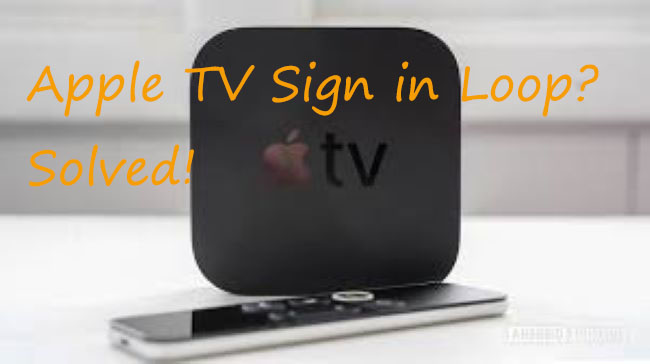 Way 1: Ask for Verification Code
For instance, when you sign in with your Apple ID account, you need to enter the ID, password, and the verifications code; then, enter ID, password and code again and again. This means that Apple TV is in a sign in loop. To solve the Apple TV stuck in sign in loop problem, you can follow the steps below:
Step 1: Go to your trusted device like iPhone or iPad. Tap Settings and then the Apple ID, iCloud, Apple Store option.
Step 2: On the new page, tap the Password & Security > Get Verification Code. When the verification code, be careful that do not tap OK.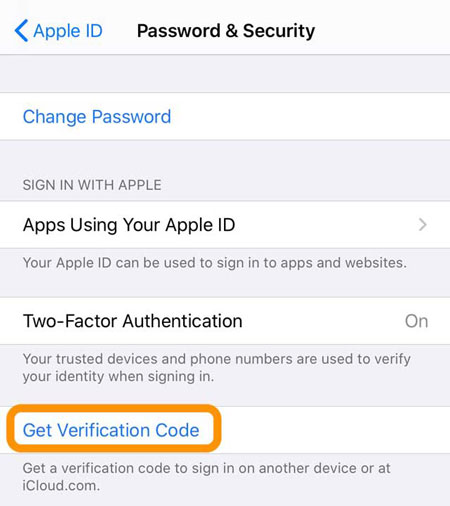 Step 3: Go to Apple TV. On the device, choose the iTunes/Apple Store login. When it comes to entering the password, enter it together with the six-digit verification code. When done, don't submit.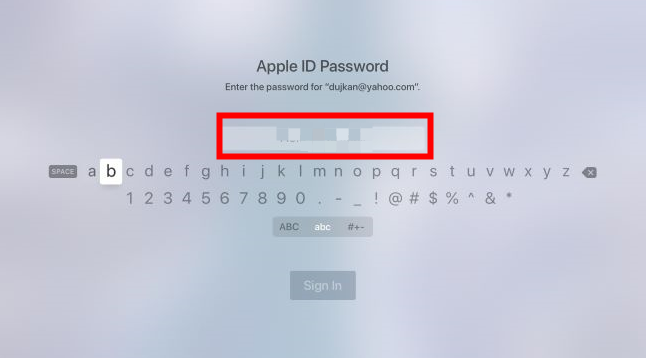 Step 4: Open your iPhone/iPad again, tap OK on the verification code page. To do this is because of the time-limited code.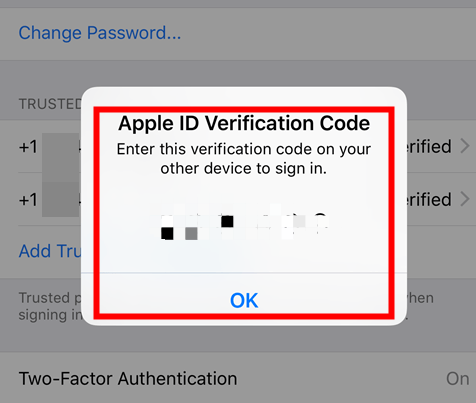 Step 5: Last, open Apple TV again and submit the password.
Way 2: Restart Your Apple TV
The first way may not work, just as some users having a try once said. Well, does this indicate that there aren't other ways? Of course, NOT. Here, we will introduce one of the common ways – restart your Apple TV. You can do this from Settings or Remote to solve the Apple TV login loop issue.
Option 1: If you'd like to open the Settings app on the Apple TV, try to tap System > Restart. This is for Apple TV 4k and HD. But for older models, you need to tap Settings > General > Restart.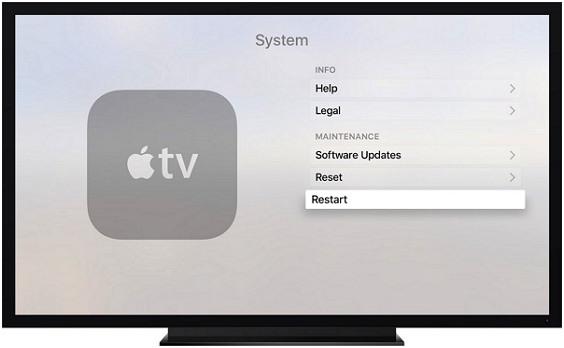 Option 2: For Siri Remote, press the Menu and Home buttons together. When the Apple TV status light blinks, you can release the buttons. Then, the Apple TV will restart itself. But for Apple Remote (aluminum), what is different is that you need to press the Menu and Down buttons.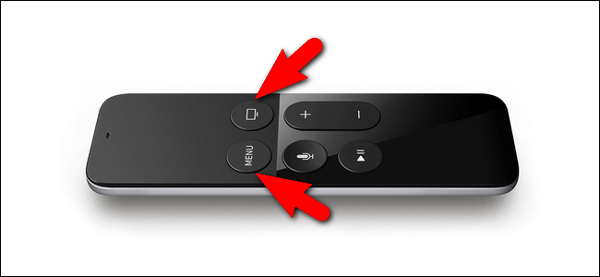 Way 3: Disconnect Apple TV Cables
There is another way you can turn off the Apple TV. But this way is simpler yet riskier if doing this too much time. It is unplugging all cables including power and HDMI cable. To do this, just disconnecting the cables and re-plugging these to the right ports again. Then, check if the Apple TV stuck in endless loop of sign issue can be fixed.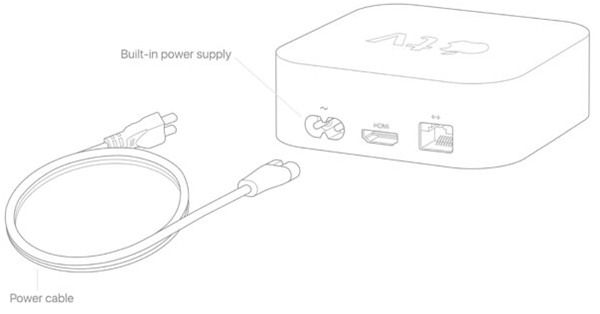 Way 4: Reset Apple TV
If the Apple TV sign in loop issue cannot be resolved by restarting the device, try resetting the device. To do this means your Apple TV will be forced to factory settings, with all settings and accounts erased. If you decide on the way, read the following steps.
For Apple TV Apple TV 4K and HD: Tap on Settings > System> Reset.
For older Apple TVs: Tap on Settings > General > Reset.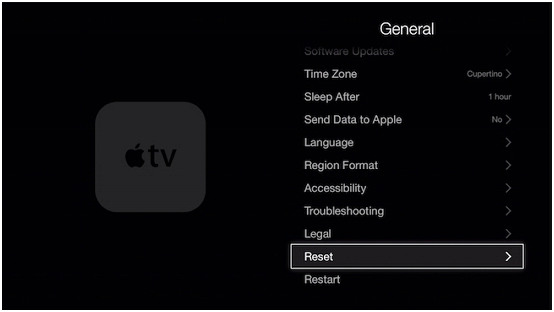 Way 5: Restore Apple TV via iOS Repair Tool
If you are unwilling to lose your data on Apple TV, do not miss the tool to be shown soon. This is iOS System Recovery software. For the Apple TV sign in loop error, it is 100% workable. Here, TunesKit iOS System Recovery is the most suitable toolkit for you.
TunesKit iOS System Recovery is one of the outstanding tools introduced by TunesKit. As a skillful and robust desktop program for repairing, it is able to fix 50 or so iOS-relative issues of iPhone, iPad, iPod and Apple TV, including Apple TV no signal, black screen, keeps restarting, etc. Within minutes, TunesKit can turn your iDevice back to normal without going outside for the Apple store, further saving your time. One of the striking characteristics is that it will not harm your data, but keep it intact. Additionally, it can help you enter or exit recovery mode with only one click.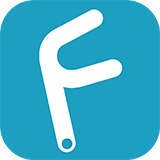 Characteristics of TunesKit iOS System Recovery:
Fix Apple TV stuck in sign in loop with a few clicks
Repair 30+ tvOS/iOS issues at home
100% safe and a high success rate
Easy to use with friendly interface
Try It Free
600,000+ Downloads
Try It Free
600,000+ Downloads
Now, follow us to fix the sign in loop issue with TunesKit.
Step 1: Open and launch TunesKit on the computer. Then, take out a USB cable to connect your Apple TV to the computer. Within seconds, TunesKit will successfully detect your device. If done, click the Start button.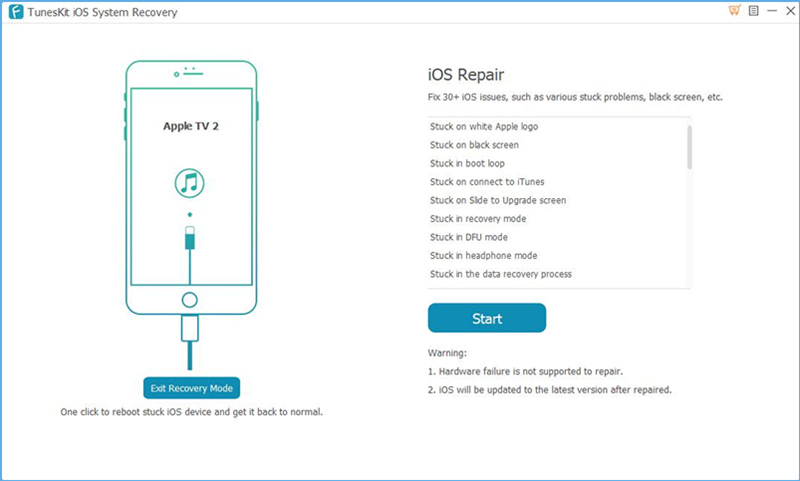 Step 2: In the new window, you will need a repair mode. Here, we recommend the Standard Mode which will not lead to data loss and can fix common system issues. If you decide, click the Next button. But if you have backed up the data to iTunes or iCloud, you can also pick up the other mode as you like.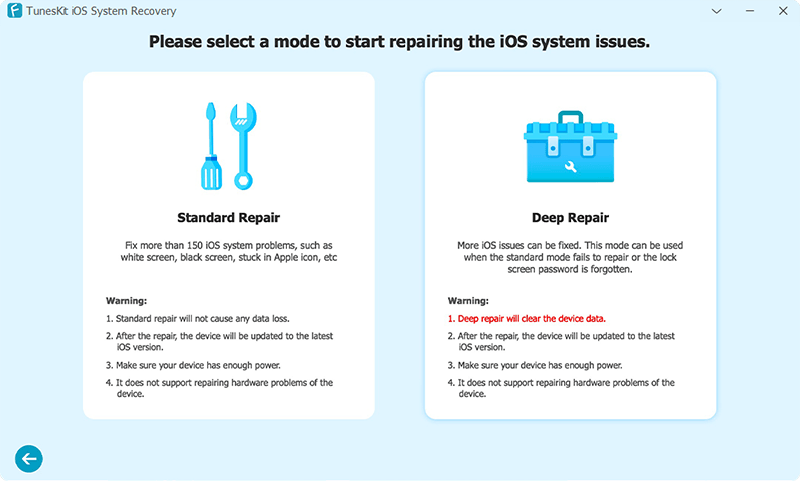 Step 3: Last, try to download the firmware package. The device info will be shown automatically. If there is any mistake, you can change the information manually. Then click the Download button. Wait for a while and then click the Repair button to fix Apple TV stuck in sign in loop.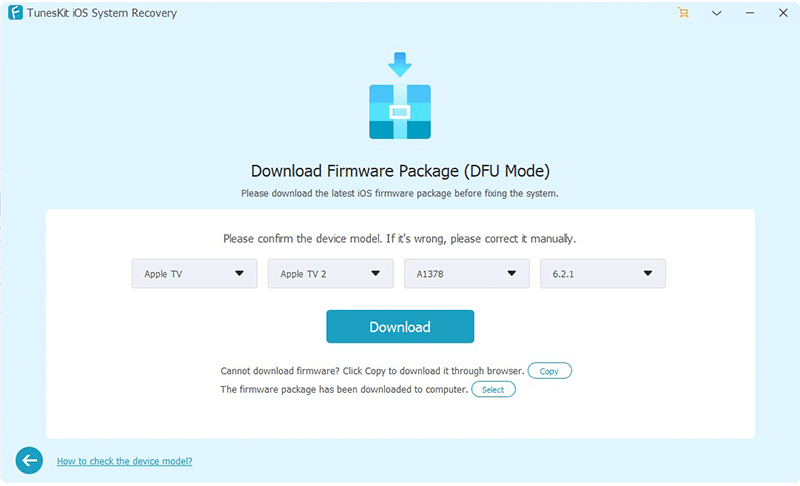 Way 6: Contact Apple Service
If all the ways described unluckily fail to be a fix, you can go to the Apple store or call Apple. Then, its staff will solve the sign in loop issue. In most cases, they will give you a guide and the Apple TV login loop can be fixed.
Final Thoughts
Hindered by the sign in loop issue, you can't enjoy any app content of Apple TV properly, causing frustration. But assisted by all the 6 ways in the tutorial, you can get the Apple TV sign in loop issue fixed. If you are grappling with the issue, try these solutions one by one.