Apple TV No Signal? No Worries
4 mins read
Apple TV is renowned for its accessibility and multifunctionality. It is a small network appliance and entertainment device which can let users play digital content like videos on a connected television. Just imagine such a situation. If your Apple TV has not any signal, what will happen? Well, this is just the real situation some users are encountering. Without a good signal, users can't watch their beloved videos or do other interesting things. Considering people may ask that why does my Apple TV say no signal and how to resolve the Apple TV no signal problem, this tutorial will tell you what you can do.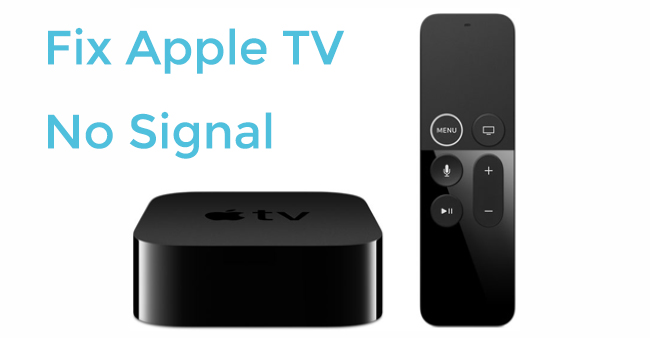 Way 1: Check All Cables
If Apple TV says no signal, this may indicate that the cables concerning the internet and power may be disconnected. So first, check all the Apple TV cables including the power and HDMI cables. You need to ensure that all these cables are in good status. If the simple and quick check is done and there is still no signal, try unplugging these cables. Then, plug these cables into the Apple TV source again.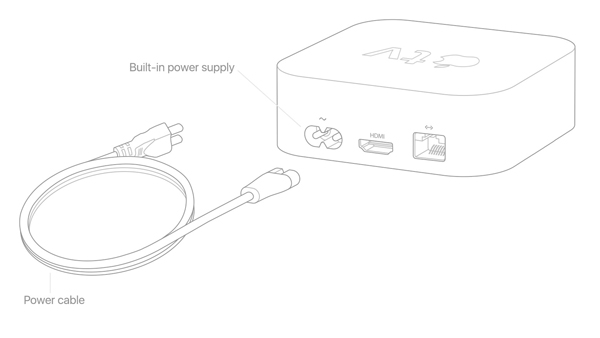 Way 2: Restart Apple TV
It is possible that most users may not work out the Apple TV no signal issue through cable check. Here, the second way is for you. Just reboot your Apple TV. It is a regular method that will not be harmful to your device. There are two options for you to power off the device and then turn it on.
Option 1: From Settings
• If you are using Apple TV 3rd Generation and earlier models: Open the Settings app. And then scroll down and tap the General option. When you see the Restart option, just tap it. The device will restart automatically.
• If you are using Apple TV 4K and HD: The steps are similar. Just go to Settings > System > Restart.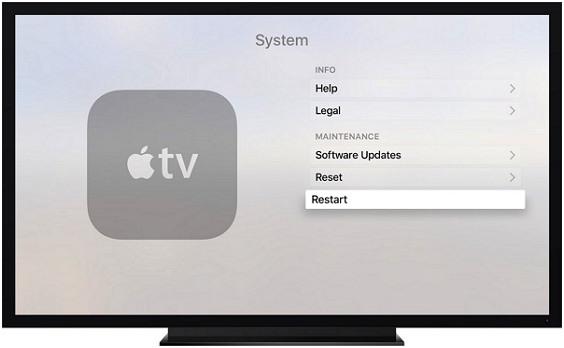 Option 2: Using Remote
• For the Siri Remote: press and hold the Home and Menu buttons together. When the Apple TV status light blinks rapidly, release the buttons.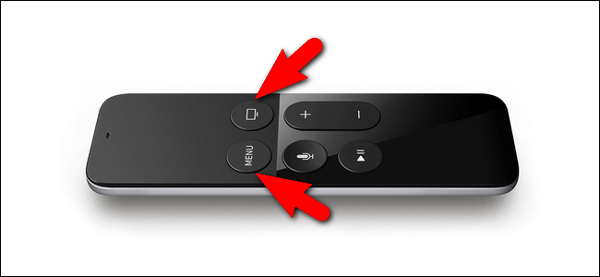 • For other Apple remote models: Press and hold the Down and Menu buttons at the same time.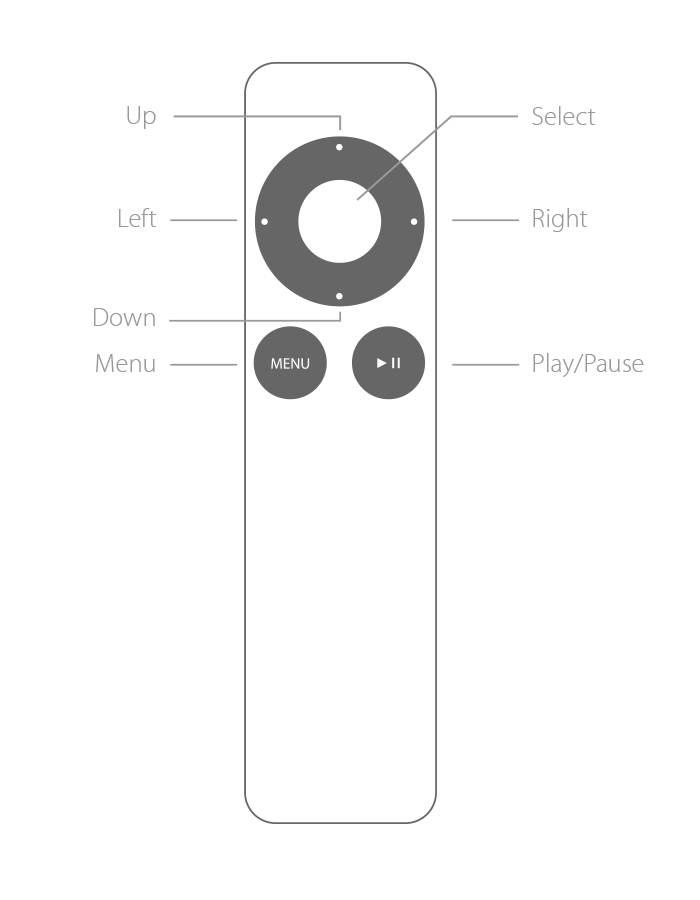 Way 3: Use an iOS Repair Tool
If applying a reboot does not fix the signal error, give the third-party iOS repair tool a shot. As the name implies, using such a tool to fix any iOS-related can turn your iDevice back to normal. On the condition that all the usual ways are not so workable, the repair tool is a good choice. Without visiting any store, you can fix any issue at home. Here, TunesKit iOS System Recovery is highly suggested. It certainly can fix the Apple TV error.
TunesKit iOS System Recovery is the desktop repair software targeted at iOS issues. It has both Windows and Mac versions. More than 50 issues are included in its scope of repair. For example, you can fix Apple TV black screen, recovery mode stuck, no sound issue, and much more. Of course, you can also fix Apple TV no signal within several steps. Surprisingly, TunesKit can prevent your data of device from being lost when you fix the device issue.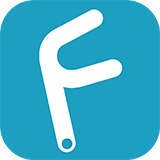 Characteristics of TunesKit iOS System Recovery:
Fix Apple TV no signal with a few clicks
Repair 30+ tvOS/iOS issues at home
100% safe and a high success rate
Easy to use with friendly interface
Try It Free
600,000+ Downloads
Try It Free
600,000+ Downloads
Now, let us see how to utilize TunesKit to fix the Apple TV says no signal issue.
Step 1: First and foremost, open and launch TunesKit on your computer, if you have downloaded the program. Then, the device is needed to be connected to the computer via a USB cable. Within seconds, TunesKit will recognize your device. After this, click the Start button.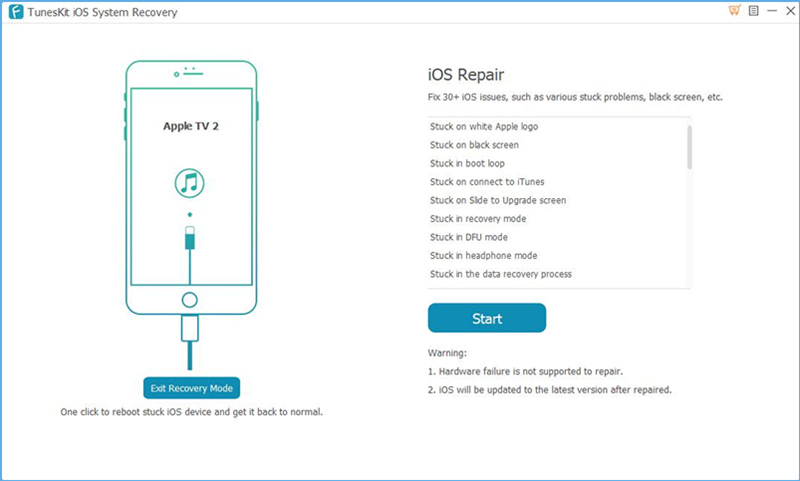 Step 2: Second, you need to select a repair mode. Here, try to choose the Standard Mode, as it will not erase your data. Well, if have backed up your data to iCloud, you can also choose another mode.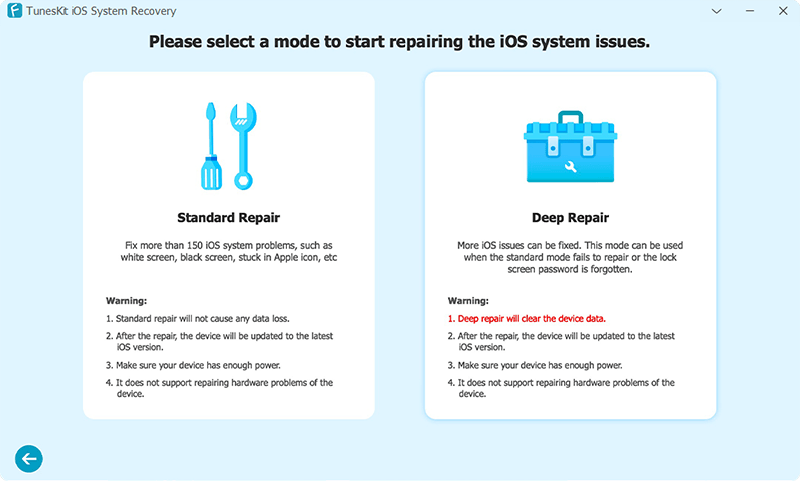 Step 3: Last, the firmware package should be downloaded. Before doing this, you can review the device information. Then, click the Download button. TunesKit will need several minutes to download the firmware. After downloading, click the Repair button to fix Apple TV says no signal.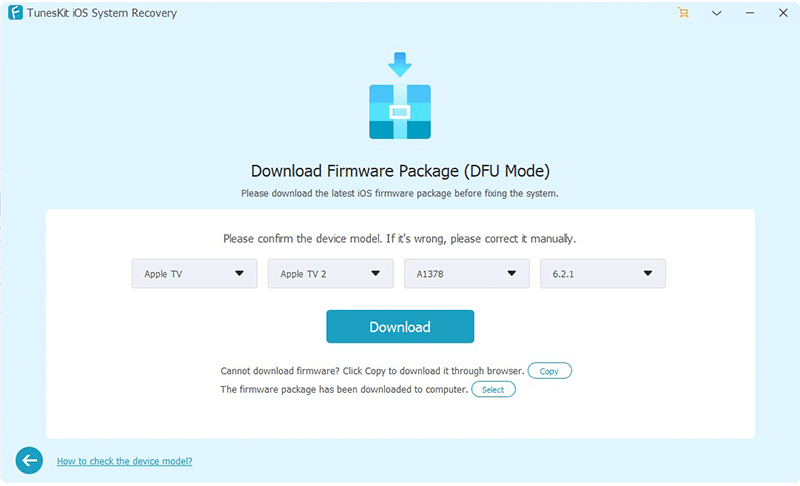 Way 4: Reset Apple TV
Resetting the Apple TV means a factory reset. So be careful that the device data has been backed up. To do this, the steps are simple and effortless.
• For Apple TV 4K and HD: You need to open the Settings app first. Then, go to the System option. Next, you will see the Reset option, and just tap it.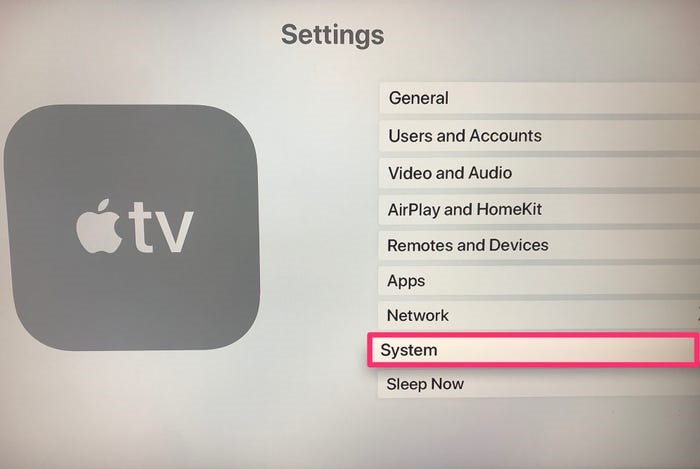 • For other Apple TV models: Go to Settings > General > Reset. After clicking the Reset option, the device will reset itself.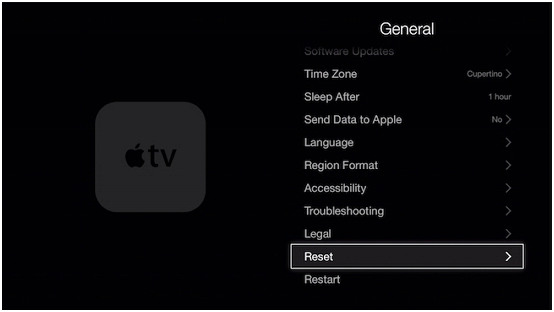 Way 5: Contact Apple Support
Whenever your Apple device is facing problems, you can call the Apple support center. So it is also practical to call them when facing the Apple TV no signal error. And the staff will tell you how to do and repair the Apple TV for you.
Final Thoughts
The Apple TV no signal is a disturbing issue, However, it is not an unusual issue, and there are multiple ways you can try. There are 5 solutions, one of which is using TunesKit iOS System Recovery. Compared with other ways, it will solve the issue with 100% certainty and safety. So try to download it and make good use of it.