Apple TV Flashing Light of Death? No Worries
4 mins read
Thanks to its lightweight and versatility, Apple TV catches people's eyes. And they are willing to use the device to play media content like music, videos, or games on a connected TV. Similar to iPhone and iPad, it also allows users to run apps. To let the Apple TV work, it should be connected to a television via HDMI cable. But some users have found that Apple TV has run into flashing light of death that has always persisted. If you are still perplexed by the issue, there is a guide on how to fix the Apple TV flashing light of death issue. It can make your efforts for solutions less bumpy.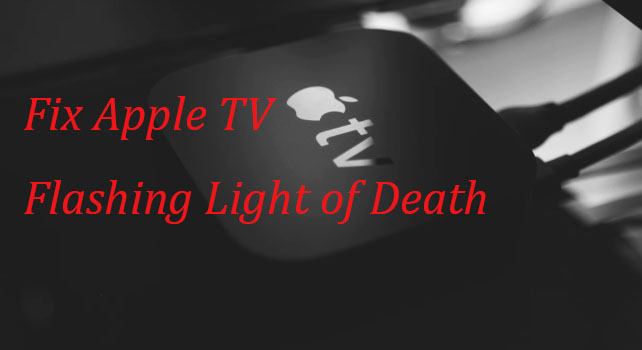 Way 1: Check All Cables
When you are faced with the Apple TV blinking light issue, such as the Apple TV 4K flashing light of death reported by users, make a check for all cables first. Whether for a power cable or HDMI cable, they should be placed correctly. Or directly plug out all these cables and then re-plug it after a while.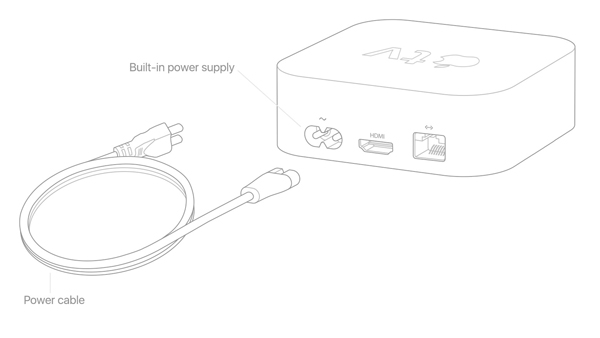 Way 2: Restart Your Apple TV
The adoption of a restart also works in fixing the Apple TV blinking light of death error. To reboot your Apple TV, here are 2 ways: through Settings or by Remote. Now, let us see how to do.
Option 1: From the Settings app
For Apple TV 4K and HD: Start by going to the Settings app on your Apple TV. Following this, tap System > Restart.
For other models: you need to tap Settings > General > Restart.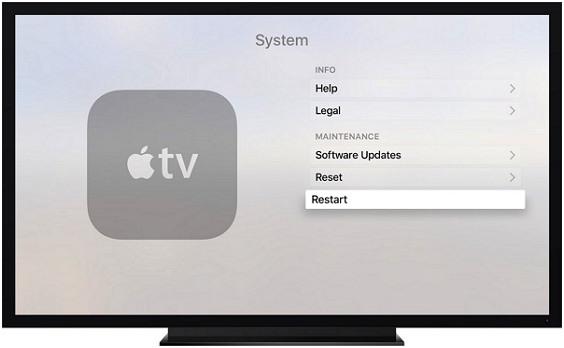 Option 2: Use the Remote
For Siri Remote: Keep pressing and holding the Menu and Home buttons at the same time. When the Apple TV status light blinks, release the buttons. Then, the Apple TV will restart itself.
For Apple Remote (aluminum): Press and hold the Menu and Down buttons together.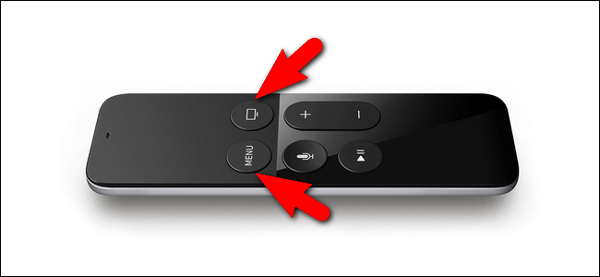 Way 3: Fix Apple TV via iOS Repair Tool
An iOS system recovery tool is astonishing for rectifying your Apple devices. Some software may not consider Apple TV, but TunesKit iOS System Recovery does. In addition to iPhone, iPad and iPod, Apple TV issues can be solved by it.
In general, TunesKit iOS System Recovery makes strides in the best solutions to more than 50 iOS issues. For example, its users utilize the software to fix Apple TV green screen, keeps restarting, cannot show app content, etc. The same is true of the Apple TV flashing light of death issue. It guarantees 100% success rate of repair. It also ensures that your data and information on your Apple TV can be protected. Of course, you can also use TunesKit to enter or exit recovery mode with one click or downgrade iOS.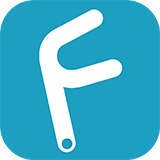 Characteristics of TunesKit iOS System Recovery:
Fix Apple TV blinking light of death with a few clicks
Repair 30+ tvOS/iOS issues at home
100% safe and a high success rate
Easy to use with friendly interface
Try It Free
600,000+ Downloads
Try It Free
600,000+ Downloads
Here is a full guide on how to use TunesKit to fix the Apple TV blinking light issue.
Step 1: As TunesKit is a desktop program, download one of its versions available on Windows or Mac first. Then, open and launch the program on the computer. After this, with a USB cable to connect your Apple TV to the computer. Wait for the software to confirm your device. If done, click the Start button.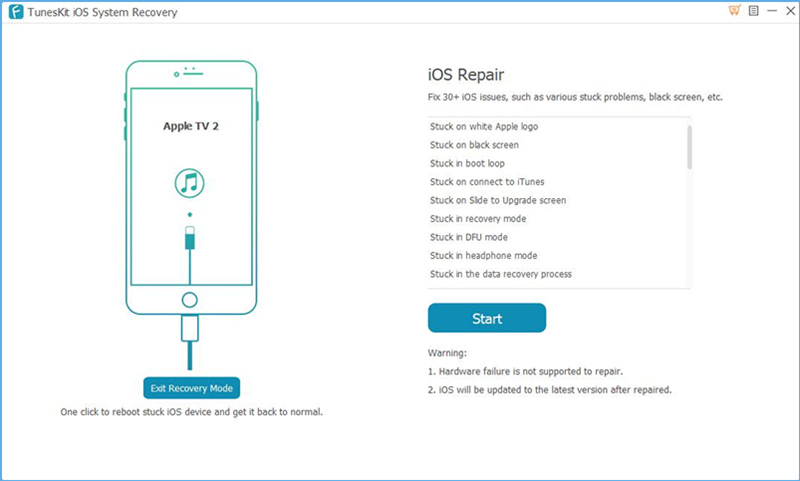 Step 2: In the pop-up window, you need a repair mode. Here, we recommend the Standard Mode which will not cause data loss. If you make a decision, click the Next button. But if you have backed up the data to iTunes or iCloud, you can also pick up another mode as you like.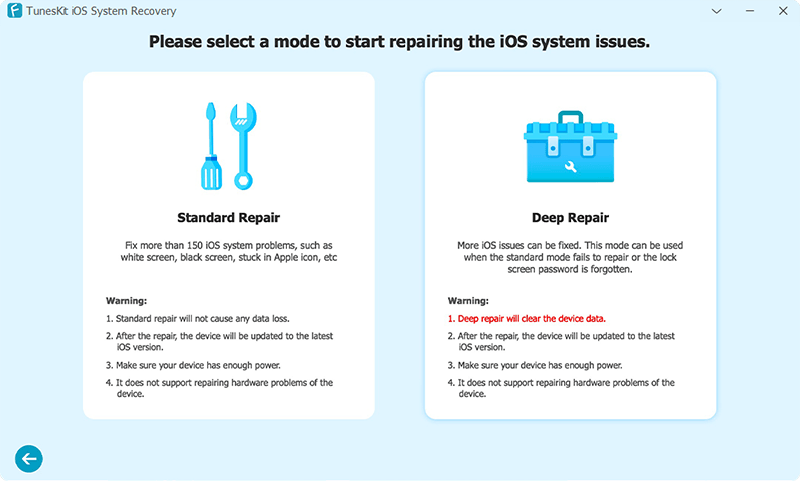 Step 3: Last, download the firmware package. The device info will be shown automatically. If there is any mistake, you can change the information manually. Then click the Download button. Wait for a while and then click the Repair button to fix Apple TV flashing light of death.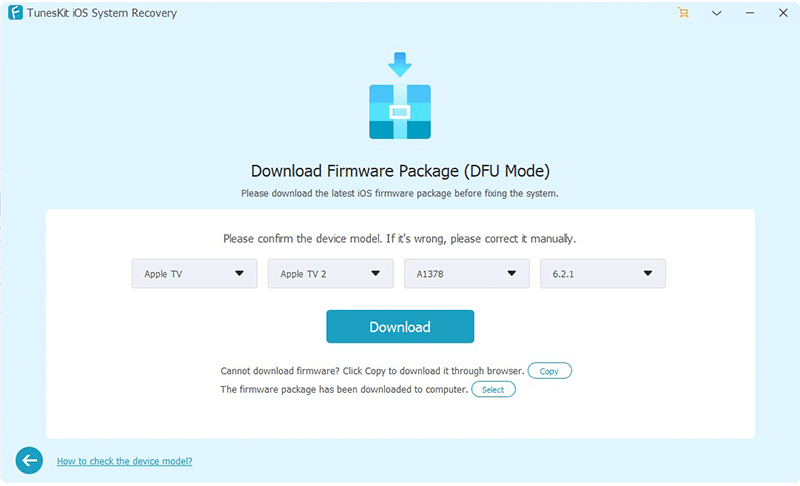 Way 4: Reset Apple TV
Even if the Apple TV flashing light of death does not disappear after you try some regular ways, you can reset your Apple TV. But you should keep in mind that doing so means factory reset. All your data on the Apple TV will be erased. To reset your Apple TV, take out your Remote and then follow the steps below.
For Apple TV 4K or HD: Tap Settings > System > Reset. Then, the Apple TV will show two options: Reset or Reset and Update. Just choose one as you like. Before the reset process is complete, do not plug out any cables.
For other models: Go to Settings > General > Reset.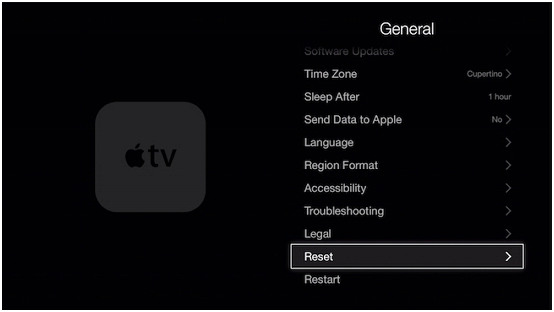 Way 5: Restore Apple TV via iTunes
Just like the fourth method, using iTunes will erase data. So before restoring your Apple TV, try to make a recent backup. The detailed steps are as follows.
Step 1: Unplug the power and HDMI cables from Apple TV. Then, connect one end of a USB-C cable to Apple TV and the other end to the computer correctly. For a 2nd or 3rd Generation Apple TV, use a Micro-USB cable.
Note: For a 3rd and 4th Generation, plug in the power cable. For a 2nd Generation, leave it unplugged.
Step 2: Next, open and launch iTunes/Finder on your computer. When iTunes/Finder detects the device, select Apple TV in the source list/slider bar, then tap Restore Apple TV.
Step 3: When the restore process is finished, plug all cables into the TV properly.

The Bottom Line
After attempting to use one of these ways, you must fix the Apple TV flashing light of death issue. When the issue is gone, you can enjoy the wonderful Apple TV for good. But to do so, TunesKit performs better. So try it.