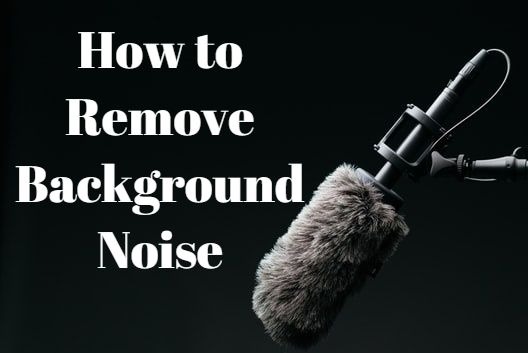 Just finished recording an audio track but not satisfied with the output quality because of the annoying background noise? It happens when you finish your audio recording under a noisy surroundings.Whether it's the wind, traffic or some people are talking in the background, it's not desirable to have those sounds included in your recording. But is there a way to remove background noise from your audio?
The answer is yes. In the following parts, I'm going to show you 3 best ways to remove background noise from audio on your computer.
Best Way to Remove Background Noise on Computer
If you're in search for a easy-to-use app to remove background noise from your video, then TunesKit AceMovi is hands down the best choice. No matter you've got an audio that need to be removed background noise from or a video shot in noisy surroundings, you can all load them in AceMovi and easily remove the background noise with just a few clicks.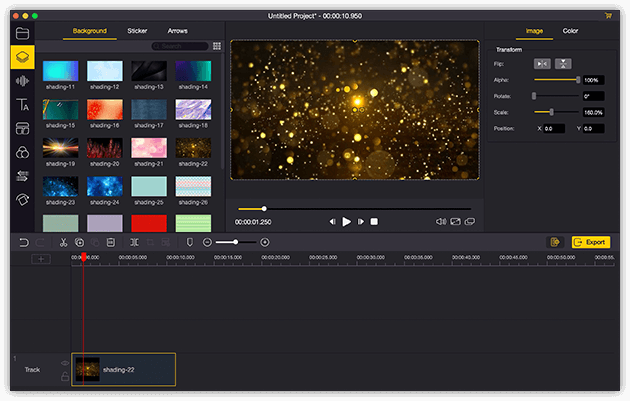 TunesKit AceMovi Video Editor is a one-stop video editor that provides multiple effects and transitions. It comes with a screen recorder which can record images as well as the sound coming out of your computer. As a well-established video editor, AceMovi is mounted with features like split screen, filters, animations, texts, and music library. The self-explanatory user interface comes with all the effects and tools you need to embellish your video. The in-built denoiser can help you easily remove background noise from audio and video files.

Key Features of TunesKit AceMovi Video Editor
Basic and advanced features that make your video better
Multiple filters, transitions, text, sound effects, music
User-friendly interface
Copy and paste media as many times as you want
Remove background noise in just a few steps
Next up, I'm going to show you how to remove background noise from video in TunesKit AceMovi. Before that, make sure that you have already installed TunesKit AceMovi on your computer, this software currently supports Windows and Mac systems.
Step 1

Add Media Files to TuneKit AceMovi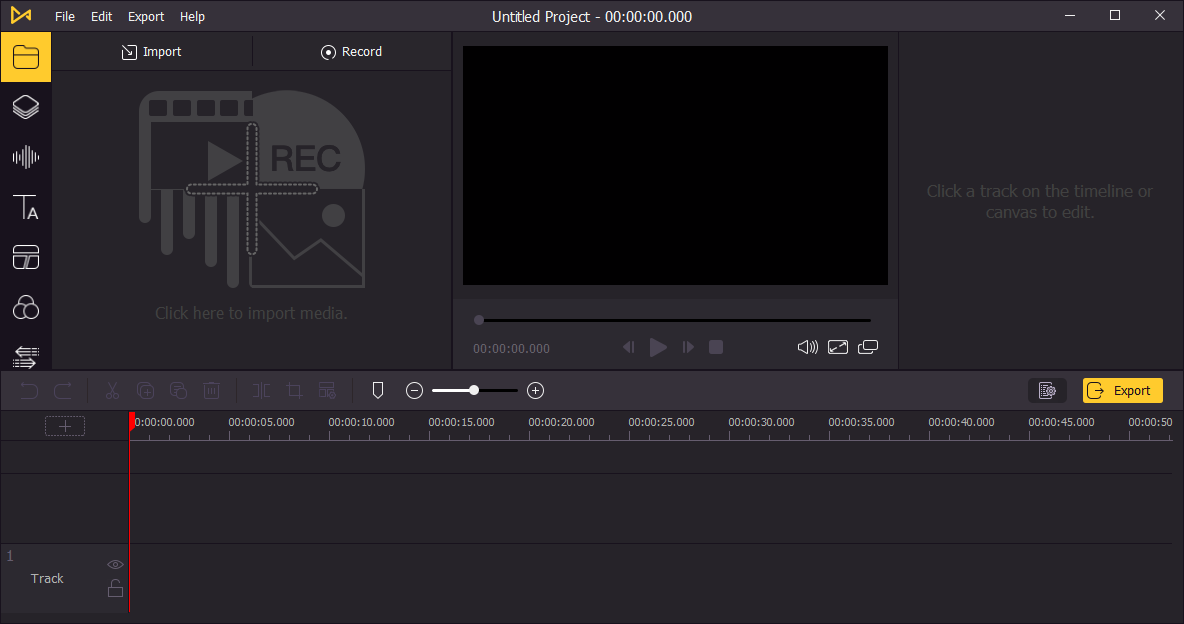 Open TunesKit AceMovi on your computer, then import the media to the AceMovi media box by dragging and dropping. Or you can click the Import button to add files.
Step 2

Add Media to the Timeline
Drag and drop the media to the timeline so that you can do further editing. You may want to drag the slider above the timeline to zoom in/out the timeline so that you can edit your audio or video more easily.
Step 3

Remove Background Noise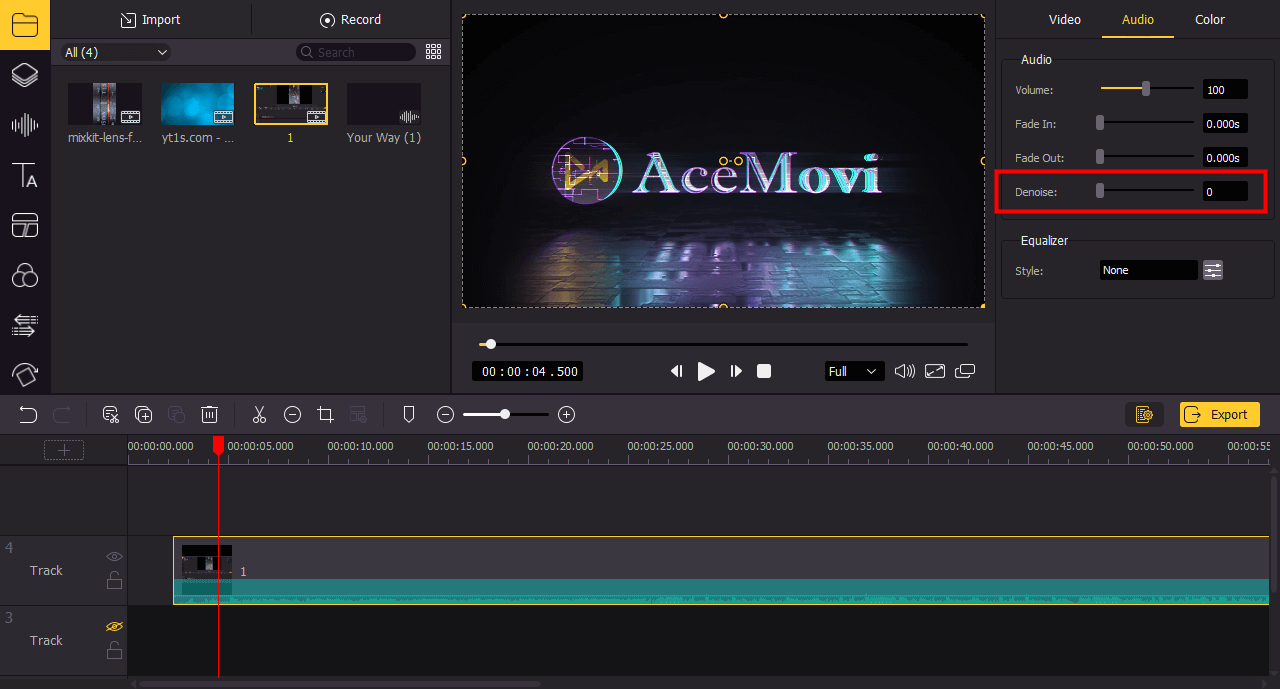 Click on the audio or video track on the timeline. On the top-right panel, under Audio, you'll see a Denoise feature. Move the slider to adjust the level of denoising. After denoising, you can click on the play button under the preview window to check the audio.
Step 4

Export the Media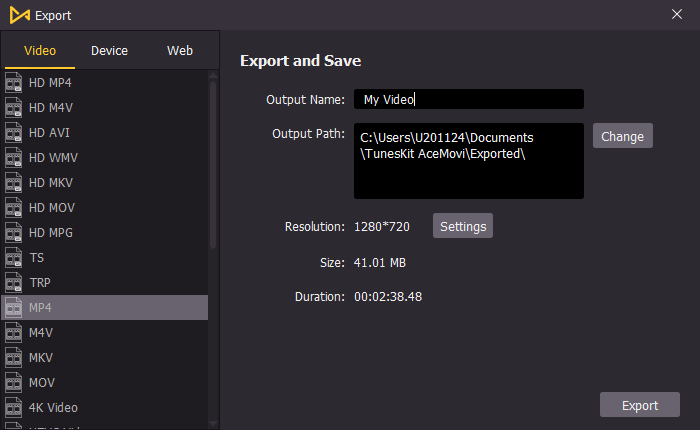 Once done denoising your audio, click the Export button on the middle left and export. Click the Settings, you'll be able to choose the output parameters. And by clicking the Change button, you can change the output location. You can export the audio only or the video with sound.
Cut Out Unwanted Audio Noise with TunesKit Audio Cutter
TunesKit Audio Cutter is one of the most efficient audio noise removers that can help you quickly cut off unwanted noises from any audio file without losing any quality. With this media cutting tool, you can easily cut out the noisy parts from all audios in any format and then export the clear track into other formats like MP3, AAC, WAV, FLAC, etc.
It allows you cut off multiple noisy portions from each audio track and then merge the clips into a new and more clear audio file. Besides, it can be used as a video splitter to cut large videos into small clips losslessly. Thanks to the built-in editor, you can also edit the audio/video with other effects if you like.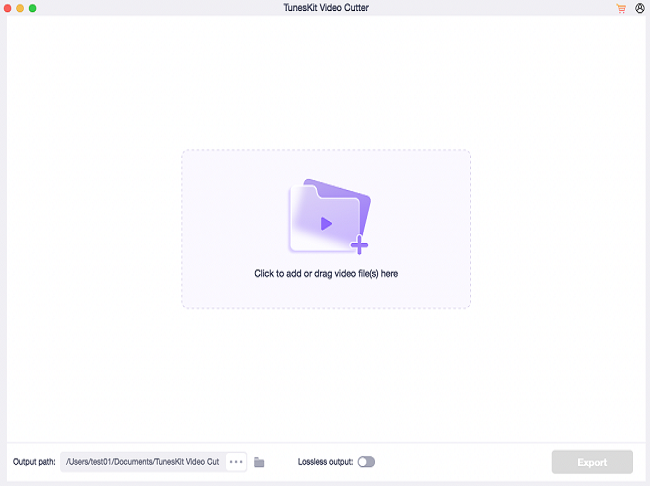 Key Features of TunesKit Audio Cutter
Remove noises from any audio and video
Cut audios and videos into small pieces losslessly
Save audio cuttings to MP3, AAC, WAV, etc
Step 1

Import the audio track into TunesKit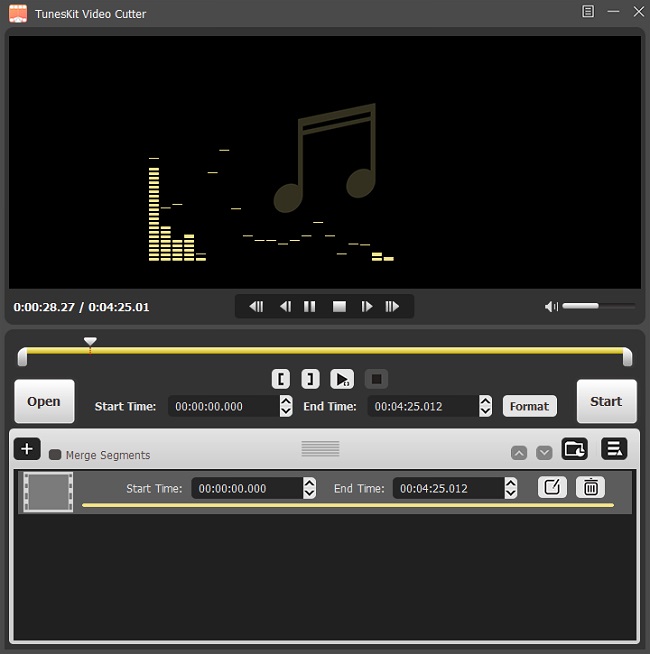 After launching TunesKit Video Cutter, directly drag the audio file to the main window. Or use the 'Open' button to load the track. Then it will begin playing in the preview window.
Step 2

Select noisy sections to be cut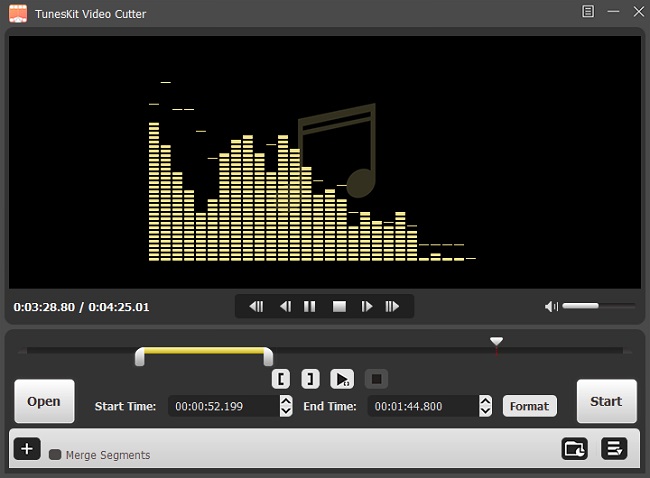 Move the slider bar to the point when the noise lasts. Or you can set the cutting section by manually changing the start time and end time via the time board.
Step 3

Set output format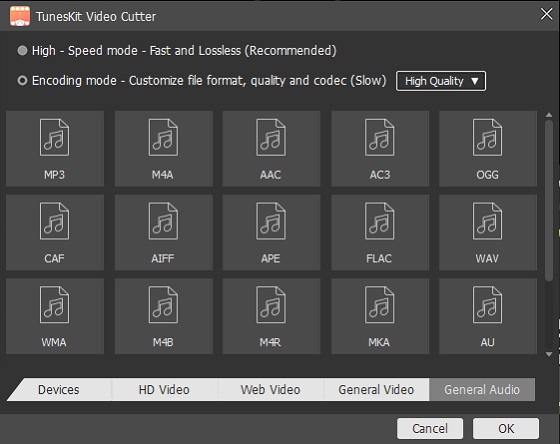 Click the 'Format' button to enter the profile window where you can freely select whatever output format as you want. You are also allowed to change the audio codec, channel, bit rate, sample rate, etc. in order to make the audio more personalized.
Step 4

Start removing noises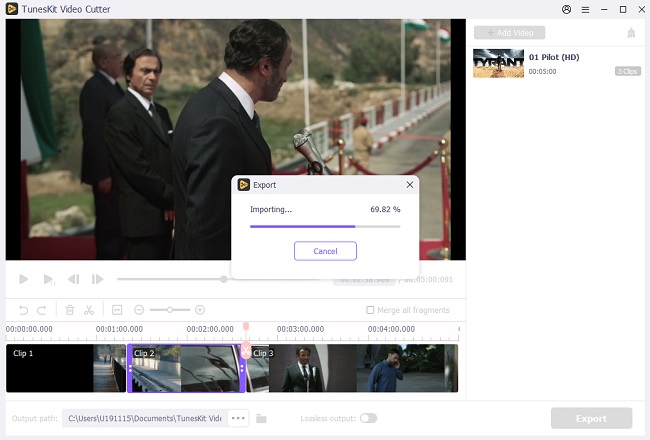 Now click 'Start' button to initiate the noise removal process. It will work at up to 60X faster speed. After that, you'll get the noise-free audio as expected.
Alternative Way to Remove Unwanted Background Noise in Audacity
Audacity is a free open-source audio editor. It's not only free of charge, but also easy to use for even beginners. Now follow the steps here to see how to remove unwanted noisy audio from your tracks:
Step 1. Launch Audacity on Mac/Windows/Linux. Then import the noisy audio track to the editor. Then start playing the whole track from beginning to the end so that you can make a note of the point where the background noise exists.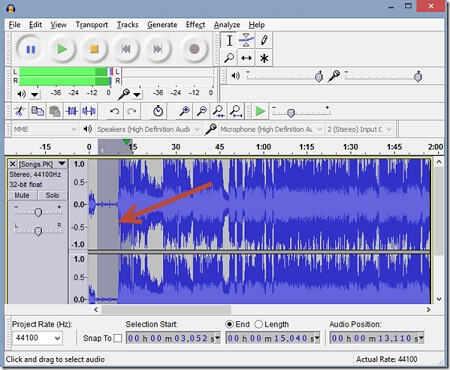 Step 2. Select the noisy duration and move to Effect menu > Noise Removal. Then from the pop-up window, you can adjust noise removal settings according to your needs. You are highly recommended to use the default settings if you are beginner.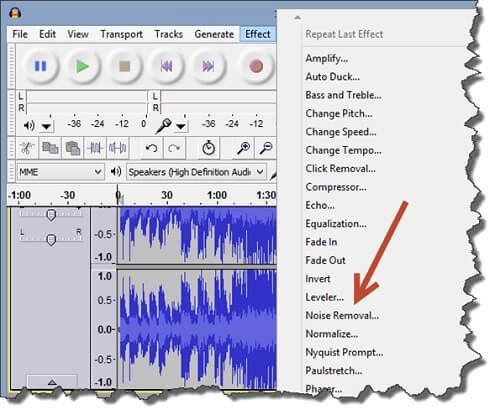 Step 3. Now simply click on the OK button and then Audacity will begin to remove the background noise from the soundtrack as you want. Once done, you can preview the audio and save it as a new MP3 file if you are satisfied with the quality.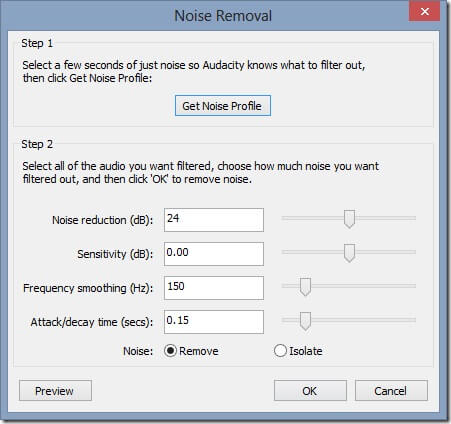 Note: The downside of using Audacity to remove noises is that it would cause some loss to original audio quality.
Bottomline
If you want to remove the bacground noise from your video or audio, you can use the TunesKit Video Cutter to do that cut the unwanted noises. But if the noise is along with the crucial part in your audio, you' ll need TunesKit AceMovi to denoise the background noise. Of course, you can use Audacity to remove the background noise. But it will cause noticeable quality loss, so the TunesKit Video Cutter and AceMovi are always recommended to remove background noise without losing quality.