How to Unlock iPhone from Computer [2022 Best Guide]
Posted by Brian Davis on Jun 27, 2022 10:00 AM • Category:
Unlock iOS
5 mins read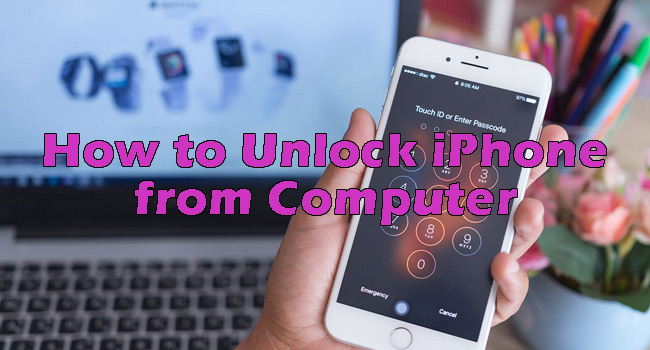 An iPhone has an efficient security mechanism, and people appreciate it - until they get locked out of it. It is a nightmare to have to deal with a situation when your phone is deactivated permanently. A small typing error in the password can do it to you, or if you forget your password, it would be one enormous struggle to hack into your phone. Experts and ordinary folks have worked out how to unlock iPhones from computer over time. It isn't nearly as serious as you believe.
We'll show you how to erase the password on your iPhone and obtain access to it using a variety of ways and tools.
Part 1: Unlock iPhone from Computer using these 3 Valuable Techniques
After reading this guide, you will have complete control over your iPhone. We are here to assist you whether you have forgotten your passcode or there is a problem that is likely to occur when your phone is broken or too obsolete. We've included a list of ways in this article answering your question i.e., Can I unlock my iPhone from my computer?
Solution 1. Restore a Locked iPhone via TunesKit iPhone Unlocker
The simplest approach to unlock an iPhone from a computer is to use this iPhone unlocker – TunesKit iPhone Unlocker. You can remove several locks from your device with it installed on your PC, including 4/6-Digit Code, Touch ID, and Face ID. The entire procedure will take no more than 15 minutes. Your iPhone's data and settings, including the passcode, will be erased after that, and you'll have to start over.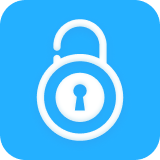 Key Features of TunesKit iPhone Unlocker
Unlock iPhone from computer easily
Available on the latest iOS version including 15
Enable to factory reset iDevices without passwords
Unlock iPhone/iPad/iPod touch with ease
Help to remove Face ID and fingerprint recognition at ease
Try It Free
600,000+ Downloads
Try It Free
600,000+ Downloads
To unlock an iPhone using TunesKit iPhone Unlocker on a computer, follow these steps:
Step 1

Launch TunesKit and Connect iPhone to Computer

After you've completed the installation, open TunesKit iPhone Unlocker on your PC. Connect your iOS device to the PC with an original USB cord. Next, launch the program and it will recognize your device model immediately.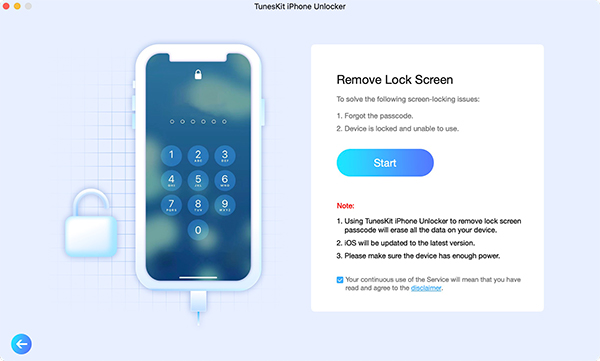 Step 2

Set the iPhone to DFU or Recovery Mode

If your device is not detected, you must manually enter DFU or Recovery mode on your iPhone in order for it to be accepted. To put your device into DFU or Recovery mode, follow the directions on the TunesKit interface.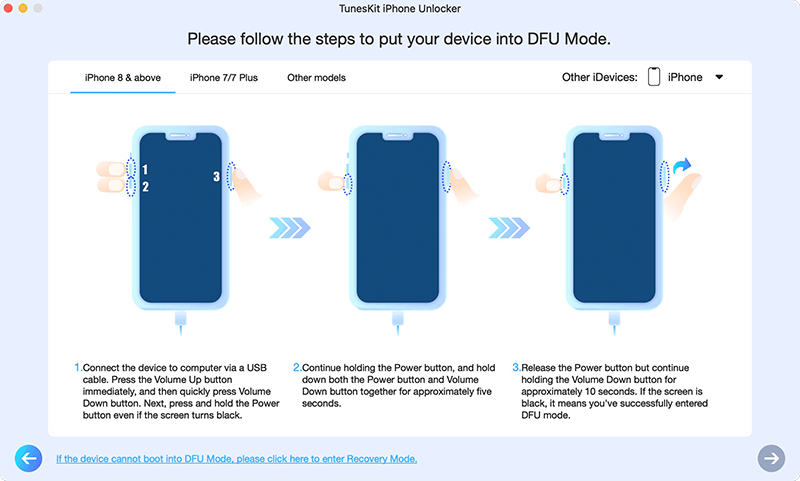 Step 3

Validate the Device's Specifications and Download the Firmware Package

You can now confirm your iOS device information, such as model version, iOS version, and so on, if TunesKit correctly recognized your iOS model. Simply rectify any errors or information manually. Then click the "Download" button after selecting the firmware version.

If the firmware package does not download, please use the "Copy" link to download it using your browser. If you already have it downloaded on your computer, simply click the "Select" button to include it.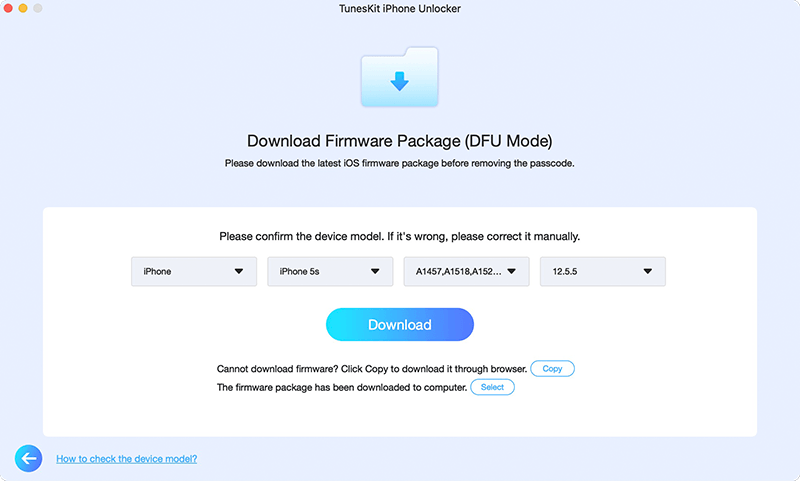 Step 4

Initiate Removing the Locked screen on Your iPhone

Wait until the firmware package has been properly installed. To unlock the iPhone passcode, click the "Unlock" button. Your iOS device's screen lock will be securely unlocked after a few minutes.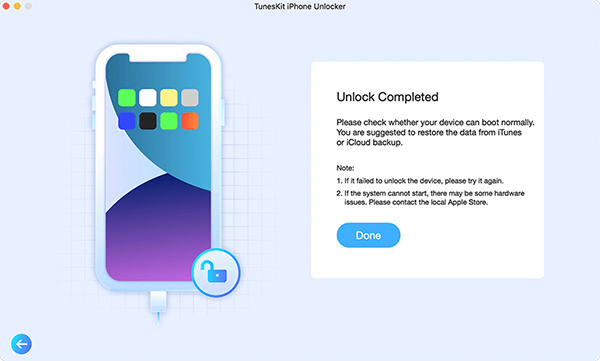 Solution 2. Restore a Locked iPhone via iTunes
How to unlock my iPhone from my computer using iTunes? If you previously synced your iPhone with iTunes on your computer, you can use the instructions below to recover your disabled iPhone using iTunes.
Step 1. Connect your iPhone to the PC that you originally used to synchronize the device.
Step 2. Launch iTunes and select your device's icon.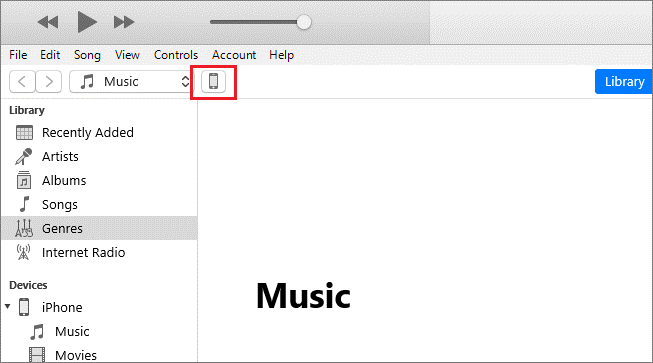 Step 3. Click Restore iPhone in the Summary tab of the Settings section.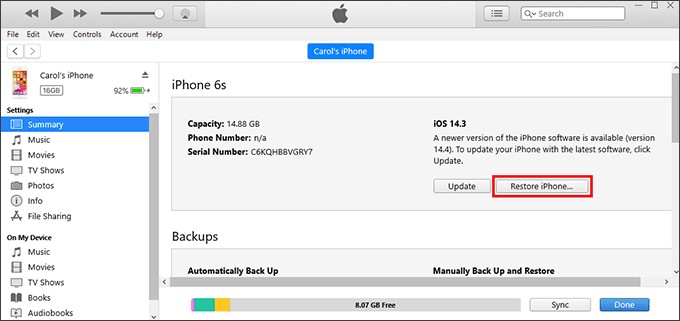 Step 4. When iTunes has finished contacting the iPhone software update server, a window will appear asking for your consent to restore. To proceed, click Restore.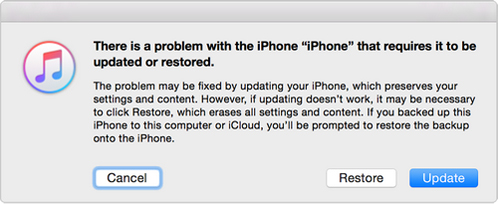 Step 5. After that, all you have to do is wait for the procedure to complete.
Solution 3.Restore a Locked iPhone via iCloud
When it comes to recovering your phones, most individuals are concerned about losing their data and apps. As they question, can I unlock iPhone from computer?
However, if you don't mind losing data, iCloud is a wonderful way to restore your iPhone. You can always backup your phone after you access it, even if you don't want to lose data. The iCloud approach is typically used to wipe valuable data in the event that your phone is misplaced. If you are locked out of your phone, you will surely profit from Apple's service. It is a simple procedure to unlock an iPhone from a computer. Follow the simple step-by-step instructions provided below. To utilize this method, you must remember your iCloud ID and passcode from your iPhone.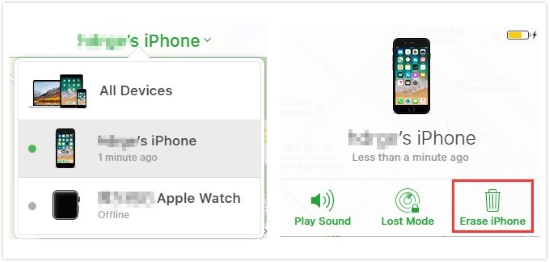 Step 1. After you've opened the iCloud website on your computer, log in with your iCloud account.
Step 2. Next, go to the main menu and select Find My iPhone from the drop-down menu. To locate your phone, select All Devices from the drop-down menu.
Step 3. After clicking on all devices, you'll get a list of all phones associated with your iCloud ID. Select your iPhone from the list.
Step 4. After you've selected your iPhone, you'll be given a few alternatives; select Erase iPhone. Your iPhone will be reset to factory defaults, and the password will be erased.
Conclusion
This post has shown you the most effective methods for unlocking your iPhone, whether you forgot your password or misplaced it. We showed you how to unlock your iPhone from computer using different convenient methods.
TunesKit iPhone Unlocker is required to unlock iphone from computer. It's an excellent tool for unlocking iPhones, iPads, and iPod Touches with a lot of features. It also aids in unlocking a used smartphone if you don't know the Apple ID password or have an iCloud account.
These three methods are really simple to use, and anyone can properly enable their iPhone by following the procedures correctly. Some of these techniques may cause you to lose all of your data and apps, but you can always back them up first. We hope that at least one of these approaches proves to be effective for you.