iOS 15.5 iCloud Bypass: Top 3 Solutions
Posted by Leonard White on Sep 4, 2023 11:35 AM • Category:
Unlock iCloud
6 mins read
Is it possible to complete the iOS 15.5 iCloud bypass on our own? Sure!
Once Activation Lock is triggered, you will be asked to enter the correct Apple ID and password to unlock the device. It seems that the Apple ID and password are the only way to get around the Activation Lock page.
In fact, whether you've already bought a used iPhone with Activation Lock or forgotten the Apple ID and password you set up for it, you can bypass it with the guide presented in this post. Read this post to find the best way to bypass Activation Lock on your iPhone.
Part 1: How does Activation Lock work?
Before hitting the solutions for "iCloud bypass iOS 15.5", it's better to have a basic knowledge of how Activation Lock works on your iPhone. Actually, it depends on the connection between the iOS system and Apple Server. If you wipe your iPhone, or take other actions having security risk, the iOS system will send a command to the Apple Server, and you have to enter the Apple ID and password matched with the one stored before. Activation Lock is a utility feature to protect iPhone without being accessed by others when it is lost or stolen.  
Part 2: How to bypass Activation Lock on iOS 15.5?
Top 1: Bypass via iCloud
By deleting the device from the owner's iCloud account, the Activation Lock can be disabled permanently. But, you must contact the previous owner to do that, because the Apple ID and password is required to sign into the iCloud account. Here tells you how to bypass iCloud Activation lock iOS 15.5 via iCloud.
Step 1: Go to iCloud.com
Step 2: Click on Find My app. And select All Devices.
Step 3: Navigate to the device and click Remove from Account. Or click on the x icon beside the device to remove iPhone from iCloud.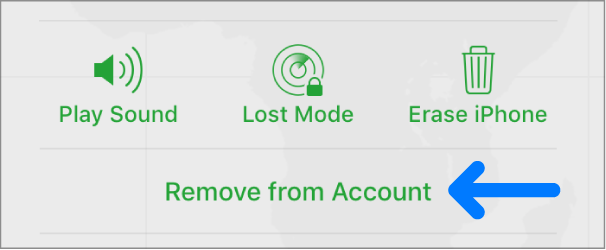 Top 2: iOS 15.5 iCloud bypass via TunesKit [No Apple ID]
TunesKit Activation Unlocker is a kind of tool good at bypassing the Activation Lock running from iOS 12.0 to iOS 16.5.1 without Apple ID and password. It comes with a high success rate. No complicated steps or interface to figure out. Following the guide to perform a few easy steps, iOS 15.5 iCloud Activation bypass will be a piece of cake to you.
In addition, it also supports unlocking iPhone in Lost Mode, turning off Find My without Apple ID and password, reset iPhone without signing out of iCloud, and more.
What is introduced below is the guide on using TunesKit Activation Unlocker for iOS 15.5 iCloud bypass.
Step 1

Connect iPhone

Connecting iPhone to the computer is the most important step. Use a USB cable to connect it and your iPhone should be well connected during the whole process. Next, click on the Start button. Go ahead to click on the Agree button after you completely read the Terms of Use. Now, your iPhone is automatically put into the Recovery Mode.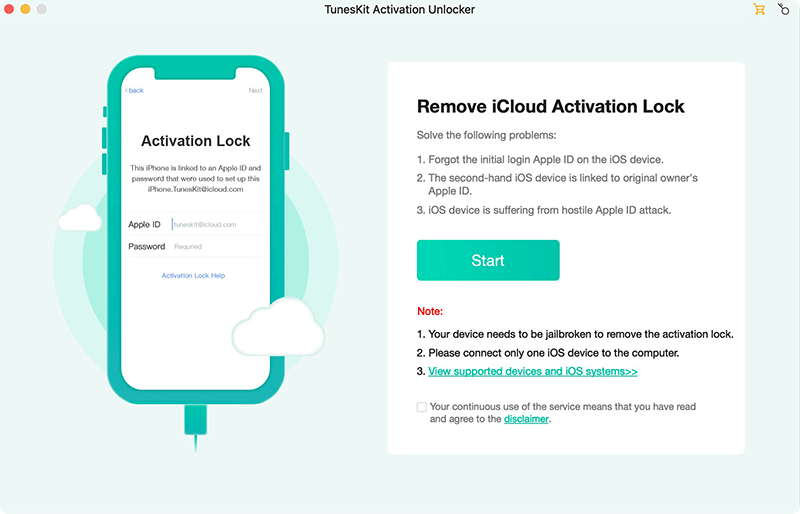 Step 2

Start to Remove

Next, follow the on-screen guide to put your device into DFU Mode. Once your iPhone successfully gets into the DFU Mode, it will start to remove the Activation Lock for you.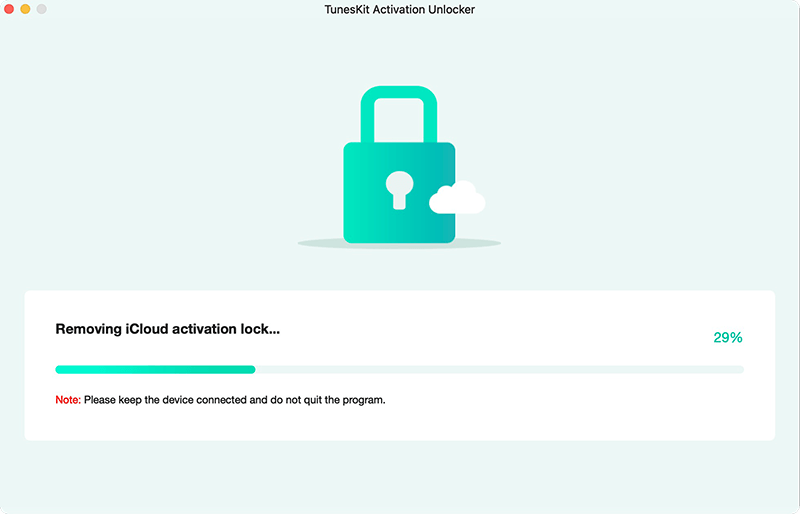 Top 3: Change DNS to bypass iCloud
Changing the DNS address on your iPhone is to make the IP address falsely translated so that the Apple Server won't receive the correct one and prevent the appearance of iCloud lock. But, this solution is not completely proven yet. It works randomly. Anyway, you can give it a go if there are no other solutions suitable for iOS 15.5 iCloud bypass on your iPhone.
Step 1: Back to the first page of your setups.
Step 2: Finish those settings again and move to the WiFi Settings.
Step 3: Tap on the blue circle beside the WiFi. Then, select Forgot this Network.
Step 4: Tap on the blue icon again. Select Configure DNS. Tap Manual. Then, select one of the DNS addresses below to create a new DNS address for your iPhone. Save your edits.
North America: 104.154.51.7
South America: 35.199.88.219
Europe: 104.155.28.90
Asia: 104.155.220.58
Global: 78.100.17.60
Step 5: Tap Back. Connect to your WiFi again. Next, a page will pop up. Keep tapping Back. Last, select Activation help. Done!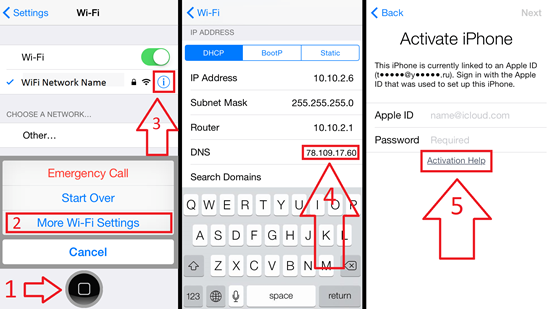 Part 3: FAQ about Activation Lock
Can Activation Lock be removed by factory reset?
No. It won't be removed even if you factory reset or jailbreak iPhone. You must access the iOS system and gain permission to unlock the Activation Lock. Factory reset won't access the iOS system and help you bypass the Activation Lock.
Why does iCloud lock still exist after jailbreaking iPhone?
Jailbreak is a process to access the iOS system and gain the permission to bypass iCloud lock, but it won't bypass iCloud lock for you, and a third-party tool is still required.
Part 4: Conclusion
With this post, I believe iOS 15.5 iCloud bypass will no longer be a challenge for you. If you do not have an Apple ID and password for your iCloud lock, the TunesKit Activation Unlocker is highly recommended, as it comes with super easy steps and a high success rate. If you are still confused about this tool, leave your comments below or contact us at any time!