Audio Recorder Review: TunesKit Audio Capture VS Wondershare Streaming Audio Recorder
Posted by Nick Orin on Jul 30, 2019 6:20:30 PM • Category:
Reviews
6 mins read

Run across songs you like so much while browsing through the Internet that you want to record them? Want to record one of your favorite songs on Spotify without paying for the Premium? We all know that recorder of Windows can record sound from the microphone, but what about the sound in the computer itself? To cater to this problem, many audio recorders are born. The large variety of these products confuse customers: which audio recorder should we choose?
Therefore, we bring the review of two of the best streaming audio recorders in the market, TunesKit Audio Capture and Wondershare Audio Streaming Recorder, for your reference of purchase.
Factors tested in the review: sound quality, sound format, operation process, recording technology, interface, extra functions, and price.
Winning a round will gain one point, and we will see the winner at last according to the scores of each side.
Sound Quality
As streaming audio recorders, the first and foremost factor of them is the quality of the recorded track. Since audio recorders record the tracks mainly to form them into daily playlists, no one would want a collection of music with terrible quality.
Fortunately, the recording quality of both software are not bad. For Wondershare Audio Streaming Recorder, it produces tracks with bit rate of up to 256kpbs and sample rate of up to 48000H, which is acceptable. However, TunesKit Audio Capture can provide even higher quality, producing tracks with bit rate of up to 320kpbs. That means that TunesKit Audio Capture can record nearly lossless tracks, saving your money of purchasing a Spotify premium but still get the same quality music.
Conclusion: TunesKit Audio Capture wins this round and earns 1 point.
Sound Format
To play the recorded tracks in different software, the tracks should be saved as different formats. Therefore, it is needless to say that the more formats the recorder can provide, the better it is.
The formats provided by Wondershare Streaming Audio Recorder are limited to AAC and MP3, which is somewhat disappointing because it will definitely restrict the usage of these tracks. On the other hand, TunesKit Audio Capture has more formats, including MP3, M4A, AAC, FLAC, WAC and M4B.
Maybe some readers may think these formats are unnecessary additions, but they are actually pretty useful in some cases. For instance, M4A records of audible books allows you to add bookmarks to the book. It is certainly not likely to finish most books in one time, and with M4A bookmark, you don't have to struggle to find where you pause the last time.
In addition, there are some other adjustable options in TunesKit Audio Capture, including codec, bit depth, channel and preset which allows users who are not familiar with the audiophile statistics to simply choose from High-quality recordings and Small-size recordings.
Conclusion: As a whole, here goes another 1 point for TunesKit Audio Capture.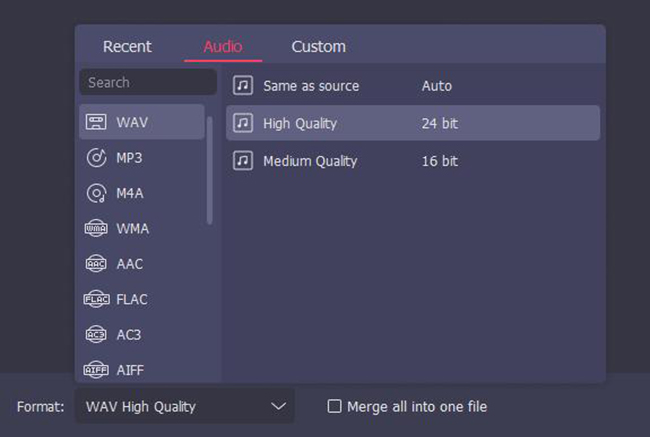 Operation Process
Once you press the big red button on Wondershare Audio Streaming Recorder, the recording begins. Easy as cake, isn't it? On the contrary, when using TunesKit Audio Capture, you have to choose the software whose sound you need to record, not to mention sometimes the software need to be added manually when it is not on the list of TunesKit Audio Capture.
However, the trouble you take recording may actually worth it, while the simplicity of Wondrshare Streaming Audio Recorder has a price.
Once start recording, Wondrshare Streaming Audio Recorder will record all the sound made by every single software on the computer. As a result, the user will get a messy track filled with songs playing simultaneously if multiple sounds are playing during the recording.
TunesKit Audio capture, on the other hand, will only focus on the sound of the selected software and ignore the sound of other software, producing a pure track undisturbed from other noises.Besides, TunesKit Audio capture Capture can grab multiple audio tracks from different sources simultaneously and dividing the whole audio recording process into independent tracks automatically.
Conclusion: 1 more point for TunesKit Audio Capture.
Recording Technology
Wondering what makes the differences of recording between the two streaming audio recorders? It is their mechanics.
The technology adopted by Wondershare Streaming Audio Recorder is the traditonal real time recording, which is imaginable to everyone.
Unlike its competitor, TunesKit Audio Capture extract the data of each sound. While sounds will mix up with other sounds, the data will not. Thus no matter how many songs you are playing at the same time, TunesKit Audio Capture will only record the song from the designated softwares. Besides, due to the extracted intact data of the sound, the recorded sound can keep lossless quality. It is quiet obvious that the technology of TunesKit Audio Capture is more advanced.
Conclusion: 1 point for TunesKit Audio Capture.
Interface
Aesthetically, I prefer the interface of TunesKit Audio Capture. That's not because TunesKit Audio Capture has an astoundingly beautiful interface, but because the Wondrshare Streaming Audio Recorder's look just too nostalgic and old-fashioned that it reminds me of Windows 2003. Still, after using both software for some time, I realized that the interface of Tuneskit Audio Capture may be overly simplified. People may be confused about what to do with the software because of its simple interface. By comparison, Wondershare looks a lot easier to use, at least you can find the big red record button without any problem
Conclusion: 1 point for Wondershare Streaming Audio Recorder, finally.
The interface of TunesKit Audio Capture: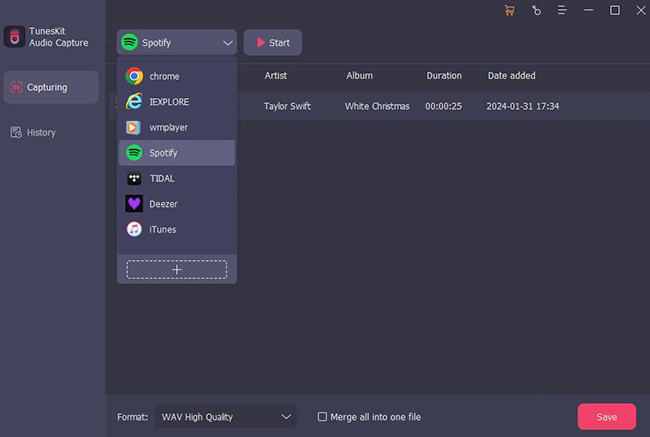 The interface of Wondershare Streaming Audio Capture: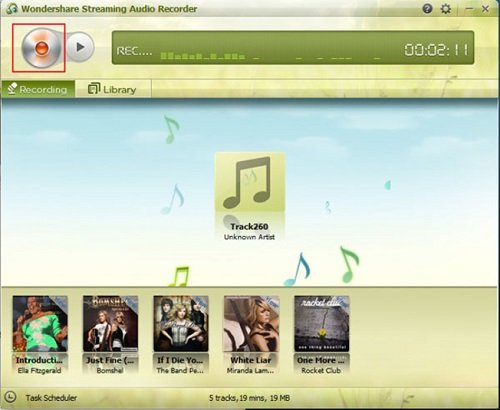 Extra Function
What's interesting is that some extra functions of both recorders overlap - they can both identify the info and ID3 tags of the song and allow users to rewrite them,and they can both remove ads automatically.
Let's begin with Wondershare Streaming Audio Recorder. It has three special functions - ringtone function, add playlist and add to iTunes library. The former is actually a simple trim tool to cut a small clip of the track. The track should be no less than 1 sec and no more than 1 min, making it a trim tool with limitation. The playlist function enables users to create playlists in Wondershare Streaming Audio Recorder and add the recording tracks in them, but it is probably not very useful since most people will not use Wondershare Streaming Audio Recorder as their daily player. We are not surprised to found the add to iTunes function is a lot more useful than the previous one.
As to TunesKit Audio Capture, it has trim function and merge function. Unlike the ringtone function of Wondershare Streaming Audio Recorder, TunesKit Audio Capture's trim allows users to trim the track however long they like. Since TunesKit Audio Capture can record multiple tracks, it can also merge those tracks into one, which proves to be useful when you are trying to make a mixture of songs.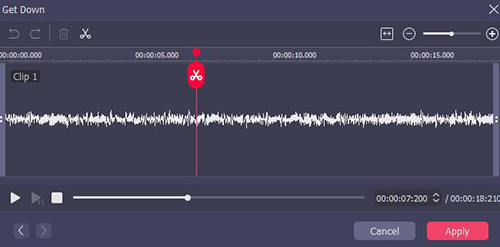 Conclusion: Tie. Both streaming audio recorders have their own specialty.
Price
The price of Wondershare Streaming Audio Recorder for Windows is $19.00, which is a little cheaper than that of TunesKit Audio Capture for Windows ($29.95). However, the Mac version of TunesKit Audio Capture, priced 29.95$, is the same as Wondershare AllMyMusic for Mac (the mac version of Streaming Audio Recorder).
Conclusion: 1 Final point for TunesKit Audio Capture. It is generally more economic than Wondershare Streaming Audio Recorder.
The price of TunesKit Audio Capture: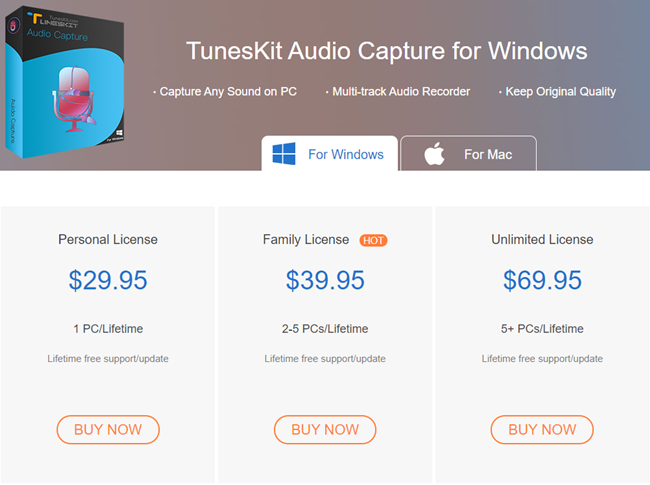 The price of Wondershare Streaming Audio Recorder: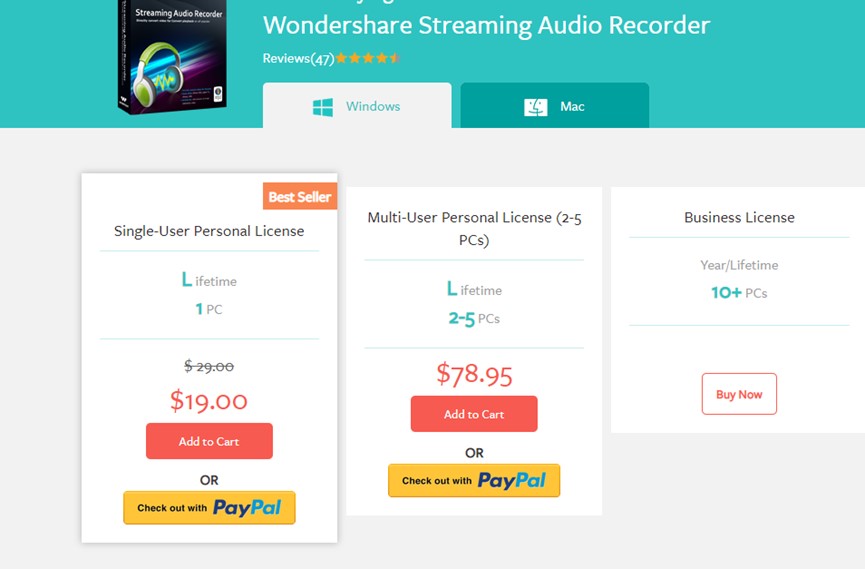 Final Conclusion
The final point of TunesKit Audio Capture is 5, while that of Wondershare Streaming Audio Recorder is 1, so it is safe to call it a complete defeat. All in all, TunesKit Audio Capture is a better choice, charging a reasonable price but better at finishing its job. Nevertheless, that doesn't make Wondershare Streaming Audio a terrible recorder, it's just TunesKit Audio Capture is better.
Download link is provided below for everyone to experience the extraordinary audio recorder.