TunesKit Releases Cutting-edge Audio Capture Software to Grab Music Intelligently
Posted by Dan Miners on December 04, 2017 15:28:04 PM • Category:
Releases
3 mins read
HongKong, December 04, 2017 - TunesKit Studio, a reputed digital media file solution provider, proudly announces the release of the cutting-edge TunesKit Audio Capture for Windows/Mac for users to capture any music files from computer and internet automatically and losslessly. The Audio Capture software works well on both Windows and Mac computers with latest operating systems.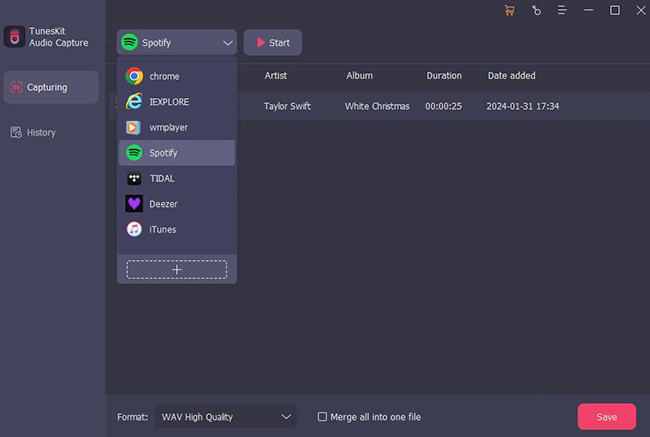 Prior to the release of Audio Capture, TunesKit has been focusing on the digital media technology for years. With the most advanced experience and strategy in handling audio tracks, TunesKit Audio Capture for Mac/Windows runs in a unique way and works significantly better than any other streaming audio recorders or music converters in the market.
Key Features of TunesKit Audio Capture
TunesKit Audio Capture comes with various useful features to extract music online from computers with user-friendly interface.
1. Support almost all the media players, streaming apps, radio broadcasting, games and so on;
2. Record multiple audio tracks at the same time simultaneously, save your time;
3. Edit and customize audio parameters such as the size and quality;
4. Convert and export audio files to new formats MP3, M4A, AAC, FLAC, M4B losslessly;
5. Add and fix the tab info of your audio files and songs;
6. Split, trim and merge your recorded audio tracks.
"We are really excited to provide our customers with accurate and reliable features to download music online, best experience than before', said Henry Ramon, the Senior product manager. "Thanks to the innovation of the the non-stop efforts of our engineers and the development of smart audio algorithm, now it is easy to capture any music intelligently."
Benefits - Detect and Capture Audio Files Automatically with Best Quality
By default, TunesKit Audio Capture connects to many common apps like Windows media player, Spotify, iTunes, QuickTime, Internet browser, Chrome browser and so on. If a wanted app is not on the list such as Pandora, Spotify, Lastfm etc., users can add them within one click.
Unlike other music recorders or downloaders which may require users to manually do the recording, which is difficult and the result is unsatisfactory, TunesKit Audio Capture can help users extract music automatically and intelligently. To capture music, users don't even need to click 'Record' button. Just play music from the player, browser or any other apps on the computer. TunesKit Audio Capture will detect the start, pause, play action automatically to capture the music. In this way, users will get 100% the same lossless music as source and no need to worry if there is blank tracks in the beginning or end or any noise sound within the songs.
In addition, TunesKit Audio Capture supports multiple standalone recording processes torecord music files at the same time without interference. For instance, users can open the Chrome browser with multiple tabs to play music, then all the music playing on the computer will be correctly recorded.
Price and Availability
TunesKit want to offer customers with reliable product at an affordable price. For this new release product TunesKit Audio Capture will be on promotion at only $19.95(original $49.95) which is up to 60% off. The promotion is a time limited offer and the price may go back to original price anytime. Users who enjoy music can directly head to the official website page to download TunesKit Audio Capture for Windows for Windows/Mac to have a free trial too.
About TunesKit
Driven by the continuous innovation and valuable feedback of customers, TunesKit has developed multiple digital media software to meet the requirements of user to enjoy media files freely. Their product lines cover iTunes video software, Apple Music converter, Spotify Converter, Audio Converter,iBooks Copy and so on. All the products won great reputation in over150 countries. As a leading media solution company, TunesKit will continue keep improving all the software with lifetime free update and technical support.