4 Methods to Record Hulu Live No Hassle
Posted by Nick Orin on Dec 30, 2022 17:00 PM • Category:
Record Screen
6 mins read
Aside from providing a host of news, sports channels, and live entertainment, Hulu Live is an outstanding place to cut the cable cord. Users even have access to on-demand TV shows and current movies. For subscribers, Hulu Live includes unlimited DVR (Digital Video Recording) at no additional cost. In other words, viewers can use DVR to record on Hulu Live easily.
However, you need to be a subscriber to get the DVR feature, otherwise, it is not possible to record TV shows or live streamings on Hulu Live. So, we'll give you the best screen recording options to record Hulu Live even if you haven't subscribed to the premium account.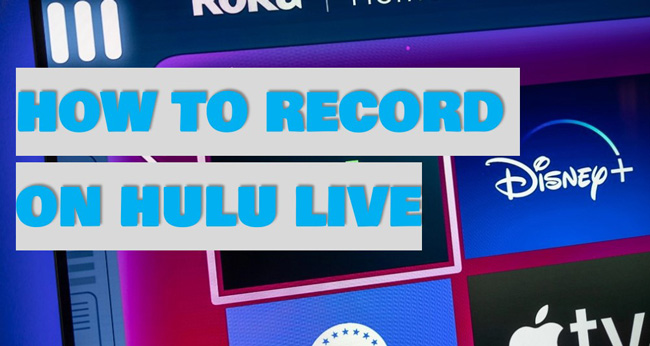 Part 1: How to Record on Hulu Live with DVR
Hulu Live comes with no-hassle user interface, unlimited DVR, and best watching resources. With that said, if you want to record on Hulu Live website, at least you need to become the registered user of Hulu Live. If you haven't subscribed, you can use a third-party screen recording tool to record shows from Hulu Live. Keep in mind that commericial use of some recordings should be approved by the publisher.
Step 1. Log in to your account on Hulu Live. Search for the TV show or Live Streaming
You can find millions of TV shows and other types of videos on Hulu TV. You can also search for the movie you want on the website. The interface provides "Live TV" to let you watch live streamings online. The first thing you need to do is register and find the video you want to record on Hulu Live.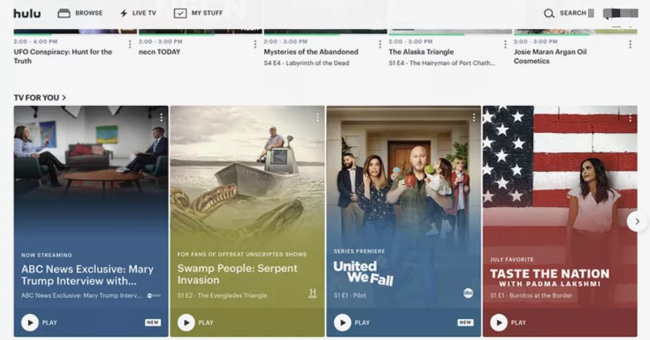 Step 2. Click the "+" icon to add the video to your playlist, then click the "Recording" button
Go to the description of the video on Hulu Live. Hit the "+" button to add it to your playlist. After that, click the "Record" icon to start recording while watching the video. Want to know how to find recordings on Hulu Live? Just go to "Recordings" from "My Stuff" to manage your cloud DVR recordings.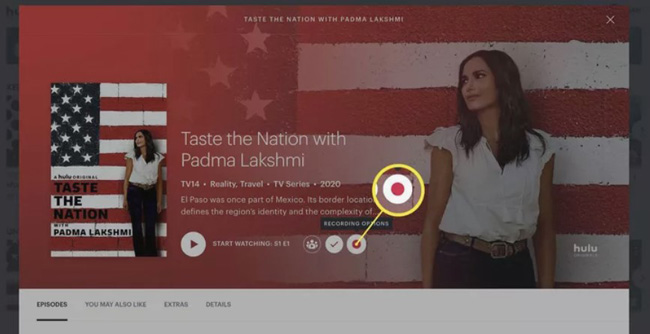 Step 3. Set the recording option from "Do not record", "New episodes only", or "New & reruns"
In the final step, choose the content you want to record. If you opt for "Do not record", you need to make sure that you have recorded the video and want to stop. The "New episodes only" button is going to help you record new episodes. And the "new & reruns" means that you will record all of the content of the video.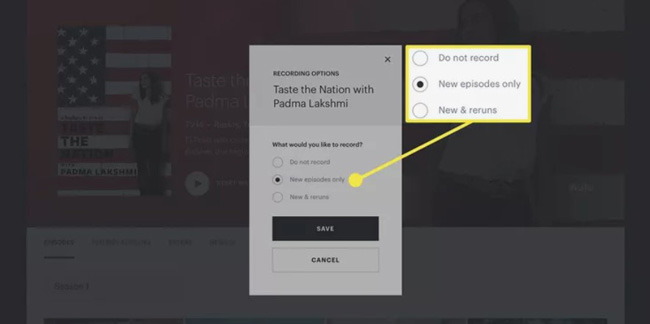 Part 2: Record Hulu Live with TunesKit Screen Recorder in Windows and Mac
With that said, only with subscription can you record on Hulu Live with DVR. There is another way to record any video from Hulu Live, which needs you to download and use powerful screen recording software. TunesKit Screen Recorder is one of the best Hulu Live recorders for commericial and non-commercial use.
The layout of TunesKit Screen Recorder is multi-functional. Users can set an accurate recording duration using the scheduled recording method in this software. Simultaneously, you can add logo or text watermarks on the video you recorded. Besides that, the built-in features include file format converter and video resolution changer.

TunesKit Screen Recorder
Record videos from Hulu Live as long as you want
Drag-n-drop recording resolution or customize the area
Change the recording method if you need to record game or webpage
Use the scheduled recording to set starting or ending time
Put logo or watermark on the recorded video file easily
Try It Free
600,000+ Downloads
Try It Free
600,000+ Downloads
Step 1. Download TunesKit Screen Recorder. Select the correct screen recording method to record Hulu Live
TunesKit Screen Recorder offers free demos for Windows and Mac users. As regards the video recording methods, you can choose "Screen Recording" or "Windows Recording". You can set the sound volume and channel on the user interface. Adding watermarks or setting scheduled recordings are allowed.

Step 2. Select the recording area on Hulu Live based on your needs. Click "REC" to start recording
You can play the video on Hulu Live right now. This software allows you to choose the area to record. You can use a ready-made resolution to record a specific video. For example, when you choose "1920*1080 (16:9) Full HD", then the recorded file will be 1080p resolution, with an aspect ratio of 16:9. It is easy to drag and drop the recording area before starting.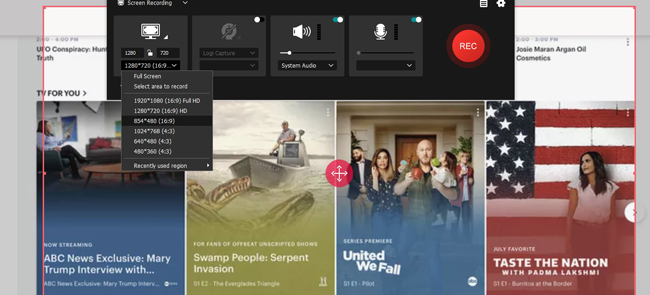 Step 3. Edit the basic settings of the Hulu video recording in save path, file format, and video quality
If you want advanced settings of the recording, you can click the scissor icon from the layout. You're allowed to change the save location, video export format, mouse settings, and many more parameters. If you need high-quality output, click the "Customize" icon below the "Video" panel, and then set the quality as a higher one.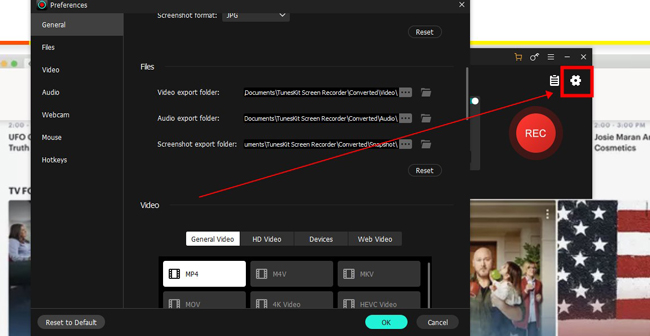 Part 3: Record Hulu Live by QuickTime Player on Mac
Want to know how to use QuickTime Player to record Hulu Live in your Mac? You can find the QuickTime Player software is pre-installed on your computer. This software is designed to play videos without the loss of quality. When it comes to its basic features of it, users can play, rotate, speed, as well as record a video with QuickTime Player. Also, the recording will be high-quality after using it.
Step 1. Launch QuickTime Player. Click "File" and "New Screen Recording" when playing a video on Hulu Live
With that said, QuickTime Player was pre-installed in your macOS. So you can run it directly. To start recording, you need to click "File" > "New Screen Recording" from the menu bar. Make sure that you have been playing the video on Hulu Live.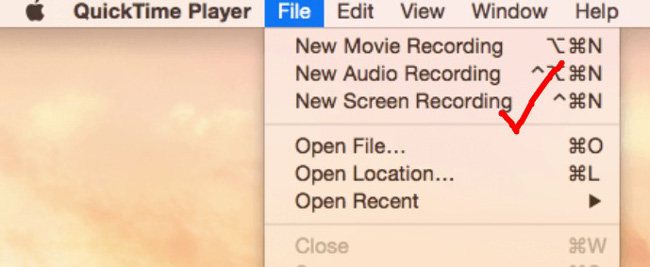 Step 2. Choose the microphone resource, and set the mouse clicks when recording your video
Time to adjust the sound volume and microphone resource in QuickTime Player. You can also choose to show the mouse clicks while recording. The screen recording panel can be hidden from the desktop.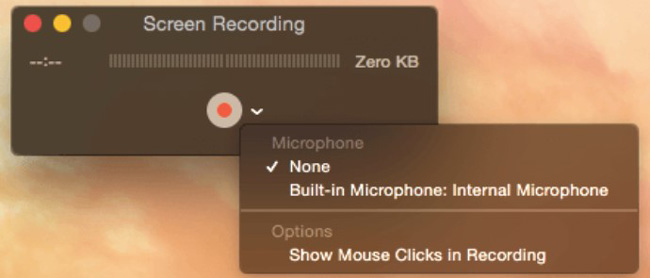 Step 3. Stop recording when the video is finished. Find the recorded Hulu Live in the save location
If you want to stop recording, click the icon in the top-left place. For saving the recording, click "File" > "Save". You can replay the recording with QuickTime Player, or choose to convert the output format straightforward.

Part 4: How to Record Live TV on Hulu for Mobile Phones
Need to record on Hulu Live on your cell phone? In fact, Hulu Live has a phone version for users to watch live streaming and TV shows. Also, users can record their wanted videos on the app version of Hulu TV. Make sure that you have downloaded its mobile phone version from the app store. And you need to buy a premium account to use DVR. Or you can download a third-party screen recorder, such as Go Record.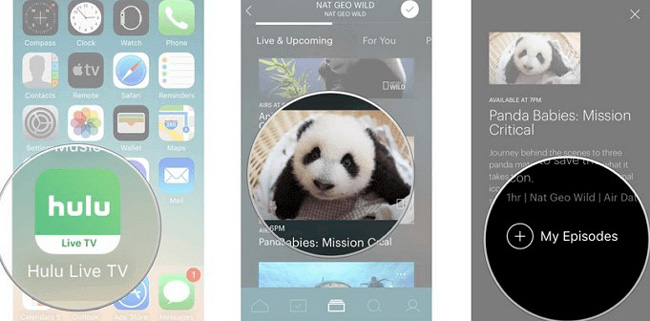 First thing first, run Hulu Live TV on your mobile phone. Register in this app and choose the video you need to record. On the introduction page of the video, click the "+ My Episodes" icon to add the video to record. If you don't have subscription, you can play the video on Hulu Live TV, and then start recording it and save the files to the Camera Roll.
Part 5: Conclusion
Here are the 4 methods for recording videos on Hulu Live. To conclude, if you want to record on Hulu Live with DVR, you need to register and get the subscription. Alternatively, it will be better to use powerful screen recording tools to record your video from Hulu Live. The introduced TunesKit Screen Recorder and QuickTime Player are good enough to help you make good recordings.