Tidal vs Apple Music: Which is the Better One?
Posted by Adam Gorden on Jul 28, 2023 6:00 PM • Category:
Record Audio
4 mins read
There are many popular music media all around the world. Tidal and Apple Music are two of those popular music media which are used by people widely around the world. They all have various songs and music videos and quality music service. But as a fresher, we always do not know which one is better for us. To solve that problem, I would like to list their features to help you do a choice.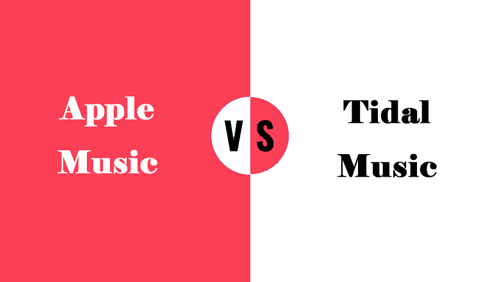 Part 1: Introduction: Tidal and Apple Music
Tidal is a music streaming platform going viral around the world and bringing music fans closer to artists through the perfect sound quality. On Tidal, there are hand-picked playlists and you can hear and be heard on Live. As a music platform, its roles not only offer all kinds of songs, but various videos and Livestreams up to 630,000 videos. It is a music paradise.
Apple Music also a music streaming platform mainly popular among apple devices. However, many android users have been attracted by music on it. On Apple Music, there is a new feature: Radio which has been classified allowing people to listen to radio freely. Apple Music also allow people to watch videos as well as Tidal and other basic features.
Part 2: Comparing Tidal and Apple Music – Five Aspects
1. Tidal vs Apple Music: Audio Quality
The two platforms all have high audio quality, but there are differences between them. The differences can be showed on the following table:
| | | |
| --- | --- | --- |
| | Apple Music | Tidal |
| High-Efficiency / Normal | 128kbps | 160 kbps |
| High-Quality / High | 256 kbps | 320 kbps |
| Lossless / HiFi | 1,411 kbps | 1,411 kbps |
| Hi-Res Lossless / Master | 2,340 – 9,216 kbps | 2,340 – 9,216 kbps |
As you can see, in terms of the two higher quality levels, Apple Music and Tidal can achieve the same audio quality. But at the two lower quality levels: High-Efficiency / Normal and High-Quality / High, Tidal audio quality is always higher than Tidal. So from the perspective of audio quality, Tidal is better than Apple Music.
2. Tidal vs Apple Music: Compatible Devices
Tidal music can be listened to on iOS devices, android devices, Mac and Windows. You can download Tidal on corresponding devices official app store and don not need other tools to help.
Apple Music can be played on iOS, android and Mac, but cannot be enjoyed on Windows. If you are a Windows user and at the same time you need Apple Music to listen to music, you have to download another software: iTunes to help you.
3. Tidal vs Apple Music: User Interface
The main color of Tidal' s interface is black. It is very simple and tide. So if you like light color, maybe Tidal is not your best choice. But it has intuitive tabs. It is easy for you to find your destination.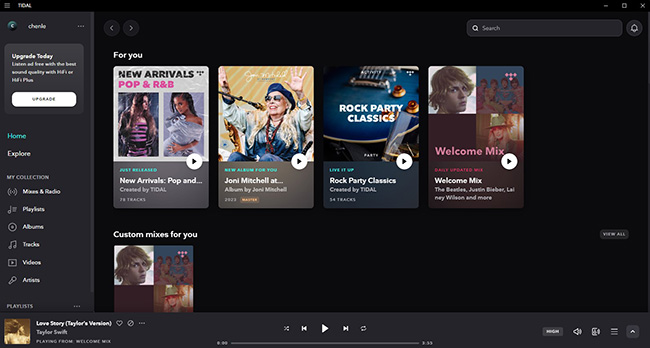 In contrast, Apple Music has a light interface and its features are simple but interesting.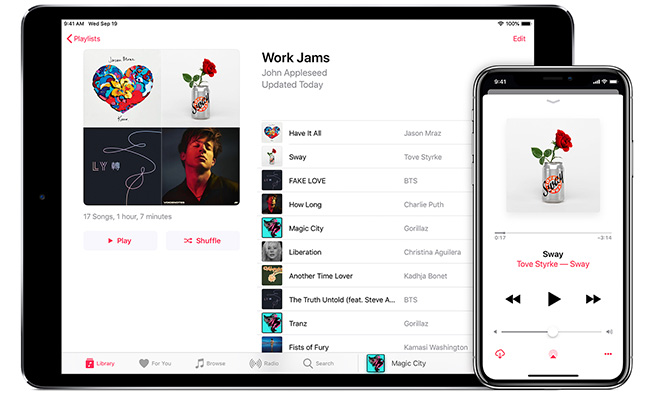 4. Tidal vs Apple Music: Premium Plans and Pricing
Pricing is always the most concerned point for most of person. There is a table to compare the premium plans of Tidal and music:
| | | | | | | |
| --- | --- | --- | --- | --- | --- | --- |
| | Individual | Family | Voice | Military | Student | First Responders |
| Tidal | √ | √ | × | √ | √ | √ |
| Apple Music | √ | √ | √ | × | √ | × |
As you can see, Tidal has more premium plans than Apple Music and gives military and first responders additional discount. But Apple Music also has its unique plan: Voice among which plan you can just listen to music but not watch video on it. For those have no need on videos, this plan gives them a new choice.
Tidal and Apple Music' s pricing also has differences. Watching this table:
Individual
Family
Student
Tidal
HiFi: $9.99/month
HiFi: $14.99/month
HiFi: $4.99/month
Military HiFi and First Responder HiFi: $5.99/month
Apple Music
$10.99/month
$16.99/month
$5.99/month
Voice: $4.99/month
From the perspective of the lowest payment standard, Tidal' s pricing is lower. By the way, all the music on Tidal and Apple Music cannot be downloaded if you are not a premium member of them.
Part 3: How to Listen to Tidal Music and Apple Music Without Premium
Although Tidal and Apple Music are excellent streaming music platforms, they are a little expensive for original people. It will be better to have a way to download Music from Apple Music for free. Here is an effective way to achieve it: using TunesKit Audio Capture to download music.
TunesKit Audio Capture can capture all sounds playing on your computer. Even if the original audio quality is not so good, Audio Capture can improve it as long as you set up the output format before recording. What is more, Audio Capture is also a audio format converter, you can record your music as MP3, M4A, AAC, FLAC, WAV and M4B. It is enough for your requirements.

Key Features of TunesKit Music Downloader
Record unlimited number of music tracks and podcasts from SoundCloud
Convert the recorded SoundCloud streaming music to plain audio formats
Preserve the recorded audios with the original audio quality and ID3 tags
Support multi-track editing like cutting, trimming, merging, and splitting
Try It Free
600,000+ Downloads
Try It Free
600,000+ Downloads
Steps to download music with TunesKit Audio Capture – take Apple Music as an example:
Step 1
Download and open TunesKit Audio Capture and iTunes; Log in iTunes with an Apple ID ; all the music on Apple Music can be found on iTunes;
Step 2
Click the Format icon to set up the Format, Codec, Channel, Sample Rate, and Bite Rate for your music;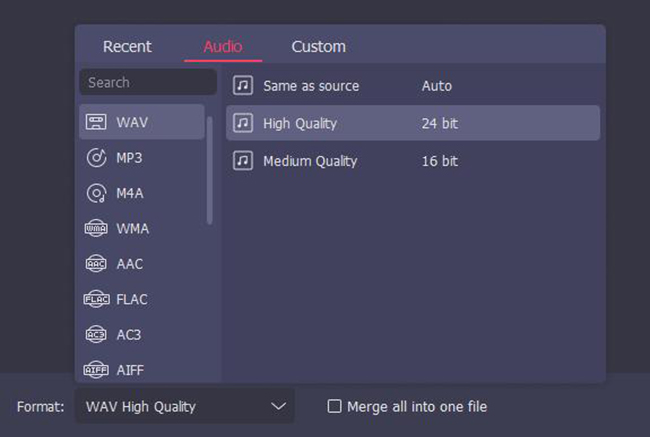 Step 3
Click the + button to add iTunes to TunesKit Audio Capture;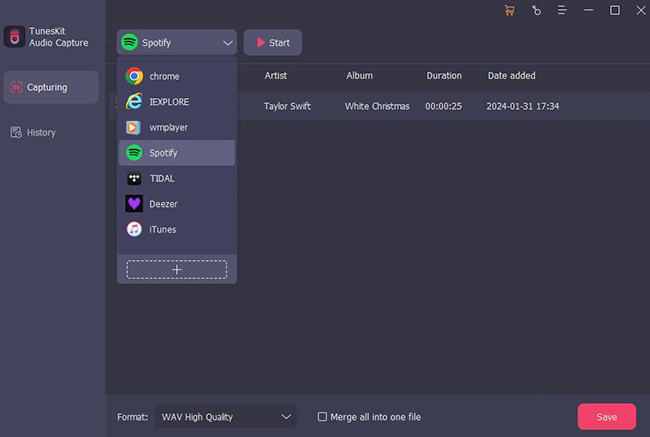 Step 4
Click the iTunes icon and then Tidal homepage will be popped up;
Step 5
Find the music you want to download and start playing; TunesKit Audio Capture will record the music automatically at this time;
Step 6
When the music plays over, click the Stop button on the bottom right of the Audio Capture;
Step 7
Move your mouse to the recording result and you can the rename and edit icon. Click rename to change the name of the music so that you can find it quickly; If you need, you can also click edit to trim or set the tag of the music;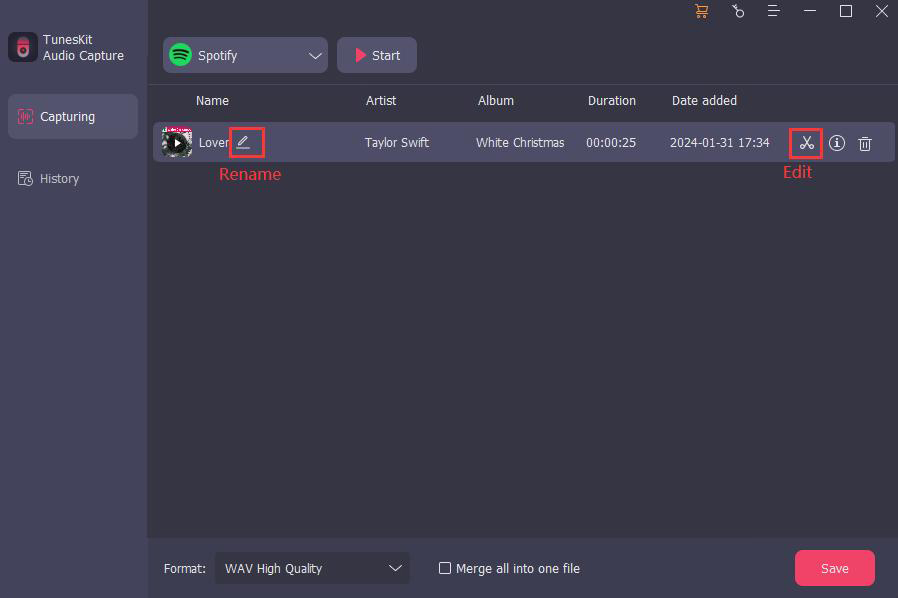 Step 8
If you get a satisfactory music, just click the Save button;
Step 9
You can find the recording music on history list; click the Converted icon and then you can enter the history list; click the search button and you can find the audio on your computer folder.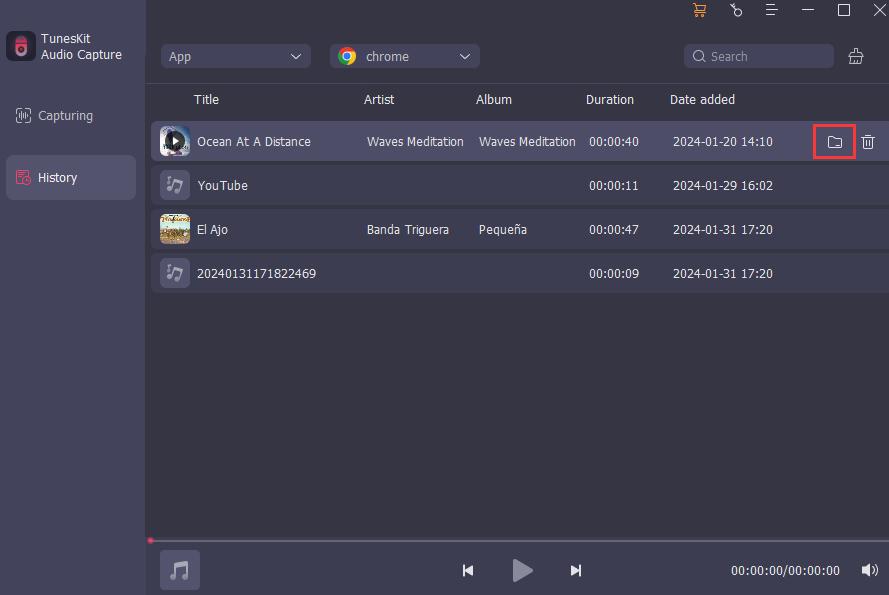 Conclusion
Tidal and Apple Music has their unique features respectively. Which one you eventually choose id up to you. Through the information above all, I believe you have had your choice. And if you want to download Music from streaming platform easily, TunesKit Audio Capture would be a good choice. Hope you have an enjoyable music time.