How to Stream Tidal Music on Linux
Posted by Adam Gorden on May. 7, 2021 6:18 PM • Category:
Record Audio
5 mins read
Promised to unite artists and fans, Tidal distinguishes itself from other services by offering high-quality audio and video tracks. It is currently compatible with the most popular smart platform devices, including Apple, Android, and Windows devices, as well as high-fidelity network players.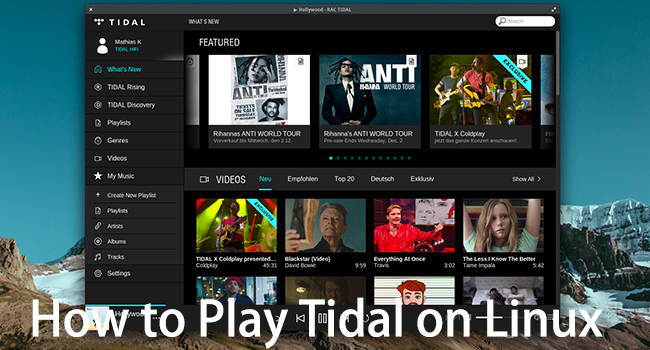 Although Tidal has been pushing forward to bring their exclusive experiences to every corner of users' lives, it doesn't have a dedicated app for Linux until Tidal CLI Client comes. With the tool you're available to 70 million Tidal music tracks, high-profile original content including music videos, concert live streams, documentaries, and more. For this passage, we're going to talk about two possible ways of playing Tidal on Linux.
Part 1. Play Tidal on Linux with Tidal CLI Client
Tidal CLI Client is an open-source command line-based music streaming app that enables Tidal users to search for and play music on their Linux PCs. Before you jump in excitement to begin using Tidal CLI Client, keep in mind that it is only a client app and that you must have a Tidal account as you will be prompted for your credentials the first time you run it.
Step 1. Download Tidal CLI Client via the NPM package tool.
Step 2. Launch the program and log into your Tidal account.
Step 3. Click ":" and type the name of the song or "track" in the search box to search for a song. Alternatively, search by adding an artist or album as a search query.
Step 4. Select a song from the list to play. Press "N" to add songs to the queue. In addition, you can pause music by pressing the "Esc" key at any time.
Currently, there is no sign-out button in the Tidal-CLI app that you can press. Instead, if you want to sign out of one account and sign in to another, you'll need to delete the file that stores login info on your Linux PC.
Part 2. The Best Way to Stream Tidal on Linux
Indeed, Tidal-CLI is very much right now buggy. Its installation is a bit complex for Linux users and won't work for everyone. You may come across lots of issues getting it up and running. Many Linux fans may be wondering is there any other way to make Tidal easier to stream on Linux?
The answer is an absolute yes. All you need is to download and convert the Tidal music tracks to common audio formats with the help of TunesKit Audio Capture. If you own a computer of Windows or Mac verison by yourself, congratulations, the steps will be much easier. Of course, if you don't have one, you can just borrow it from your friends or siblings. They won't mind if you just keep it for a while. .
Best Tidal Music Converter You'll Need
As a multi-track sound recording tool, TunesKit Audio Capture is specialized in capturing any kind of audio from your computer, including streaming music, live broadcasts, movie soundtracks, and so on whether playing in web players, desktop media players, or other programs.
With this powerful sound recorder, you can easily grab Tidal music tracks and convert Tidal music to MP3, WAV, FLAC, and other widely-used formats with lossless audio quality. Beyond that, TunesKit Audio Capture can help you manage the ID 3 tags of the records more easily, including artwork cover, title, artist, year, album and genre, etc.

Key Features of TunesKit Tidal Downloader
Download unlimited number of audios from Tidal
Convert to 6 formats like MP3, AAC, FLAC, WAV, M4A, and M4B
Save streaming music with the original audio quality and ID3 tags
Support the trimming, cutting and editing
Try It Free
600,000+ Downloads
Try It Free
600,000+ Downloads
Ⅰ Steps to convert Tidal music tracks
Before converting, be aware that you should install TunesKit Audio Capture first from the TunesKit official website. Then you're able to convert Tidal music to Linux by following the steps below.
Step 1: Adjust output Tidal music parameters for Linux
After launching the program on your computer, you first need to configure the output parameters. You can select a browser from the list of the main interface to visit the Tidal website or simply tap the large "+" to add the Tidal application from the desktop. Then click the "Format" button at the lower right corner to set the audio format, codec, channel, etc. according to your needs. As to set the output path, you're supposed to click the upper Menu button and then select Preferences to get it down.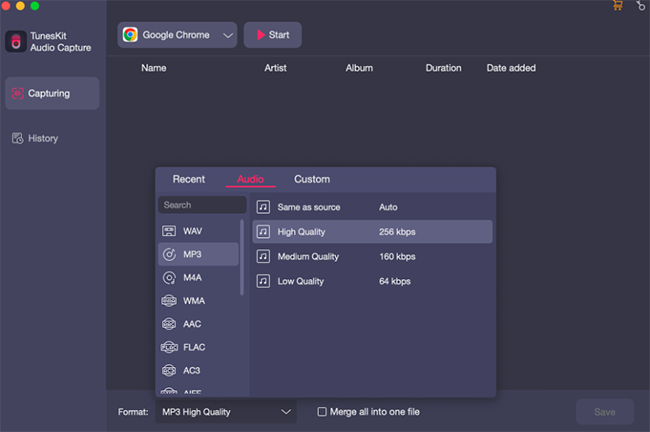 Step 2: Start to convert the Tidal music tracks
After setting, close the format window and go to the Tidal application or website you just selected. Find the songs you want to record and just start playing. You will then find a new recording task that will be created in TunesKit's acquisition list window. This intelligent audio recording supports the simultaneous recording of multiple tracks. This means that you can play different music on different platforms and record all sounds while storing tracks independently.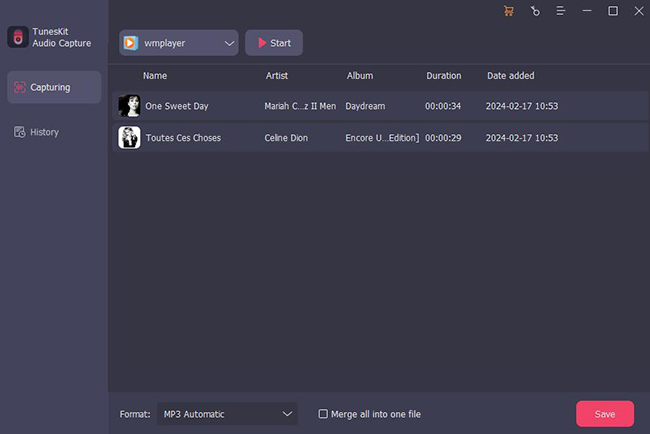 Step 3 Edit the recorded Tidal music tracks
Once captured, all the recorded Tidal music tracks can easily be trimmed or merged. To make it easier to organize the recordings, you can archive the ID 3 tags of the recording audio as you like, including adding the cover picture, editing the artist, music title, year, etc. After that, click the "Save" button to export the converted Tidal music tracks to the folder you specified before.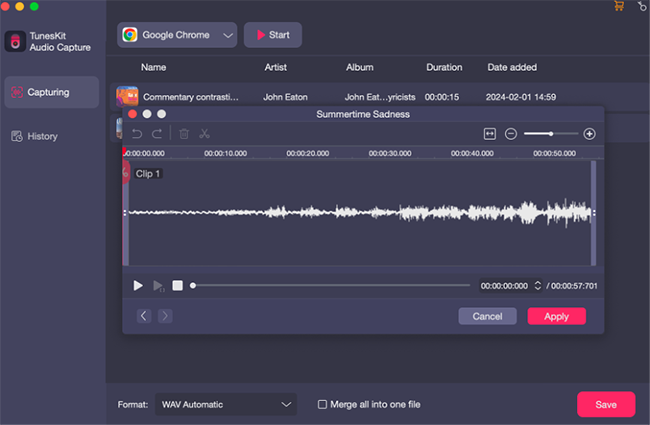 Ⅱ Add Tidal music library to Linux
After the conversion, you can now easily transfer Tidal music to Linux for offline listening through the USB drive. You can follow the detailed steps below.
Step 1. Insert the USB drive into the USB port on the Windows or Mac version computer.
Step 2. Locate the converted Tidal music files on the computer.
Step 3. Copy the converted Tidal songs you want and paste them on your USB stick. Or you can drag the folder directly onto the USB drive
Step 4. Connect USB to Flash Drive on Ubuntu Computer.
Step 5. Select a media player that you want to use to play Tidal on Linux.
Part 3. Bottom Line
This post offers two possible ways of playing Tidal on Linux. To stream on Tidal CLI Client, it's a little bit complicated and unstable. To some extent, transferring Tidal music tracks to Linux with the help of TunesKit Audio Capture is the best option that you can't miss. If you're Linux fans who subscribe to Tidal, don't be hesitate to get this powerful tool.