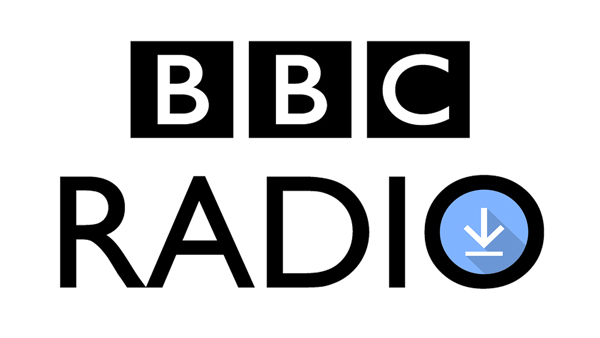 According to the view of most people, BBC radio is a reputable news radio channel. Due to credible news reporting and high-quality production, BBC radio is known for its reputed and professional news channels.
As a matter of fact, BBC radio not only provides radio service, but also a wide collection of dramas and music. More and more users of BBC radio are eager to download full BBC audio tracks for offline listening or studying references. However, official download method is not convenient and limited for various reasons.
To help those in need, we have concluded the 2 best ways to download BBC radio.
1. How to Download BBC Radio on iPlayer Radio App
BBC radio actually includes quite a few channels, including BBC radio 1 to 5. Though you can find the streaming radio of all these channels on the BBC sounds website, you would have to arduously go to the specific channel to find the download links. Therefore, it would be more convenient to conduct BBC radio drama download or the download of other radios on the iPlayer Radio app, which is available in Google Play Store and App Store.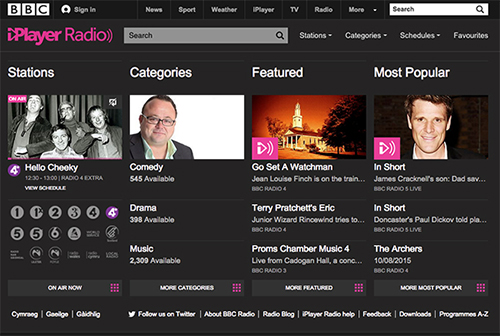 Steps of BBC Radio Download in iPlayer Radio App
Step 1. Open your BBC iPlayer application and use the search bar to find the radio track or streaming audios you want to download.
Step 2. Once you found your target, click the Download button underneath the playback screen.
Step 3. The selected radio tracks will begin to be downloading automatically. Once the downloading process is over, you can find downloaded BBC radio tracks in the Download section of the app.
Note: Please be well noted the two major limitations of this method - BBC radio programs are available in to listen offline for 30 days after they are broadcast, after which period the tracks will be deleted automatically. In addition, download links for some radios are not available at all.
2. Download BBC Radio as Permanent Audios with BBC Downloader
As introduced above, the official download method has many limitations. So is there any BBC radio download tool that is free of these shortcomings? TunesKit Audio Capture is a smart choice for capturing any BBC radio.
First of all, what you hear is what you get - this tool can grab the BBC radio streaming on your computer without any sound quality loss.
Secondly, various formats for you to select - TunesKit Audio Capture provides formats like MP3, AAC, FLAC, M4A, WAV, so that you can play the radio on different platforms and devices. For instance, BBC radio drama mp3 free download can be achieved with this tool.
Last but not least, high downloading efficiency - you can download multiple radios at the same time. Each track will not be mixed up with other audios, no matter it's other BBC radios or sounds produced by other programs.
Other main features and free download links are provided below.

Key Features of TunesKit Audio Capture:
Record and download BBC radios
Preserve the original audio quality and ID3 tags
Support multi-track recording, trimming and merging
Formats selection: MP3, WAV, FLAC, ACC, M4A and M4B
Tutorial to BBC Radio Download with TunesKit Audio Capture
Step 1

Open TunesKit Audio Capture and configure the settings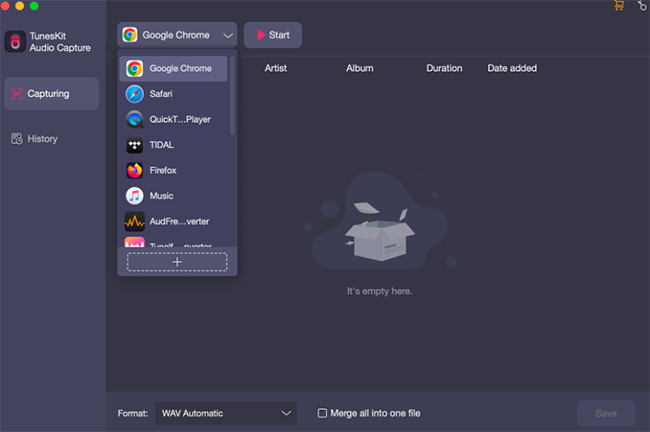 Launch TunesKit Audio Capture, then checks whether the browser, with which you want to play the BBC radio, is on the list. If not, you can click "+" button to add the wanted browse directly, or drag and drop the browser into the list.
The other preparation you should make is to adjust output settings. By clicking the trumpet-shaped "Format" button, you can adjust the output parameters, including format, codec, sample rate, etc.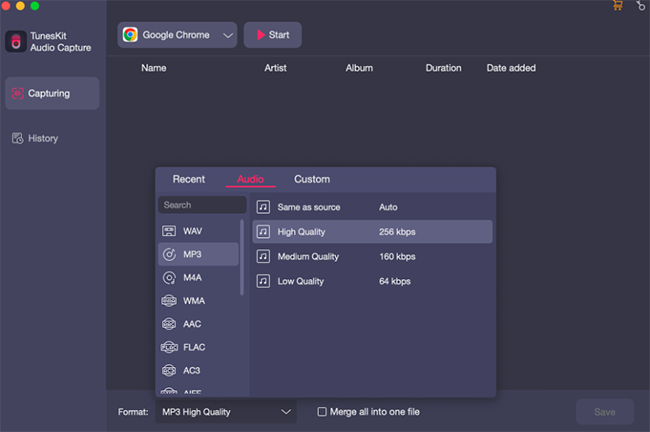 Step 2

Play and record BBC radio tracks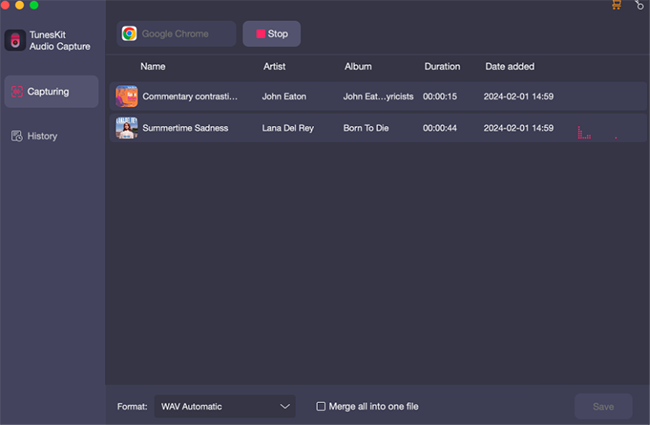 Tap on the target web browser on the program list. The browser and a recording window will be opened automatically. Navigate to the BBC radio site and play the target radio, and you should see the radio start to record on the recording window. Playing multiple radios at the same time to capture all of them simultaneously, and all the tracks will not influence each other.
Step 3

Customize recorded BBC radio tracks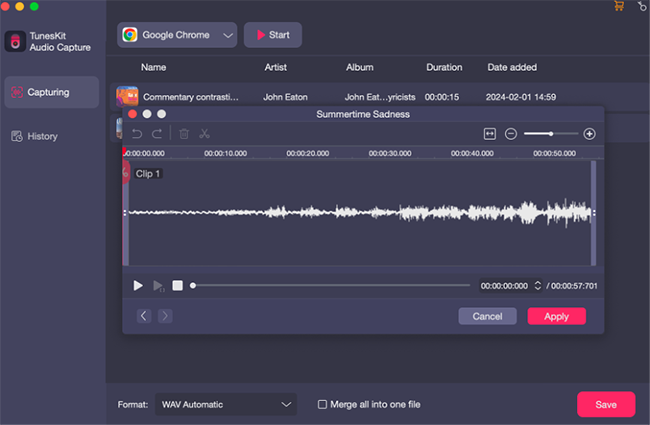 When all the radios you want are captured, you can click the Stop button to enter the result window. In this window, you can click the edit button at the rear of each track, opening the built-in editor. With the editor, you are able to trim the tracks and edit their tags. When finish editing, press the Save button at the bottom.
Step 4

Navigate to the downloaded tracks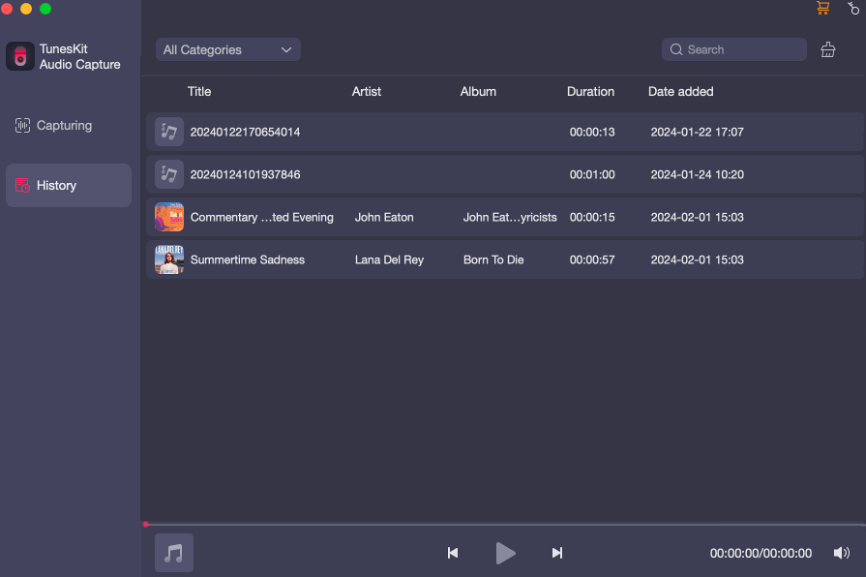 The tool will now bring you back to the main window. Then, click the History button next to the Format button, where you can preview the tracks you have downloaded. Click the button at the rear of each track, and you will be brought to the folder they are saved,
Video Tutorial
Summary
Now you have seen the two best methods to download BBC radio. One is the official way, which obviously has many limitations. The other resorts to TunesKit Audio Capture, with which BBC radio drama download, music download or simple radio download yield permanent offline audios. Which method is better? It can be only answered by you.