How to Play SoundCloud on Alexa
Posted by Adam Gorden on Sep 21, 2023 10:00 AM • Category:
Record Audio
6 mins read
With the improvement of the requirement of people, the music from phones or MP3 players is not enough to satisfy their feelings for those music lovers. Using a sound box to listen to music becomes a popular way to let people enjoy their music. Alexa is one of the most popular sound box brands. However, it is not compatible with all music services like SoundCloud. But it is not impossible to use Alexa to play SoundCloud music. In this article, we will tell you how to play SoundCloud on Alexa via your phone and PC.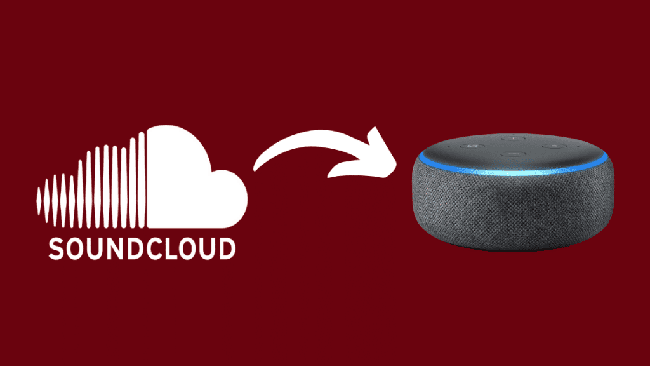 Part 1. What is Alexa
Before we talk about the methods, we should know information about Alexa.
Alexa is created by Amazon company. You can use it to play music and podcasts, set alarms, learn the weather, transport, and sports news. It can not only be used as a sound box, but also as an artificial intelligence. Moreover, you can chat with it like a friend. Using Alexa to play music allows music to exist everywhere in your house which is an excellent way to enjoy music.
Part 2. How to Play SoundCloud on Alexa via Phone/PC
The easiest way to play music from SoundCloud on Alexa is to connect Alexa to your phone or computer via Bluetooth. Here are the steps to explain how to listen to SoundCloud music on Alexa via your phone and computer Bluetooth.
Whether via phone or via computer to play SoundCloud, we should first make sure our Alexa is in pairing mode. You can say "Alexa, pair" to open pairing mode and another way is to use the Alexa app on your phone. The following steps are to tell you how to open pairing mode via the Alexa app.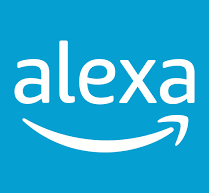 Step 1. Download and install the Alexa app on your phone;
Step 2. Open the app and click the Devices icon at the bottom of the screen; then you will find the All Devices icon on the top of the screen; click it;
Step 3. After you enter a new screen, you should choose the Echo dot option and then click the Settings icon at the top right of the screen;
Step 4. Click the Pair a New Device button at the bottom of the screen.
Now your Alexa device has been on pairing mode. Next you can connect your phone or computer to it.
2.1 Play SoundCloud on Alexa via Phone Bluetooth
Step 1. Open the Settings app on your phone;
Step 2. Click the Bluetooth option and then tap on the switch to turn it green;
Step 3. Wait a minute until the name of your Alexa appears; click the name to pair it with your phone.
2.2 Play SoundCloud on Alexa via Computer Bluetooth
Step 1. Open the settings of your computer;
Step 2. Choose the Bluetooth and Other Devices option; tap on the Bluetooth to open it;
Step 3. Click the Add Device button to add your Alexa device to your computer.
Now you can play SoundCloud on Alexa without any restriction.
Part 3. How to Play Offline SoundCloud music on Alexa via PC
SoundCloud music can not be downloaded out of SoundCloud. If you want to listen to downloaded music on SoundCloud, you have to be a subscriber of SoundCloud let alone play SoundCloud on Alexa. Here we give you a way to listen to downloaded SoundCloud music for free on Alexa.
This way is to use TunesKit Audio Capture to download music from SoundCloud. Audio Capture is an audio recording software. It allows users to record all of the sound playing on computers which includes background music from YouTube videos, music from streaming services and other audio. If you are confused about the DRM of music services, Audio Capture can help you remove DRM from audiobooks and music by converting music to common formats like MP3 and FLAC. If you want to cut parts of your audio, you can do it within Audio Capture.
Here are the steps to download SoundCloud music via TunesKit Audio Capture.
Step 1

Install TunesKit Audio Capture

Download and install TunesKit Audio Capture on your computer desktop;
Step 2

Choose output format

Open the software and click the Format icon on the bottom of the homepage to set the output format of your music;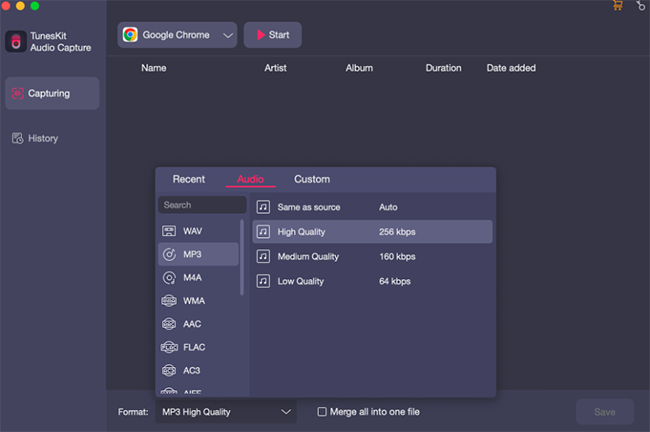 Step 3

Open SoundCloud within Audio Capture

Click the Browser icon to enter the SoundCloud official website;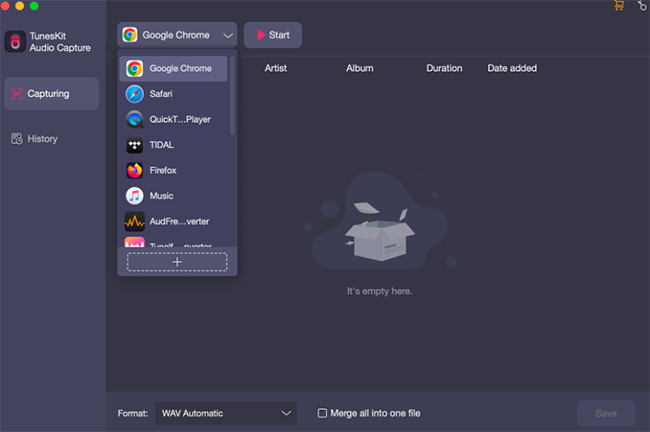 Step 4

Record music

Play the music you want to download and Audio Capture will record it at the same time;
Step 5

Stop music recording

Click the Stop button to end the recording process whenever;
Step 6

Edit downloaded music

After recording, you can edit your music by clicking the Edit icon;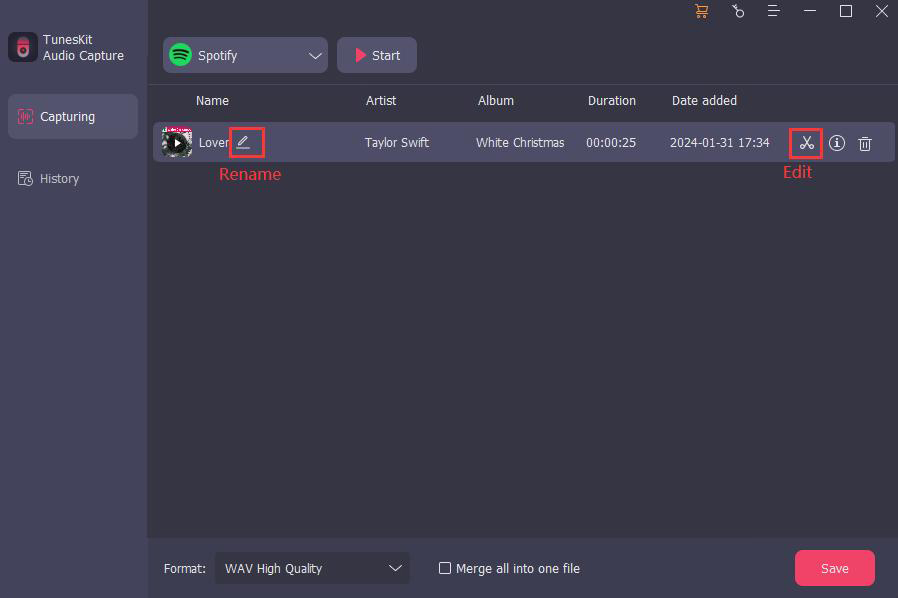 Step 7

Save downloaded music

Click the Save button to save it to your computer and the Audio Capture software;
Step 8

Check the downloaded songs in the local folder

If you want to find them in the local folder on your computer, you should click the Converted icon to enter the History list first, and then click the Search icon; the local folder will pop up.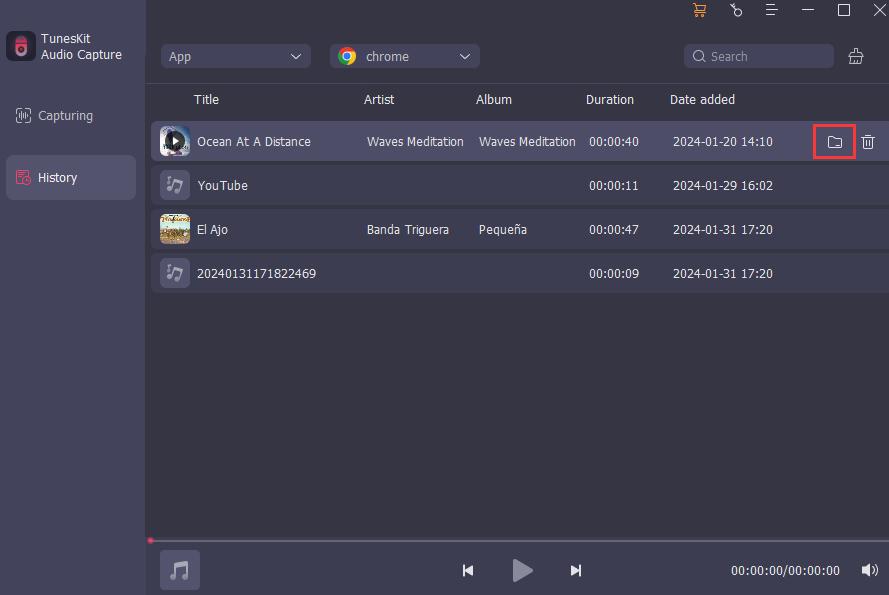 Part 4. FAQ
Q1: What music platforms can Alexa play?
Amazon Music, Apple Music, Deezer, iHeartRadio, Pandora, SiriusXM, Spotify, Tidal, TuneIn, Vevo, and Global Player. Alexa can play those music platforms directly.
Q2: Can Alexa work without WIFI?
If you do not have Wi-Fi in your home, or if you are planning on heading out for a vacation, you can still use your Alexa as a Bluetooth device with a bit of preparation. There are two ways to use Alexa without Wi-Fi: use a mobile hotspot and connect Alexa via Bluetooth.
The Bottom Line
Maybe Alexa will be compatible with SoundCloud one day. Before that, you can only use Bluetooth to play SoundCloud on Alexa. Although it is as easy as playing directly, through the above steps, I believe you must have learned the way to do it. TunesKit Audio Capture makes it possible to listen to SoundCloud music offline for free. When you need it, you can try it.