How to Play Amazon Music in Car
Posted by Adam Gorden on Oct 20, 2022 3:00 PM • Category:
Record Audio
6 mins read
"Can you play Amazon Music in car?" When you look for the answers on the web, you will find that many people have the same question as you. People who choose to drive spend almost a third of their time in the car during their commute or journey. Most people choose to play a song while driving to change their mood so that they don't become tired or stressed. So, when you want to listen to music in the car, can you play Amazon Music? The answer is yes. This article will show you a few ways on how to listen to Amazon music in car.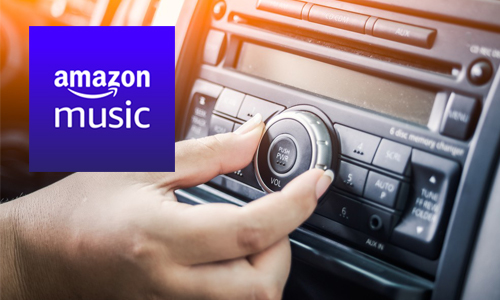 Part 1. How to Download and Listen to Amazon Music in Car
Considering that some people want to play Amazon Music offline in the car, the first way we offer is to download your favorite songs from Amazon Music onto a USB stick or disc and then play them in the car. Those who have purchased Amazon Music singles or albums can transfer the songs directly onto a USB stick, but what about those who only have an Amazon subscription?
As you know, Amazon subscriptions only allow you to save songs to their app, not to download Amazon songs locally. Luckily, there is third-party software that supports you in downloading Amazon music to your computer, namely TunesKit Audio Capture.
TunesKit Audio Capture is a powerful audio grabber that will record Amazon music losslessly as you play it, and then export it to the format you want, such as MP3, AAC, WAV, etc. It also comes with a simple audio editor that makes you trim the length of the downloaded Amazon music, or change the information in the ID3 tags. Read the tutorial on how to download Amazon music with TunesKit Audio Capture.

Main Features of TunesKit Audio Capture
Download music from Amazon Music, Deezer, Spotify, Tidal, and other music streaming platforms
Record and save Amazon Music in MP3, AAC, WAV, M4A, M4B, AAC
Save Amazon Music with high quality and full ID3 tags
Support merging, trimming, and editing ID3 tags
Try It Free
600,000+ Downloads
Try It Free
600,000+ Downloads
How to Download and Play Amazon Music Offline in Car
Step 1: Download and launch TunesKit Audio Capture. Firstly, you need to tap the + button to add a program that can access Amazon Music to the TunesKit main interface.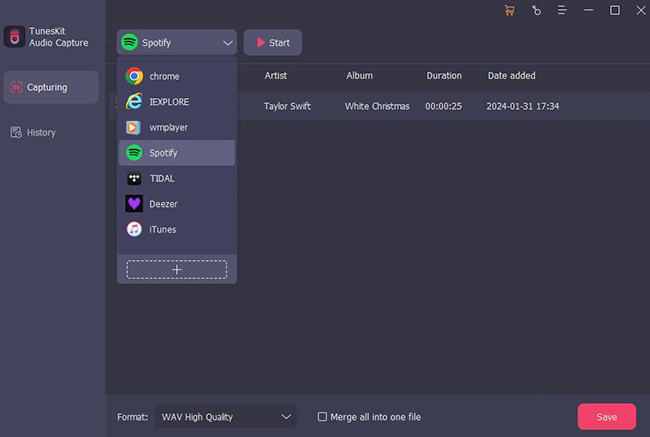 Step 2: Before the downloading, please click on the Format button to preset the parameters of Amazon music downloads. Here you can change the audio format, codec, channel, bit rate, and sample rate.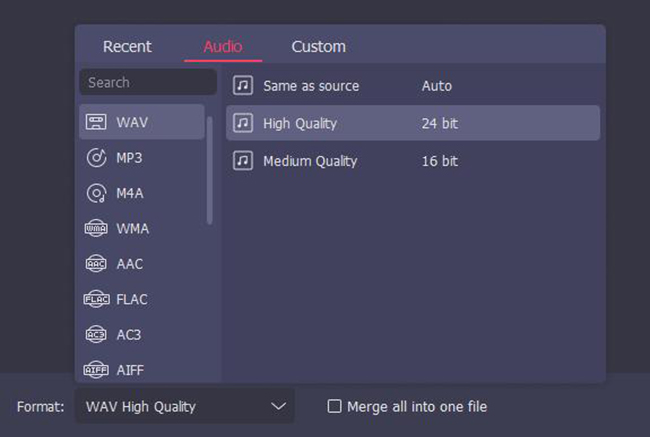 Step 3: After that, tap the target program from TunesKit Audio Capture to open the Amazon Music player. Just play the desried music and TunesKit Audio Capture will record it immediately. When you finish, click on the Stop button. And all the recorded Amazon Music song will be shown in the Capture list.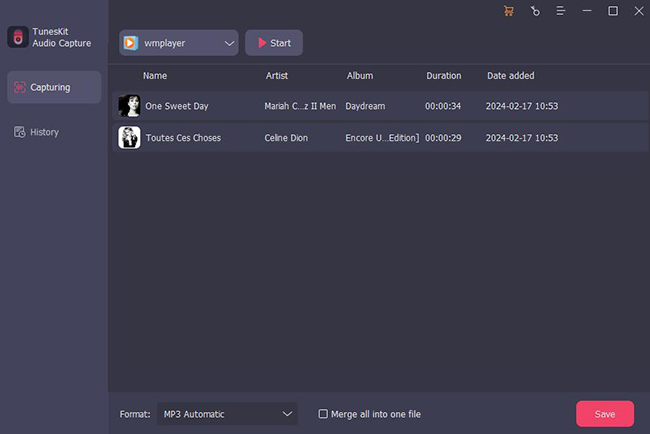 Step 4: You can click on the Edit icon at the rear of each track to cut or edit the ID3 tags, or combine the Amazon Music tracks by tapping the Merge button at the bottom left. When all is done, remember to hit the Save button.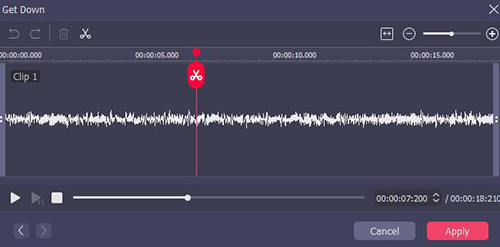 Step 5: Now it's time to transfer the downloaded Amazon Music to your USB drive so as to play the Amazon Music offline in your car. You can find the downloaded Amazon Music in Converted. Here you can see all the download history, and locate the target folder by tapping the Search icon at the rear of each track, then drag and drop these music files to the USB drive folder.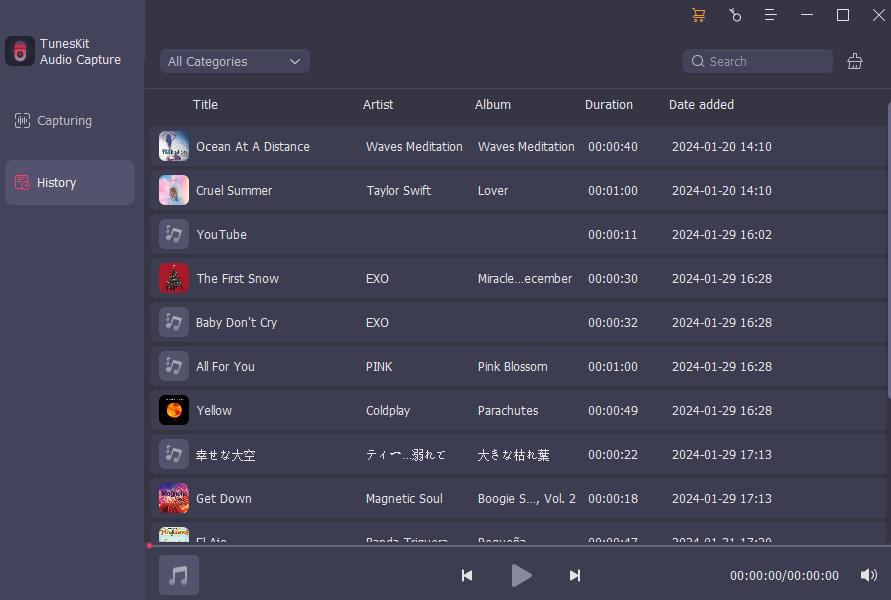 Part 2. How to Play Amazon Music in Car in Other 4 Ways
The first option requires you to add the downloaded Amazon music to a USB stick or CD, so you're better off with these carrier tools well placed in your car. However, there are other options you can consider if you are looking for more speedy solutions. Here's our round-up of four simple, can-do methods using just your mobile phone.
Method 1. Play Music in Car with Amazon Music Integrated into the Dash
Nowadays, there are a wide variety of cars with Amazon Music integrated into the dashboard, from which you can enjoy your Amazon collection in a car that is Amazon Music-enabled. Amazon Music integrated, also refers to Alexa integrations.
Alexa connects Amazon Music Unlimited and other music services. With vehicles with Alexa, such as BMW, Ford, Audi, Mini, etc., it's easy to speak to Alexa and play Amazon music, podcasts, and more with just your voice, which means you don't have to free up a hand to manually have Amazon music played while you're driving, allowing you to pay full attention to the road.
Step 1: Check here to see whether your car goes with Alexa integrated. If yes, go to the dashboard to check if the Alexa app is available on the screen. You can tap the Apps icon to download Alexa app if you can't find it.
Step 2: Then launch the Alexa app and click Go Started. Then sign in to your Amazon account.
Step 3: Once logged in, Alexa will be ready to go. While driving, you can then speak to Alexa like "Alexa, play XX song".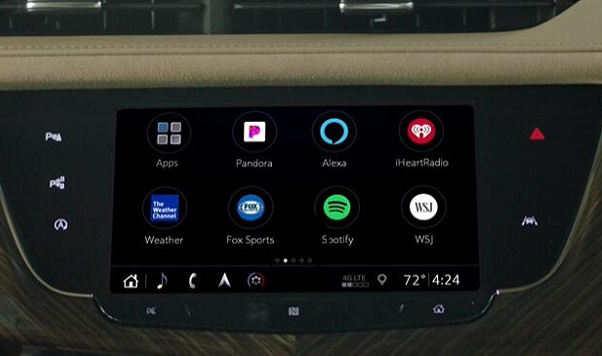 Method 2. Play Amazon Music in Car with Amazon Built-in Accessory
If your car does not have an Alexa-integrated dashboard, you can add Alexa to your vehicle using an in-car accessory with Alexa built-in, such as Echo Auto. It is not free and requires Bluetooth or USB cable input to connect Alexa to your car and use your smartphone for internet connectivity.
Step 1: Install and launch Alexa app to get ready to set up on your phone. Then connect Echo Auto to your car with the USB cable.
Step 2: In the Alexa app, click on Menu > Add a Device > Amazon Echo, and select Echo Auto, then you need to pari your phone to Auto Echo via Bluetooth.
Step 3: When all is ready, you can ask Alexa to play a song on Amazon Music in your car.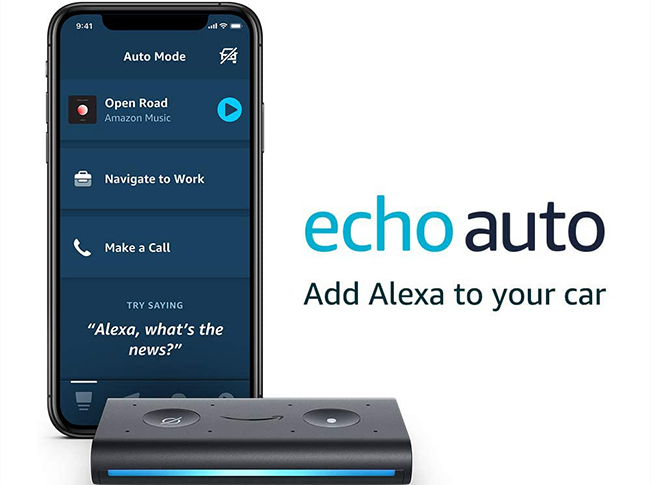 Method 3. Listen to Amazon Music in Car with Apple CarPlay or Android Auto
Some of you may not be aware that vehicles that are compatible with the Apple CarPlay app or the Android Auto app are also able to play Amazon Music in the car. Pair the app with your car, and you'll be able to play your favorite Amazon Music songs.
Step 1: To use Apple CarPlay, make sure you have iOS 7.1 or higher on your iPhone. Then connect your iPhone to your car using Bluetooth.
Step 2: Next, open Settings > General > CarPlay on your iPhone and select your car stereo.
Step 3: After that, your phone screen will display on the dashboard, and then tap on the Amazon Music app and start streaming the music you want.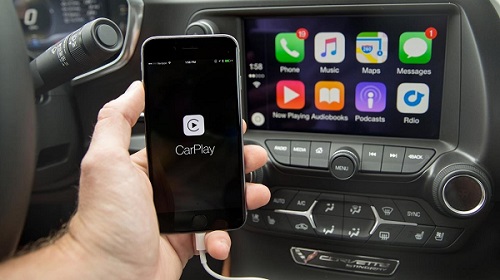 Step 1: To use Android Auto, make sure you've downloaded the app and pair your Android phone with your car.
Step 2: After the Android Auto app is connected to your car, open Amazon Music on the car screen, and you can then tune up your favorite songs or playlists.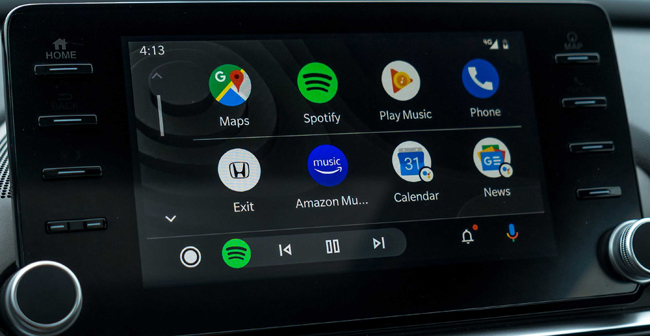 Method 4. Listen to Amazon Msuic in Car with Amazon Music Car Mode
If you think of the methods above are still a little bit trouble, you should check out the most straightforword way. Amazon Music phone app comes with a Car Mode that you can play the Amazon Music in car simply through Bluetooth. Amazon Music can be set to switch to Car Mode as long as the phone is connected to the car's Bluetooth.
Step 1: Open the Amazon Music app on your phone. Tap the Menu button at the top right, and select Car Mode, and you can set When connected to In Car Bluetooth.
Step 2: Enable Bluetooth on your phone and in your car. Then the Car Mode will be initiated as soon as it recognizes the in-car Bluetooth.
Step 3: And now you can play Amazon music in your car by asking "Hey Alexa, play xx song."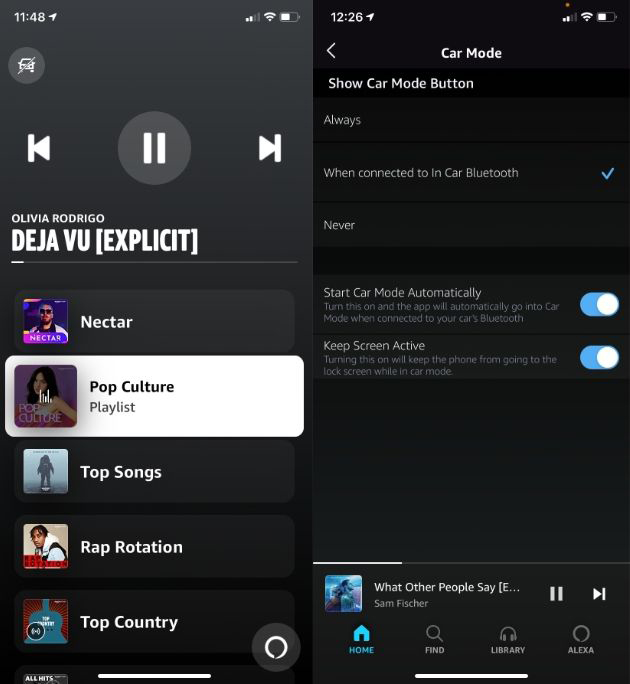 Part 3. Conclusion
As you can see, it's not difficult to play Amazon Music in your car. TunesKit Audio Capture will help you download the Amazon music you want onto a USB stick or CD and play it offline in your car. Or you can connect the Amazon Music app to your vehicle using Bluetooth or auxiliary tools to stream songs without problems. Anyway, choose the option that suits you and enjoy Amazon music while driving.