Best Solutions to Convert YouTube to WAV in 2020
Posted by Adam Gorden on Sep 1, 2020 10:15 AM. • Category:
Record Audio
4 mins read
It is safe to say that YouTube is a lot more than a website where you can watch videos, since it stores a large number of other resources in video formats. Some resources on YouTube, such as music, lectures, and courses, can be better used when converted to audio formats, such as WAV. But how to download and convert videos from YouTube to WAV? Here you can find the best methods to do that, each of them has unique features. We are sure that one of them will satisfy you.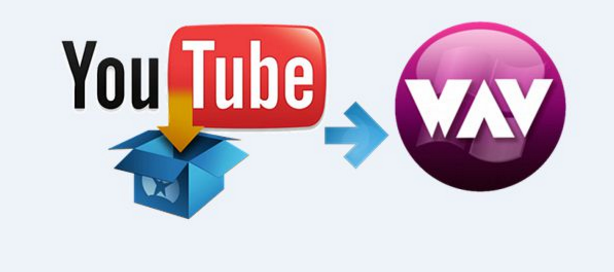 1. FAQ about Download and Convert YouTube Video to WAV
Q: What is WAV? Is it better than MP3?
A: Developed by IBM and Microsoft, WAV is an audio platform widely used in the creation of CDs. It does usually provide better sound quality compared with MP3, but the size of WAV files tends to be bigger.
Q: Can I convert YouTube video to WAV on YouTube app or its website?
A: For mobile users, YouTube videos can be downloaded directly in the YouTube app, but they cannot be converted to WAV. For desktop users, YouTube videos can be neither downloaded nor converted to WAV. In a word, a third-party tool is necessary to download and convert YouTube videos to WAV.
2. Best YouTube to Wav Converter - TunesKit Audio Capture
TunesKit Audio Capture can download the videos from YouTube and convert them to WAV files without any quality loss. Sounds fantastic? It's true. This tool can convert YouTube to WAV for Mac and Windows, which is a perfect choice for those who demand excellent sound quality and efficiency.
TunesKit Audio Capture supports multitask downloading, which means it can download multiple videos to WAV, as well as some other common audio formats such as MP3, FLAC, AAC, etc. The excellent experience it provides will continue after downloading. There is also a built-in audio editor for you to edit the WAV files downloaded. If you download music videos, the program will automatically match the ID3 tags for them.
Step-by-step Tutorial to Download YouTube to WAV
Step 1

Getting Started

Download and launch TunesKit Audio Capture from the links above. In its major interface, you will see a list of programs, including Chrome. Although you can add other browsers to open YouTube by clicking the "+" icon, it is recommended to use this specific Chrome here. Notice that you need not open Chrome right now.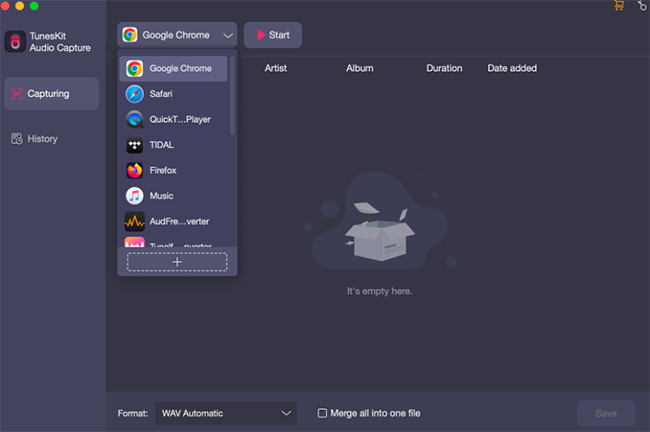 Step 2

Configuring the Pre-download Settings

Go to the "Preferences" menu on the top right, and go to its Convert tab. Here you can select where to save the downloaded files.

Then go to the "Format" icon at the bottom right. In the pop-out window, choose the WAV format out of the 6 formats available. You can also adjust the codec, channel, sample rate, bit rate. If those options are too confusing, you might as well go to the "Preset" option in this window and select "Small Size" or "High Quality". Press "OK" to confirm your preferences.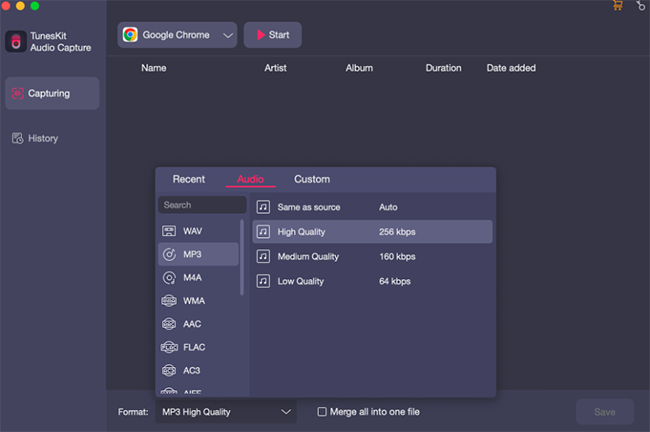 Step 3

Start Downloading and Converting

Go back to the home page, and click on the Chrome icon. A Chrome window will be launched and you can open the YouTube videos in it. Once you start playing these videos, the program will begin downloading them. As mentioned before, you can download as many videos as you like simultaneously, and TunesKit Audio Capture will record them separately as you see in the capture window.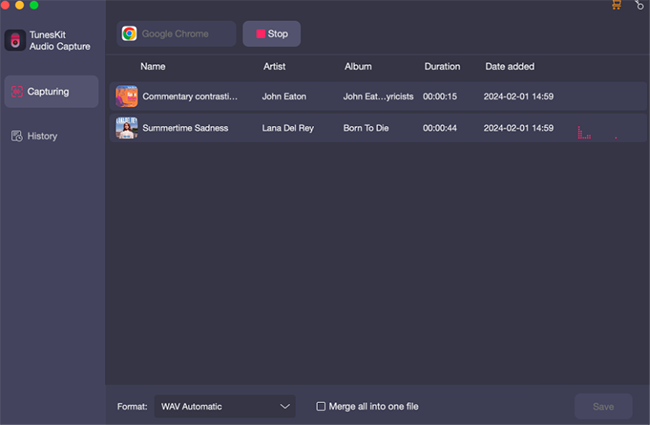 Step 4

Editing and Saving Files

When the videos finish downloading, press the Stop button. If you need, you can tap on the "Edit" button at the rear of each track to open the built-in editor. This audio editor allows you to trim the tracks and edit the ID3 tags. When finish editing, press the "Save" button to save the track to local storage. You can then find them in the folder you previously chose.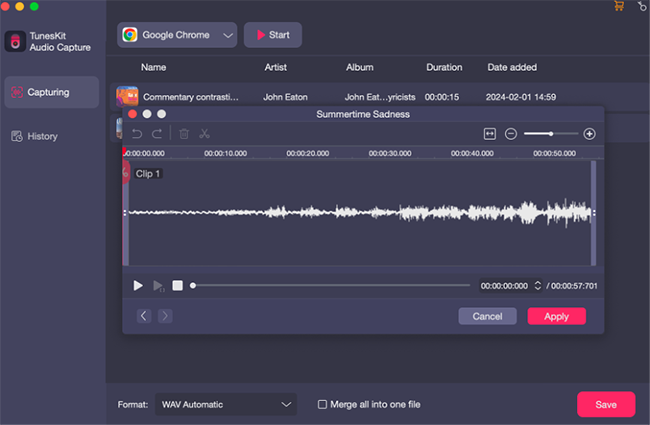 3. Alternatives to Convert YouTube to WAV
The alternative YouTube to WAV converter may have fewer features, but they are also usable converters that actually work. Some of them are completely free.
3.1 YouTube2Video Online Converter
YouTube2Video is an online converter and downloader to convert YouTube to WAV online for free. It fits perfectly into the online converter category – it is clean, fast, and easy-to-use. All you need to do is to copy the link of the YouTube videos and paste it in the converter, and the video will be downloaded and converted to WAV files. Unlike most online converters, YouTube2Video doesn't have any ads. However, the downloaded files are not lossless quality.

3.2 SaveTheVideo
SaveTheVideo is also an online YouTube to WAV converter and downloader. Aside from converting files to WAV, this website does provide service to convert videos to other formats. To convert YouTube videos to WAV, you only need the link of the video. The stepsare easy for any user to learn.

3.3 EaseUS Video Editor
Being an excellent multi-functional video editor, EaseUS Video Editor can also convert videos to WAV files. The conversion speed is pretty fast, and the output sound quality is quite good. Sounds perfect, isn't it? However, it should be well noticed that the program is way too expensive if you simply want to convert the videos into WAV files. Most importantly, it doesn't download videos from YouTube, which means you have to find a downloader to download YouTube videos and then convert them with EaseUS.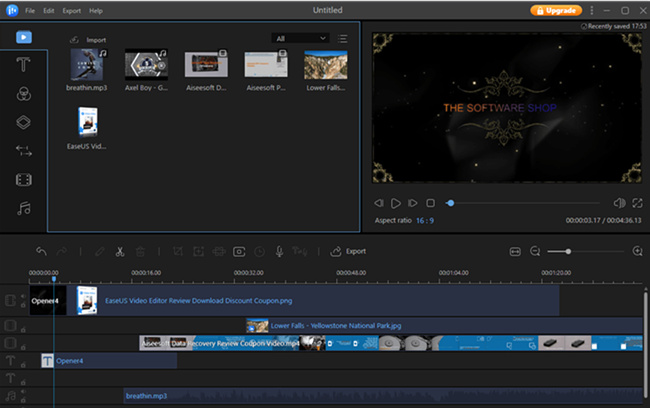 4. Conclusion
Now you know how to convert YouTube to WAV file free or paid. All the converters mentioned in this article are able to convert YouTube videos to WAV successfully. Each of them has unique features, and it's up to you to decide which one to choose. Many users have chosen TunesKit Audio Capture becuase of its ease of use and high output quality, maybe you can also have a try.