How to Convert FLAC to MP3? Here are the Answers!
Posted by Nick Orin on Aug 7, 2023 6:00 PM • Category:
Record Audio
6 mins read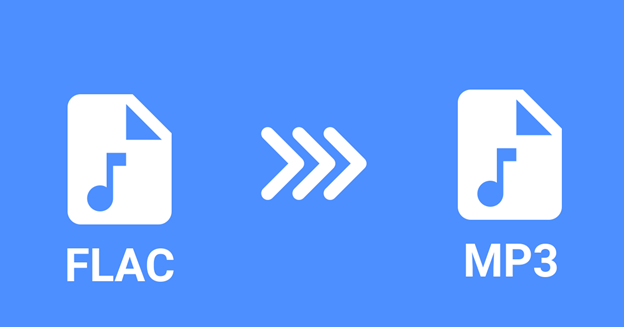 There are a lot of audio formats. FLAC and MP3 are the two of them. The two formats have their characteristics respectively and apply to different people and situations. Due to some reasons, we need to convert them to each other. However, finding a good converter is not so easy. Here we find some methods to convert FLAC to MP3 to help you get satisfactory audio.
Comparing FLAC with MP3
Before we convert files, we need to know why we want to do that. When you know the reasons, the resulting audio is the one you want. To clarify the reasons for converting files, we compare FLAC with MP3 from several aspects.
1. Audio Quality
FLAC: It is a lossless compression format, which means it can compress audio file size without losing any audio quality. The original audio data can be fully restored, so the sound quality is very high, almost the same as CD sound quality;
MP3: It is a lossy compression format that removes some audibly imperceptible audio information to reduce file size. While MP3 sounds decent at higher bit rates, MP3 sound quality is generally poor compared to FLAC's lossless compression.
2. File Size
FLAC: FLAC files are relatively large due to lossless compression. It is usually 2 to 5 times larger than an MP3 file of the same length, depending on the compression level and the complexity of the audio content.
MP3: MP3 files are relatively small due to lossy compression. Its file size is usually much smaller than FLAC because it deletes some audio data to reduce file size.
3. Compatibility
MP3 can be played on most audio devices, while FLAC format may not be supported on some devices.
4. Using Situation
FLAC: Because it provides lossless sound quality, FLAC is suitable for scenes with high audio quality requirements, such as professional audio studios, high fidelity audio collections for audiophiles, and lossless file transfer during music production.
MP3: Due to the small file size and acceptable sound quality, MP3 is suitable for music transfer in the case of limited storage space on the device, such as playing music on mobile devices, network music transfer, etc.
If you still decide to convert FLAC to MP3 after the comparison above, the methods following will help you.
How to Convert FLAC to MP3 via Online Tools
Online tools are available in most cases and no need to download them. They allow you to convert FLAC to MP3 online and for free. If you just want to convert audio and don't mind that online tools are not so stable, a good online converter is adaptable for you. Here we recommend some best online converters for you.
1. CloudConvert - FLAC to MP3 Converter
This converter allows you to convert FLAC to MP3 within 3 steps. In addition, it promises the quality of converted audio and the security of your data. Before you download the converted audio, it allows you to preview it and then decide if download it to your device. Steps as follows:
Step 1: Enter the official website and click the drop-down arrow next to the red button: Select File; you can choose the file source: From my Computer, By URL, From Google Drive, From Dropbox, or From OneDrive.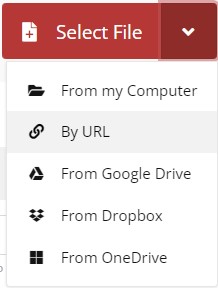 Step 2: Choose the target format and set details with the setting icon; after setting, click the Convert button; if you need to convert more than one file, click the Add more Files to add;

Step 3: Waiting for a few seconds and then there will be a preview pop-up; you can listen to it before you download it;

2. Convertio - FLAC to MP3 Converter
It is also an excellent online converter. But it is different from the first one. Convertio cannot preview the converted audio. However, the audio quality of it is promised. You can use it to convert FLAC to MP3 without worry.
Step 1: Visit the official page and click the Choose Files button to find your audio on your computer files, or you want to choose files from Dropbox or Google Drive, just click the corresponding icons to upload them;

Step 2: Click the setting icon t set information and then click the Convert button to start converting;

Step 3: Wait for seconds and then click download.

3. FreeConvert-FLAC to MP3 Converter
As its name, the tool is completely free. Unlike the above two online tools, the tool allows you to choose the location to save files like Save to Device and Save to Google Drive and even you can scan the QR code to download the files to your mobile phone. You can use it to convert FLAC to MP3 more conveniently.
Step 1: Enter the tool's website and then click the Choose Files or choose the source of your files through the drop-down arrow;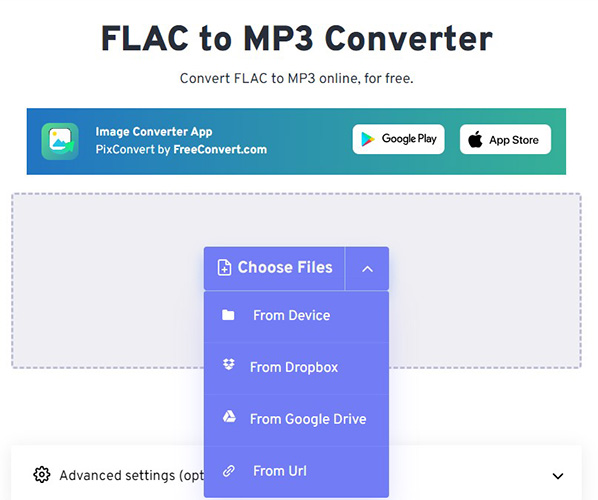 Step 2: If you want to convert many files at the same time, click the Add More Files to add and click the setting icon to set detailed information, and finally click the Convert button;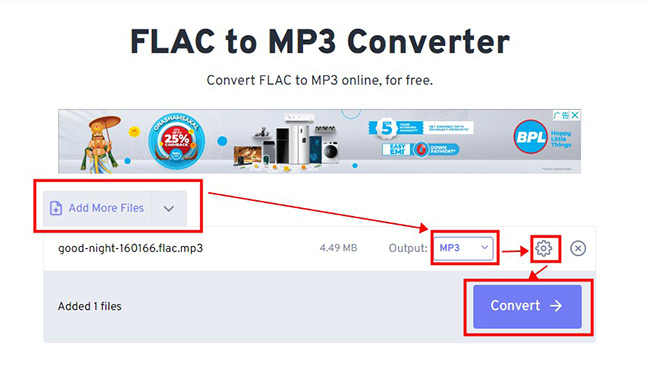 Step 3: A few seconds later, you can download the converted audio.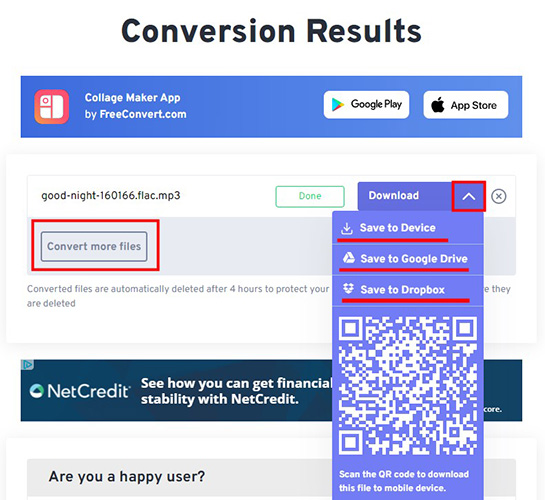 How to Convert FLAC to MP3 via Offline Software – TunesKit Audio Capture
Sometimes we need an offline converter to convert files. The best offline software we recommend is TunesKit Audio Capture. Not only because of its excellent converting features, but its audio capture features. As an audio converter, it can promise the quality of converted audio. As an audio capture, it can capture all the sounds of your computer including capturing music from YouTube videos. If you want to record music from certain a music platform like Spotify, Audio Capture can record it without any loss.
Features:
● Supports multiple formats, including AAC, M4A, M4B, FLAC, WAC, and MP3
● Repairs and arranges ID3 tags
● Allows you to merge and trim your audio files
● It offers a simple user interface, making it look effortless for you
● Lets you record multiple audio files simultaneously
● Allows you to adjust the quality of your audio
The steps to convert FLAC to MP3 with TunesKit Audio Capture:
Step 1
Download and open the software;
Step 2
Click the Format icon on the button right of the homepage to set the output format as FLAC and other details;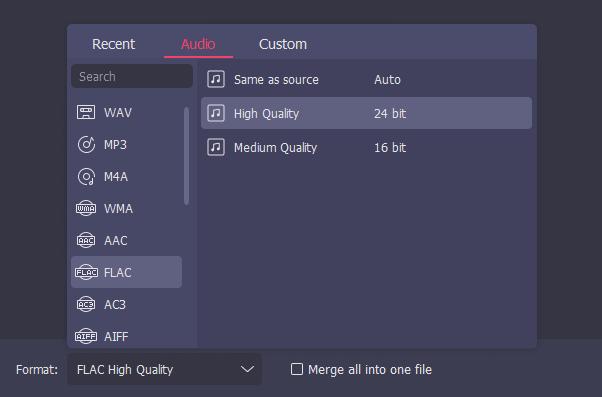 Step 3
Add your download FLAC file to your wmplayer on your computer;
Step 4
Click the wmplayer icon on the Audio Capture homepage and play the file you want to convert; Audio Capture will record it automatically;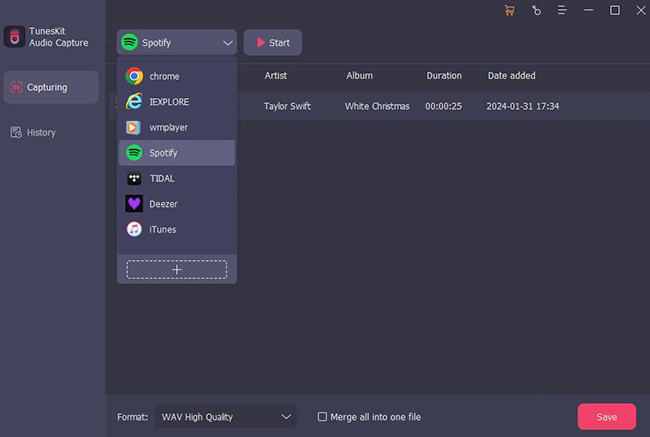 Step 5
After the audio play over, just click Stop on the recording page; and then click Save button; then the audio has been converted to MP3;
Step 6
You can find the saved files on the History list; click the Converted icon to enter the History list;
Step 7
Click the Search icon to find the files from your computer files.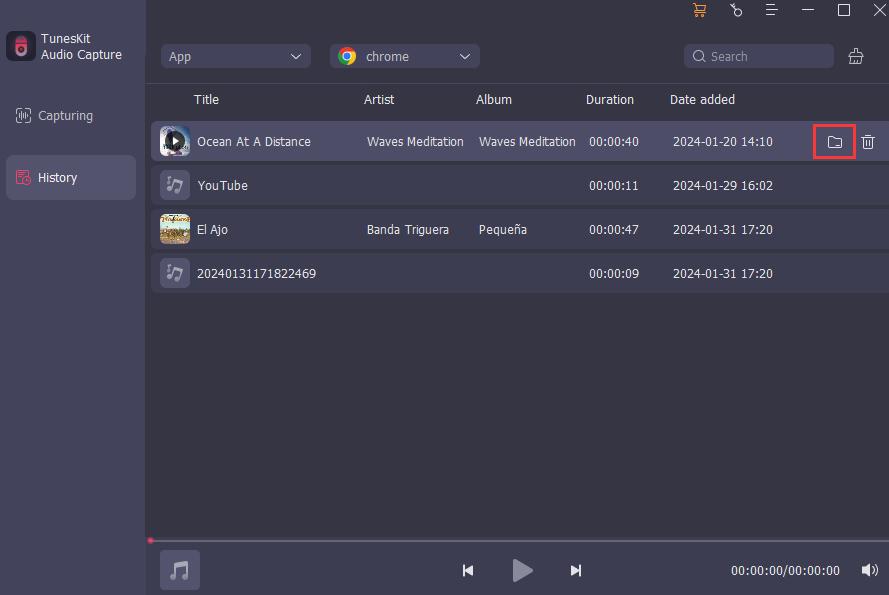 The Bottom Line
With the help of those tools, it is an easy thing to convert FLAC to MP3. What should be noticed is that you should make sure that whether the format you want to convert satisfies your requirements or not. If not, it is not a good choice to convert your files. You can choose online tools to help you and TunesKit Audio Capture is also a good choice that can help you do more.