How to Convert AAX to MP3 - Enjoy Audiobooks with an MP3 Player
Posted by Adam Gorden on Aug 29, 2023 6:00 PM • Category:
Record Audio
5 mins read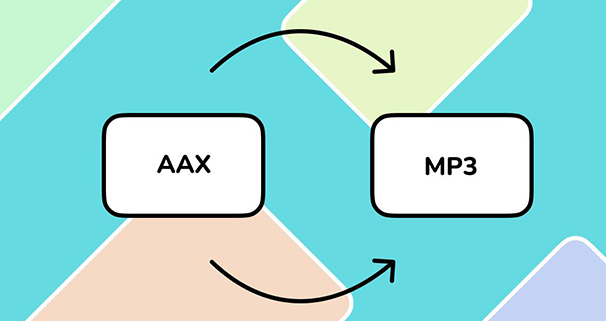 Nowadays people become more and more busy in their work or study because of the competitive society. Reading a favorite book becomes difficult. Audiobooks appear at that time. Audiobooks make it possible to read a book without your eyes. You can listen to an audiobook when you are doing housework or any other things. In addition, audiobooks give us a more vivid way to enjoy our favorite books.
Audible is a popular audiobook platform and it creates a special format, AAX, for its audiobooks. The format can be compatible with a few devices, so it is necessary to convert it to other more common formats so that we can enjoy it more conveniently. This post will help you convert AAX to MP3 with some tools and you can listen to your AAX audiobook files with any devices that are compatible with MP3 format.
Part 1. What is AAX?
AAX is an audiobook format that represents the highest quality audio format for audiobooks. AAX format supports image display, so it can be used for more audiobooks, such as children's books, picture books, picture novels, etc. When the audiobook is playing, the image will be displayed in the player automatically.
However, AAX files are protected by Audible and they cannot be played outside Audible, Apple iTunes, iPod, and Amazon Kindle 2. It means that the way you can enjoy audiobooks from Audible is very limited.
Part 2. The Reason to Convert AAX to MP3
Converting AAX to other formats is an effective way to reduce the limitation. MP3 is the most common audio format now, and it can be compatible with most devices. So, knowing how to convert AAX to MP3 would be useful knowledge to enjoy audiobooks as you wish.
Part 3. The Best AAX-to-MP3 Converter: TunesKit Audio Capture
TunesKit Audio Capture allows you to convert any sounds playing on your computer to MP3, M4A, AAC, FLAC, WAV, and M4B which means that you can six kinds of converters at the same time. The quality of its output audio is high-quality and can be even higher than your original audio quality.
Although its converting feature is excellent, converting audio is not Audio Capture's main feature. The main feature of it is to record all of the sounds on computer whether from websites, system players, or desktop software. For example, Audio Capture can help you capture the background music from a YouTube video. All in all, Audio Capture is a versatile tool.
Here we just talk about how to convert AAX to MP3 with TunesKit TunesKit Audio Capture.

Key Features of TunesKit AAX-to-MP3 Converter
Record music tracks from Audible with high quality
6 popular audio formats supported
Preserve 100% lossless audio quality and ID3 tags
Support the and editing of the recorded audios
Try It Free
600,000+ Downloads
Try It Free
600,000+ Downloads
Steps to convert AAX to MP3 with TunesKit Audio Capture:
Step 1
Download and open TunesKit Audio Capture;
Step 2
Click the Format icon to choose the output format you want; here we should choose the MP3 format;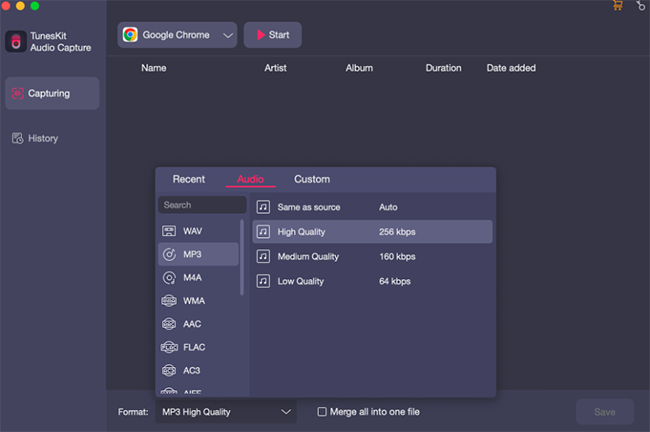 Step 3
Click the Chrome icon to enter the search engine's search page and find the audiobook you want to convert to MP3 within the Audible website; if there is no Chrome icon on the homepage of Audio Capture, just click the + icon to add it;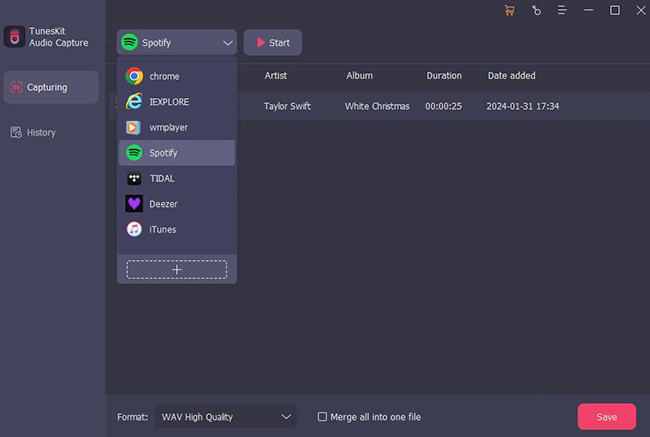 Step 4
Play the audiobook on your computer;
Step 5
Click the Stop button on the recording page to end the recording process;
Step 6
Move your mouse to the recorded audiobook, and then you can see the Rename and Edit icon on it; you can change the name of the audiobook and edit it as you want;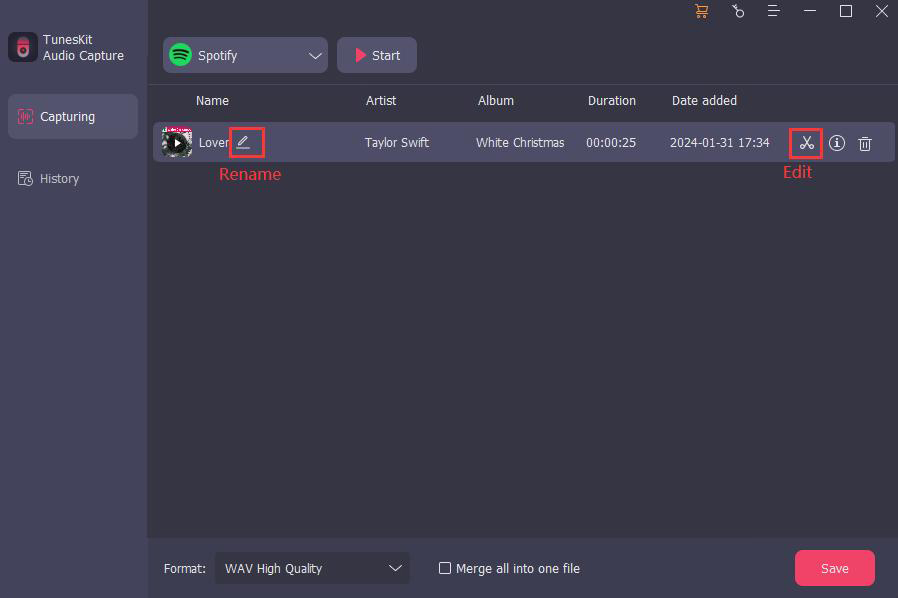 Step 7
Click the Save button when you get a satisfactory recording to save it to Audio Capture and your computer;
Step 8
Click the Converted icon next to the Format icon to enter the History list and then you can find all the recording files on it; click the Search icon to find them on your computer folder.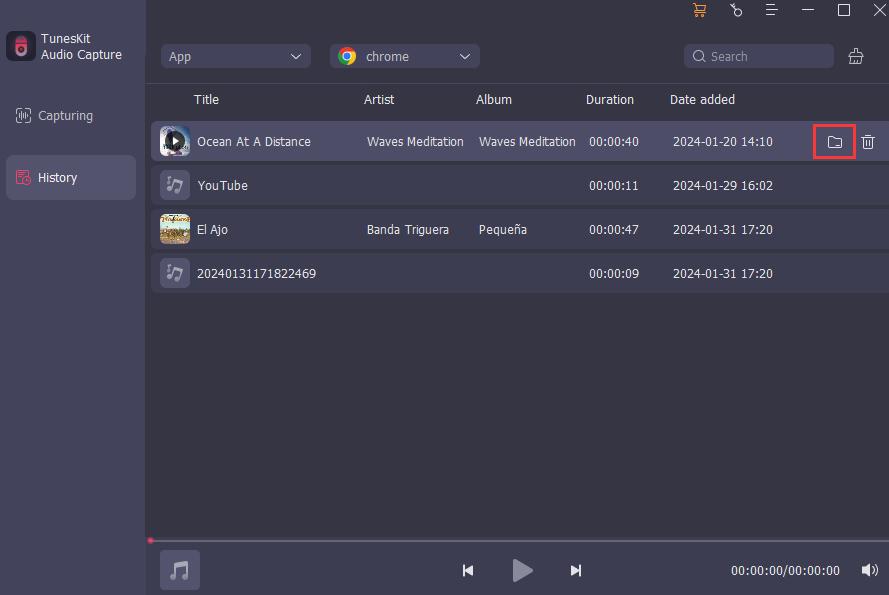 Part 4. How to Transfer Audiobooks from Audible to an MP3 Player
To enjoy audiobooks wherever, transferring downloaded audiobooks to your MP3 player is a good way. Here we summarize two common ways to transfer files from a computer to an MP3 player.
1. Transfer Files with Windows Media Player
Step 1: Connect your MP3 player to your computer;
Step 2: Open Windows Media Player on your computer;
Step 3: Click the Sync button on the top right of the pop-up and then drag those downloaded audiobooks to the Sync list pop-up;
Step 4: Click the Start Sync button.
2. Transfer Files with iTunes
Step 1:Connect your MP3 player to your computer;
Step 2:Open iTunes on your computer and then add those audiobook files to iTunes;
Step 3:Click the Files > New > Playlist options in order to create a new playlist to place those audiobooks you want to transfer to your MP3 player;
Step 4:Find the MP3 player on your iTunes;
Step 5:Drag those audiobooks files to MP3 player;
Step 6:Wait for a minute until your MP3 player has scanned all the files.
Part 5. Online Tools to Convert AAX to MP3 for Free
There are some online tools to help you convert AAX files to MP3 files easily, though they are not so stable. They can help you in a way.
1. audibleconvert.com
The online convert has an extremely simple interface and converting steps without any ads on it.

Step 1:Click the Choose file button and find the audiobook files in your computer folder;
Step 2:Click the file and then back to the tool's page;
Step 3:Click the Convert button to start converting.
2. AnyCon
This tool also has a simple interface and easy steps. But there are many ads on its page and you may feel a little bit annoyed.

Step 1:Click the CHOOSE FILE button to find the files you want to convert;
Step 2:Click the CONVERT button to start converting;
Step 3:Click the DOWNLOAD button to save the file to your computer.
Conclusion
With the help of TunesKit Audio Capture or certain online converters, Converting AAX to MP3 would be an easy process. When you complete converting, you can place those converted audiobooks in any device and listen to them with any device. If you are an audiobook lover, this skill to convert AAX to MP3 can help you enjoy audiobooks more freely. Are you interested in it? Just have a try!