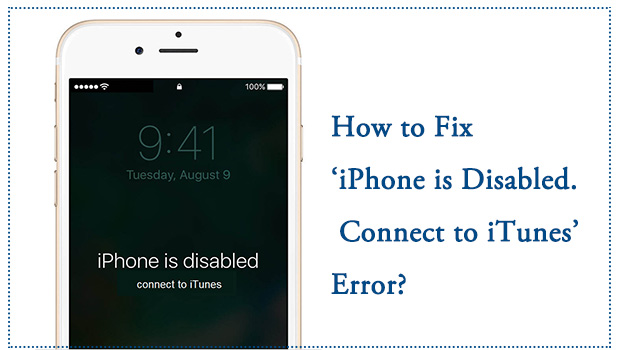 If your naughty child takes away your iPhone secretly and tries to guess your password many times, or you forget the password and try many times, your iPhone will be set automatically into the state that "iPhone is Disabled. Connect to iTunes" for protecting the phone itself. What's worse, the more times you press the wrong passwords, the more serious problem you will make to disable your phone. And the worst situation you will encounter is that there is a warning "Connect to iTunes" on your screen.
So why iPhone is disabled and how do I fix a disabled iPhone? Here will provide you the detailed and useful guide.
Why Is My iPhone Disabled?
Any iPhone have the function of protecting themselves if anyone tries to unlock your phone by guessing your passwords. So if anyone input the incorrect passcodes 5 times on your iPhone, your phone will be set into the disabled state "iPhone is disabled, try again in 1 minute." If people press the incorrect password for 7 times, you will need to wait 5 minutes. Pressing the wrong password for 8 times will cost you to wait 15 minutes. 9 incorrect passwords will cost you to wait 60 minutes. And your phone will show "iPhone is Disabled. Connect to iTunes" or your phone will erase the data if self-destruct mode is turned on when you press the wrong password 10 times.
Under normal circumstance, your phone will not enter to this situation unless there are some artificial or unconscious operations. For example, the phone which is put in your pocket will inadvertently press the password button when you are walking or doing some movements. There is also a chance that your phone was taken away by your child or other people, they want to guess your password but they failed. Or your phone is disabled because your Touch ID not working and you forget your password so you have to guess for many times.
How to Fix "iPhone disabled connect to iTunes?"
Tip 1. Fix iPad/iPhone Is Disabled Connect to iTunes with iTunes
If you have backed it up recently and you know your iPhone password, you can simply unlock the device
Step 1. Connect your iPhone with a computer which has synced before via a USB cable.
Step 2. Launch iTunes and click "Summary" > "Sync" in iTunes and enter your correct password to unlock the device.
Step 3. Choose "Restore iPhone" to recover data from the most recent back.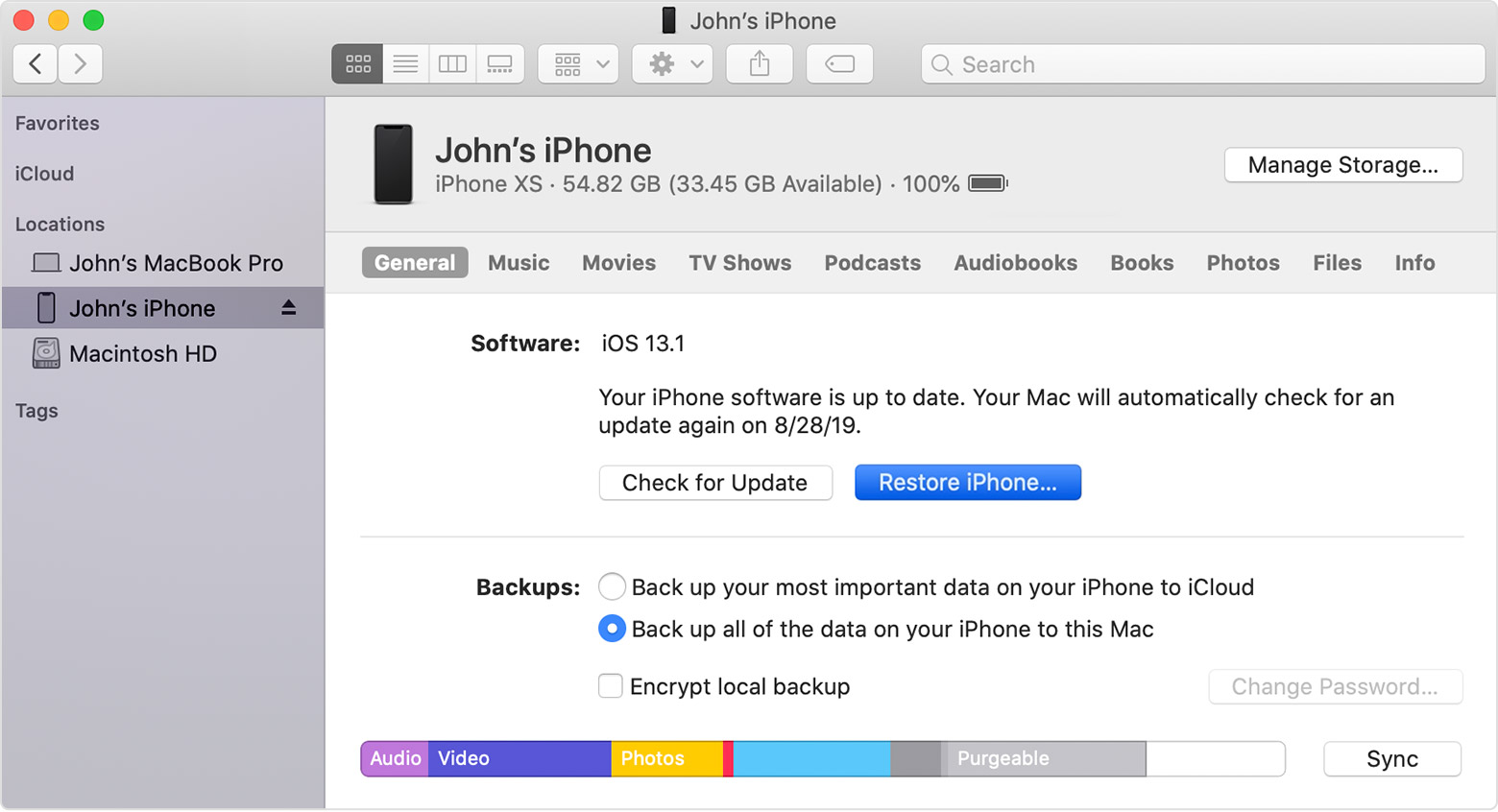 Tip 2. Resetting Your Phone to Recovery Mode
If you don't remember your iPhone password, you have to erase all the data on your phone by using recovery mode. But you can still restore the data if you have a backup in iTunes or iCloud.
Here are the instructions of how to enter Recovery Mode
Step 1. Connect your phone with the computer via a USB cable.
Step 2. Open iTunes.
Step 3. Press and release the button according to your iPhone models.
(1) iPhone 8 or later models: Press and release the "Volume Up" button and the "Volume Down" button simultaneously, press and hold the "Side" button until you see the recovery-mode screen.
(2) iPhone 7/7 Plus: Press and hold down the "Volume down" button and then release the "Volume down" button when you see your phone connect to iTunes.
(3) iPhone 6s or earlier: Press and hold the "Home button" on your phone. And release the Home button when you see the iTunes icon on your phone.
If you did not back up your data, all the information on the iPhone will be erased and missing forever.
Tip 3. [The Optimal Choice] Using an iOS System Recovery Software
If you want to fix a disabled iPhone, using an iOS system recovery software is the most effective way and the most optimal choice. TunesKit iOS System Recovery is a professional iOS repair software that can not only help you fix a disabled iPhone without any data loss or backing up with iTunes but also can provide you the service of one-click to enter/ exit recovery mode. It is very easy to operate and professional.

Characteristics of TunesKit iOS System Recovery:
Compatible with iOS 16 and the most recent iOS devices
No need to jailbreak iOS 16 and downgrade to iOS 15.6.1 swiftly
Rest easy knowing that your data is safe as you restore your iOS to factory settings
Get rid of the Apple logo, boot loop, and black screen that often occur on iOS
Initiate and complete the process of leaving recovery mode on your iOS device easily
Here are the steps of how to use it.
Step 1

Open TunesKit and Connect Your iPhone to Computer

First you need to download TunesKit on your computer and then connect your phone to the computer via a USB cable. After your phone has been detected, press "Start".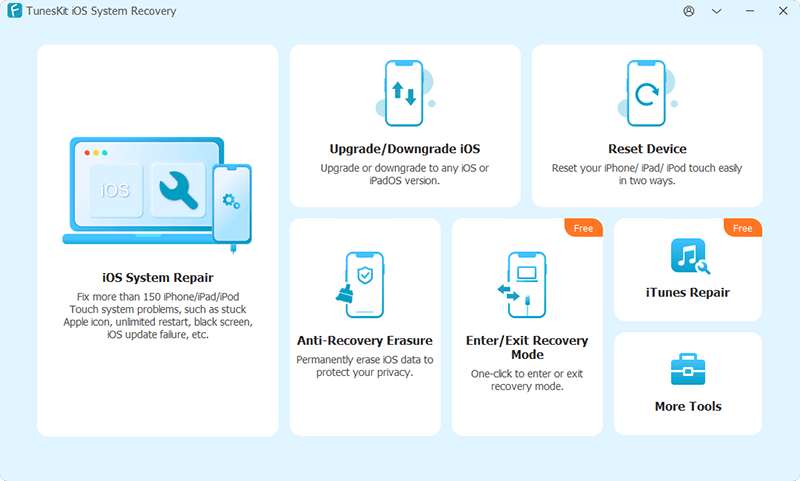 Step 2

Select a Repairing Mode and Download Firmware Package

To fix a disabled phone, you should first try the Standard Mode, which can solve the common iOS issues and repair it without any data loss. But if you are facing more serious iOS system issues, you can choose the Advanced Mode which can recover more serious problems, but I will erase all data on your phone.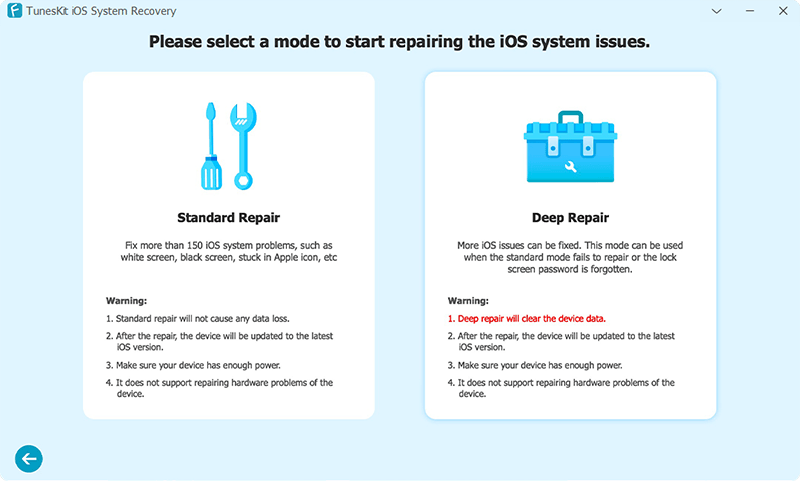 Next, confirm your device information and press "Download".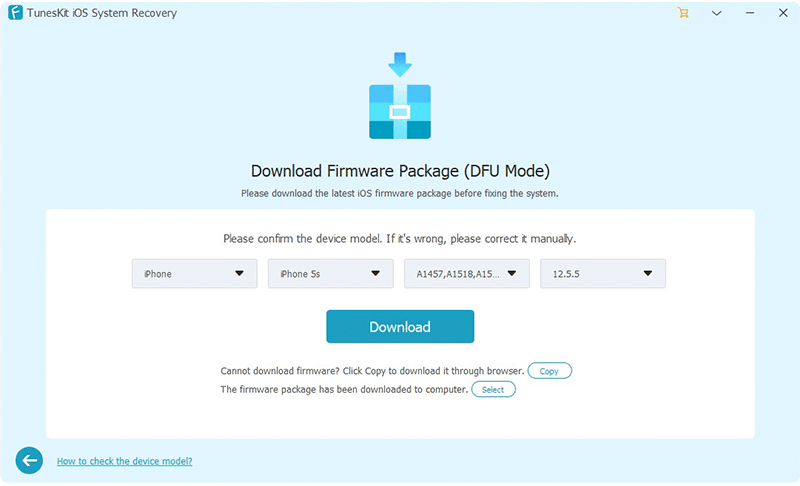 Step 3

Fix iPhone is Disabled Connect to iTunes

After the download process has finished, click the "Repair" button and wait for your phone being recovered.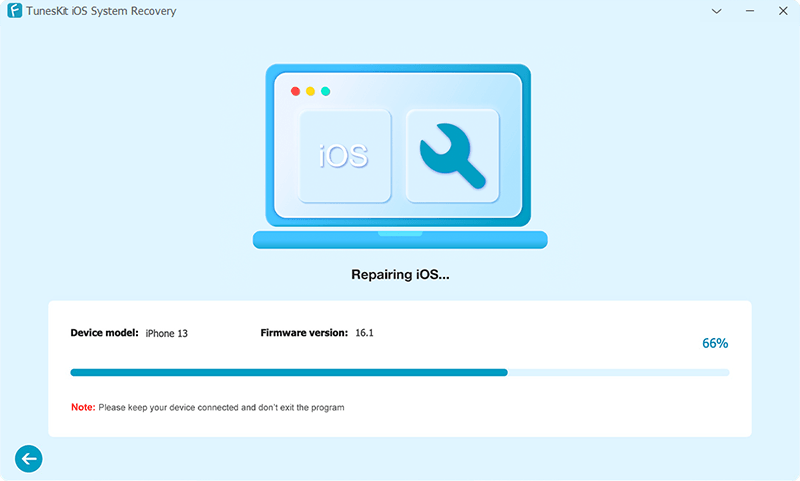 What's more, this software can fix more than 150 iOS problems on iPhone/iPad/iPod touch such as iPhone won't turn off, iPad won't charge, iPhone stuck on recovery mode, and so on. It is so powerful that it can get your device back to normal without data loss. So why not download it and have a try?
Video Demo: How to Fix 'iPhone is Disabled. Connect to iTunes' Error?
You can also watch the following short video to learn how to fix 'iPhone is Disabled. Connect to iTunes' Error with the assistance of TunesKit iOS System recovery.
Alternative Choice to Fix "iPhone is Disabled. Connect to iTunes" With Ease
There is an alternative choice for users to unlock their disabled iPhone.Taking the assistance of a professional iOS unlocking program like TunesKit iPhone Unlocker is also an effective choice for users to solve the iPhone disabled problem in several simple clicks. Besides unlocking a disabled iPhone, TunesKit iPhone Unlocker has other brilliant features for users to remove Apple ID from an Apple device, remove MDM restriction, and bypass Screen Time restriction. If you are now encountering issues like iPhone is disabled connect to iTunes, TunesKit iPhone Unlocker can always be the best choice for you.

Key Features of TunesKit iPhone Unlocker
Available on the latest iOS version including 16
Unlock stolen iPhone within several minutes
Enable to factory reset iDevices without passwords
Unlock iPhone/iPad/iPod touch with ease
Help to remove Face ID and fingerprint recognition
The following steps will show you how to fix the "iPhone is Disabled. Connect to iTunes" problem by using TunesKit iPhone Unlocker.
Step 1. To begin with, connect your iPhone to the computer. Launch TunesKit iPhone Unlocker. When your iPhone is detected, click on the Unlock iOS Screen option and then hit on the Start button.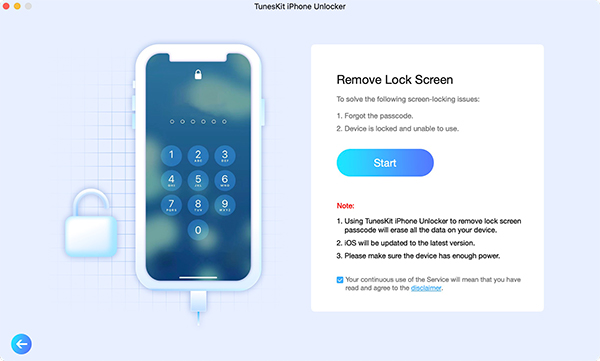 Step 2. Put your iPhone into Recovery mode for the next step. If you don't know how to make it, you can follow the onscreen instruction to access the Recovery mode.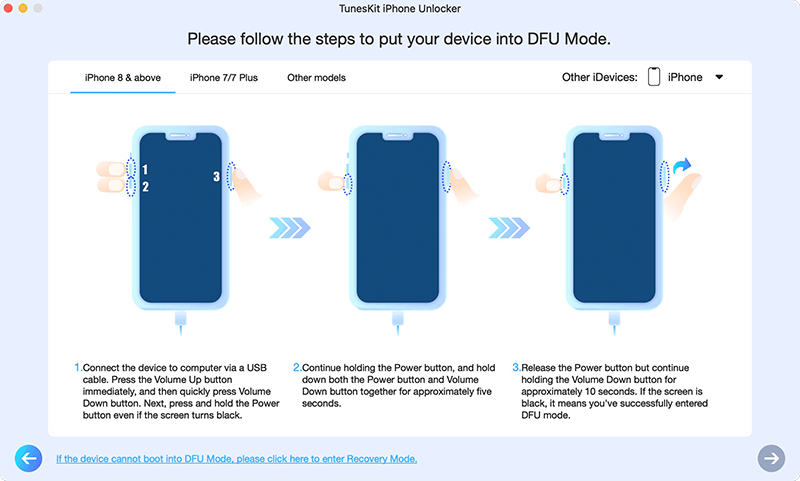 Step 3. Here, TunesKit iPhone Unlocker will download the firmware to unlock your iPhone. Ensure that all the given information is nothing wrong. Click on the Download button.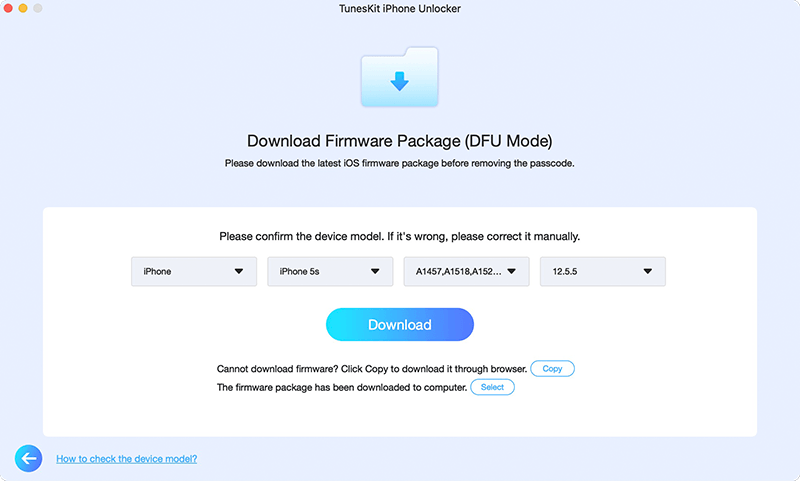 Step 4. After downloading the firmware package, TunesKit iPhone Unlocker will start to fix the iPhone is Disabled. Connect to iTunes problem. And your iPhone will be reset to the factory settings.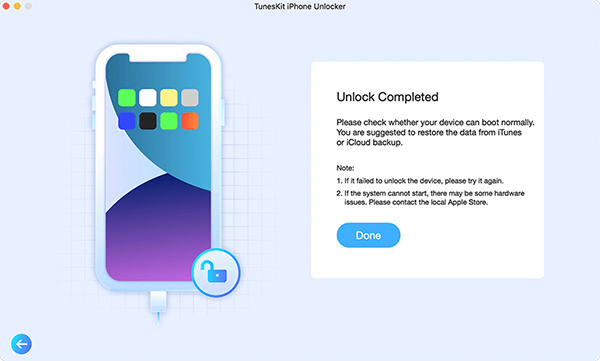 How to avoid the iPhone from being disabled by pressing incorrect passwords?
There are also some tips for you to avoid your phone is disabled connect to iTunes.
The simplest thing you can do is not to repeatedly press the wrong password into your phone when you forgot your password. If you forget your password, you can follow the steps in the article Forgot Lock Screen Passcode on iPhone? How to Reset to solve this problem.
The next one is to put a protective film and case on your phone, this measure can effectively prevent the password button mistakenly being pressed.
And the last one is to back up our data frequently just in case the situation like this and avoiding all the data in your phone is erased.
Conclusion
If you still have any problems about how to fix the problem of "iPhone is Disabled. Connect to iTunes." Or don't understand the instructions above, you can leave your voice below and we are very glad to help you.

Brian Davis has covered tech and entertainment for over 10 years. He loves technology in all its forms.