iPhone Asking for Wrong Apple ID Issue? 5 Ways Here
5 mins read
Despite the convenience and premium features an iPhone can offer, there can be times when things go wrong, and one of the most common faults Apple users must contend with is the iPhone keeps asking for wrong Apple ID issue. One of the most common reasons for this can merely be attributed to someone else using the device and entering their details. Of course, there can be other reasons for the fault, including purchasing a used iPhone or a problem with iOS itself. Fortunately, the iPhone asking for wrong Apple ID issue can often be resolved, with the following tips being among the most common fixes.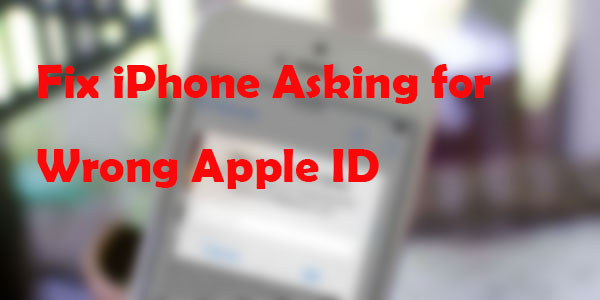 Video Guide: 5 Ways to Fix iPhone Asking for Wrong Apple ID Issue
Fix 1: Turn iPhone off and on
Although this may sound like a cliche, many Apple owners are surprised at how many faults can be rectified by simply restarting the device. Of course, it is not always the simple problem solver some would prefer, but it does ensure you are diagnosing your handset in the right way before deciding to take more drastic measures when recovering the device. To restart your iPhone, follow the steps below.
Step 1: Press and hold the Power button (for iPhone X or later, press either Volume and Power buttons) until the power off slider occurs.
Step 2: Drag the slider to turn iPhone off.
Step 3: Press the Power button again to turn on the iPhone.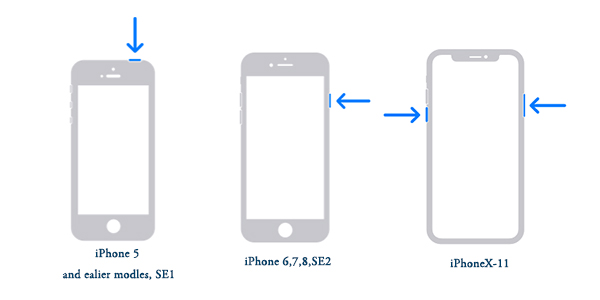 Fix 2: Check for iOS Updates
Should you have success in restarting the device, it may be worthwhile checking your iOS is up-to-date, which can be done by tapping Settings, General, and then Software Update.
If you are not able to resolve the iPhone asking for wrong Apple ID and gain access to the device, then you may move onto way 3 to regain control of the device.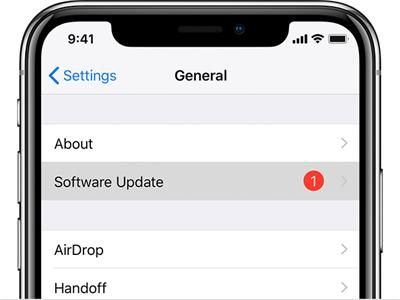 Fix 3: Remove Offending Apple ID
If the Apple ID being displayed is that of a friend or family member that has borrowed your iPhone, then it is more than likely that you can gain access to the iPhone once they have entered their credentials.
To stop the iPhone asking me to enter wrong Apple ID in the future, you need to ensure that the ID causing the problem is removed. Just open the Settings. Then, tap the User Avatar > Sign Out. Last, you need to log in with your own Apple ID and password.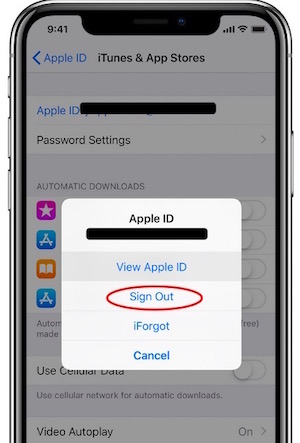 Of course, for this step to work, you will need to know the password, or liaise with someone who does. This is fairly simple should the account belong to friends or family members, but may be more difficult to achieve if the iPhone has been purchased from an unknown third party. Even those who can contact the third-party may find that they have trouble regarding obtaining a password.
Fortunately, this is not the end of the road for those with a wrong Apple ID issue, as there are other steps that can be taken to regain control of an iPhone, although it often means losing the data held on the device.
Fix 4: Factory Reset iPhone
One of the most impressive features that Apple users can benefit from is the strong security features on offer, but there can be instances where they cause problems, including when the iPhone keeps asking for wrong Apple ID. This can be less problematic when people can simply log in and change the details, but those who do not have access to the right credentials will find that they must reset the device.
This is due to the security features put in place by Apple, which means the resetting of the phone erases all data present on the phone. Of course, this can be frustrating, but if you are tired of asking yourself "why is the iPhone asking me to enter wrong Apple ID", then a hard reset could be the answer.
Adopt a factory reset to the iPhone will aid those wanting to fix iPhone asking for wrong Apple ID. Just go to the Settings app. Then, tap General > Reset > Erase all Contents and Settings. Enter your password to erase all data.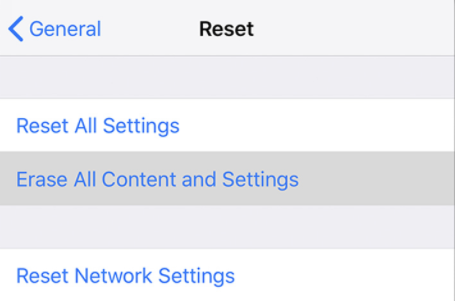 Note: When carrying out this method, it is important to remember that all personal data on the phone will be lost, including contacts, pictures, videos, and apps. So users should check that there is no other way to access the device before resetting it.
Fix 5: Use TuneKit iOS System Recovery
Although there are solutions available for those searching for ways to fix the iPhone asking for wrong ID issues, they can often be complicated and time-consuming, especially those that have not had to deal with security issues in the past.
Fortunately, the easy recovery of the iPhone asking for wrong Apple ID has been simplified thanks to the TunesKit iOS System Recovery tool. As well as being the perfect tool for resetting locked phones, it also offers many diagnostic features that can help rectify a series of issues, including grey screen, update failures, boot loops, etc. Without erasing any data, TunesKit can fix more than 50 iOS-related issue.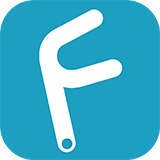 Characteristics of TunesKit iOS System Recovery:
Fix iPhone keeps asking for wrong Apple ID without data loss
Repair different tvOS/iOS issues by yourself
Provide Standard Mode and Advanced Mode
Easy to use with friendly interface
Try It Free
600,000+ Downloads
Try It Free
600,000+ Downloads
To use the TuneKit iOS System Recovery to fix the wrong Apple ID issue, use the following method.
Step 1: Open and launch TunesKit on your computer. With the help of a USB, connect your iPhone to your computer. Then click the Start button.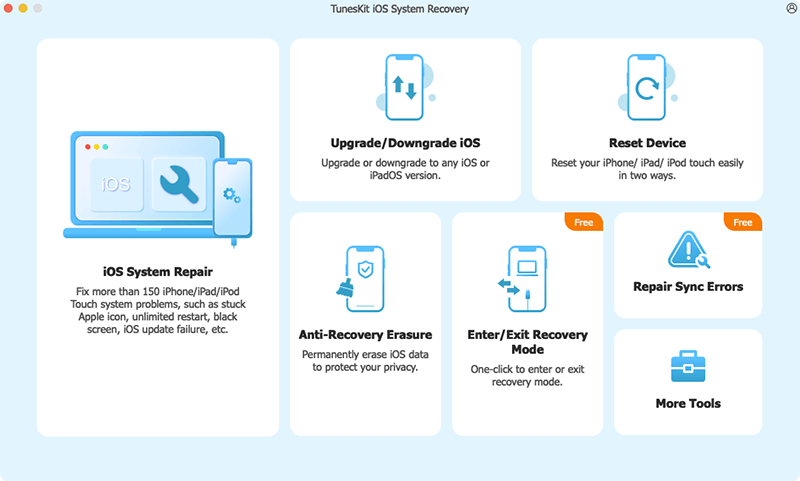 Step 2: Next, choose a repair mode. The Standard Mode is better, as it can keep the iPhone data intact. If done, click the Next button.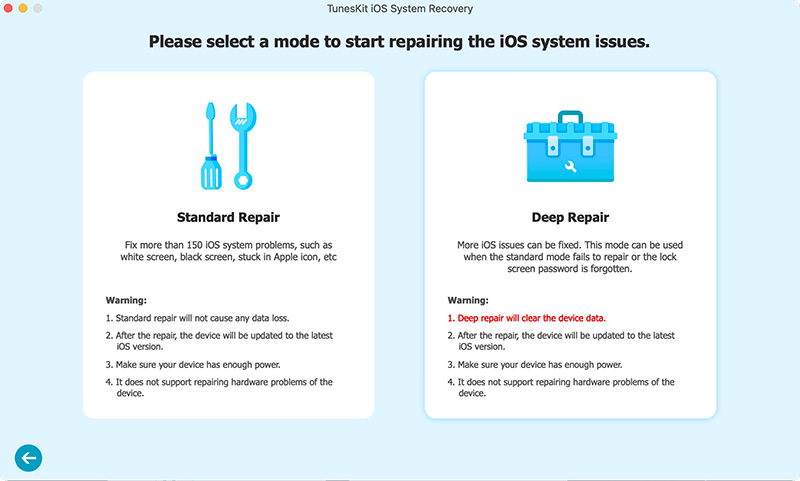 Step 3: The final step is to download firmware package. Before downloading, you can check the device info. Then, tap the Donwload button. If it is complete, tap the Repair button.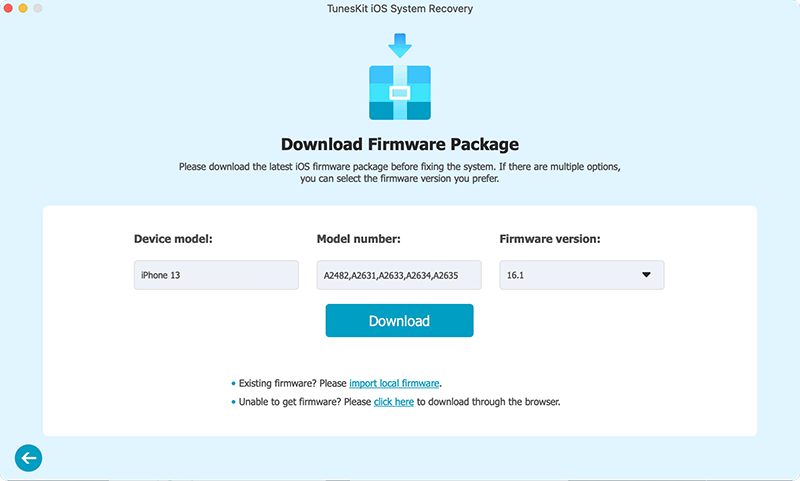 Final Thoughts
Having an iPhone constantly ask you for the wrong ID can be frustrating and time-consuming, but more than often then not, there will be a fix in place. Using a tool including TuneKit iOS Recovery can rectify the iPhone asking for wrong Apple ID issue If you are having trouble locating the problem, then you can be assured that TuneKit iOS System Recovery will always bring your handset back to life whenever possible.