3 Effective Ways to Burn iSO File to DVD with Ease
Posted by Adam Gorden on Jul 26, 2022 3:00 PM • Category:
Convert Videos
4 mins read
An iSO is a Microsoft file format that is an identical copy of an optical drive, DVD, or CD. But keeping video content in .iSO (iSO extension) format on your storage device is undesirable. These files are uncompressed taking up a big chunk of your storage space.
If you have a lot of iSO audio and video files on your computer, the system may slow down considerably. An alternative is to burn iSO file to DVD.
This is not the same as copying a file to another storage device from your laptop. When you transfer .iSO files to DVD, it needs additional support, including some operating system files and a master boot record.
You need a high-functional iSO to DVD converter for the purpose. In this article, we have provided the most effective ways to burn iSO files to a blank DVD. Now let's dive into it.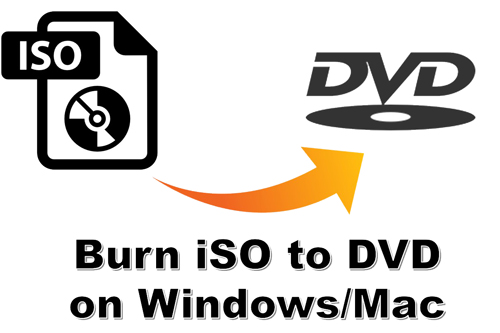 Part 1. How to Burn iSO to DVD with iSO to DVD Converter
Whether you want to convert iSO to DVD on a Mac or Windows device, you will need a iSO to DVD converter or ripper software. One of the leading tools for both operating systems is TunesKit Video Converter.
It is a multifunctional tool for ripping DVDs, video editing, etc. The converter supports 250+ audio and video file formats including MP3, MP4, MOV, MKV, FLAC, AVI, HD, 4K, AAC, and many others.
TunesKit Video Converter is compatible with popular of devices- desktop PCs, laptops, and macOS devices. This premium software is the best solution for all your converting needs, such as iSO to DVD. Moreover, the application supports 6 video editing features - trim, adjust, effect, subtitle, watermark, and audio. Furthermore, it can convert audio and videos at 60x speed in lossless quality. You can read the tutorial on how to burn iSO to DVD using TunesKit Video Converter.
Step 1

Import iSO Files to TunesKit Video Converter Library

Click the 'Add Files' to import your iSO file to the TunesKit Video Converter media library dashboard. If the iSO file are in a DVD, insert the DVD into the optical drive and start importing.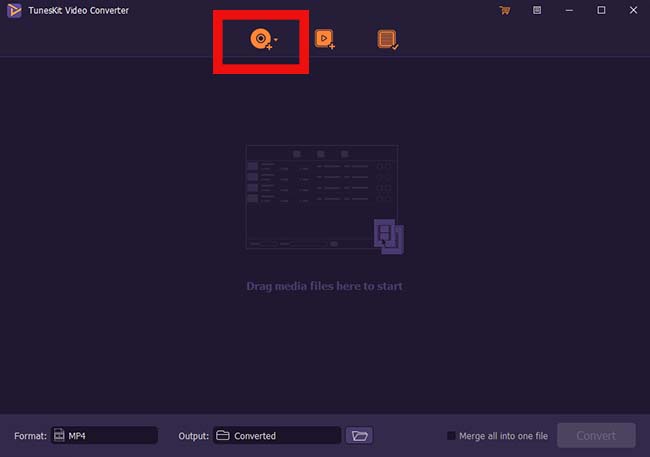 Step 2

Configure the Output Format as DVD Video

Click the option 'Format' at the left corner of the bottom of the page. Then select the 'Encoding Mode' and turn to 'General Video' to select 'DVD Video' format.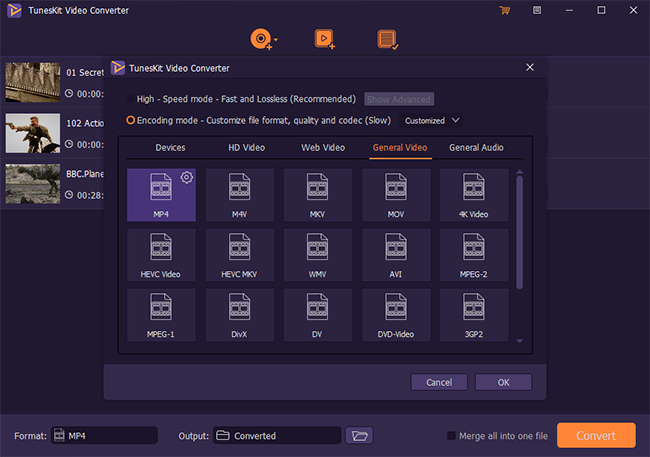 Step 3

Start Burning iSO File to DVD

After choosing your format settings, click the 'Convert' button to start burning the iSO file to your blank DVD.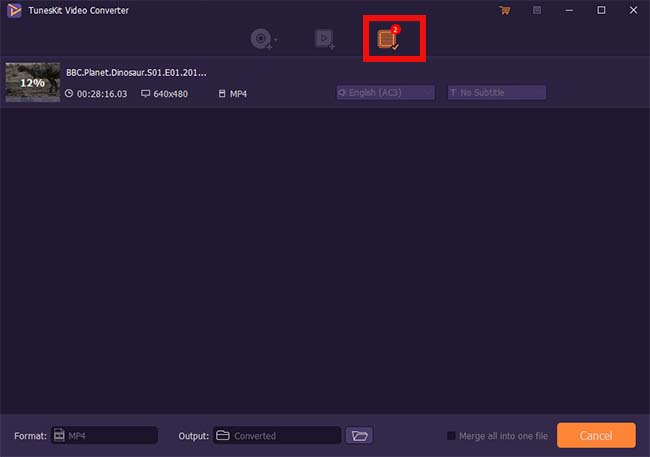 All converted iSO files will be stored in the Converted button on the menu bar (as shown in the image above). After completion, you may view the new files by clicking this button.
Part 2. How to Burn an iSO to DVD on Windows 10
If you want to burn iSO to DVD on your Windows 10 computer, there is another easy way. To do that, you can use your system's built-in Windows disc image burner. After that, you can play DVD on Windows 10 easily.
How to Burn iSO to DVD on Windows 10 Computer
Step 1. Insert a blank DVD or CD into the optical drive.
Step 2. Open the file explorer and right-click on the iSO file that you want to burn to the DVD. Choose 'Burn Disc Image' from the available options.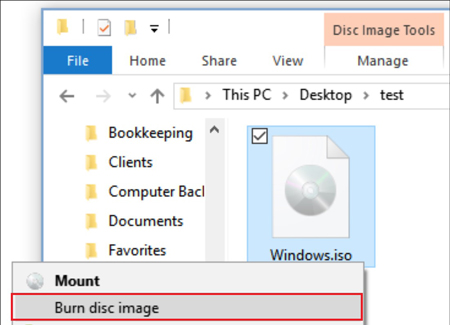 Step 3. In the Windows Disc Image Burner window, mark the checkbox titled 'Verify disc after burning'. This allows you to view if the file was burnt without any errors. Click the 'Burn' button to burn an iSO to DVD Windows 10.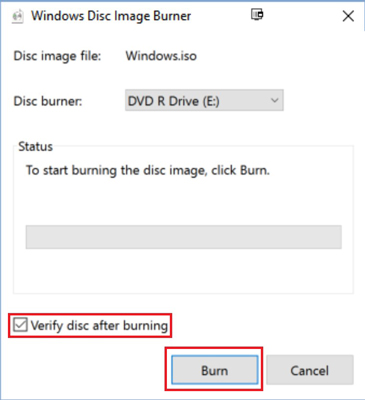 Part 3. How to Burn iSO File to DVD on Mac
Next, to burn iSO to DVD on a Mac device, you can try Finder, the default file manager application. This works fine for most iOS versions.
With Finder, you are available on managing all files on your Mac, and of course, burning iSO to DVD.
How to Burn iSO to DVD Mac
Step 1. Open the Finder window and select the iSO file you want to burn by clicking on it.
Step 2. Click 'File' in the menu bar at the top. In the dropdown list, choose 'Burn Disk Image'.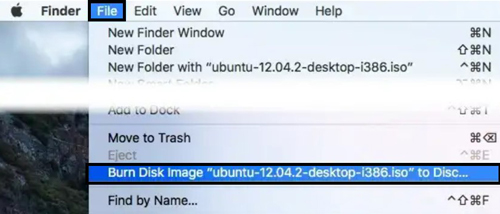 Step 3. Insert a blank DVD into the optical disc drive. Then click the 'Burn' button to start burning the .iSO file to blank the DVD.

Part 4. Conclusion
Accessing iSO files is often a poor experience as most devices may run slow. Burning iSO files to a DVD helps you enjoy the videos without occupying the hard disk space.
We hope this article has helped you understand how to burn iSO to DVD. Whether you have a Mac or Windows device, we recommend using TunesKit Video Converter. This premium third-party tool allows you to burn iSO files to a DVD or CD without errors. The best part, you can get things done much faster than with a free software application.