[Full Guide] How to Get Out of Kiosk Mode
Posted by Brian Davis on Aug 29, 2023 10:00 AM • Category:
Unlock iOS
5 mins read
Kiosk Mode is a feature used in public places or families to share and manage devices. Especially putting an iPad in Kiosk Mode is common.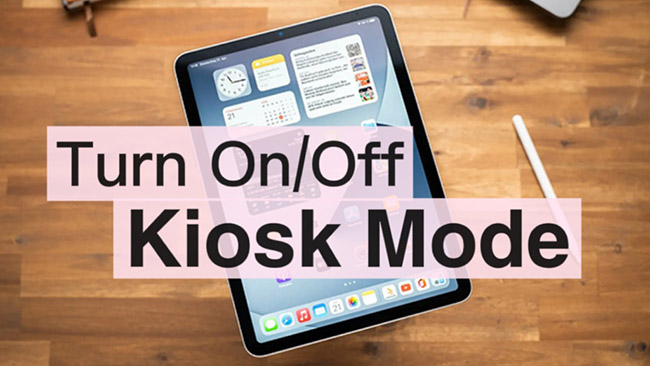 However, you may have trouble in putting in or getting out of Kiosk Mode. Here in this guide, we will answer all your questions about it.
Part 1. FAQs About Kiosk Mode
Q1: What is Kiosk Mode?
Kiosk Mode is also known as Single App Mode. When the device is in this mode, users will be restricted from accessing any other applications except the designated one. Kiosk Mode is often enabled and configured through MDM (Mobile Device Management) solutions.
Q2: What are the benefits of using Kiosk Mode?
1. In the workplace: Set a streamlined process and enhance efficiency.
2. In public places: Provide simplified navigation for displays or educational environments.
3. In families: Protect the owner's privacy on shared devices.
4. For children: Keep children from accessing content that is unsuitable for them. Or improve their learning efficiency by restricting access to unnecessary features.
Q3: What should I be aware of before turning off Kiosk Mode?
1. Back up your data as a precaution.
2. Keep a stable network connection while turning off Kiosk Mode.
Part 2. How to Put iPad in Kiosk Mode
Method 1. Use Guided Access Feature
First, you need to enable the feature to put your iPad in Kiosk Mode:
1. Open settings, navigate to "Accessibility" and tap "Guided Access".
2. Turn on Guided Access.
3. Click "Passcode Settings" and set a passcode, or you can set it later. Face ID or Touch ID is also available if your device supports them.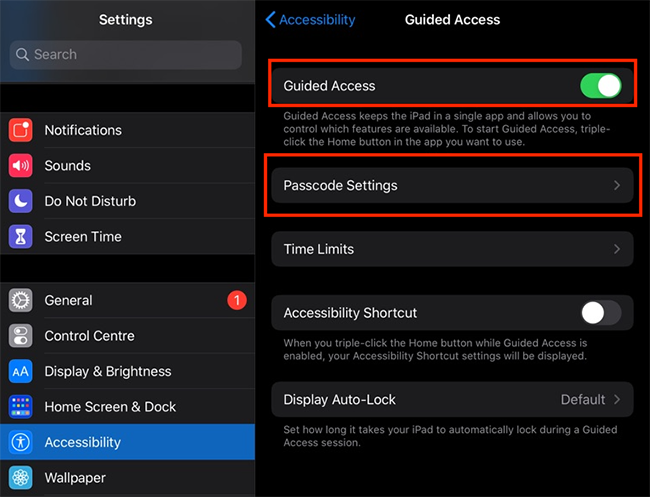 When you finish the setting, you can use Guided Access on a specific app:
1. Launch the app you want.
2. Triple-click the side button. (the Home button for iPhone 8/earlier)
3. Hit on "Options" in the bottom-left of the screen to set up.
4. Tap "Start" in the top-right of the screen, then enter or set your passcode.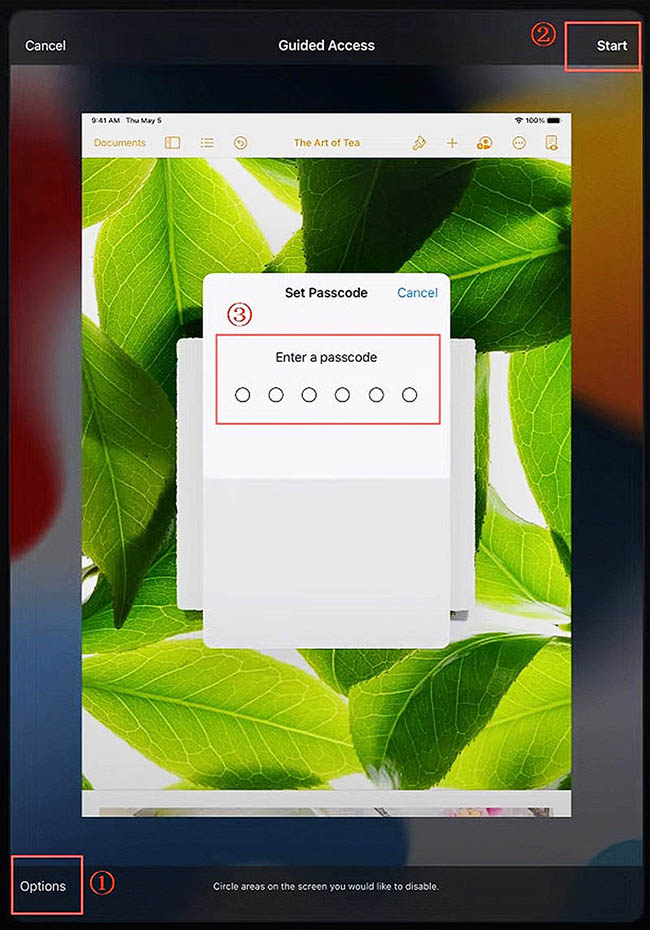 Notes.
The Kiosk Mode set through Guided Access can be turned off like this: Triple-click the side button (or the Home button). After entering your passcode, tap "End" to exit.
Method 2. Use Apple Configurator 2
You can use Apple Configurator 2, a program from Apple, to start Kiosk Mode on your iPad. Before you start, ensure you have a backup of your device, since the device will be erased to be supervised. Though this method is more complicated, it offers advanced configuration and security. Let's see how to turn on Kiosk Mode using Apple Configurator 2.
1. Download and launch Apple Configurator 2 on a Mac.
2. Disable the Find My on your device, or it will interfere with the process.
3. Connect your device to your Mac and choose "Supervise devices".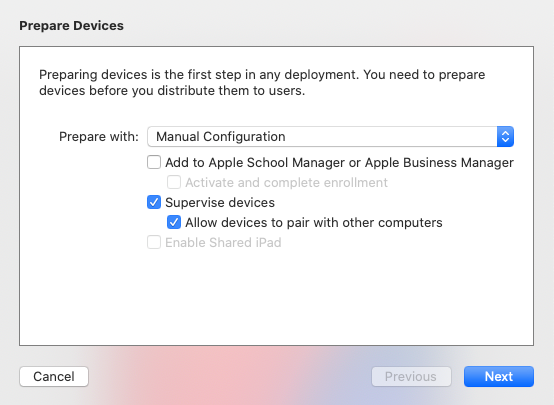 4. Click "Actions" and select "Advanced". Then, tap on "Start Single App Mode".
5. Hit on "Options" to manage the settings, then select the app you want.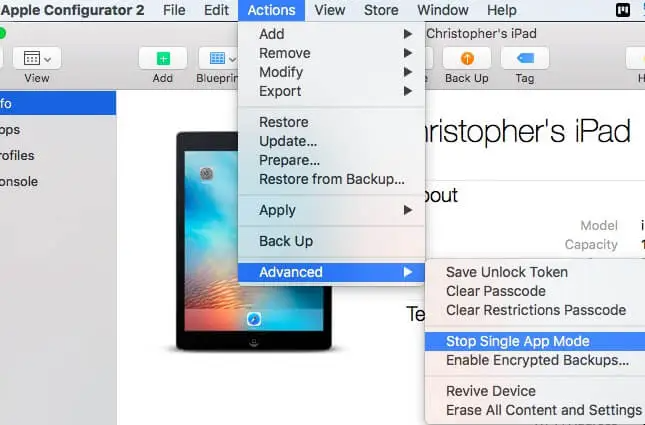 Part 3. How to Turn Off iPad Kiosk Mode via TunesKit iPhone Unlocker
If you forgot your passcode or failed to turn off Kiosk Mode for no reason, you can use TunesKit iPhone Unlocker to remove the MDM restriction without passwords.
TunesKit iPhone Unlocker a reliable tool, can help you get your iPad out of Kiosk Mode within several clicks. Its user-friendly interface enables you to regain full control of your device without data loss. Besides, it is also available for removing screen lock, Apple ID, and Screen Time effectively.
Follow the steps below to start:
Step 1

Connect Your iPad

Connect your iPad to a computer and select "Remove MDM".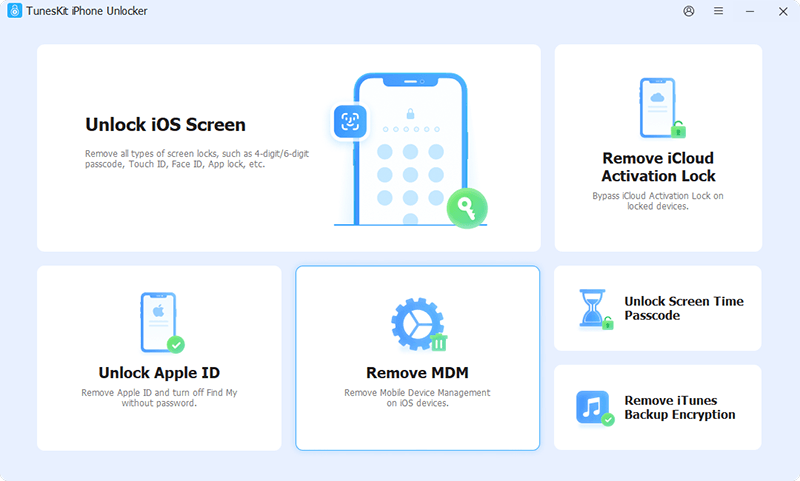 Step 2

Open Settings

Keep your iPad on the Settings screen. Then, click on the "Start" button.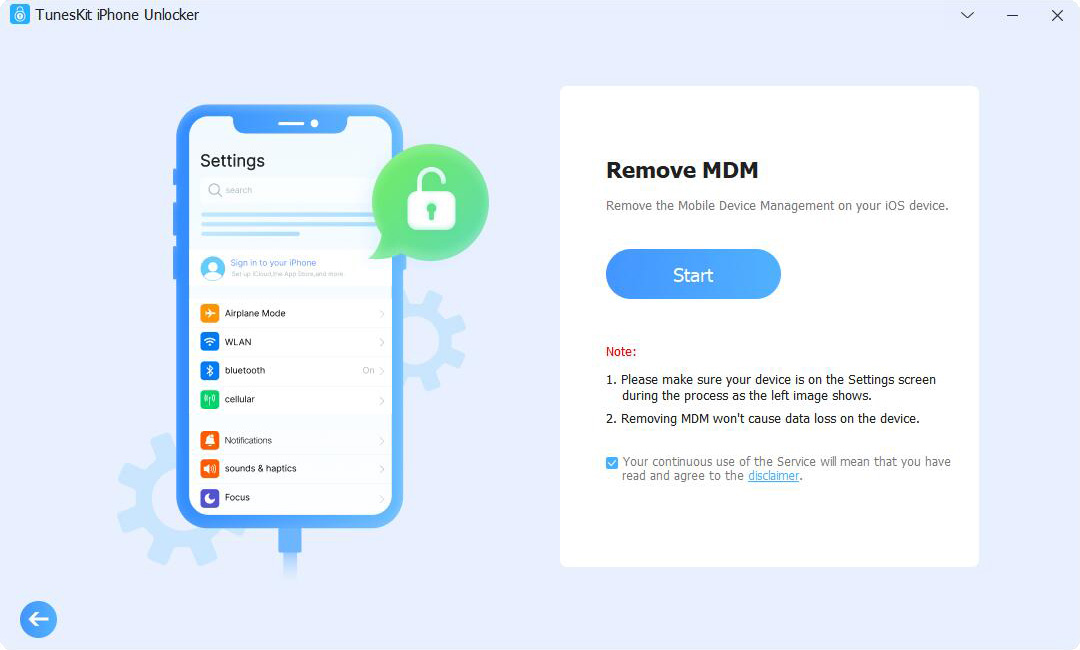 Step 3

Turn Off Kiosk Mode on Your iPad

When the process is finished, you will take full control of your iPad.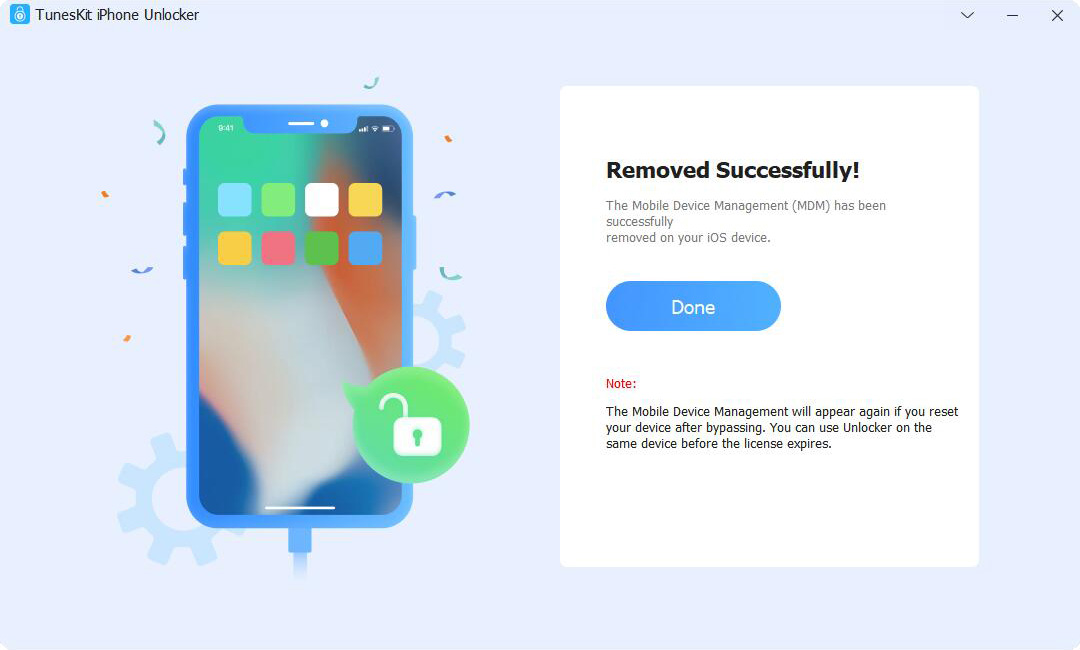 Conclusion
Now you have got sufficient information about Kiosk Mode on iPad. If you want to get out of Kiosk Mode, you can try TunesKit iPhone Unlocker, which is capable of removing MDM without data loss. Please feel free to leave us a comment below if you need help.