Forgot to Turn Off Find My iPhone Before Erasing? Here's the Guide!
Posted by Leonard White on Oct 31, 2023 10:00 AM • Category:
Unlock iCloud
6 mins read
"I would like to sell my old iPhone as I have purchased a new one. Unfortunately, I forgot to disable the Find My iPhone feature. I'm concerned about what might happen and what should I do to resolve this issue. Any tips?"
It is necessary to erase your device before selling or giving away it. However, when you forgot to turn off Find My iPhone before erasing, it will prevent others from getting access to the device without your Apple ID password. This post is here to provide you with the results and remedies for this issue.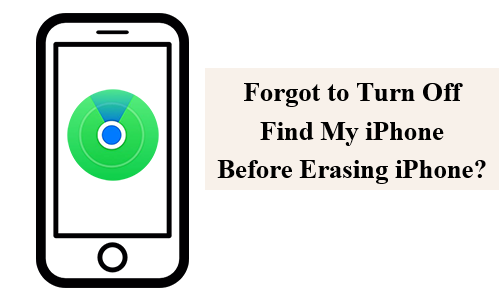 Part 1. What Happens If Forgot to Turn Off Find My iPhone Before Erasing
In brief, the iPhone will be stuck on the Activation Lock screen if you forgot to turn off Find My iPhone before erasing it. Activation Lock, a factory reset protection, is linked to the feature of Find My iPhone automatically turned on, aiming to protect the data in the device when it is lost or stolen. It will keep asking for the Apple ID password and stop others from using the device. So, when people consider buying a second-hand iPhone or iPad, they will avoid the devices with Activation Lock. Don't fret if you forgot this essential step before selling or giving your device away, the remedies are displayed in the next section.
Part 2. What to Do If Forgot to Turn Off Find My iPhone Before Erasing
If you haven't sold or given away the device, it's not a big deal that you forgot to turn off Find My iPhone before erasing. When you restart it, directly enter the passcode to unlock it. Then you can go to settings, tap on the profile at the top of the screen, then turn the Find My iPhone off. If the device has been sold or given, you can also turn the feature off remotely to remove the Activation Lock on the iPhone. Keep reading to learn the 2 ways for you.
1. Remove This iPhone via Find My App
To turn off the Activation Lock remotely, you can remove the iPhone from your account via Find My app on another Apple device. Then, others can activate the iPhone. Here are the detailed steps:
Step 1. Go to Find My app and tap on "Devices" at the bottom of the screen.
Step 2. Find the iPhone you want to remove and click the name of it.
Step 3. Tap the option "Erase This Device".
Step 4. After the process of erasing, you can tap "Remove This Device".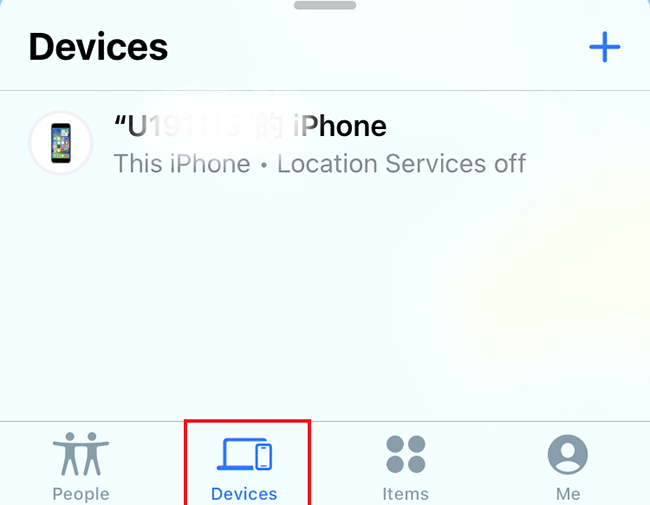 2. Remove from Account via iCloud Website
You can also remove the Activation Lock from the device you don't use via iCloud website. If the two-factor authentication has been set up, you need to tap the "Find Devices" button after you sign in to your account. Follow the steps below:
Step 1. Go to the icloud.com/find and log into your Apple ID account.
Step 2. Click on the Find My iPhone icon.
Step 3. Tap on the "All Devices" option and select the iPhone needs to be removed.
Step 4. Hit on Remove from Account option.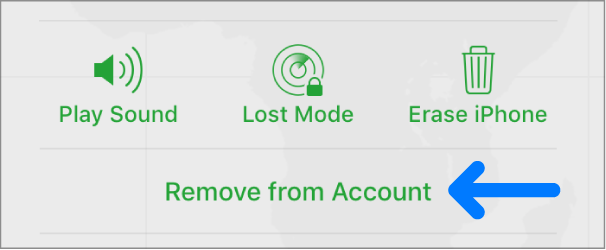 Part 3. Turn Off Find My iPhone via TunesKit
If you forget the current password of your Apple ID, or you are a buyer, and the previous owner forgot to turn off Find My iPhone before erasing it, what you require is a tool to bypass the Activation Lock without password. Tuneskit Activation Unlocker is a professional and secure solution to help you.
TunesKit Activation Unlocker is an iCloud bypass tool, that offers fixes for forgetting Apple ID for Activation Lock, second-hand devices with Activation Lock, putting iPhone out of Lost Mode, etc. It supports iPhone, iPad, and iPod Touch and performs at a high success rate. With the user-friendly tutorial, you can solve the issues even if you lack computer skills.
How to bypass Activation Lock using TunesKit Activation Unlocker:
Step 1

Connect the iPhone

Launch the TunesKit Activation Unlocker on a computer and connect the iPhone to it. Then click Start to continue.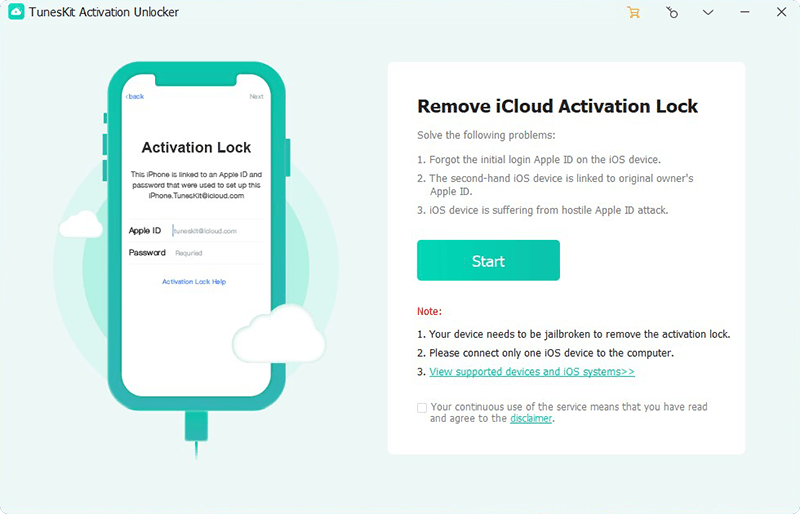 Step 2

Jailbreak the iPhone

Follow the on-screen jailbreak tutorial to jailbreak the iPhone. Once the jailbreak process is finished, reboot your computer.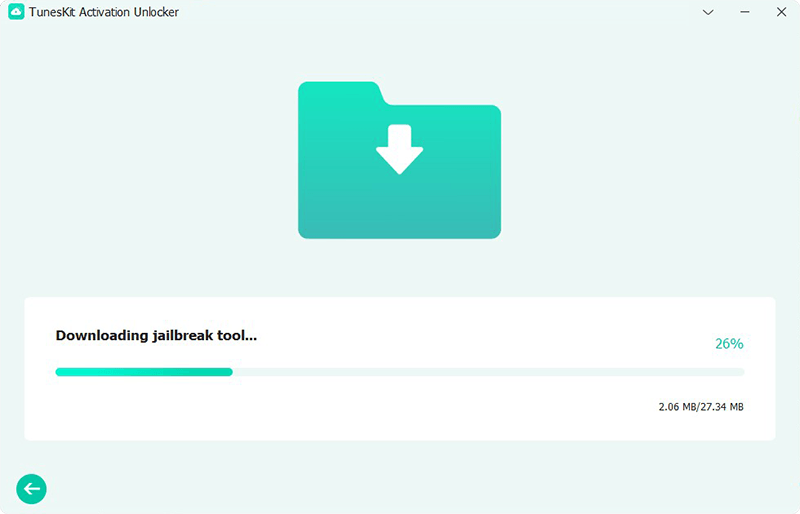 Step 3

Bypass Activation Lock on iPhone

After jailbreaking your iPhone successfully, confirm the device information. Click the Start to Remove button, then the Activation Lock on the iPhone will be bypassed.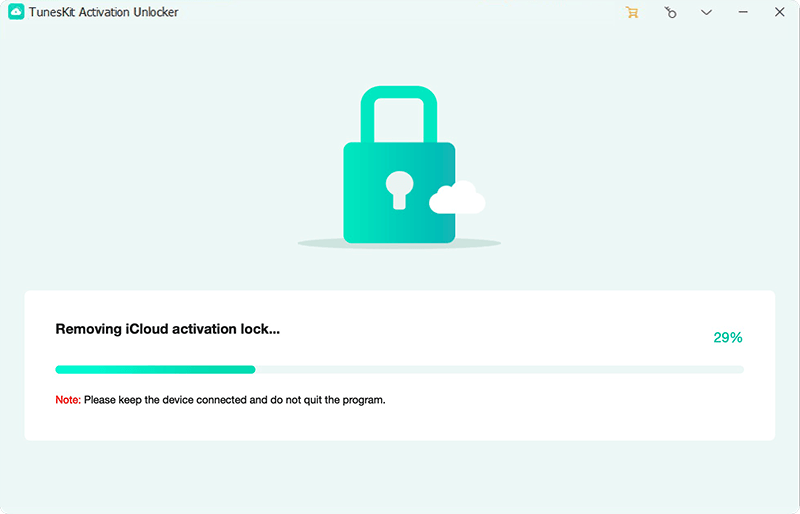 Part 4. FAQs about Find My iPhone
Q1. Can I jailbreak my iPhone to bypass the Activation Lock?
In the process of bypassing, jailbreaking is an essential step for system's permissions. However, you cannot bypass the Activation Lock directly by jailbreaking, and more skills are required. A professional tool like TunesKit Activation Unlocker can help you bypass it effectively without skills.
Q2. Why won't Find My iPhone turn off?
If you are a member of Family Sharing, you may not be able to turn off the Find My iPhone feature. Besides, misconfigured Apple ID settings can stop you from turning off Find My iPhone.
Q3. Why is Find My iPhone unable to connect to server?
1. Weak internet connection of the iPhone.
2. Incorrect Date & Time settings.
3. Outdated system and software glitches.
Conclusion
We have explored what will happen and what to do when you forgot to turn off Find My iPhone before erasing it. Except for the official ways, you can take the assistance of TunesKit Activation Unlocker. Please don't hesitate to contact us if you have any inquiries.