TunesKit Upgrades to Support Users in Fixing Apple TV Efficiently
Posted by Dan Miners on Jul 24, 2019 16:22 PM. • Category:
Releases
3 mins read
July 24, 2019 – TunesKit Studio, a professional software provider in the industry, has recently updated its new member of iOS solutions named TunesKit iOS System Recovery to a new level. The new version of the program will give full support for Apple users to fix any tvOS issues on their Apple TVs at home without data loss, including Apple TV HD, Apple TV 3rd generation and Apple TV 2nd generation.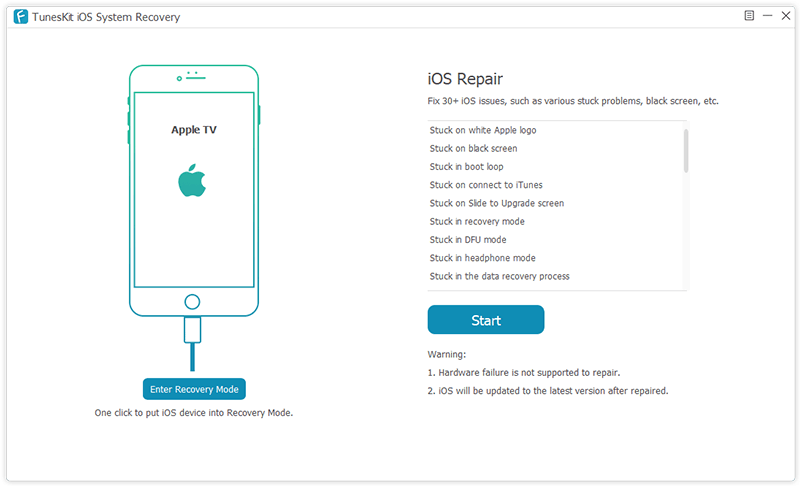 No matter the Apple TV is stuck in the recovery mode, Airplay mode or stuck on the white Apple logo, no sound, black screen, won't update, keeps crashing, etc., users can easily take advantage of TunesKit iOS System Recovery to repair them with no need to ask help from technical personnel. To ensure a high success rate, it offers two recovery modes (Standard Mode and Advanced Mode) to either fix some common tvOS problems with no data loss or factory reset Apple TV to deep repair the system without saving endeavors.
With its assistance, users are permitted to fix all kinds of tvOS problems in 3 simple steps, namely, connect the Apple TV, download and verify the firmware package, start to repair tvOS issues. Its clear interface and neat buttons make it easily to be operated by anyone, even if he or she has never used such kinds of program before.
"We start to develop this feature in support of Apple TV is mainly because that many users have encountered such tvOS problems, and they might not want to take it to the offline store for help," said Andres, the R&D director of TunesKit. "With the help of TunesKit iOS System Recovery, they can now easily handle and solve some common tvOS related issues on their Apple TVs easily at home by themselves," added him.
Actually, TunesKit iOS System Recovery is a versatile utility which works more than just a tvOS repair tool. Besides repairing Apple TV, it is capable of fixing dozens of iOS issues on iPhone, iPad and iPod touch, including iPhone stuck in boot loop, headphone mode, blue screen or white screen, iPad is locked or disabled, etc. Furthermore, users can one click to get their Apple TVs or iOS devices into or out of the recovery mode for free.
What's New in TunesKit iOS System Recovery for Windows & Mac 2.0.0
[Version Number: 2.0.0]
* Support to fix any tvOS problem on Apple TVs
* Compatible with Apple TV HD/3rd generation/2nd generation
* Fix some other small bugs
Price and Availability
TunesKit iOS System Recovery provides a free trial version for users to enter/exit the recovery mode for free or test the iOS system recovery performance before buying it. However, the trial version doesn't allow users to repair the problem and they need to upgrade to the full version in order to really solve the issue. As for the prices, it ranges from $39.95 to $299.95, depending on the type of license from one device to unlimited ones.
This program is available for all common Windows and Mac platforms, including the latest Windows 10 system, macOS 10.13 High Sierra and 10.14 Mojave. Besides, it is compatible with almost all models of Apple TV, iPhone, iPad and iPod touch. For more details, you can just download a free trial below and have a try.