How to Get Music on YouSee Musik
Posted by Adam Gorden on Feb. 21, 2020 6:15 PM • Category:
Record Audio
5 mins read
YouSee Musik is a streaming service with access to more than 30 million music tracks – wherever and whenever you want to listen to them. You can enjoy plenty of inspiration in the form of playlists, hit-lists, and live radio on YouSee Musik. Here we'll collection two simple methods for you to download music tracks from YouSee Musik, as well as, some tips on how to use YouSee Musik on your devices.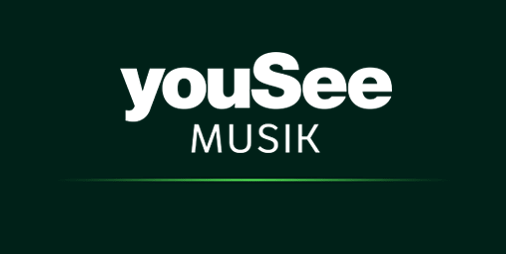 Part 1. How to Save Your Favorite Songs from YouSee Musik Locally
There are two method available for you to save songs from YouSee Musik to your devices for listening offline. Just go on reading the post and you will know how to get music tracks from YouSee Musik.
Method 1. Download Your Music on Your Mobile and Tablet
You can download music YouSee Musik in your mobile or tablet. Then you can listen to your favorite music even if you are not connected to the Internet. You automatically download your playlists and favorites. Here's how to add favorites and start downloading.

1. Favorite the songs and albums you want to download and touch the heart to favorite.
2. Touch Home to press Setting (gear) and touch Download content.
3. Under Maximum storage, select how much space your phone should reserve for downloading music.
4. Touch Favorites at the bottom of the screen and select the song or album you want to download and press Download now.
Note: You can also set your phone to download all of your favorite content when connected to Wi-Fi. Just go to Settings to select Download content and turn on Allow Automatic download.
Method 2. Save Locally Song Files from the Desktop YouSee Musik
Compared with the method of downloading music from YouSee Musik on your mobile or table, TunesKit Audio Capture can enable you to easily record and download songs or albums from YouSee Musik. With the help of TunesKit, you can save those streaming contents to plain audio formats. Then you can not only listen to music offline but also enjoy those songs on any places.

Key Features of TunesKit Audio Capture
Record and download streaming audio from any programs and websites
6 plain formats including MP3, AAC, FLAC, WAV, M4A, and M4B available
Preserve streaming music with the original audio quality and ID3 tags
Support many customization functions and groove the songs even offline
Try It Free
600,000+ Downloads
Try It Free
600,000+ Downloads
Step 1

Open TunesKit Audio Capture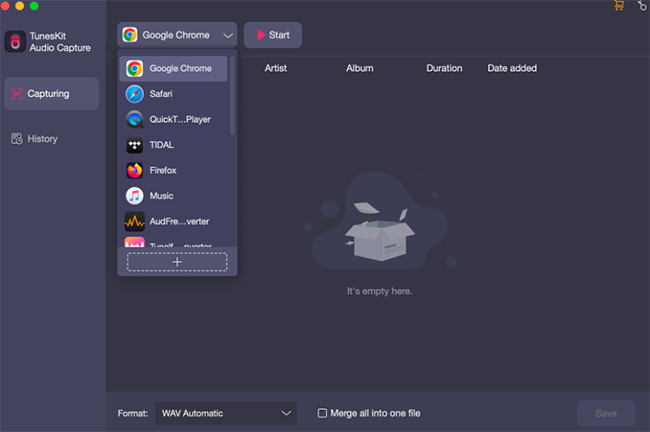 Open TunesKit Audio Capture, then you need to check the main home of TunesKit where there are lots of programs listed. If there is no browser for you to navigate to YouSee Musik on the main home, you could drag and drop the browser to TunesKit. Remind that you don't need to open the browser at once.
Step 2

Set the output audio parameters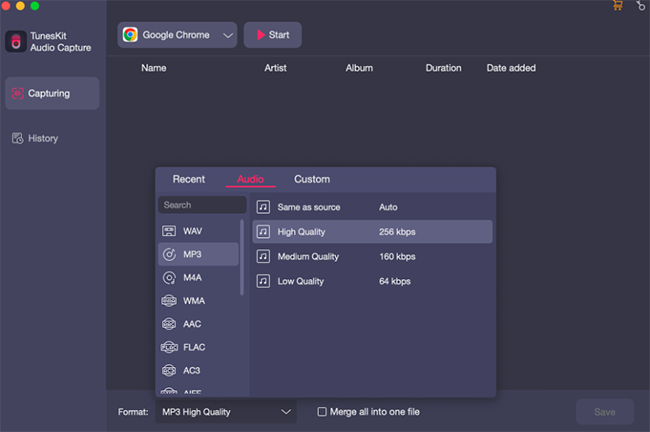 After adding your required browser to TunesKit, you are promoted to configure the output audio parameters. There are six formats like MP3, AAC, WAV, FLAC, M4A, and M4B for you to choose from, and you could select one as the output audio format. Otherwise, you could set the bit rate, sample rate, and audio channel for better output audio quality.
Step 3

Rcord YouSee Musik audio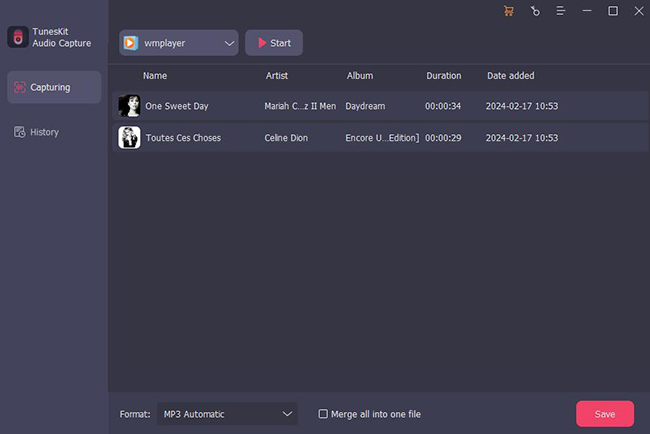 Now go to the website of AccuRadio by opening the browser from the main home of TunesKit. You could select one track to play on the website and then TunesKit will record audio from YouSee Musik after several seconds. To stop the recording, you just need to click on the Stop button as you like.
Step 4

Save all the recorded audios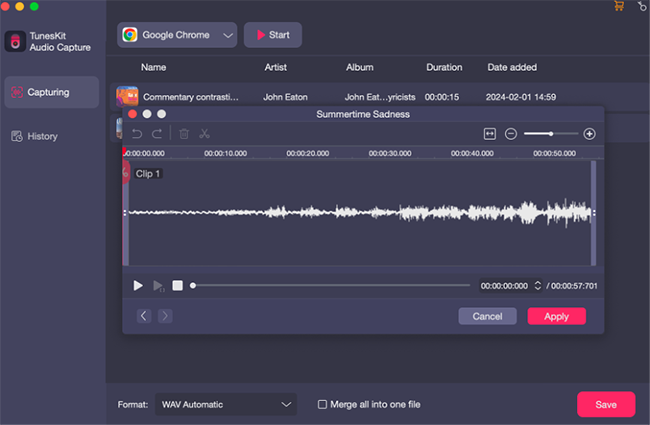 After recording, you could go to edit these audios recorded from YouSee Musik clicking the Edit button at the rear of each track to open the service of audio customization. With the service, you could trim the audios and edit the audio information. Then save all your edited audios to your computer after customization.
Part 2. More Tips: Get Started on Playing Music from YouSee Musik
Do you play the music from YouSee Musik when driving? Do you listen to music on YouSee Musik and have an Apple Watch at the same time? Do you want use YouSee Musik on your Sonos speakers for better music experience? Here's the sharing of using your devices to control the music from YouSee Musik.
1. How to Use YouSee Musik via CarPlay
If CarPlay is built into your car, you can listen to YouSee Music by connecting your iPhone with CarPlay. Here's how to get started.
1. Log into YouSee Musik on your iPhone.
2. Connect your iPhone to your CarPlay – either wirelessly or via USB cable.
3. Find YouSee Musik on the CarPlay Screen and open the app.
2. How to Use YouSee Musik with Your Apple Watch
You must first have YouSee Musik installed on your iPhone. Once you have YouSee Musik installed on your iPhone, you can do the following.
1. Open the Watch app on your iPhone and tap the My Watch tab.
2. Scroll to Available apps.
3. Find the YouSee Musik app.
4. Tap Install to add YouSee Musik to your watch and you can use YouSee Musik on your Apple Watch to control the music.
3. How to Use YouSee Musik on Sonos speakers
If you have Sonos speaker, you can easily play YouSee Musik through Sonos. Here is the detailed instruction.
1. Download the Sonos app for your mobile or tablet.
2. Open the Sonos app to touch the menu in the upper left and then click Add Music Services.
3. Select YouSee Musik from the list of music services and touch Add to Sonos. Now you can always find YouSee Musik in the menu on the left and log into YouSee Musik with your YouSee Login.
4. You have access to the same features like Under Current Releases, Hitlists, Music Radios and more you normally have in the YouSee Musik app.
For security reasons, there are some features of YouSee Musik that are not available on some places. For example, you cannot search for music and listen to all your favorite music and your own playlists. However, you could use TunesKit to get music from YouSee Musik for listening without limitation.