As one of the leading global on-demand audio service, Deezer does not only own a large collection of over 73 million songs but also being available to almost any of your favorite devices, including mobiles, TVs, sound systems, game consoles, Android Wear, etc. And of course, the smart wearable-Apple Watch, which makes it convenient for people to enjoy music while they're running, climbing or driving and so on.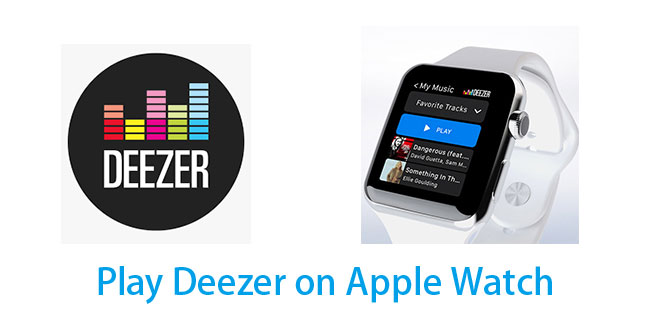 Maybe for most of the iPhone users, you could play Deezer on Apple Watch by following the instructions via iPhone. However, there are also some people who are confused about listening to music on Apple Watch without iPhone? Be relaxed and read on, then you will find both solutions in the following passage.
Part 1. Play Deezer on Apple Watch with iPhone - Official Method
Early in 2016, Deezer released an app for Apple Watch to allow music lovers to access to their Deezer playlists from their wrists. Just simply connect the Watch app to Deezer app and you'll be accessible to Flow, My Music, Charts and Mixes as well as any songs you have downloaded to your iPhone for offline listening. You are also allowed to add to favorites or skip any tracks based on your mood and take advantage of its Force Touch feature on conditioned that your iPhone is running iOS 10.
1.1 What you need to prepare
An Apple Watch with watchOS 6.0 or above
iPhone 5s or above running iOS 10
Downloading Apple Watch app on your iPhone
Installing the latest version of the Deezer app on your iPhone
1.2 Steps to play Deezer on Apple Watch via iPhone
Step 1. Pair your Apple Watch with iPhone.
Step 2. Launch Apple Watch app and tap My Watch.
Step 3. Scroll down to the Available Apps section and tap Install icon at the rear of Deezer.
Step 4. Tap Deezer's icon after installation on Apple Watch and launch it.
Step 5. Start to play music from the Deezer app on your iPhone and the Deezer app on your Apple Watch will be launched automatically.
Step 6. You can now easily skip tracks and shuffle songs on your Apple Watch.
Note: You cannot download music onto your Apple Watch with Deezer. Downloaded music will keep remain in your Deezer mobile app.
Part 2. Play Deezer on Apple Watch without iPhone Offline
Be noticed that there's no option to download offline content with the Deezer app. Meanwhile, to stream music directly to your watch is also not supported. You'll need to have your iPhone on hand every time you want to enjoy Deezer music tracks on your Apple Watch. Well, always doing this is somewhat troublesome, right?
Do not worry! TunesKit Audio Capture, a powerful sound recorder, aiming to help users grab any sound that their computer's soundcard outputs will help you out. With this smart third-party tool, you can easily capture your favorite Deezer audio tracks and save them to your Apple Watch, then you'll be able to enjoy them on your Apple Watch offline at will.

Key Features of TunesKit Deezer Downloader
Download unlimited number of audios from Deezer
Convert to 6 formats like MP3, AAC, FLAC, WAV, M4A, and M4B
Save streaming music with the original audio quality and ID3 tags
Support the trimming, cutting and editing
2.1 What you need to prepare
An Apple Watch with watchOS 6.0 or above
An iPhone
Installing the latest version of Tuneskit Program on your PC (Windows Version or Mac Version)
2.2 Download Music from Deezer via TunesKit
Step 1. Launch TunesKit Audio Capture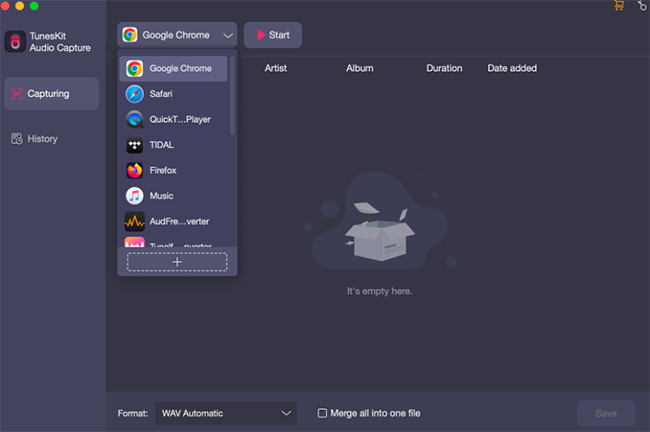 Open the software, and you'll see a list of programs in its user-friendly interface. One choice is that you can download Deezer app, and tab Add Program to pick it from your desktop to launch the program. The other choice for you is to click any of your browser icons to visit the Deezer website. Beware that you should set the capture parameters first and then to record the audio you need.
Step 2. Adjust capture parameters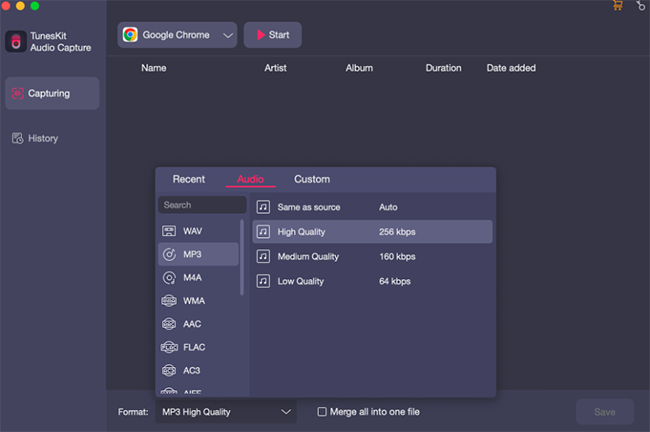 Click the Format button to set your output preferences format for your music tracks, such as MP3, WAV, AAC, M4A, M4B and FLAC. Since MP3 is suitable for most multimedia devices, it's a better choice for you. What's more, you're allowed to adjust the codec, channel, bit rate, sample rate, etc.
Step 3. Start to play and record the Deezer music tracks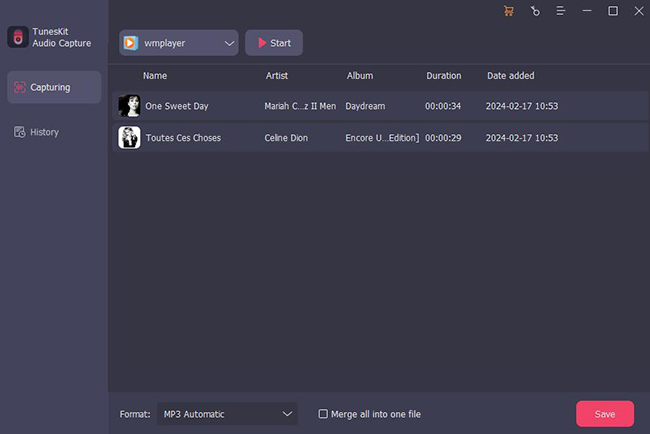 Go back to the target browser or Deezer app, and then go to your Deezer account to locate the tracks you want to record. Start playing the song, and you will find that a recording task is being created in the main window of TunesKit. Besides, you can also play and capture multiple Deezer tracks at the same time. To stop recording, simply stop playing the music or close the app.
Note: One thing that you cannot neglect is that you must launch Deezer or visit the Deezer website form TunesKit Audio Capture then can it work well.
Step 4. Customize the recorded audio tracks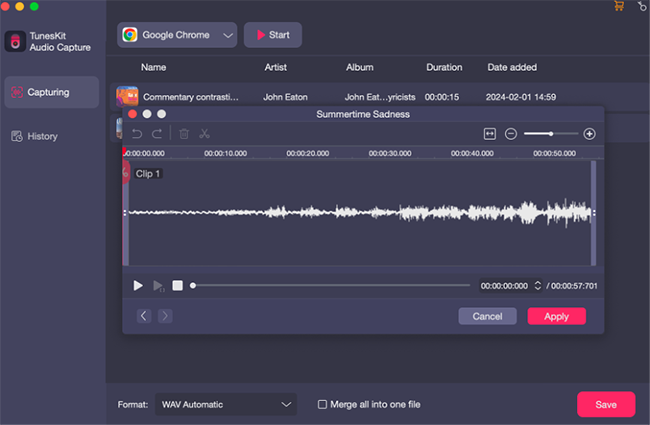 Once the tracks were captured, you can click the edit icon behind each track to trim them by time length as you need. You are also allowed to edit the tags of the audio, including music title, year, artist, etc. After that, you need to click "Save" button to convert the records to the output folder you specified.
2.3 Add Deezer Music Tracks to Apple Watch
In fact, Apple Watch allows users to add local music directly to the device with maximum music storage of 2GB. Simple as it, the synchronized operation of streaming music library to Apple Watch is showed as follows.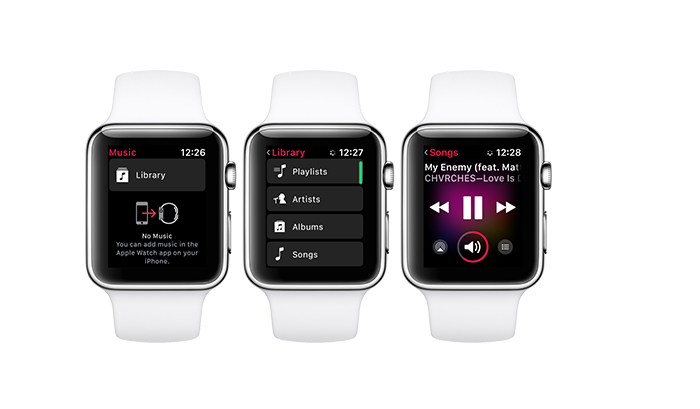 Step 1. Launch the Apple Watch app on your iPhone.
Step 2. Tap My Watch, then tap Music.
Step 3. Scroll to Playlists & Albums, tap Add Music.
Step 4. Select albums and playlists you specified before to add them to your Apple Watch.
Step 5. After adding, you are now able to play Deezer on your Apple Watch freely.
Note: To inquiry the capacity of your Apple Watch, you can open the Setting app on Apple Watch, then Go to General > Usage. In addition, you can open the Apple Watch app on your iPhone, tap My Watch, go to General, then tap Usage.
Conclusion
Now, wherever you go, you can listen to Deezer on Apple Watch, even if you don't have an iPhone with you. Especially when you're running with friends, isn't it enviable that you can easily play music with just your Apple Watch? So just make running relaxed and try it tomorrow mornig.