5 Effective Ways to Recover Deleted iPhone Facebook Messages
Posted by Brian Davis on Sep 16, 2020 3:05 PM • Category:
Restore iPhone
4 mins read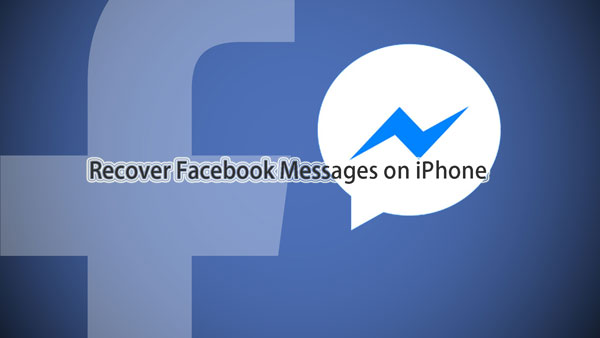 We often send and receive messages through Facebook and these messages, in some ways, are quite useful for us. However, we may sometimes delete or lose them by accident and this situation is indeed disastrous as there is no recovery button of deleted messages on the Facebook. In this case, how do we to get them back? Well, this article will provide you 5 effective ways to recover deleted iPhone Facebook messages.
Part 1: Common ways to retrieve messages on Facebook messenger
At first, let's look at some general methods to bring back lost or deleted messages from Facebook messenger on iPhone. Here we go.
1. Retrieve from Contacts
The first simplest way is that you can attempt to communicate with the person who obtained the messages you sent and ask for her or him to send the previous messages back. You can directly text him or her a piece of message or launch a voice call to get the messages or conversation you mistakenly deleted.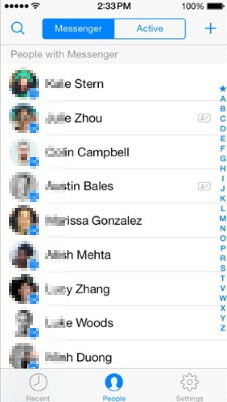 2. Get back from Search
If you think contacting other people is a little disturbing, another easy way to recover lost messages from Facebook messenger on iPhone would be the built-in function on the Messenger app. But the condition is that you must have archived the messages in advance before you try the following steps.
Step 1: Open the Messenger app and head to the recent conversations.
Step 2: Find the search bar which is situated in the top of the interface.
Step 3: Search the conversation you are looking for.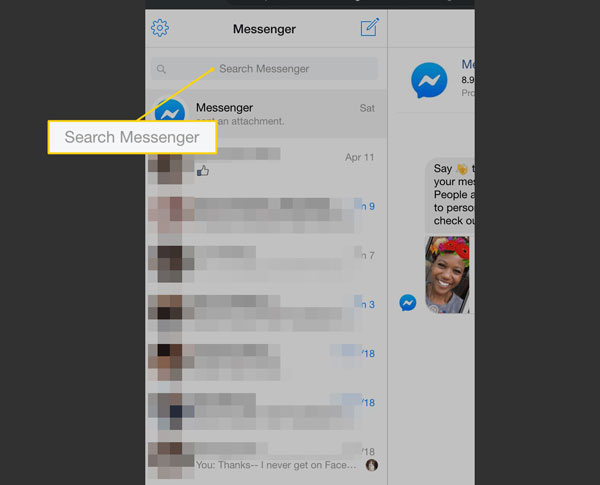 3. Restore from Facebook Settings
If you have archived the Facebook messages, then you could employ the Download Settings function on the Facebook profile to get back lost Facebook data. But it should be noted that it only allows you to retrieve temporarily deleted messages on the Facebook.
Step 1: Launch a browser on your computer and click on your Facebook profile. Next choose the "General Account Settings" and the "Download Copy of Facebook Data" buttons.
Step 2: Head to the "Start My Archive" and "And More" options. Next complete the orders and you will receive an email soon.
Step 3: Open your email and tap on the "Download Archive". At this time, a zip file containing your Facebook messages will be on your computer.
Step 4: Select the file named "Messages" among several html-format files in the zip file and you will restore your corresponding messages.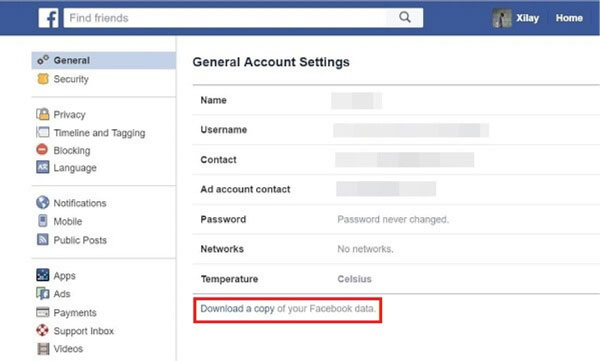 4. Recover from Facebook Messenger
Viewing archived messages on iPhone Facebook messenger can also help you to retrieve deleted and lost related messages. But you have to know the position of hidden messages in the Facebook account and you should make sure that they are not removed from the account.
Step 1: Click the "Messages" option, and Choose a friend you started the conversation before.
Step 2: Find out the archived messages and hit the "Action" button.
Step 3: Finally tap the "Unarchive" tab.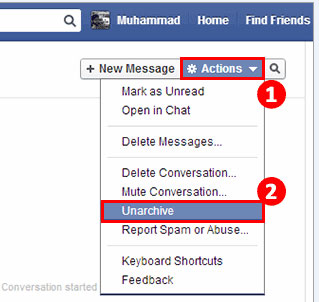 Part 2: The Hottest method to restore deleted iPhone Facebook messages
No matter to recover permanently deleted Facebook messages or the ones you erased from your Facebook account, a kind of iOS data recovery tool -- TunesKit iPhone Data Recovery can achieve your end safe and secure. Besides, with this program in hand, you can also restore other different types of data on iPhone and various applications like Viber pictures, messages and etc. And this software supports all versions of iOS systems including the latest and all iOS devices such as iPhone, iPad, and iPod. Finally, despite the reasons, for instance, accidental deletion and system bugs, TunesKit iOS Data Recovery can bring the lost data back.
To employ the hottest third-party data restoring program to recover deleted iPhone Facebook messenger messages, you just need the 3 simple steps below.
Step 1: Launch TunesKit iPhone Data Recovery and hook up your iPhone with the computer through a USB cable. Then choose the recovery mode called as "Recover from iOS" from the app's main interface.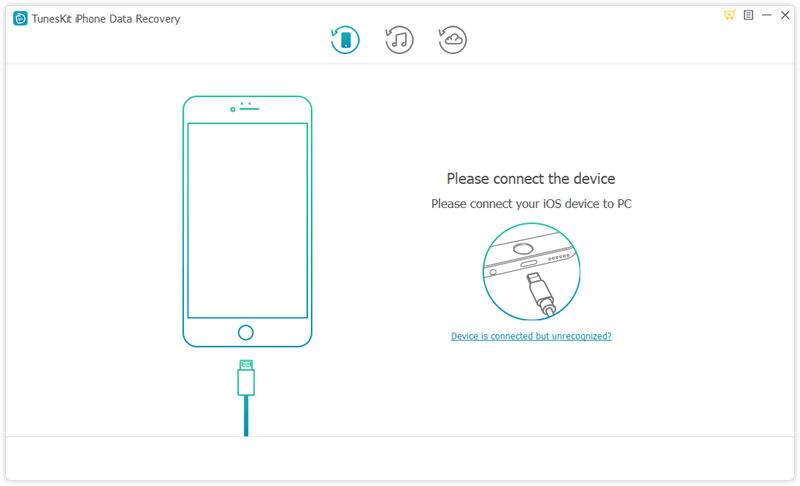 Step 2: After the device and different files are shown on the screen, select the data on the right column that needed to be scanned. Then hit on the "Scan" button and it will start scanning.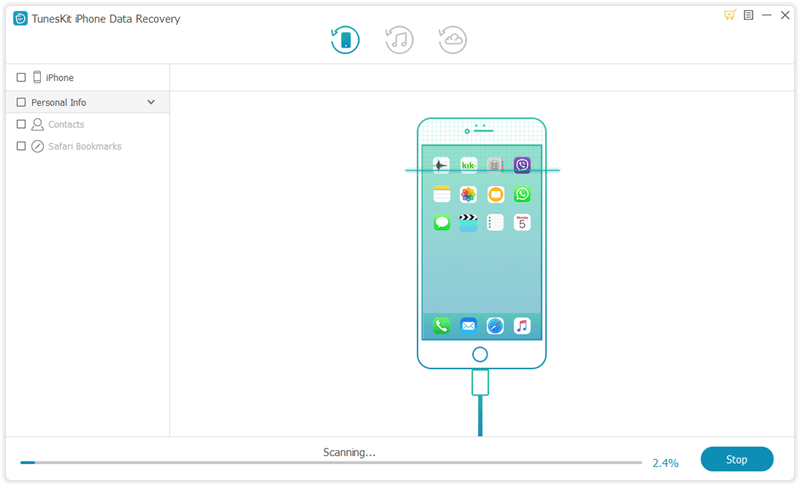 Step 3: Then all files scanned will appear on the left column. Before you tap on the "Recover" button, you are allowed to preview the iPhone Facebook messages you want to restore from "Message" column. After that the lost messages from Facebook messenger on iPhone will come back.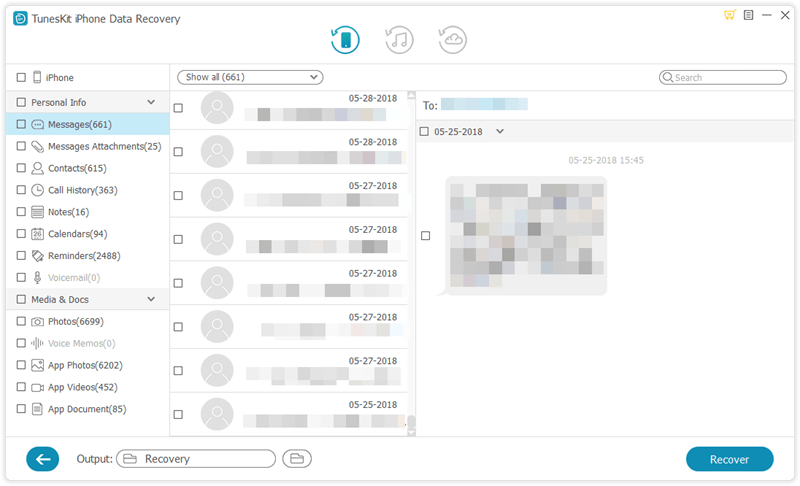 Part 3: People also ask
1. How to archive Facebook messages on iPhone?
Archiving Facebook messages you may temporarily don't desire right now can be really workable when you want to recover these messages in the future.
Step 1: Launch the Facebook Messenger application, and choose the "Messages" option.
Step 2: Find the message or conversation you need to archive and select them.
Step 3: Click "Archive" to put the messages into the archives. Then you can delete them.
2. How to differentiate between "Delete" and "Archive"?
Two common methods to remove the Facebook messages are "Delete" and "Archive". The former often cause some accidents at most time. To avoid similar situation, here's the distinction between "Delete" and "Archive". "Delete" means you remove the Facebook messages forever. While "Archive" merely makes messages into different folders, which is not erasure yet can be available one day.