How to Recover Deleted Facebook Photos on iPhone? 4 Methods
Posted by Brian Davis on Jul 7, 2021 17:35 PM • Category:
Restore iPhone
5 mins read
Anyone who watches the movie "The Social Network" and hears its title will not wonder what company it is. And if mentioning social media or networking platforms, Facebook has always taken the lead in the market since its founding. Therefore, it is not hard for us to think of the myriad numbers of its users. Apart from messages and posts, photos and pictures are the frequent sources on Facebook for users who often use the application. Due to device storage or other factors, users may delete these Facebook photos. But later, they want to get them back. Is it possible? Don't worry. Here, you will be enlightened after reading this tutorial about how to recover deleted Facebook photos on iPhone.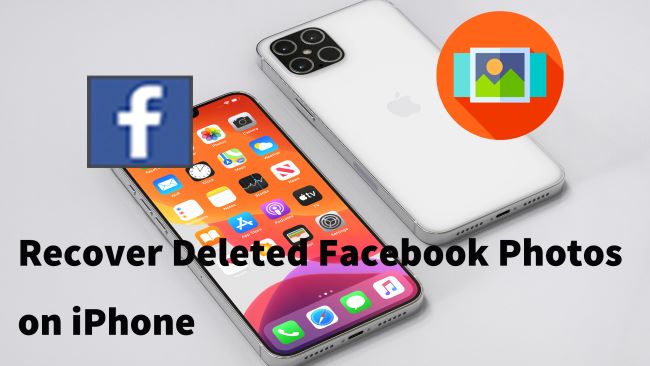 Can I Recover Deleted Facebook Photos?
When users desire to find out Facebook photos deleted or even lost, the first question they will ask will be it is possible to recover these photos. Well, you can do this certainly, if fortunately.
Normally, Internet giants have their databases. If you accidentally delete your messages, posts or pictures, these will not be permanently run away, but stored in the database before the expiry date. So whenever you'd like to restore the deleted data including Facebook photos, try turn to the app itself and then other tools.
How to Recover Deleted Facebook Photos?
Now, in this section, we are going to show you details about how to recover Facebook photos with all possible methods.
Way 1: Recover from the Facebook archive
Just as we discussed before, the application itself has the trick. First, you can go to the Facebook archive to recover deleted Facebook photos on iPhone. For details, follow the explanation below.
Step 1: Launch the Facebook app and sign in with your account. If you already logged in, skip to the next step.
Step 2: Go to the account settings. Then tap on General > General Account Settings. At the bottom, you will see the Download a Copy. Just click the option.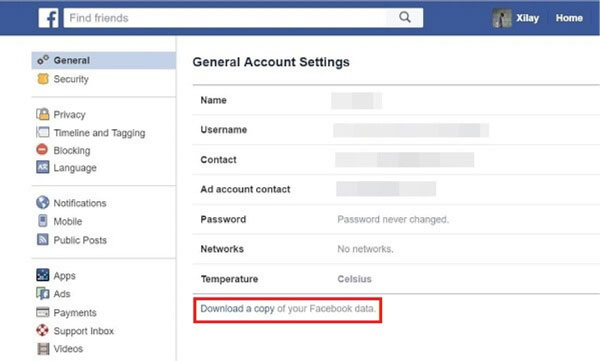 Step 3: Next, tap on the Download Your Information option. And enter the password if required.
Step 4: Last, click Start My Archive > Download Archive. When the process is done, all the data including Facebook photos will be recovered.

Way 2: Recover deleted photos from computer
Besides the Facebook archive folder which may not yield good results, you can also recover the photos from your computer. To do this, you will need a data recovery tool that is 100% successful. Most users may fret that this type of third-party recovery software will lead to data theft. Well, your worries will be relieved after you use it. Here, the best choice is the TunesKit iPhone Data Recovery software promising 100% safety.
TunesKit iPhone Data Recovery is a nifty program supporting Windows and Mac. It is capable of retrieving more than 20 data of iPhone, iPad and iPod including call history, contacts, text messages, notes, files, and more. For its speed of recovery, that is just what TunesKit is good at. For example, it can recover deleted Facebook photos within minutes. Whatever conditions your device is in, you can use TunesKit to restore any data.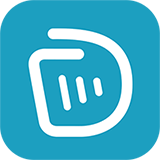 Key features of TunesKit iPhone Data Recovery
Recover data from different iOS device like iPhone,iPad and iPod.
Retrieve data under various scenarios including mistaken deletion and software update failure.
Restore diverse types of data like Facebook photos, videos, photos, etc.
Fully compatible with all iOS versions including the latest iOS 14.
Rescue encrypted files.
Support Previewing and selecting required data before recovery.
Try It Free
600,000+ Downloads
Try It Free
600,000+ Downloads
So download TunesKit on your computer. Then, refer to the following steps to recover the photos.
Step 1: First connect the device to the computer via an original USB cable, and then plug the cable into the device and computer ports correctly. The iDevice will require you to trust the computer, and just enable the Trust option. Then, open and launch TunesKit. On the top of the interface, click the Recover from iOS option. After this, TunesKit can detect your device info.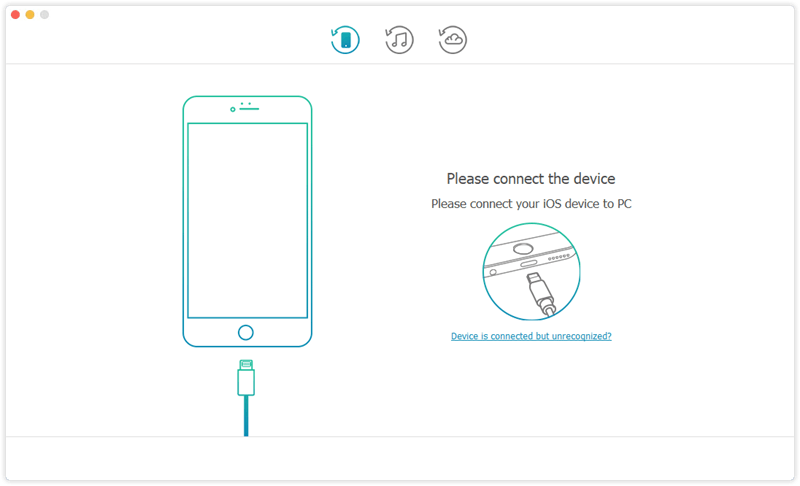 Step 2: Second, after confirming the device, it will show the data types on the main interface. You can make a decision and then click the Scan button. Then, TunesKit will spend little time scanning all data including deleted Facebook photos.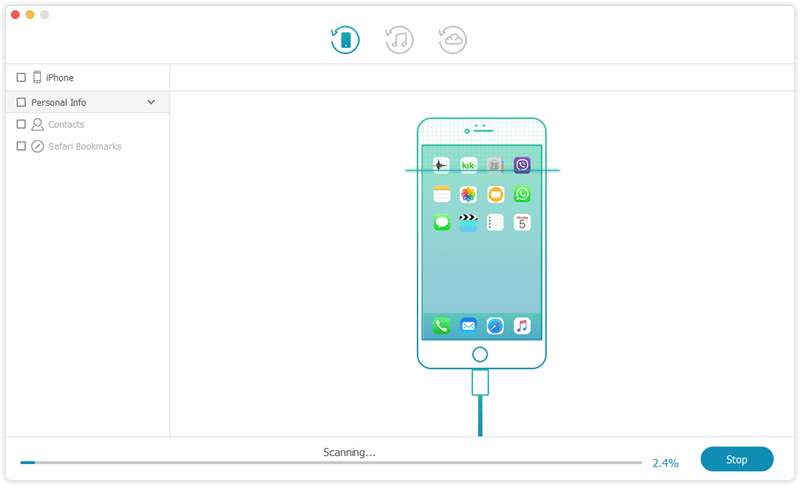 Step 3: When the scanning process is done, all the data you have chosen to recover will be shown. Then, view these data and choose the photos you want to retrieve. Next, click the Recover button to recover deleted Facebook photos on your iPhone.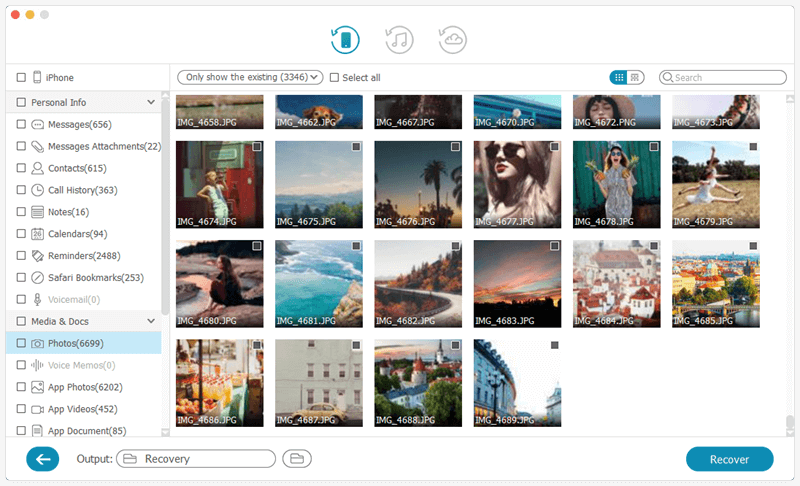 Way 3: Recover from recently deleted album
In some cases, all photos, pictures or images of apps will be saved on your iPhone automatically. And if you delete these photos, they will be stored in the recently deleted album. After all, there is the possibility of recovery. Why not try to check the iPhone album? Moreover, checking the album is not complicated. The next part is the detailed steps on how to recover deleted Facebook photos on iPhone.
Step 1: Open the Photos app on your iPhone. Then tap on Album > Recently Deleted.
Step 2: All the deleted photos will be shown. You can preview these photos and see if there are deleted Facebook photos you want to recover. If done, tap on the Select button.
Step 3: Last, select the photos you decide to recover, and then tap Recover. After this, your deleted Facebook picture will be back.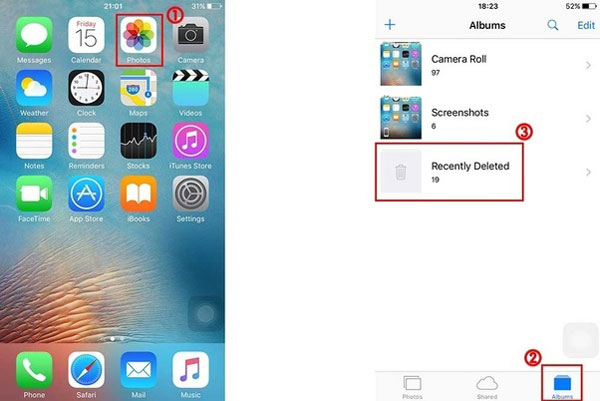 Way 4: Recover from iTunes backup
iTunes is a versatile program, as we know. One of its features is the backup. For Facebook data, iTunes also helps. Hence, if you are sure that you have backed up the Facebook photos to iTunes, iTunes is useful for you to recover deleted Facebook photos. Here is how to do this.
Step 1: Open iTunes on your computer. Then, connect the iPhone to the computer with a USB.
Step 2: If you sync the device with iTunes, the latter will automatically detect the iPhone. After this, go to the Summary icon or the iPhone icon.
Step 3: On the new page, find and tap the Restore Backup option. Last, follow the instructions of iTunes to finish recovering deleted Facebook photos.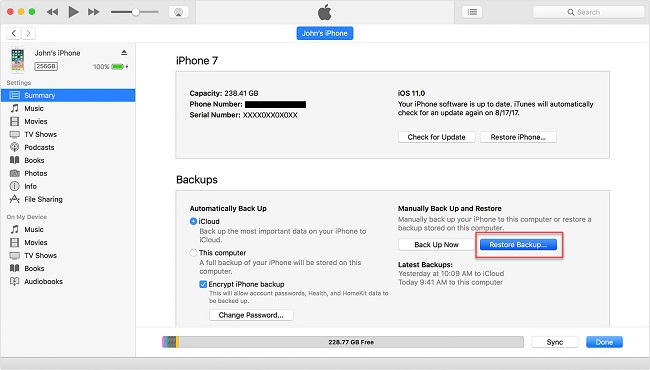 Note: In addition to iTunes, there are other well-known tools of data storage like iCloud, Dropbox and more. If you use these tools, try to open these programs to do recovery. What's more, TunesKit has iTunes backup mode too. If you are interested in it, you can refer to its guide.
The Bottom Line
In this tutorial, we provide 4 proven ways to recover deleted Facebook photos. Whether it is the built-in recovery pattern of Facebook or a third-party tool, it is totally effective. Now, you are no longer anxious about the deleted and disappeared Facebook photos, as all these can be restored soon.