7 Best iMessage Recovery Software to Restore iMessages
Updated by Brian Davis on Jul 25, 2022 6:00 PM • Category:
Restore iPhone
5 mins read
The iMessage is an instant messaging service from Apple Inc. designed to complement the messaging app on iPhone devices. This application will also store your messages and details in its vast database. In some instances, this database may be interfered with when there is damage to your iPhone device, theft, or even accidental deletion that will lead to the ultimate loss of its contents. This can be very stressful more so if you had important content in these files. However, with data recovery software being developed each day, there is no need to worry about this. There is top 7 iMessage recovery software that will help in the restoration of this lost content as outlined below.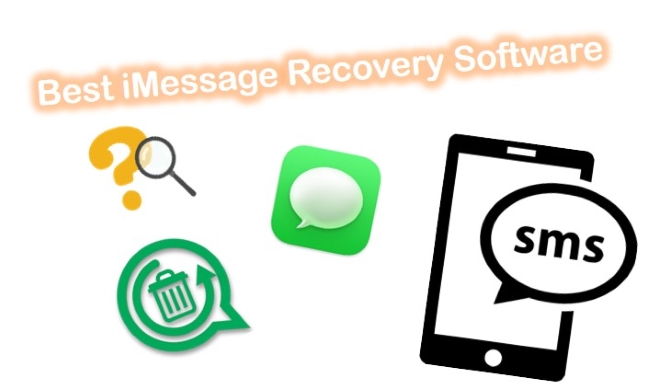 Part 1. List of iPhone iMessage Recovery Software
NO. 1: TunesKit iPhone Data Recovery
TunesKit iPhone Data Recovery (click iPhone Data Recovery for Mac to get Mac version) is a notable data recovery software tool that will help in the retrieval and restoration of your lost iMessages. It is among the best iMessage recovery software that comes with the features in speed and efficiency and with the preview setting, it will allow you to selectively restore your lost data. Besides iMessages, other lost files including contacts, call history, calendars, Safari bookmarks, Viber/Kik messages and more can also be restored no matter how you lost them.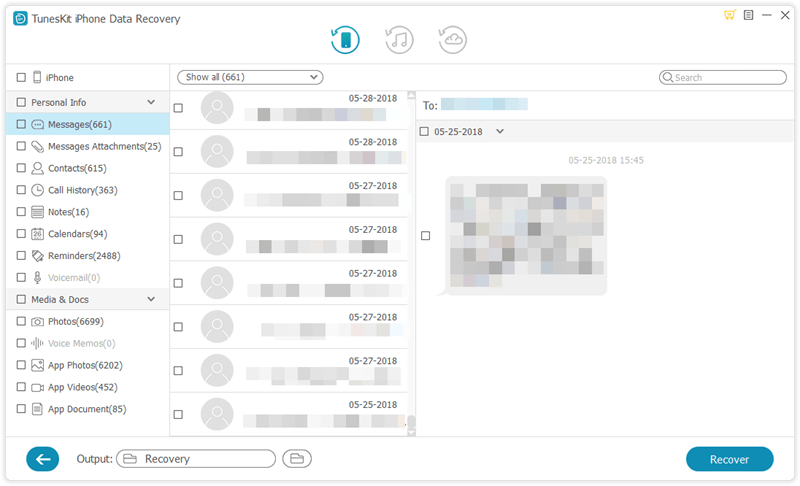 NO. 2: Aiseesoft Fonelab
This is among the best iMessage recovery software that will retrieve your lost data very quickly with no hassles. Its interface is easy to comprehend and use and requires no technical background to operate.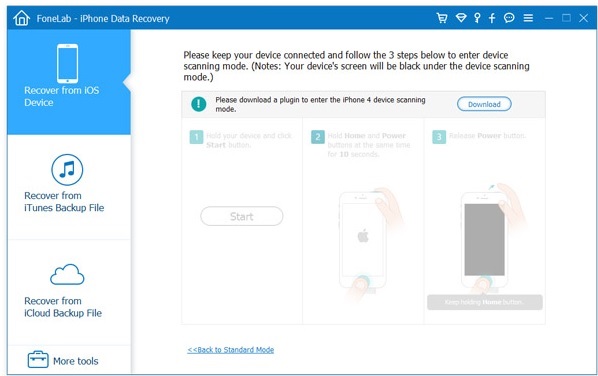 NO. 3: Primo iPhone Data Recovery
This is one of the most credible data recovery software that will allow you to access your lost messages and other content from your message database. This software will recover your lost data be it as a result of heft, damage, forgotten password, or even accidental deletion of the files. It provides three recovery modes to improve on the recovery route which are from your device, the iCloud, and the iTunes file backup storage.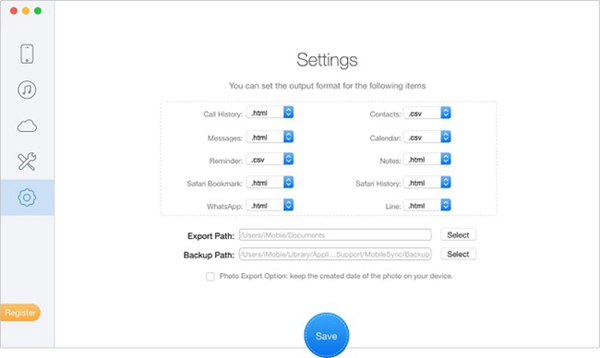 NO. 4: Dr.Fone for iOS
Dr.fone for iOS is one of the most popular iMessage recovery applications that fuses its features of speed, efficiency, and large file recovery to make it one of the best recovery software. This software will allow you to preview the deleted files and choose the ones that you want to be recovered. It has a powerful scanning process which translates to its speed in the restoration of lost files.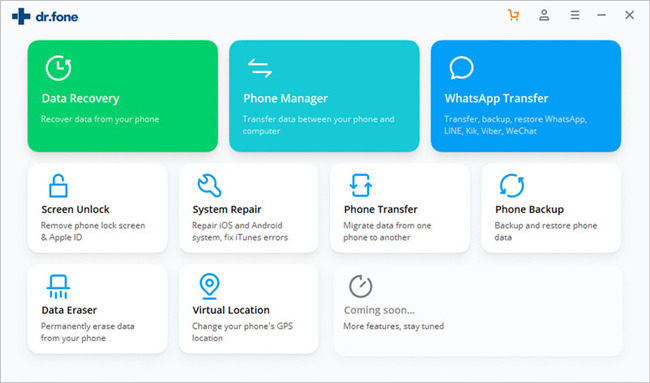 NO. 5: PhoneRescue for iOS
This is a very popular data recovery program that is really advocated for by its users who praise its ease in use, fast execution speeds, and recovery success rate. It is selective in recovery and will prevent the recovery of malicious files that may be infected with viruses. Besides, PhoneRescue offers three recovery modes, which are recovery from the iCloud backup files, the iTunes backup files, and also from your device, improving its success rate in recovery.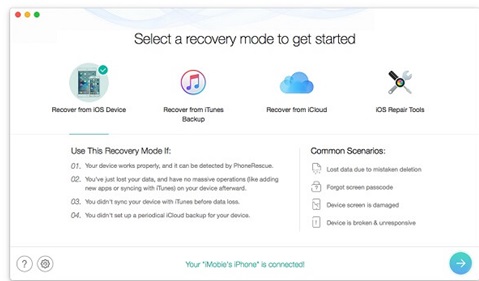 NO. 6: 7thShare iPhone Data Recovery
This recovery software can undisputedly claim the honor of being one of the best iMessage recovery software. This is due to its many lucrative features in speed, ease of use, and efficiency it brings to table. This is in addition to it being free to download. And it recovers your lost data using two modes; from iOS device and iTunes backup files.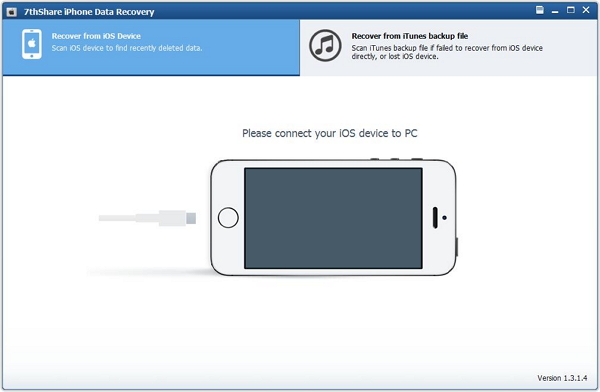 NO. 7: Stellar Phoenix Data Recovery for iPhone
Stellar Phoenix is an awesome software that will recover your lost iMessages very efficiently at amazing speeds. It also has the preview feature that will allow you to check on the files that you want to be recovered. Its efficiency is also improved by the three recovery modes that it uses which are from the device, iCloud, and iTunes backup. This software will also selectively recover your files after scanning where it will detect virus-infected files that may damage or reduce the performance of your phone.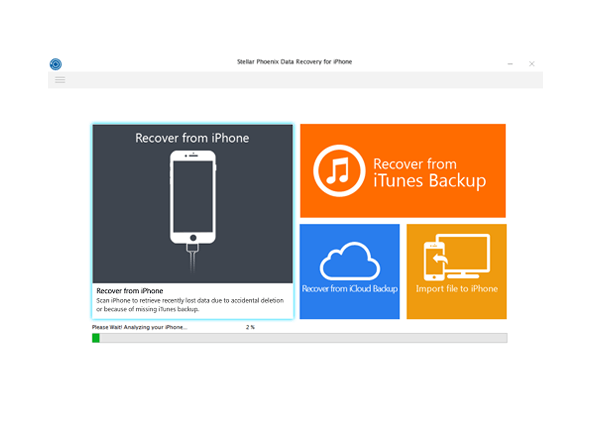 Part 2. Apple's Traditional Ways to Recover Data from Locked iPad
Tip 1. Which Is the Best iMessage Recovery Software?
Software should not be judged solely based on one factor. Some free software, for example, is not guaranteed to be secure. While there are some trial versions of this software with functional limitations, it ensures the confidentiality of the user's data, has high data recovery success rates and minimizes cost. Hence, whichever suits you best are the best.
In choosing the best data recovery product, it is important to take into account different sectors. The features of the program, the privacy of your data, and the cost should all be considered when selecting a provider for your data loss situation. The file recovery tool should also be able to reconstruct the user directory tree with the original folder names and file extensions along with creating raw disk images. You should choose easy-to-use software to recover your files.
Tip 2. Does iPhone Data Recovery Program Works?
If you think your iPhone data is gone forever, you can recover it with a data recovery program. There are a lot of data recovery tools on the market, but some may not be as efficient as you would like. It is advisable to choose software that has been proven to successfully recover files and data from iPhones. It's important to note that some cases of data recovery cannot be recovered. If deleted data has been overwritten with new data, it cannot be recovered. However, backup data can help you avoid losing data forever, as it is a preventative measure against data loss.
Tip 3. How Does iMessage Recovery Software Work?
Recycle bins are where files go after being deleted. It is not removed from the recycle bin even though the file has been deleted. File systems remove the path of files when you delete them, thereby making them less accessible. When another file is required, this space will be made available to that file.
Part 3. Conclusion
These are the 7 best iMessage recovery software 2022 that you can use in the recovery of your lost iMessages and other content from your message database. All these software try to employ quick and high-performance strategies in execution speeds. These factors make them more lucrative for use. With these programs especially TunesKit iPhone Data Recovery, data recovery cannot be any easier and we are sure of more advancements that will make them more powerful.