How to play DVD on Wii Easily? Here are the solutions.
Posted by Adam Gorden on Jun 17, 2020 3:10 PM • Category:
Convert Videos
5 mins read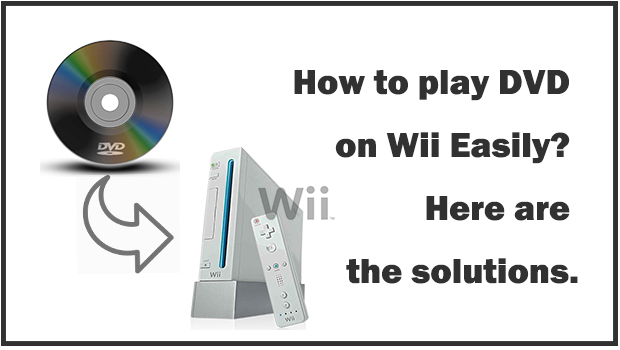 Wii is a home console game released by Nintendo on November 19, 2006. It is a successor to NGC. And it introduced motion-sensing to video game consoles for the first time. The main features are the never-before-seen controller usage, nostalgic game console software download and sale, and standby Internet connection. The Wii belongs to the seventh generation of home consoles.
Wii is more than just a game machine for having fun. It can also be used on a DVD player to watch the films. Even if you can't watch it directly it doesn't mean it's impossible. So if you are a Wii enthusiast, you may ask are there any workarounds? My answer is yes. Here we will analyze the reasons why we can't directly play DVD on Wii and provide you two most effective ways.
Part 1.Can I play DVD on the Wii Directly?
According to Nintendo support, DVDs cannot be played on Wii console. What's more, HD-DVD, CD music discs, Blu-Ray discs, HD-DVD or movies/ music stored on SD card, USB hard drives or other portable memory devices. And all the DVD in the market will have a data protection system, which will prevent you from playing the DVDs on the player even you have downloaded it. This technology will encrypt your commercial DVDs and you can't enjoy them at any time you want.
As a result, you need to use some other tool to fix this problem like the Homebrew Channel and a professional DVD Ripper.
Part 2. [Optimal] Play DVDs on the Wii with TunesKit Video Converter
Many of you may ask how to play DVD on Wii? TunesKit Video Converter will be your optimal choice. It is a professional DVD ripper that can rip and convert DVD into more than 250 video formats including MP4, AVI, MOV, MKV, MP3, etc. And it can help you rip DVD movies with 3 easy steps at 60X fast conversion. No matter encrypted or unencrypted commercial DVDs, TunesKit Video Converter can rip all of them with ease. So you don't need to worry about the data protection system on DVDs.
Here are the steps on play your DVDs on Wii with TunesKit.
Step 1

Open TunesKit and Add Your Target DVD files

Connect your DVD with a computer via a DVD driver. Then add your target files by clicking the first button in the red frame or dragging the files into the interface.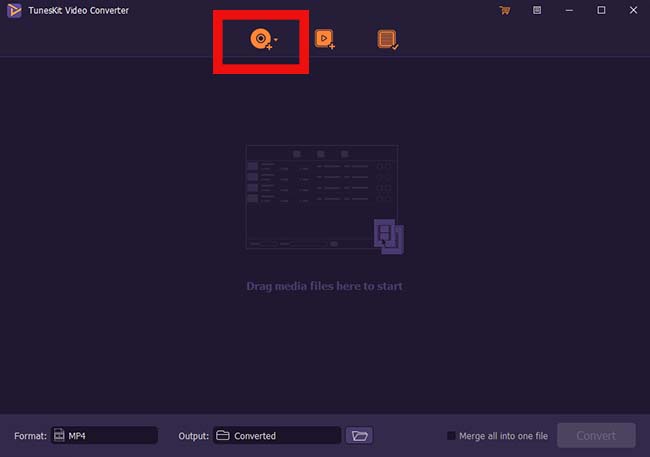 Step 2

Customize Output Settings and Choose the format

To convert DVD to the format that is supported by Wii, you should click 'Format'> 'Encoding mode' > 'Devices' > 'Nintendo Wii'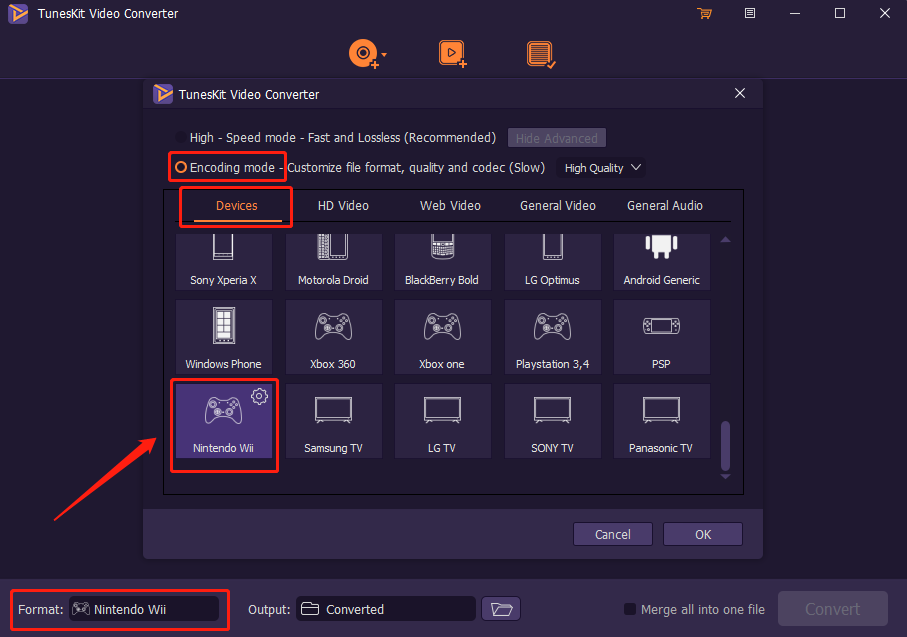 Step 3

Start to Convert or Rip DVDs

After selecting the output settings, press the 'Convert' button.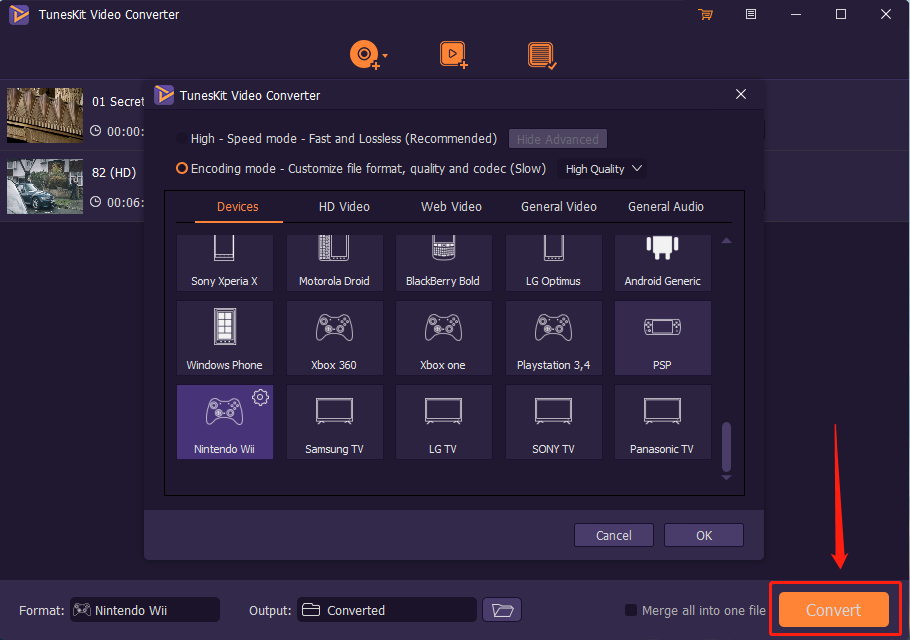 You can find all your converted video by clicking the third button on the top of the interface.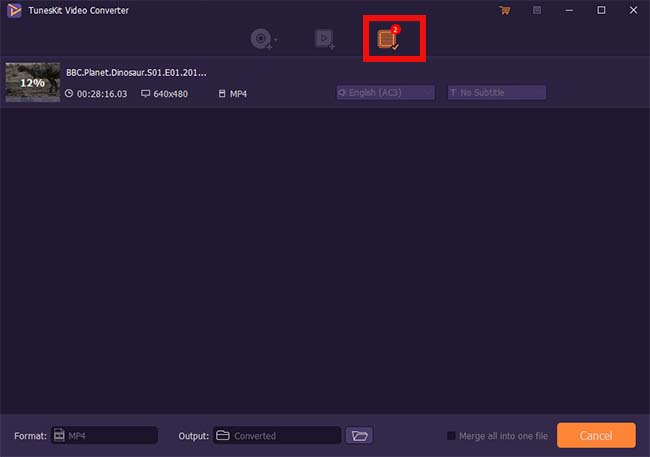 TunesKit is also regarded as one of the best DVD Rippers in 2020, it can also help you convert DVD to other Web formats like YouTube, Vimeo, Facebook and devices like iPhone, iPad, Apple TV, Samsung TV, etc. Why not download it and have a try?

Key Features of TunesKit DVD Ripper:
Rip a DVD to in any format like WMV, MP4, MOV easily
Convert DVD or videos without quality loss
Edit DVDs with built-in video editor
Convert over 250+ videos and audios
Easy of use with clear navigations
Try It Free
600,000+ Downloads
Try It Free
600,000+ Downloads
Part 3. [Free] Play DVDs on the Wii via The Homebrew Channel
The Homebrew Channel is a channel for launching Wii homebrew applications. It will list homebrew applications stored and organized on an SD card or USB mass storage device. Once installed, you can access the channel from the Wii System Menu just like any other Wii channel. And you can play DVDs on Wii via the Homebrew Channel. Here are the detailed steps on playing DVDs on Wii.
Necessary preparation:
Although this method seems like very easy to operate, you still need to make some preparation before you play DVD via Homebrew Channel. You need to check that if you have the following equipment.
• A Nintendo Wii console with system version 3.2
• An SD card reader/ writer/ a USB device
• A FAT/FAT32 formatted SD card below 2GB
• The legend of Zelda: The Twilight Princess for Wii
• The Twilight Hack.
• Media Player which is compatible with playing commercial DVDs (MPlayer)
• A Homebrew Channel Installer
• DVDX app which allows Wii to read the inserted DVDs

Step 1

Install the Homebrew Channel

1. First you should insert your SD card into the reader and copy the 'private' directory of Twilight Hack on your card.

2. Insert your SD card into your Wii and delete your Zelda save file in the Wii File Manager. If you care about your saved game, you can first copy it to your SD card and copy it back after you've installed HBC.

3. Flip Zelda over and take note of the text on the inner ring before inserting it into your Wii. There are two versions including 'RVL-RZDE-0A-0 which requires TwilightHack0' and 'RVL-RZDE-0A-2 which requires TwilightHack2', and they both can work. You should make sure you apply the correct hack.

4. Then switch to SD view in your Wii File Manager and copy your correct version of the hack.

5. Insert your Zelda game and start the game. You should see the Twilight Hack save game. Select it to start the game. After a few minutes, the HBV will be installed and can be accessed as other Channel on your Wii.
Step 2

Install the DVD playback program

1. When HBV is installed, you need to install a third-party DVD player, which will allow you to play your discs on Wii consoles

2. On your SD card, find a safe space and where you can install and copy the third party DVD player app.

3. Insert the SD card in your console and start HBC. There will two programs present on your SD card. Then run the DVDX installer app. Select the 'Normal installation' as it ensures the smooth running of the program without any issues.
Step 3

Play DVD on Wii

1. Go to HBC and select Mplayer.

2. Select DVD-Video and then choose the Title.

3. Play your desired DVD.

Although you can play your DVDs on Wii successfully, you still can find many limitations and risks in there. There are still many bugs you will meet in the MPlayer app. This will bring inconvenience for you.
The Bottom Line
Here are all two best ways to play DVD on Wii. As you can see above, TunesKit will be much easier to operate than the Homebrew Channel. You can choose the method according your own needs. If you still have any problem about ripping DVD or converting, you can leave your voice below.