[Fitbit Deezer] Play Deezer on Fitbit Versa with/without a Subscription
Updated by Adam Gorden on Jul 20, 2022 6:00 PM • Category:
Record Audio
8 mins read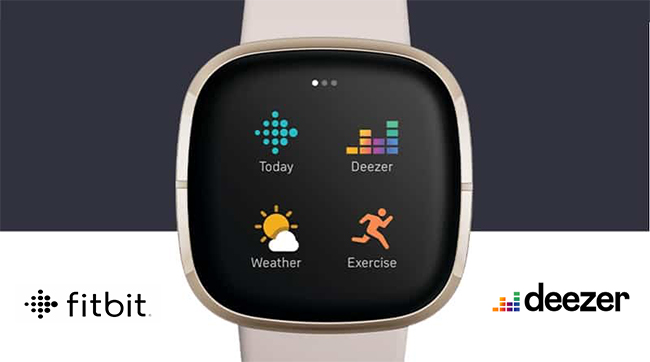 The higher-end Fitbit Versa series allows users to install streaming music apps, such as Deezer, Spotify, and Pandora. Compared to these streaming services, the integration of Deezer on Fitbit smartwatches is arguably more seamless. Deezer allows its listeners access to more than 73 million music tracks on Fitbit Versa. Besides, Deezer allows users to upload music to Fitbit Versa, which has 2.5 GB of memory available for music storage.
From what we mentioned above, you can use Deezer on Fitbit Versa in different ways. You can listen to Deezer music on your Fitbit Versa directly if you have a paid subscription. If not, you need to convert your Deezer music to a specified format and transfer them to your Fitbit Versa. Today, in the following passage, we will introduce the complete tutorials to play Deezer on Fitbit Versa with or without a subscription for your reference.
Part 1. How to Play Deezer on Fitbit Versa 2/Versa 3 with Premium
With a paid subscription to Deezer, you can randomly choose from more than 73 million songs, sync your favorite music lists to your Fitbit Versa and download personalized recommended songs every day with Flow. For a Deezer subscription, you can choose the one that suits you best from Deezer Premium, Deezer Family, and Deezer HiFi. The instructions here only apply to the Fitbit Versa series.
1.1 How to Activate Deezer on Fitbit Versa
Step 1: Launch the Deezer app on your Fitbit Versa. You should see an activation code.
Step 2: On your phone or computer, open the Fitbit Deezer Activation page and enter the activation code shown on your Fitbit Versa.
Step 3: Follow the instructions on your Fitbit Versa screen to enter an activation code, and sign in with your paid Deezer account.
Step 4: In the Fitbit app, tap the Today and tab Fitbit icon > your profile image > your device image > Media > Deezer.
Step 5: Tap Add Music and choose the playlist you want to transfer from the Featured or My Playlists categories.
Step 6: Tap playlists to queue them for download.
Step 7: Plug your Fitbit Versa into the charger to automatically start the download. It may take several minutes to complete the process, which depends on the size of the playlist you are you're transferring.
Once activated, the Deezer Fitbit service will allow you to store songs on your watch, sync playlists, get a daily refresh of songs with Deezer Flow and select from a variety of customized playlists. It's safe to leave your phone at home, as once you've downloaded the Deezer playlist, you can listen to the music anywhere directly from your wrist.
Note: Wi-Fi won't work on your watch when the battery is below 25%.
1.2 How to Listen to Deezer on Fitbit Watch
Since Fitbit Versa does have a built-in microphone, there're no speakers. In order to hear the music being played, you'll still need to connect to an external speaker.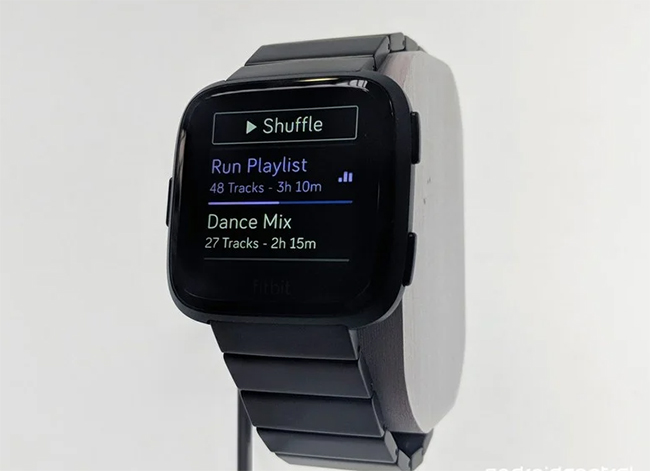 Step 1: After downloading your Deezer playlists, connect a Bluetooth audio device, such as Fitbit Flyer headphones or a Bluetooth speaker, to your Fitbit Versa.
Step 2: Open the Deezer app on your versa, tap the Play button next to a playlist to start playing the music.
Step 3: Now you can browse the Deezer playlists, shuffle songs, rewind or skip music with your Fitbit Versa.
Part 2. How to Connect Deezer to Fitbit Versa for Free
In fact, if you don't want to subscribe to the Deezer service, you can still make it possible to play Deezer on your Fitbit Versa with the help of TunesKit Audio Capture. Being a well-designed sound recorder, TunesKit Audio Capture can help you grab any sound of your computer's soundcard outputs, including streaming music, movie soundtracks, and so on. Since the Fitbit Versa only supports MP3, MP4, AAC, and WMA audio files, TuneKit Audio Capture can make the Deezer music unprotected and export Deezer music to Fitbit Versa 3/2 with compatible audio formats such as MP3.

Key Features of TunesKit Deezer Downloader
Download unlimited number of audios from Deezer
Convert to 6 formats like MP3, AAC, FLAC, WAV, M4A, and M4B
Save streaming music with the original audio quality and ID3 tags
Support the trimming, cutting and editing
Try It Free
600,000+ Downloads
Try It Free
600,000+ Downloads
2.1 How to Download and Convert Deezer Music Track
Tuneskit Audio Capture supports both Windows and Mac system. Before downloading songs from Deezer, download and install TunesKit Audio Capture on your PC first, then follow the below steps to download Deezer songs.
Step 1: Launch TunesKit Audio Capture
Upon launching the software, you'll find a list of programs such as chrome, IE, WMP, etc displaying in the opening window. Click any browser to access Deezer website, or you can choose to tap the "+" button to add the Deezer app.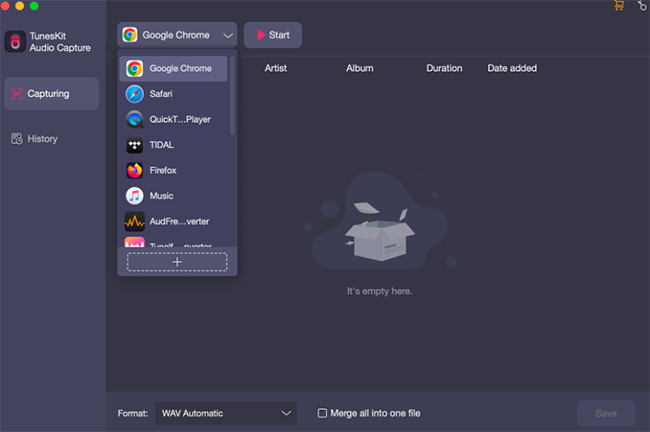 Step 2: Adjust Deezer audio parameters
Click the Format button at the bottom right corner to customize your output preferences. In the popup window, you can choose the output audio format to MP3, WAV, AAC, M4A, M4B and FLAC, audio channel. And here you can select the MP3 format that can be played on Fitbit Versa. In addition, you can set the bit rate, sample rate, codec, etc. as you need.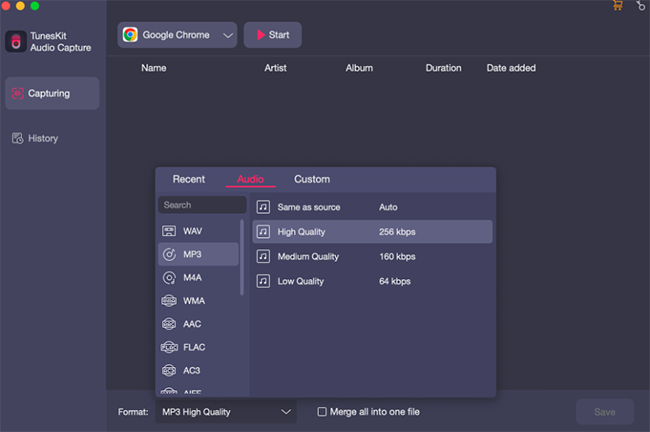 Step 3: Capture the Deezer music tracks
Now go back to the Deezer app or the browser you've just picked, select the music you want to capture, and just start playing. Then return to TunesKit Audio Capture window, a new Deezer recording task is being created in the capture list. When it ends, click the Stop button.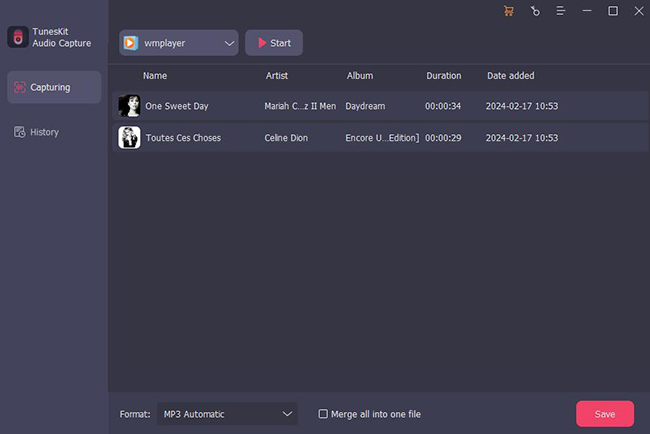 Step 4: Edit recorded Deezer tracks
You can edit the Deezer music downloading by click on the Edit button. After that, you can click the Save button to export the Deezer records to the specified folder.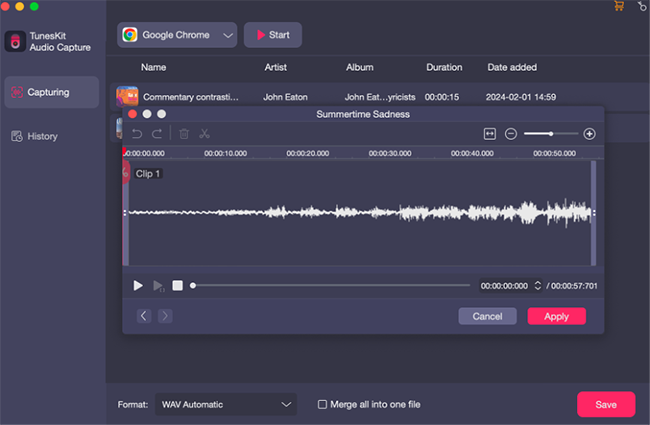 2.2 How to Use Dezeer Records on Fitbit Versa
There's enough space for your Fitbit Versa to store about 300 songs, so with a few steps, you can listen to your Deezer playlist anywhere you go as long as you're wearing your watch.
Step 1: Download and install the Fitbit Connect app on your computer.
Step 2: Open the Fitbit Connect app on your computer and select Manage My Music.
Step 3: On your Fitbit Versa, go to the Music icon and tap Transfer Music.
Step 4: Once connected, select the Deezer playlist you want to transfer to your Fitbit Versa.
Step 5: Wait for the download to complete. It may cost you some time, especially if there are a lot of songs on your Deezer playlist.
Note: Both your computer and your watch must be on the same network to transfer music to your watch.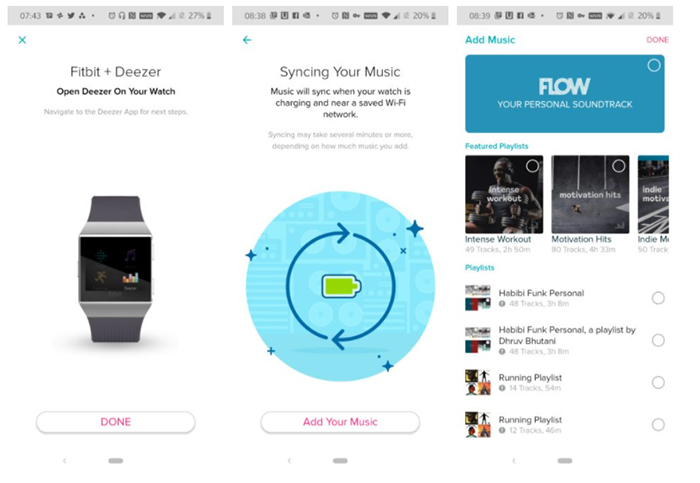 Once the transmission is complete, you can pair the Bluetooth headset or speaker with Fitbit Versa. Then open the music app, now you can freely enjoy Deezer Music wherever you are.
Part 3. How to Convert and Use Deezer on Fitbit Versa Offline
Another recommendation we have is AudFree Deezer Music Converter, which is as powerful as TunesKit Audio Capture. The program is specially designed to download and convert Deezer tracks, playlists, albums, and podcasts to popular formats. Thus, you can play Deezer on Fitbit Versa 3/2 even using a free Deezer account.
Meanwhile, it's dedicated to providing users with high-quality Deezer music, a wide variety of sample rate and bit rate options, allowing users to freely configure the quality of downloaded Deezer content. You can follow the guide to download and use Deezer on your Fitbit Versa 3/2 or other series.
3.1 How to Convert Deezer Music for Fitbit Versa
Step 1: Make sure you have installed the Deezer desktop app on your computer. And download and launch AudFree Deezer Music.
Step 2: It will auto-launch the Deezer desktop app, you'll need to log into your Deezer account here.
Step 3: Before you download, go to the top three lines icon and choose Preference > Convert to customize the downloading options. Here you can change the format, channel, sample rate, and bit rate. You select a format for MP3 which is compatible with Fitbit Versa 3/2.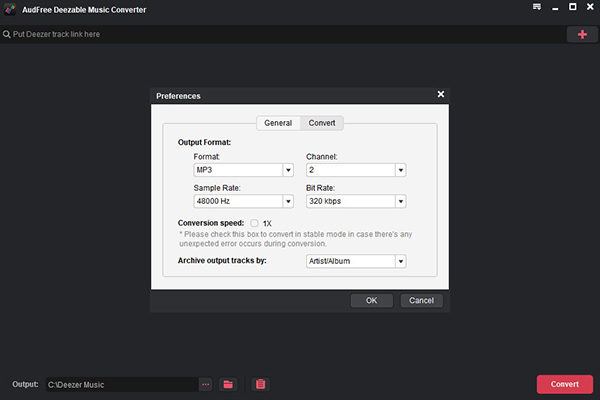 Step 4: Now please turn to Deezer desktop app to find the target Deezer content and copy its URL. Back to AudFree Deezable and paste the URL into the search bar and hit "+".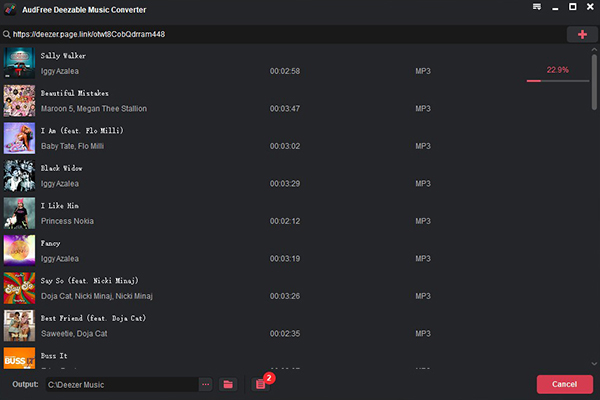 Step 5: Once done, you can check the Deezer downloads by clicking on the Converted button at the bottom right.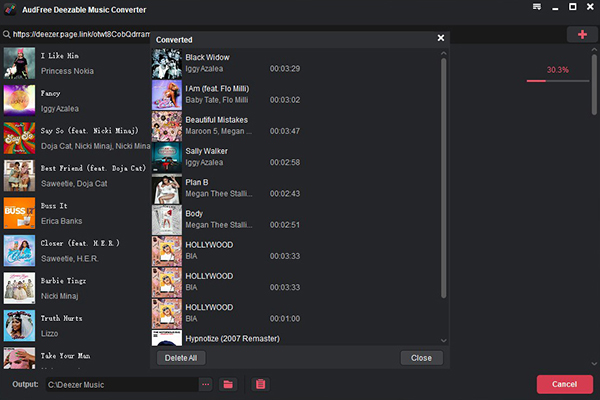 3.2 How to Use Deezer on Fitbit Versa 2/3
Now you are able to use Deezer on Fitbit Versa 2/3. You can follow the way to add Deezer to Fitbit Versa just like you learned in the previous method. Or try the other way as follow.
Step 1: Make sure your Fitbit Versa and computer are connecting to the same Wi-Fi. Then open the Fitbit app on your phone and choose Media > Personal Music. It will notify you to access fitbit.com/setup.
Step 2: Go to fitbit.com/setup and download the Windows version of Fitbit. Launch it and log into your Fitbit account.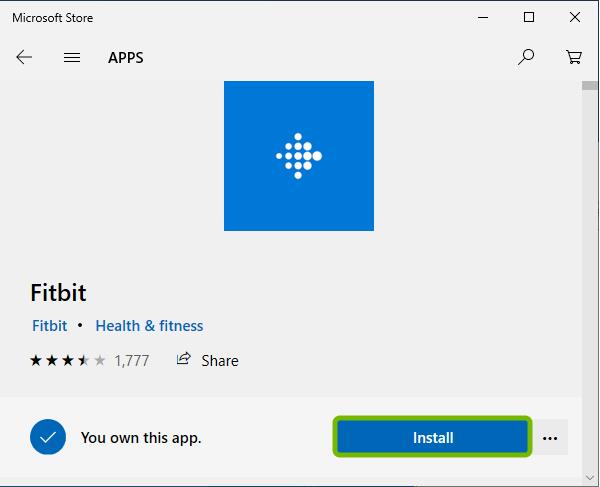 Step 3: Next, in your Fitbit Versa, hit the music icon and choose Music > Transfer Music.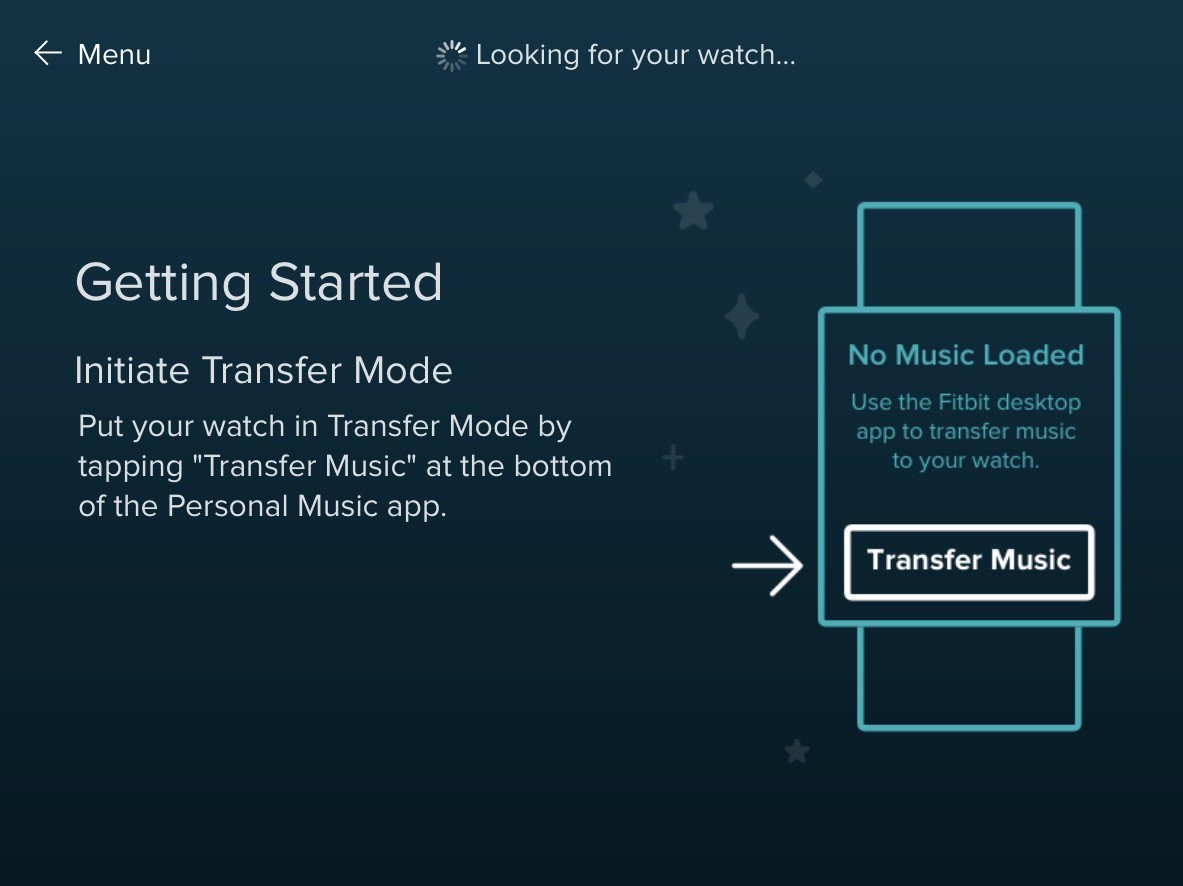 Step 4: Now go to the Fitbit desktop app and tap Personal Music. Here you add and transfer the downloaded Deezer music. Then hit the cycle sync icon to start transferring.
Step 5: When it ends, open your Fitbit Versa and click End Now. Then you can play the Deezer on your Fitbit Versa 3/2.
Part 4. FAQs about Deezer and Fitbit Versa
Q1: What is Deezer on Fitbit?
Deezer on Fitbit is a streaming music app on Fitbit. It can sync your Deezer playlist when it is charging and connected to Wi-Fi. And you are able to download and play the Deezer music directly on the Fitbit.
Q2: Do you have to pay for Deezer on Fitbit?
Technically, there's no additional cost to listen to Deezer on Fitbit. That's because the Deezer account you sign up for is already a paid subscription. Just sign in to your paid Deezer account on Fitbit to listen to Deezer music. Or you can download Deezer music from your computer and transfer it to your Fitbit for permanent listening.
If you don't have a Deezer paid subscription and still want to play Deezer on Fitbit Versa, you can try TunesKit Audio Capture or AudFree Deezer Music Converter to download Deezer music with a free Deezer account and use it on Fitbit Versa. You can read the text above for more details.
Q3: How does Deezer work on Fitbit?
A Deezer account can only be linked to one Fitbit at a time. And you can only listen to Deezer music after setting up the Deezer account on your Fitbit. If you want to sync the Deezer playlist and music to Fitbit, you'll need to connect your Fitbit to Wi-Fi and leave it to be charged.
Part 5. Conclusion
Now you have got the ways to play Deezer on Fitbit Versa. Whether it's a Deezer paid subscription or a free plan, with the help of TunesKit Audio Capture or AudFree Deezer Music Converter, you can now play Deezer on the Fitbit Versa series by simply starting a sync or transferring downloaded Deezer music to your Fitbit Versa. Try these methods and enjoy the Deezer on your Fitbit Versa.