6 Best Chrome Audio Recorders in 2023
Posted by Nick Orin on Jan 11, 2023 5:30 PM • Category:
Record Audio
5 mins read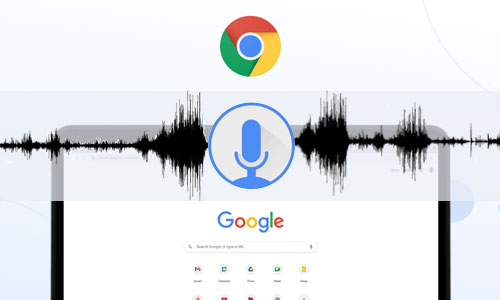 Google Chrome, one of the most popular browsers in the world, has always offered users a great deal of convenience. Besides working, people often watch videos and listen to music on Chrome to relax. Most people will attempt to save the audio when they find a melody they like. However, not all audio or music can be saved directly as they want. For those that can't be saved directly, you can also record them. Therefore, we will present you with 6 great recording tools as your Chrome audio recorder to capture any desired audio. Let's begin.
Part 1. Chrome Audio Recorder for Windows and Mac
Tool 1. TunesKit Audio Capture
Let's start with software that can record audio from Chrome on Windows and Mac, which is TunesKit Audio Recorder. As a desktop Chrome audio recorder, TunesKit Audio Capture has a powerful audio recording system, different from other common audio recorders. Users can open several Chrome tabs and play different audio at the same time, and then TunesKit Audio Capture will record them at the same time, and the recording process does not affect each other.

What you will end up with is the audio recording files with the original sound quality with ID3 tags. In addition, this tool supports exporting audio to six audio formats, including MP3, AAC, FLAC, WAV, M4A, and M4B. And its built-in audio editor can merge, trim, or split audio recordings, as well as edit ID3 tags.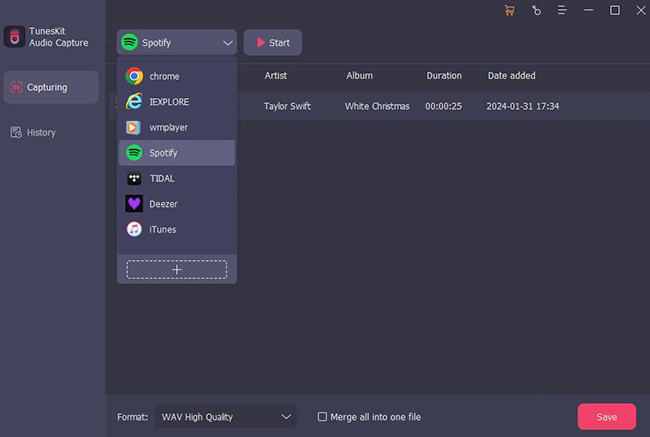 Pros:
1. Record audio from Chrome without quality loss;
2. keep the original quality and full ID3 tags;
3. Save audio recordings to MP3, FLAC, M4A, M4B, AAC, WAV;
4. Come with a built-in audio editor to merge, tirm, or split music recordings
Cons:
1. The trial version records audio for up to 1 minute only
Tool 2. Audacity
If you're after more audio editing tools, then you should give Audacity a try, a free open-source audio recording program available for Windows, Mac, and Linux. Although it can't record multiple audio tracks at the same time like TunesKit Audio Capture, its strength in audio recording is no slouch.
Not only can it record audio from Chrome or other desktop programs, but it also supports users to connect a microphone to record their own voice. And, you can easily use a variety of editing features such as trim, cut, copy, paste mixing, enhancing audio tracks, adding and using sound effects and audio plugins are also available.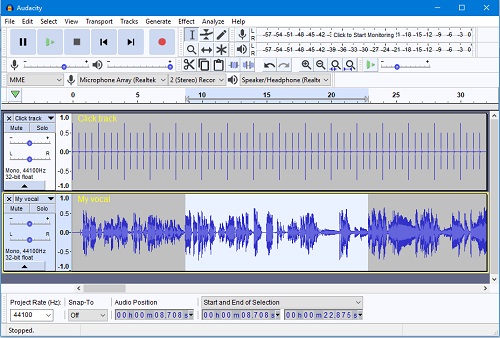 Pros:
1. Easy to use;
2. Unlimited recording time;
3. Free and open-soource;
4. Come with various editing features
Cons:
1. Unable to record multiple audio tracks at the same time;
2. Few audio formats to choose from
Part 2. Chrome Audio Recorder Extension
Tool 3. Chrome Audio Recorder
Chrome Audio Capture is a Chrome extension that only records audio that is currently playing on the Chrome tab and does not record sounds outside of Chrome. You can capture several tabs at once and choose to mute the tab in the settings when you start recording the audio on Chrome. In addition, you can save the recorded audio in MP3 or WAV format as you like. However, it does not support online preview and there is no online audio editor, so you must save it to your computer prior to listening to it.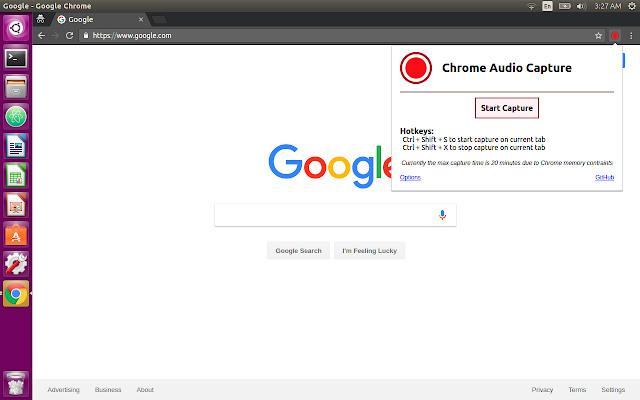 Pros:
1. Easy to use;
2. Record audio from multiple chrome tabs simultaneously;
3. Export audio to MP3 or WAV format
Cons:
1. Lack of audio editor;
2. Unable to preview online;
3. Can only record up to 20 minutes of audio
Tool 4. WQRI Recorder
WQRI Recorder is also an audio capture Chrome extension add-on. Similarly, it can only record audio from the Chrome tab where the audio is currently playing. It supports recording up to 120 minutes of audio, which is great for people who want to record music playlists or audio courses. Additionally, you can set the Chrome tab in its Settings to mute the music that is currently playing. Thus, you don't get confused when multiple recordings are started simultaneously. Unfortunately, it lacks an online editor and preview function as well.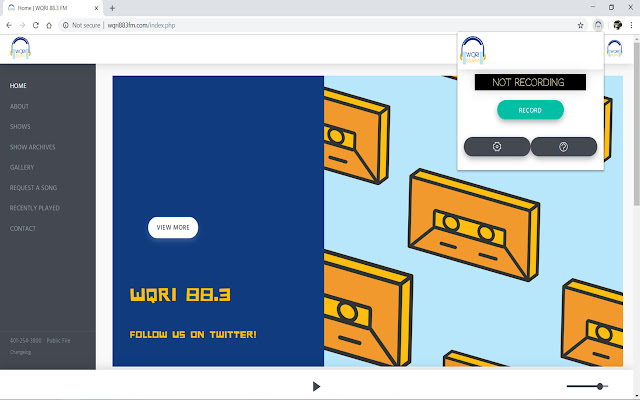 Pros:
1. Record audio up to 120 mins;
2. Multiple recording tasks may be opened simultaneously;
3. Chrome tab mute can be set before the recording
Cons:
1. Wihtout an audio editor;
2. Cannot preview the audio recording online;
3. The recording bar needs to be brought up manually
Part 3. Online Audio Recorder from Chrome
Tool 5. Apowersoft Free Online Audio Recorder
Apowersoft Free Online Recorder is a free tool that can be launched in Chrome and other browsers. It supports recording system audio individually or simultaneously and a microphone voice connected to your computer. The first use requires you to download a launcher. You need to select the specified audio source, such as the whole screen, a single Chrome tab, or desktop software. The downside is that it lacks an audio editor. And you can preview the recorded audio online and save it to your computer in MP3 format only.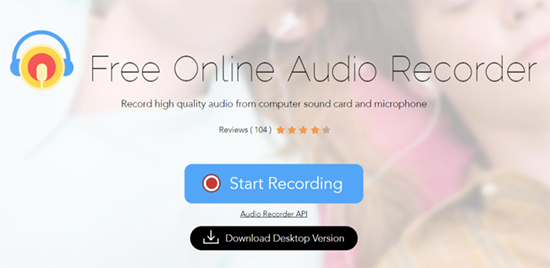 Pros:
1. Free and easy to use;
2. Support selecting audio source;
3. Record system audio and microphone sound
Cons:
1. Lack an audio editor;
2. Export recorded audio to MP3 format only
Tool 6. Vocaroo
As an online voice recorder, Voracoo allows you to record your voice when attending an audio meeting or course on Chrome or from other programs. Meanwhile, it could be used for simply recording media audio. Unlike the former, this tool does not need any preset to start a recording. All you need to do is hit the Record button, and it will capture the audio that is playing immediately. However, the quality of the audio recorded by this simple online tool will be inferior to the previous ones, and any sudden sounds generated will not avoid being recorded.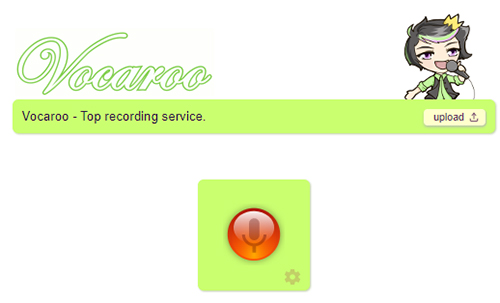 Pros:
1. Start recording with one click;
2. Check the audio recording online;
3. Share recorded audio quickly to other platforms
Cons:
1. The audio recording quality is average;
2. Unable to select output format;
3. Unable to edit the recrded audio
Conclusion & Suggestion
Now you have various choices for a Chrome audio recorder. We have introduced you to different kinds of Chrome audio recorders, including desktop software, Chrome extension, and online tools. Each of these tools can help you record audio from Chrome with ease. TunesKit Audio Capture, which can record audio on Chrome and export to six audio formats without quality loss, comes highly recommended. Nevertheless, you may choose the Chrome audio recorder that best suits your needs. Anyway, simply pick your preferred one and start your recording.