How to Recover iPhone Photos Lost from Camera Roll? Here are Fixes!
Posted by Brian Davis on Sep 10, 2020 03:00 PM • Category:
Restore iPhone
5 mins read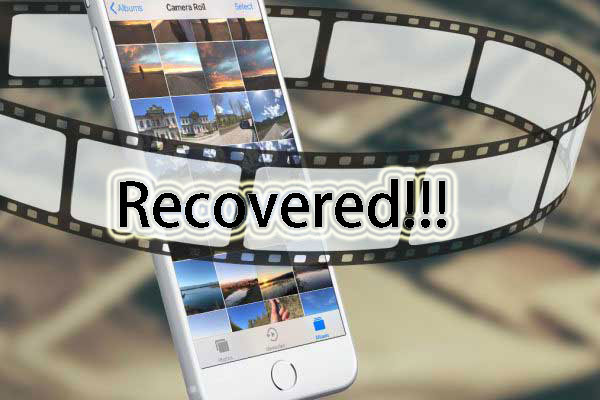 Nowadays, many people tend to take pictures and so there are many photos in the camera roll of their iPhone. However, these photos may be deleted or disappear suddenly when they head to the camera roll of iPhone one day or after they update the iOS system. Did you ever run into or are you coming across this situation now? Well, don't worry, as next we will offer you the top 10 methods to get back these lost iPhone photos from camera roll.
Part 1: Why do iPhone photos disappear from camera roll?
Now you might be wondering that why these iPhone photos disappear from camera roll? The storage indeed says that the iPhone saves a lot of pictures yet the camera roll is empty. Actually, there are many causes that explaining why this problem happening and several potential circumstances are as follows.
1. Photos accidentally deleted by other people.
2. Photos from iPhone camera roll are hidden.
3. iOS update failure.
4. Wrong Apple ID.
5. Different accounts were logged in iCloud.
6. Restoring from an incorrect backup.
Part 2: Simple tips to restore iPhone photos lost from camera roll
In order to make sure your iPhone photos are not really lost from camera roll, here are some tricks you can check on your iPhone.
Tip 1: Restart your iPhone
Firstly, you can attempt to reboot your iPhone to make the device refresh quickly. After restarting the iPhone, check whether the disappeared photos on the camera roll are back.
Tip 2: Examine the recently deleted folder
If the photos on iPhone camera roll are mistakenly deleted by yourself or someone else, you can go to the Recently Deleted album in the iPhone Photos, which allows users to recover lost photos within 30 days. Then choose the ones you want and click Recover button.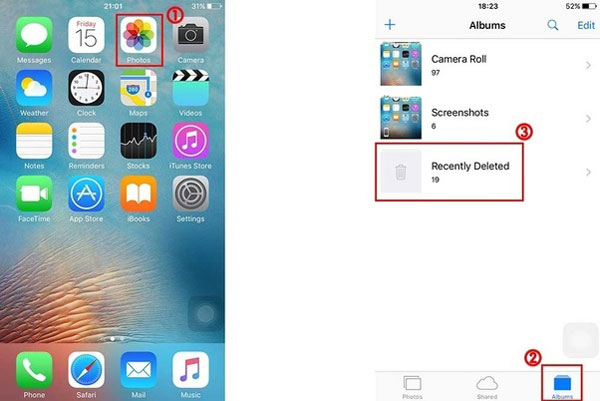 Tip 3: Turn on iCloud photo library
If these lost iPhone photos aren't found in the Recently Deleted folder, then you could see whether you turn on the iCloud Photos Library, which will sync all of the camera roll photos in iCloud. If you disable this function, follow below steps to enable it.
Step 1: Head to Settings app on iPhone.
Step 2: Click your name or Apple ID and then hit iCloud.
Step 3: Find Photos tab and turn on the iCloud Photo.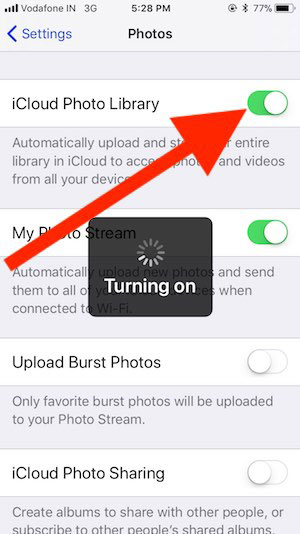 Tip 4: Sign in with the same Apple ID
In order not to cause confusion, you had better input the same iCloud account or Apple ID. Otherwise, everything on your iPhone will become disorganized and thus make your photos lost from camera roll.
Tip 5: Unhide your iPhone photos
While if it is the case of photos being hidden in Moments, Years, or Collections view, then you are suggested to unhide them on the Photos app. To do that, open Photos on iPhone and hit the Hidden album under the Albums tab, finally choose the photos and click on Unhide.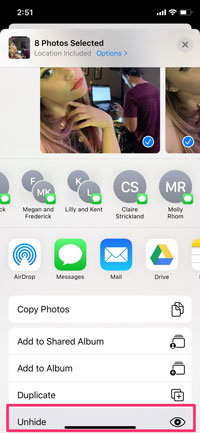 Tip 6: Set Date and Time
A wrong date and time setting may lead to the miscommunication with the Apple server, thus resulting in the issue mentioned in this article. Although this situation is random, yet you can avoid it by reverting the Set Automatically to Time zone in the iPhone date and time settings.
Tip 7: Recover from iTunes
Besides the above 6 easy tricks, you can also think about recovering lost iPhone photos in the camera roll from iTunes if you have a backup. Related steps are as presented here.
Step 1: Hook up your iPhone with computer and open the latest iTunes.
Step 2: Under the Summary tab, tap on the Restore Backup.
Step 3: Select the backups you desire and hit Restore button.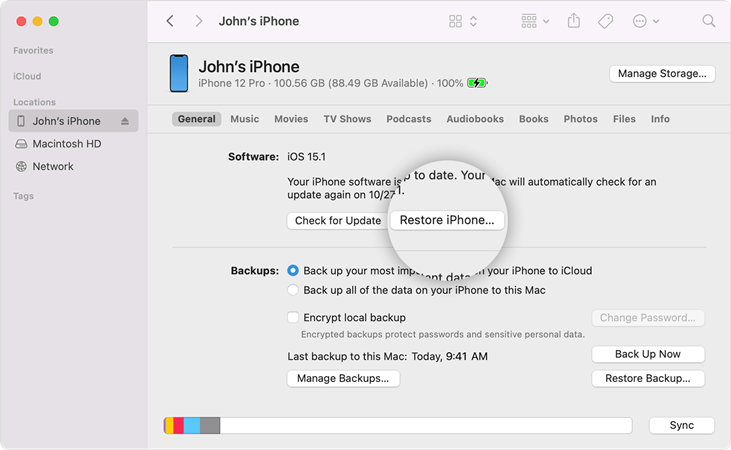 Part 3: The top-rated ways to retrieve iPhone photos deleted from camera roll
However, restoring deleted iPhone photos from iTunes will erase all your current iPhone data. If you are unwilling to go through the data loss and you don't know the reasons why these photos go away from iPhone camera roll, you'd better try the third-party iOS data recovery tools such as TunesKit iPhone data recovery. If you want to bring back lost camera roll photos from backups, TunesKit iOS Data Recovery allows you to restore from iTunes and iCloud backups, and it won't delete the data on your iPhone. While if there is no backup, this program can also help you to retrieve the photos from the iPhone itself. Moreover, it can recover various types of data including photos, videos and more. In the subsequent context, we will introduce you the specific guides of this application.
1. Retrieve without backup
Step 1: Launch this software and make your iPhone connected with the computer through a USB cable. Then select the recovery mode called as "Recover from iOS" from the app's main screen.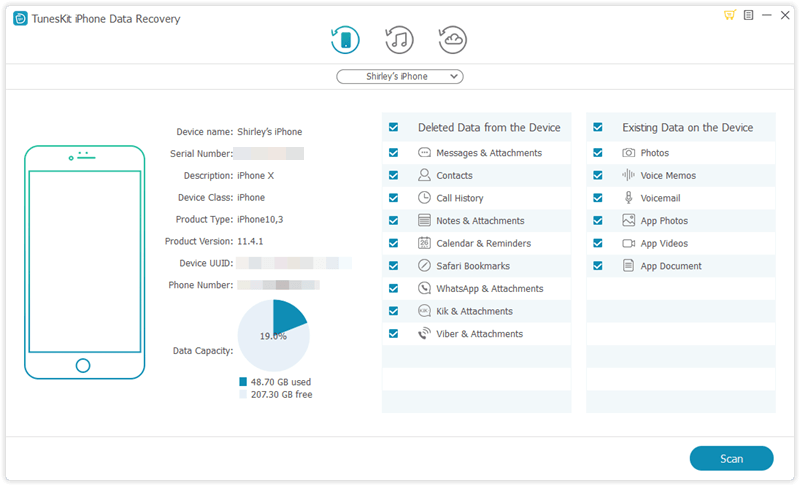 Step 2: After the device and different files appears on the screen, choose the files on the right column that require to be scanned. Then tap the "Scan" button and it will begin scanning.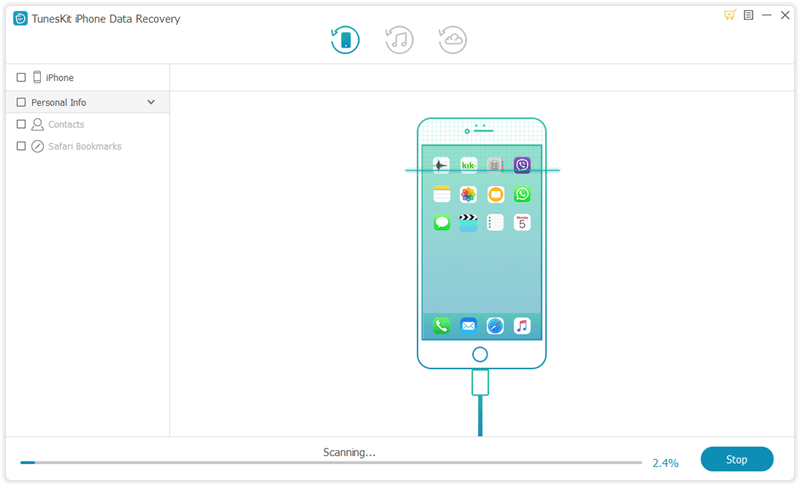 Step 3: Then all data scanned will be shown on the left column. Before you hit the "Recover" button, you can preview the iPhone photos in the camera roll you want to recover from "Photos" column. After that the photos in the camera roll will come back.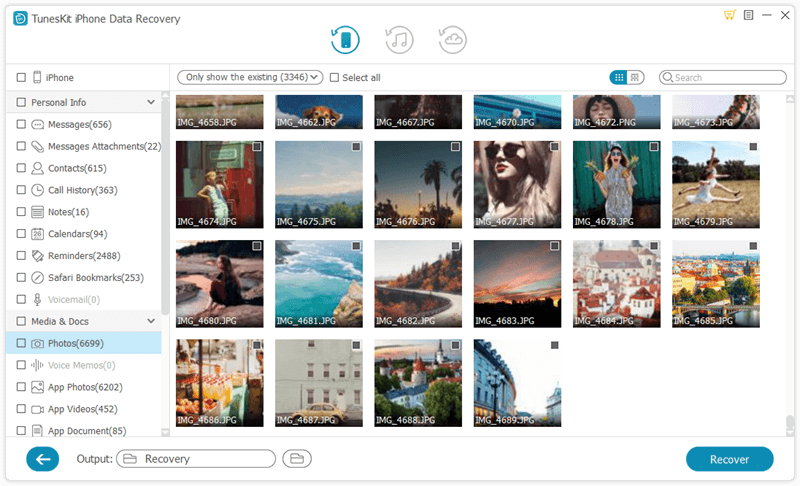 2. Restore from iTunes backup
Step 1: Launch TunesKit iPhone Data Recovery for Windows and connect your iPhone with the computer. Then choose the recovery mode named as "Recover from iTunes backup" on the main interface of the app.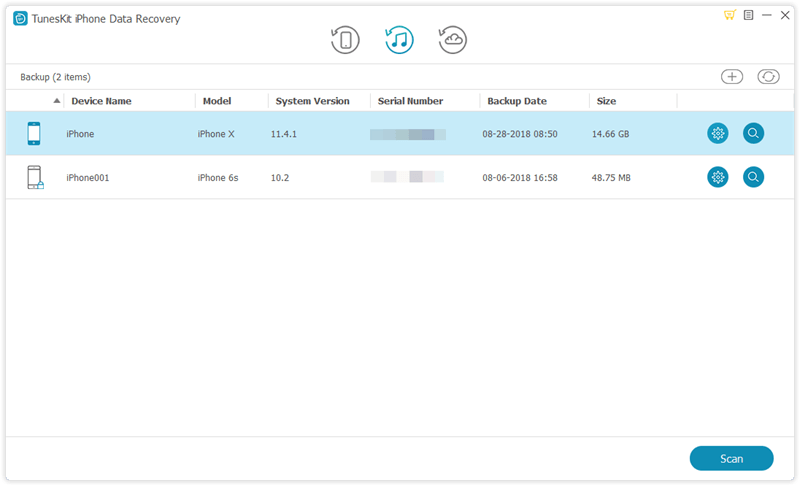 Step 2: Click the "Scan" button to detect your iPhone data and select the "Photos" option on the left column.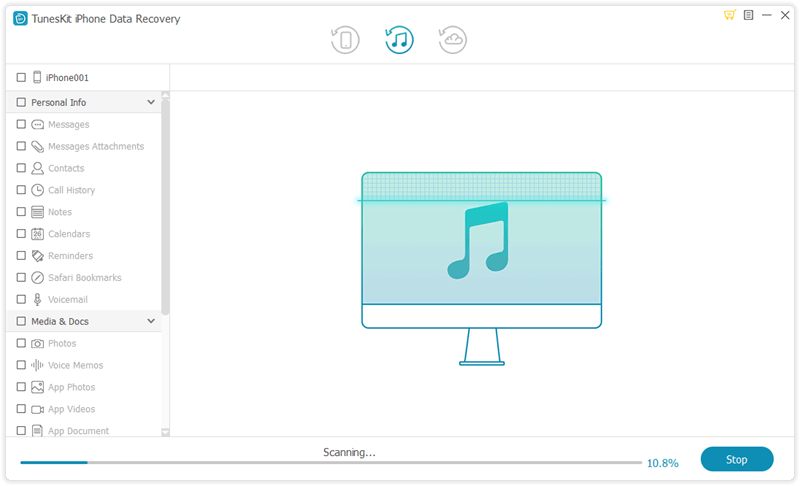 Step 3: Find the disappeared or deleted camera roll photos on your iTunes you desire to restore and finally tap on the "Recover" button to restore them to the computer.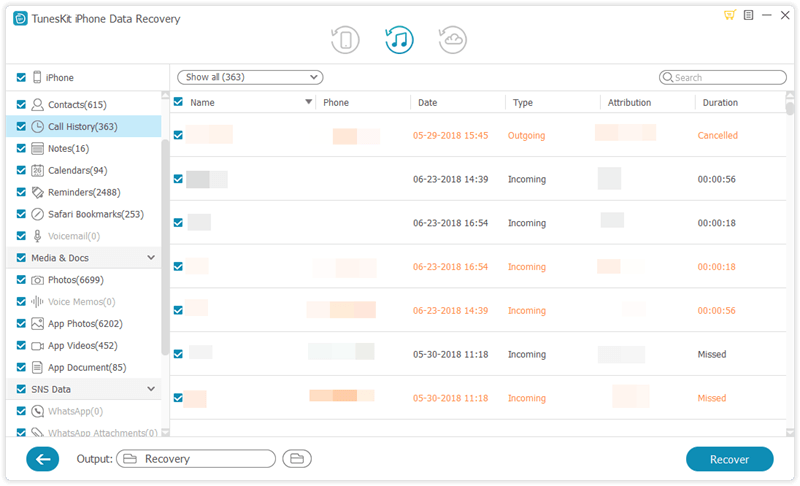 3. Recover from iCloud backup
Step 1: Open this application on the computer and connect your iPhone to the PC. Then choose the third icon as "Recover from iCloud Backup" from the main screen.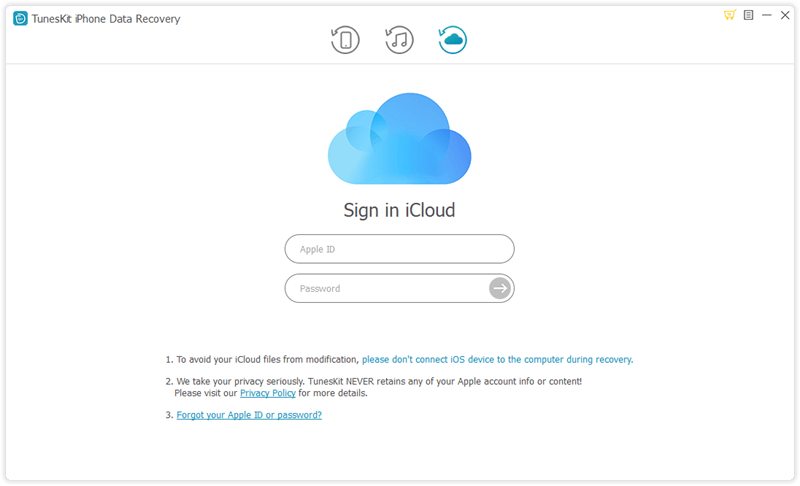 Step 2: Log in your iCloud by using your Apple ID and password. Next choose your own device among diverse iPhones.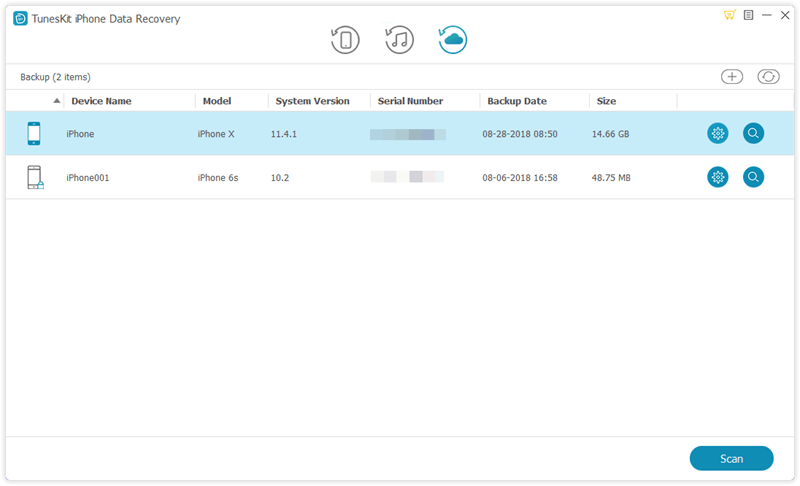 Step 3: Select your lost iPhone photos in the camera roll under the column of "Photos" and hit on the "Recover" button to retrieve them to the computer.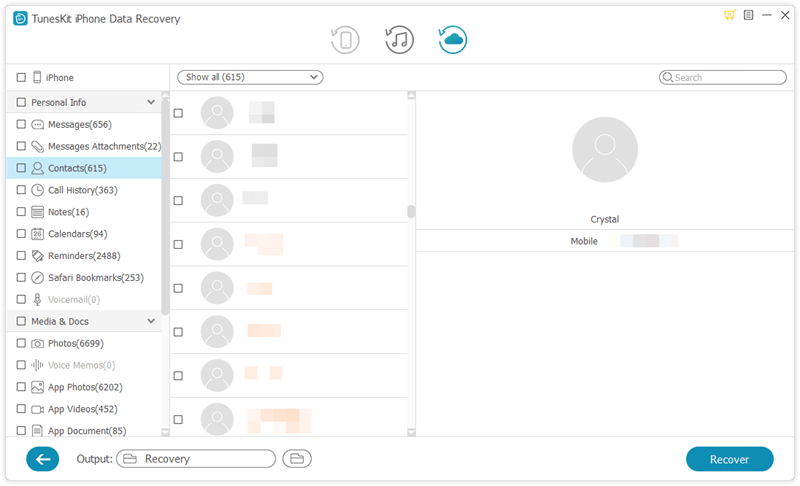 As you can see, using professional iPhone data restoring applications like TunesKit iPhone Data Recovery to get back disappeared iPhone photos in the camera roll after iOS update is really efficient and safe. And as the feedback people left online, they would rather employ this kind of software by costing a few bucks than try out other possible ways one by one.