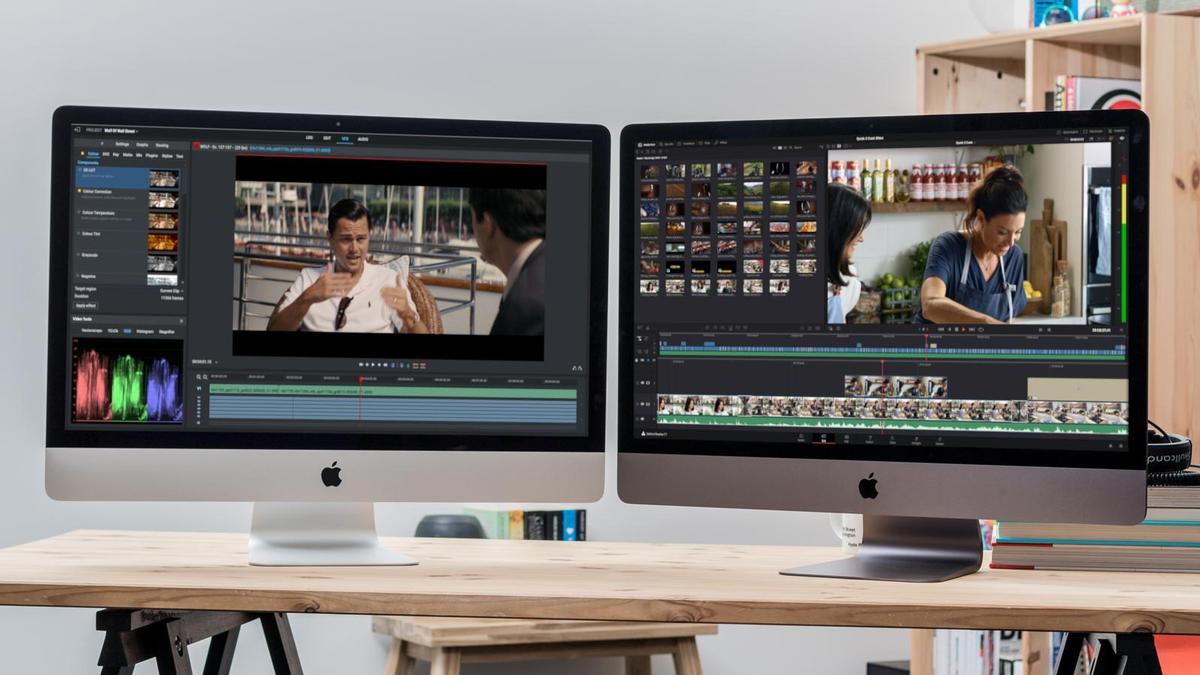 A captivating video possesses the ability to drive your brand's success by capturing the audience's attention. However, you can create a stunning video when you have the right program. Most of the renowned editing tools come with a hefty price tag. Fortunately, some programs allow you to create a video without paying a penny.
The article gives you information on the best free video editing software for Mac. The list focuses on versatile programs that create appealing videos with ease. As every individual's requirement is different, the guide will provide an overview of what to expect from editing software. You can pick up the best software that fits your need to begin creating high-quality videos without having to shell enormous amounts.
The Best Video Editing Software for Mac – TunesKit AceMovi
If you need the best video editing software for Mac, consider AceMovi by TunesKit. What makes it unique from other editors are the features and interface. You can easily create high-quality videos even if you are a beginner. You can start right away, use the features, and save the project in desired video format.
The software further helps in recording your screen or importing an existing video to make the necessary edits. You can create any content, right from educational videos to how-to and more.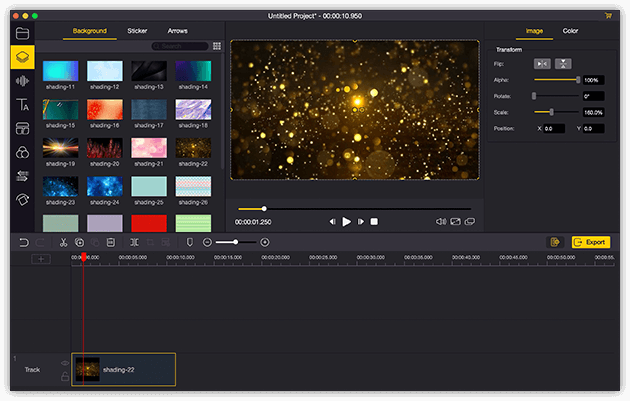 Pros:
1. Supports all media formats.
2. Screen recording feature
3. Advanced effects, filters, animations, and more
4. Valuable resources and assets
5. Real-time preview feature

Cons:
Crashes at times due to inappropriate video format

Why Choose TunesKit AceMovi Video Editor?
Best easy-to-use non-linear video editor for beginners
Make and enhance videos with basic and advanced editing features
A wealth of filters, transitions, PIP, sound effects, text, templates etc.
Flexible and numerous output options including format, device, social platform
Ten Best Free Video Editing Software for Mac
Picking the best video editing software is tricky. The highly competitive arena and user requirement make it challenging. However, the following is the list of video editing software for Mac free download. You can choose any one depending on your need.
1. Blender
Blender is the best video editing software for Mac. It is an open-source program and free to use. It has necessary actions and can try complex tasks such as masking. It is the best choice for beginners and intermediate users.
Pros:
1. Suitable for beginners.
2. Live preview.
3. A good collection of options.

Cons:
1. Tutorials focus on 3D animations.
2. Limited help resources.
2. Apple iMovie
iMovie comes free with Mac OS and free to use. It has excellent features such as movie trailers, audio editing, one-step effect, etc. You can also share videos in few simple steps to all the video hosting websites.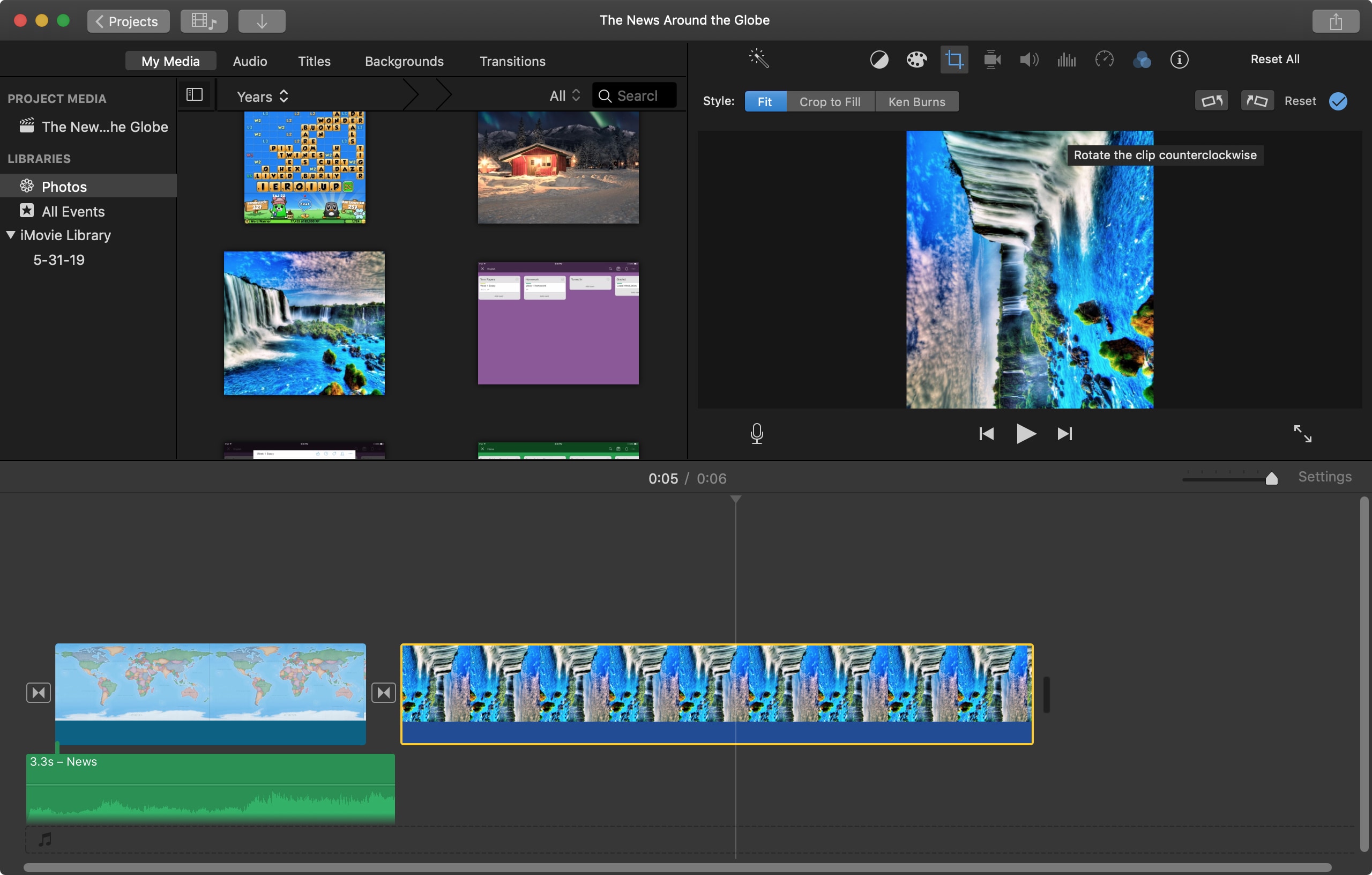 Pros:
1. Supports 4K editing.
2. You can use it on iPad and iPhone.
3. Ten readymade video filters.

Cons:
1. Limited to two tracks. 2. Fewer editing options

3. Avidemux
Avidemux video editing software for Mac free download is a good video editor. It supports all media format ecosystems. It comes with a variety of options helpful in creating wonderful videos.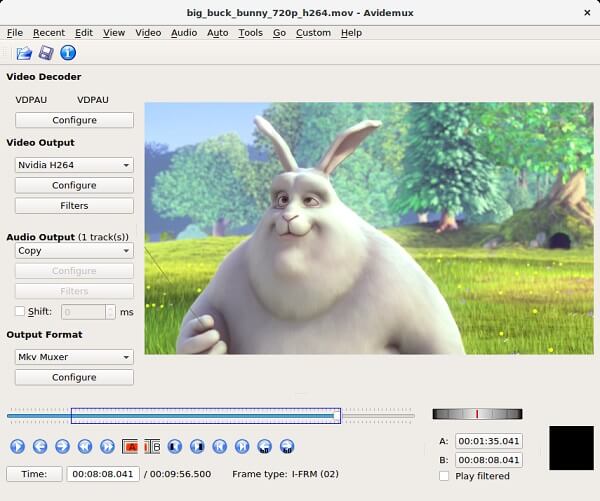 Pros:
1. Clean user interface.
2. Open-source software.
3. A good collection of filters and features.
Cons:
1. Exporting process is tricky. 2. Fewer features compared to others.

4. OpenShot
OpenShot is a free-to-use video editor software for Mac. It is suitable for beginners and does not require much time to create a video. You can also render 3D animation without a language barrier, for it supports over 70 languages.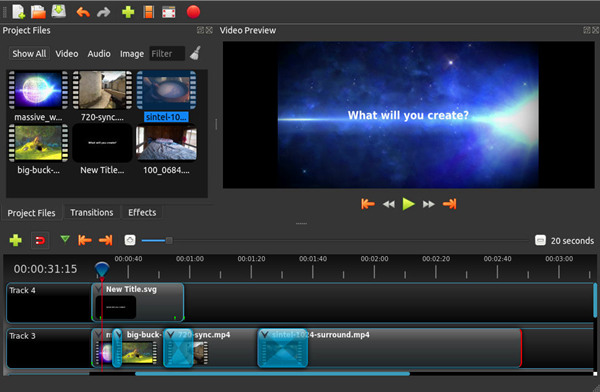 Pros:
1. Trim/slice video quickly.
2. Templates to edit titles. 3. Free built-in animations

Cons:
1. Freezes and crashes at times. 2. Exporting is slow.

5. HitFilm Express
HitFilm Express falls in the best free video editing software for Mac category. It is suitable for both beginners and advanced users. The free version provides over 180 effects for creating a video without spending much time.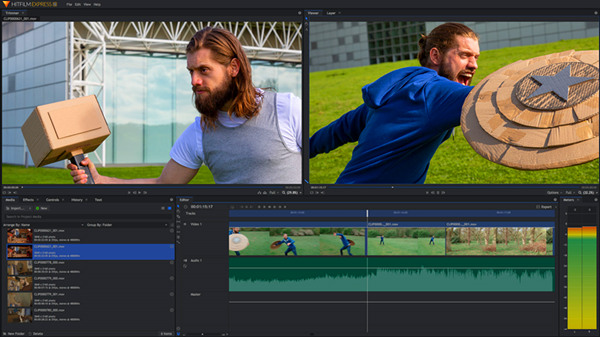 Pros:
1. Advanced cutting tools.
2. Composition tools.
3. 3D video support.
Cons:
1. Non-intuitive interface.
2. Need time to learn about all features.
6. ZS4 Video Editor
ZS4 video editor is yet another free video editing tool for Mac. You can combine different media formats into a single output. Besides this, you can use the built-in 150+ video effects to create a video quickly.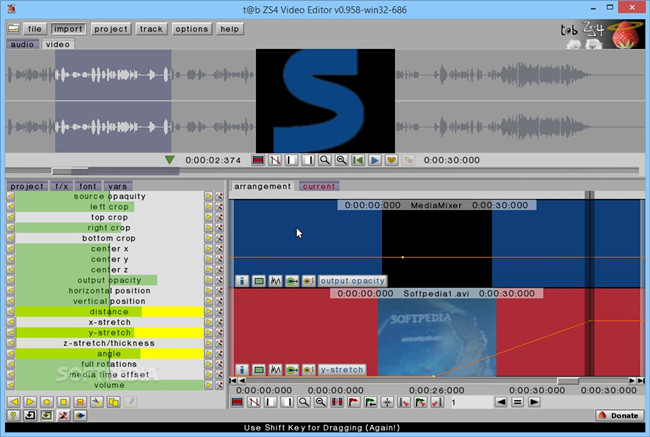 Pros:
1. Combine different media formats into one.
2. Simple to use.
3. Over 150 built-in effects
Cons:
1. Layout is bad.
2. Improper interface design.
7. HyperEngine-AV
HyperEngine-AV is the best free video editor for Mac. You can edit, process, organize, and export videos with ease. You can also create DVD-quality videos with built-in features. It is a useful tool for both learners and professionals.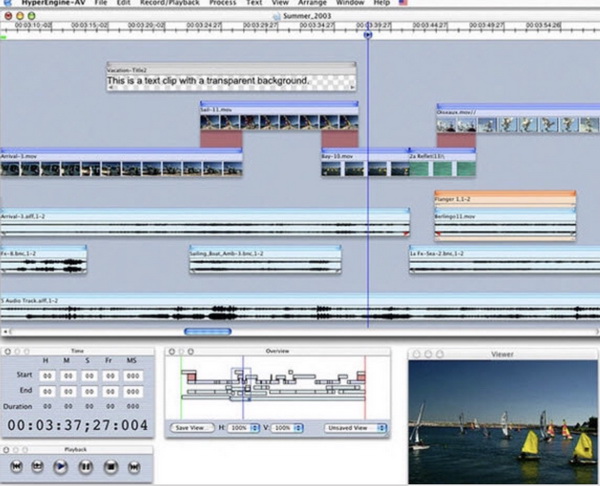 Pros:
1. Create DVD-quality movies.
2. Fully editable text features.
3. Capture, edit, and organize.
Cons:
1. Supports old Mac versions.
2. Interface is bad.
8. InVideo
InVideo is suitable for publishers, marketers, and agencies apart from individuals. It is best-in-class, for it offers intelligent frames, automated voiceovers, and other such features and an ideal choice for seasoned and beginners.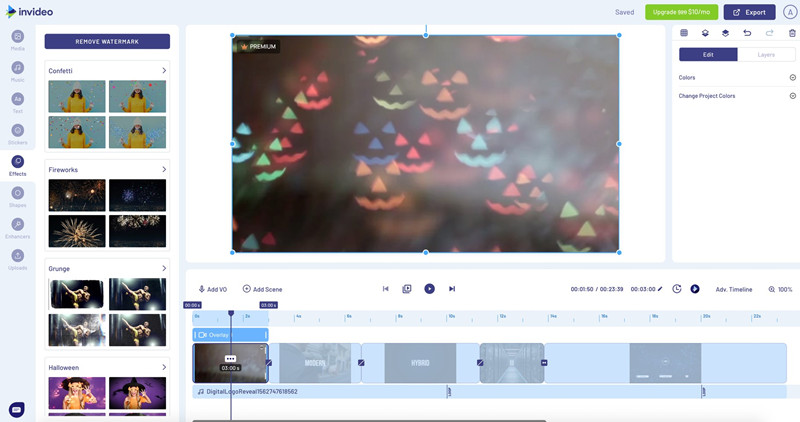 Pros:
1. Collaboration.
2. Speed adjustment.
3. Voice over.
Cons:
1. Only one audio track.
2. Not a multi-tasker.
9. Kdenlive
Kdenlive supports all the media formats and helps you create an excellent video with ease. The multi-track timeline allows you to make essential changes and create the desired output. You can further create a proxy for a massive size of a video.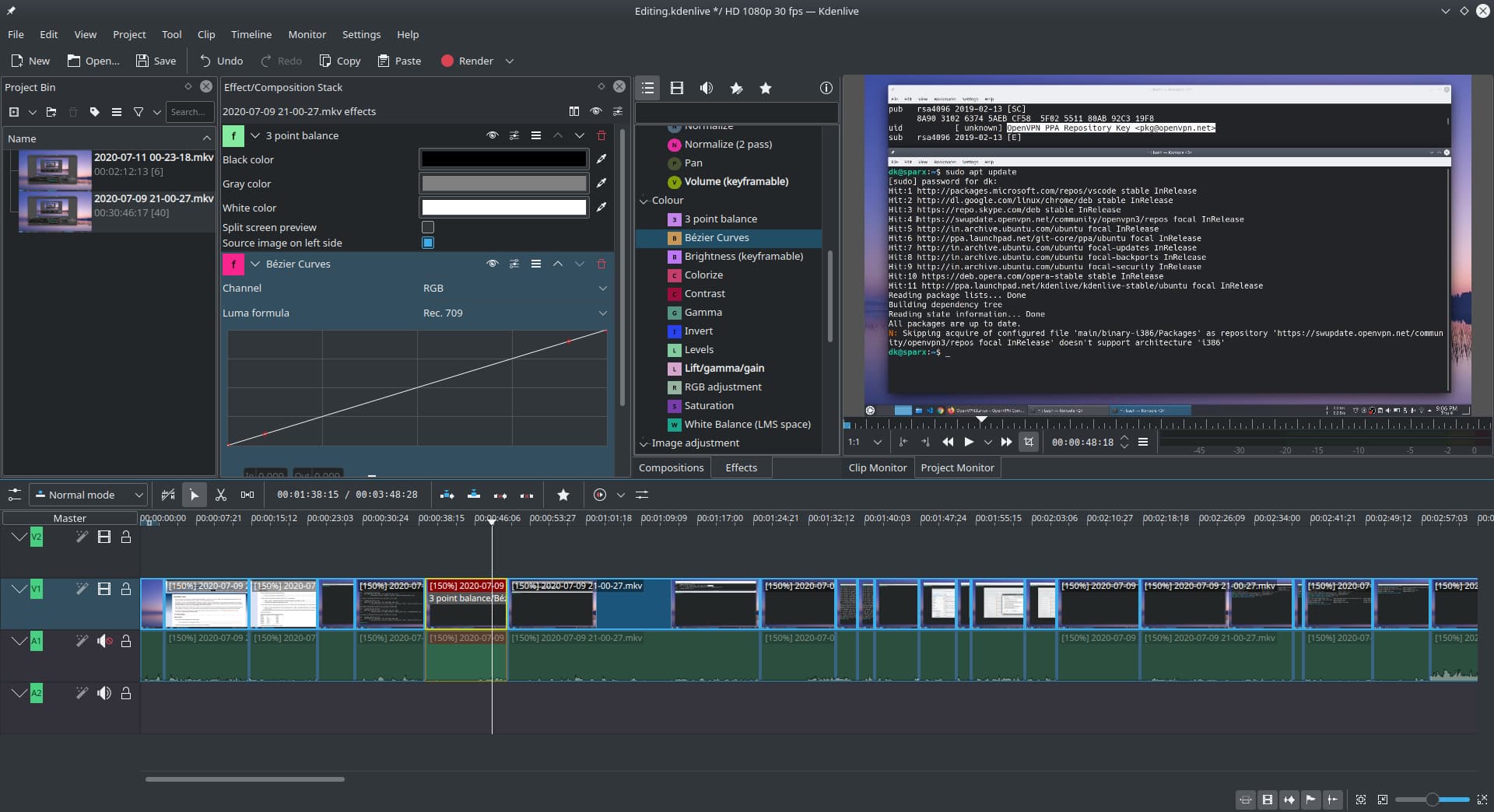 Pros:
1. Open-source software.
2. Good editing features.
3. Customize shortcuts easily.
Cons:
1. Slow updates.
2. Not user-friendly for green hands.
10. DaVinci Resolve
DaVinci Resolve is an advanced editing tool and the best free video editing software for Mac on the list. The interface is captivating, and the program offers excellent professional editing features. It also gives a choice to add 2D and 3D titles to video.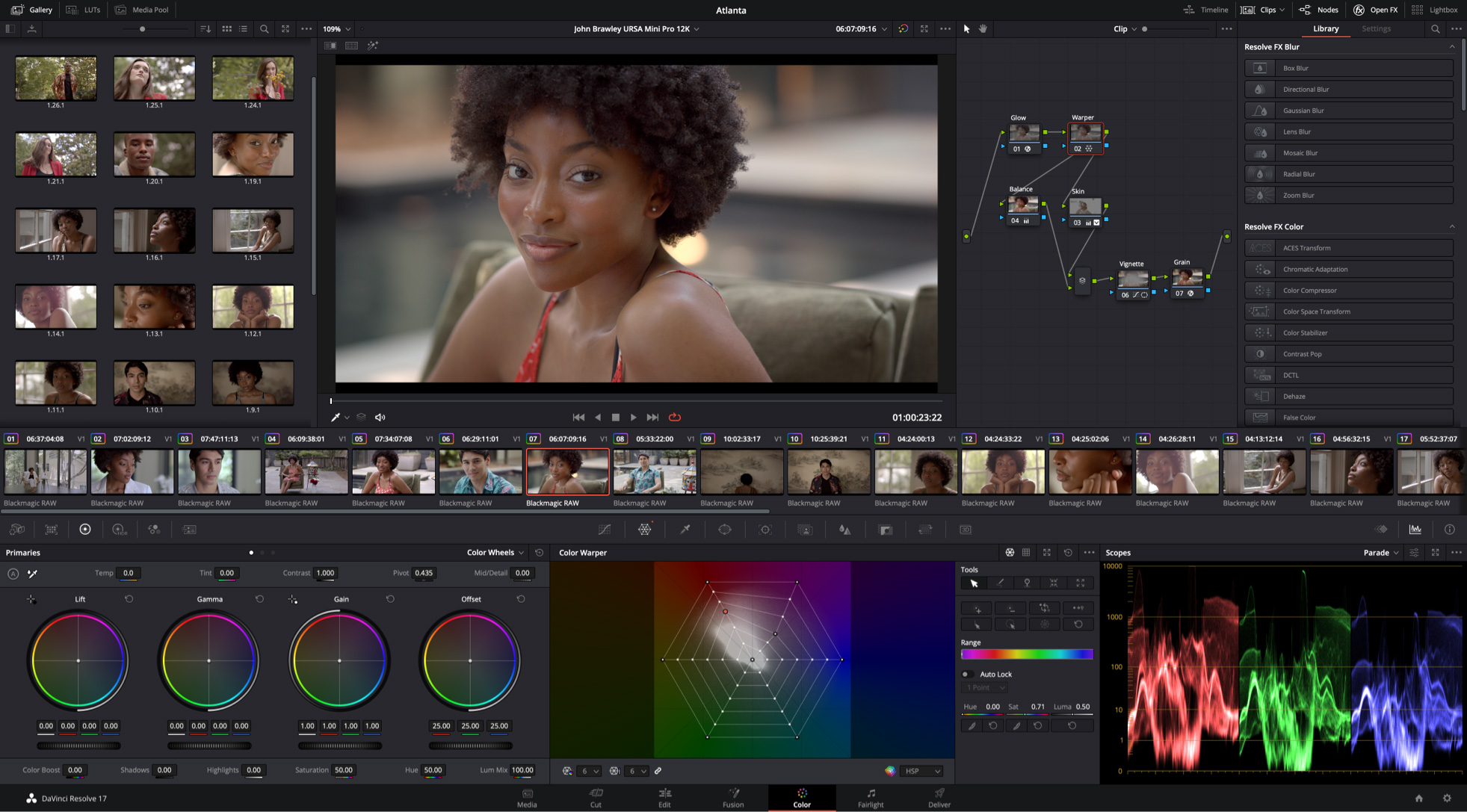 Pros:
1. Multicam trimming.
2. Advanced editing features.
3. Audio mastering.
4. Intuitive interface.
Cons:
1. Overwhelming for beginners.
2. No tutorials.
Frequently Asked Questions
1. Which is the right choice for 3D amination?
Blender.
2. What software is an ideal choice for a beginner using Mac OS?
iMovie comes free with Mac OS that is a good option. Others include OpenShot, Avidemux, and HitFilm Express.
3. What video editor is suitable for correcting colors?
DaVinci Resolve.
Summary
Video editing is an exciting task, and beginners will find it challenging when they do not have the appropriate software. Although Mac has a built-in video editor (iMovie), it does have limitations. You can choose any video editing software for Mac free download described in this article and start using it to create captivating videos.

Nick Orin is a review writer, software geek and Mac OS enthusiast. He spends all his free time in searching useful software and gadgets to share with others.