Spotify is one of the best music streaming services in the world at the moment. With superb features and a vast collection of tracks and playlists, this service is bound to break barriers in music with its pace.
Currently the minor shortcoming of Spotify is the inability to download tracks and listen to them later on. It is a big problem mostly to users not subscribed to the Premium plan. Most of them have resorted to online recording applications and extension software that will record and download the Spotify tracks automatically. But the disadvantage of this method is that the sound will be of a lower quality compared to the original and may at times incorporate background sounds from the surroundings.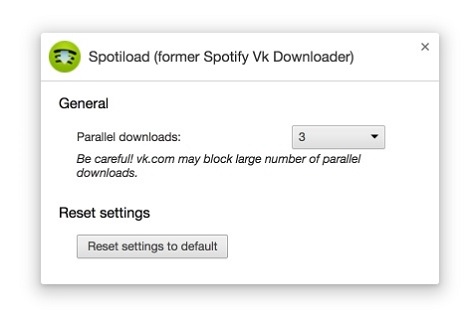 Thankfully, this problem has been solved with the conception of the Spotiload (former Spotify VK Downloader), a free extension on Google Chrome that allows you to download your favorite tracks straight from Spotify as MP3 in high quality with only a few clicks.
In this post, we'll review Spotiload Spotify VK Downloader, and at the same time offering the best alternative to Spotiload for you to download MP3 from Spotify, no matter whether you are using Free or Premium plan of Spotify.
Spotify VK Downloader - What Is It
The Spotify VK Downloader, now known as Spotiload, is Chrome extension software that is linked to vk.com. It will allow you to download Spotify songs and playlists so that you can listen to the music even offline.
Once you have downloaded Spotiload, you will be able to download Spotify tracks by copying and pasting the link of the joint from Spotify that you need to download. When the link is pasted on the extension, the Spotify VK Downloader will be able to check on its affiliate vk.com as well as the title on its catalog. Once it gets the joint, it will download the songs immediately and store them in the folder that you want. It does this in very efficient processing speed and you will get your track instantly after you put the request. Besides, Spotiload Chrome extension also has a mobile version as a plug-in.
As a point to note, the Spotiload Spotify VK downloader is not allowed in some countries and may be deemed to be illegal.
How to Get and Use Spotiload to Download Spotify Music Free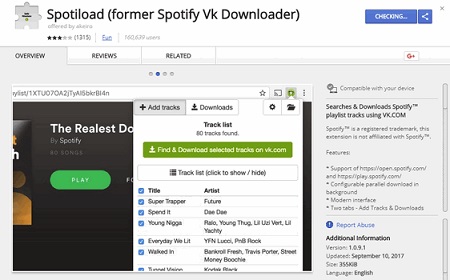 To get the Spotiload extension, you will need to launch Chrome browser. Once done, you can search for it from the extension store of Chrome. Then click on the Spotiload (former Spotify Vk Downloader) to find more details about this extension. There you can download this extension by clicking on "Add to Chrome" option.
Step 1. After installing Spotiload in Chrome, go to vk.com and sign up an account if you don't have one. Then log onto it.
Step 2. Open Spotify web player on Chrome and log in your Spotify account. Navigate to "Your Library" section on the left sidebar and you will find all your Spotify playlists there.
Step 3. Locate any Spotify song or playlist you want to download and then click the Spotify Vk Downloader (Spotiload) in Chrome to select the track by clicking on "Add Track" option. It supports batch conversion so that you can download up to 10 tracks from Spotify once.
Step 4. The songs will start downloading automatically in Spotiload. Once downloaded, the Spotify songs will be saved in MP3 format as expected.
Spotiload Overview - Is It A Perfect Spotify Music Downloader
Advantages of Spotify VK Downloader
• Fast speed in downloading your favorite Spotify music track
• It is a low volume extension and will consume very little space on your device's storage
• It enables you to have access and download tracks from VK Spotify and play them offline
• The quality of the downloaded songs is very good just like the original
• The songs downloaded from Spotify are DRM free and can be shared with others as well as be played in a host of devices
• It's a free Spotify music downloader without any cost
Disadvantages of Spotify VK Downloader
• Does not have all the songs from Spotify
• You can only download a maximum of 10 tracks from Spotify at once
• It is deemed illegal in some countries
• It only supports the MP3 output format for the songs
More Spotify Music Downloader - Best Alternative to Spotify VK Downloader
With the need to download songs from Spotify and play them offline growing with the number of Spotify subscriptions, it is logical that more Spotify music downloading software and extensions have been conceived. With Spotify VK downloader being among the best free extensions, there are many more that can be good alternatives to Spotiload Spotify VK downloader, for instance, TunesKit Spotify to MP3 Downloader.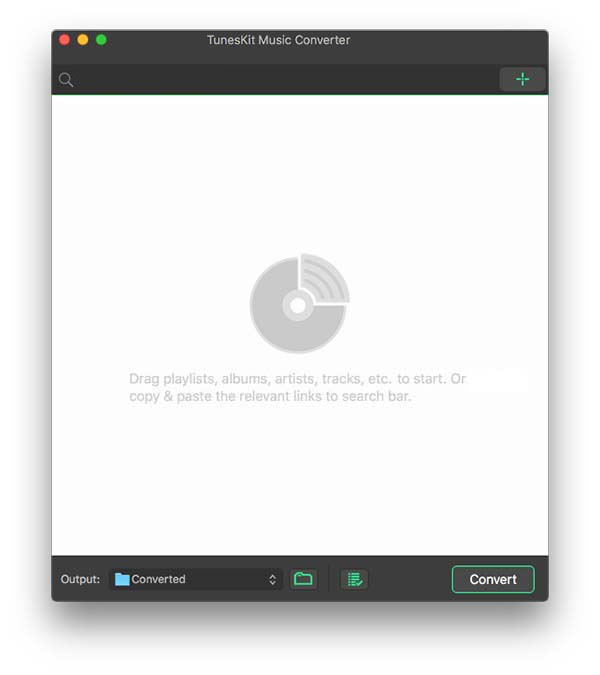 As the best alternative to Spotiload, TunesKit Spotify Music Downloader is able to download and extract Spotify music as shareable formats such as MP3, AAC, FLAC and WAV among many other common formats. It is very easy to use and will keep the lossless music quality including 320kbps bit rate of the Spotify songs in the output tracks. Further more, it is noted for its 5X faster speed in downloading and converting Spotify music to MP3 and other formats.
Key Features of TunesKit Spotify to MP3 Converter
Remove DRM from all Spotify tracks, albums and playlists
Convert Spotify music to MP3, AAC, WAV, FLA, etc.
Keep lossless music quality and ID3 tags
Download Spotify songs at up to 5X faster speed
To find more details about this smart Spotify music downloader and its performance in downloading Spotify songs as MP3, you can visit this complete tutorial: How to Convert Spotify to MP3 for Offline Listening.
More Spotify Music Tips & Tricks

Matt Smith is an amateur writer engaged in Tuneskit in 2013. He is a movie lover who write a lot of movie reviews for many websites and blogs.