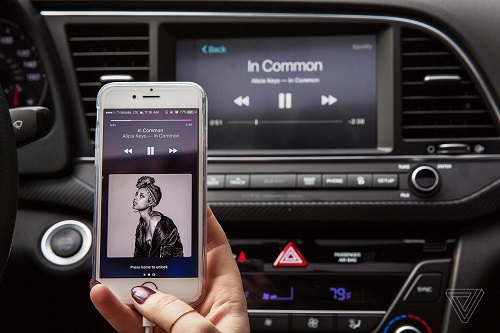 Playing music in car is a great way of entertainment to make our boring driving more fun, especially for a long trip. Although there are many music channels in car radio, you may prefer to your own music list instead. So how about Spotify? As one of the largest and most popular streaming music services worldwide, most of you may already subscribed Spotify membership. In this case, you may like to listen to Spotify songs in your car radio. If you are not yet familiar to the methods on how to play Spotify music in car, this guide will provide an all-around solution for you by introducing the top 3 most popular ways of streaming music from Spotify to cars with ease.
1. Play Spotify Songs in Car via Bluetooth
This method is perfect for the car stereos that have built-in bluetooth functionality. In this way, all you need to do is pairing the smartphone or tablet that has Spotify on it with the car stereo. Now follow the steps here to see how to easily connect Spotify compatible devices to car radio through Bluetooth.
Tutorial: How to Connect Spotify to Play in Car via Bluetooth
Step 1. Enable bluetooth on your smartphone and car stereo.
Step 2. In the bluetooth settings on your smartphone, connect to your car stereo.
Step 3. Open Spotify in your device and begin to play the songs in Spotify.
2. Connect Spotify to Car Stereo with Aux-In Cable
Some old-fashioned cars may not support Bluetooth pairing. So in this case, you can turn to the other method to connect Spotify songs to your car by plugging the device to an Aux-In port via an USB cable. This could be the easiest and most straightforward way to connect your Spotify device to your car.
Tutorial: How to Use Aux Cable to Play Spotify in Cars
Step 1. Make sure you are using the correct USB cable that supports connecting mobile device to the car.
Step 2. Plug the cable into the Aux-Input port with your smartphone or tablet that supports Spotify app.
Step 3. Turn the Aux-In channel on in the car stereo.
Step 4. Begin to play Spotify songs on your mobile device.
3. Play Spotify Music in Car via External USB or CDs
Another effective solution to listen to your Spotify songs in car stereo system is transferring the tracks to an external USB drive or burning the Spotify songs to CD and then playing the music from USB or discs. However, this might take longer time as Spotify music can't be imported to USB or burnt to CD directly. Unlike the common music files, Spotify tracks and albums are protected by DRM control due to which only premium user can download the Spotify songs for offline listening. But no one is able to transfer the Spotify downloaded songs to non-approved USB or discs or other devices. In this case, the most important thing is to find out a workaround to get rid of the DRM permanently. Fortunately, there are many Spotify music converting tools out there.
One of the best software in such type is TunesKit Music Converter for Spotify for Windows/Mac, which will help you easily download any Spotify track and album as well as convert the Spotify songs to common MP3, M4A, AAC, WAV, FLAC, M4B, etc. supported by all popular devices and players. The following guide will show you how to use this smart application to transfer Spotify music to USB or CD so that you can play the songs in cars easily.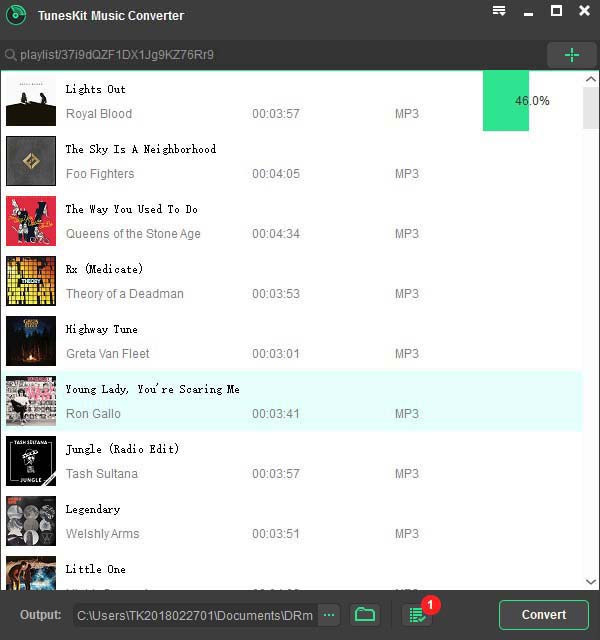 Tutorial: How to Transfer Spotify Songs to USB or Burn to CD
Step 1. Install and launch TunesKit Music Converter for Spotify on your computer.
Step 2. Select the songs you want to download and convert from Spotify and add them to TunesKit by drag-and-drop.
Step 3. Choose the output format you want from the Preferences. And then set the output properties for the music files.
Step 4. Begin to convert the Spotify music to DRM-free audio formats supported by your USB drive or CD burner.
Step 5. When the conversion is done, you can locate the DRM-free Spotify music and transfer them to USB or burn to CDs easily.
Step 6. Connect the USB to your car radio or insert the CD disc to the car player and begin to enjoy your Spotify music.