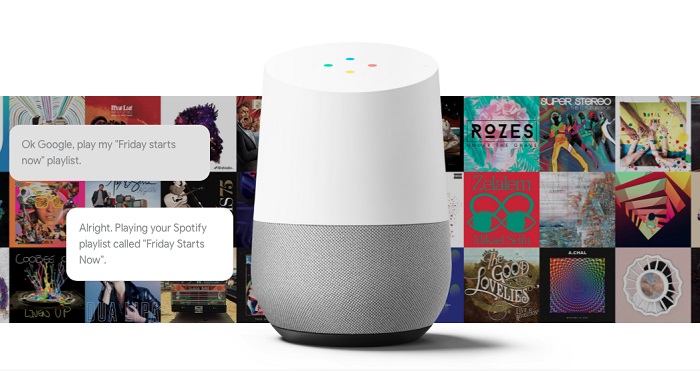 Although Google provides its own music service known as Google Play Music, it however allows users to play songs from other music providers, like Spotify with Google Home, Google's voice-controlled smart speaker. If you are Spotify subscriber who just bought a new Google Home, you may be eager to play Spotify music with the smart device. To make it easier for you, here we put together all the steps on how to set up Google Home to play Spotify songs and playlists. In case Google Home won't play Spotify music properly sometimes, we'll introduce an ultimate solution to that problem as well.
Part 1. Link Spotify to Google Home
Google Home supports both free and premium Spotify accounts now. You can follow this instruction to set up Google Home and link Spotify account to it.
Step 1. Install and open the Google Home app on your phone.
Step 2. Tap the menu in the top-left corner, then Account preferences - Linked media accounts.
Step 3. Select Spotify and tap Link Account, then Log in to Spotify.
Step 4. Enter your account details to log in your Spotify. Tap OKAY to confirm.
Note: You can only link one Spotify account to your Google Home.
Part 2. Play Spotify Music on Google Home
Once you've linked Spotify account to Google Home, you can set Spotify as your default player so you don't need to specify "on Spotify" each time when you need to play Spotify music on Google Home. To have it done, you can simply ask Google Home to play the music and it will give you the option. Say "yes" to agree.
To play Spotify music with Google Home, you can use the voice commands by saying, "OK, Google", then ...
"Play [song name by artist name]" to request a Song.
"Stop" to stop the music.
"Pause" to pause the music.
"Set volume to [level]" to control the volume.
Part 3. What If Spotify Not Playing on Google Home?
It's easy to listen to Spotify music via Google Home. However, you may still meet some unexpected problems in using it. For example, you may find sometimes Google Home won't respond when you tell it to play something on Spotify. Or it keeps showing "connecting" when you try to link Spotify to Google Home. Unfortunately, there are not official solutions to those issues yet.
To solve such problems for good, we'll recommend you try a 3rd-party Spotify tool such as TunesKit Music Converter for Spotify to download the Spotify songs and playlists as MP3. After that, you can upload those offline tracks to Google Play Music account so that you can easily play the songs on Google Home via the default Google Play Music instead of Spotify. Best of all, this Spotify downloader works with both free and premium accounts. To learn how to use it, please visit this guide: How to Download Spotify Songs as MP3.
Once the Spotify songs are downloaded, you can move them to Google Play Music by following the steps below:
Step 1. Go to Google Play website and login to your Google account.
Step 2. Click Upload Music in the upper right-hand corner. You'll be prompted to download the Music Manager. If you've already got it, then simply open it up and sign in with your Google account.
Step 3. Select Menu > Upload songs to Google Play, and hit Next.
Step 4. Then you will be asked where to keep your music collection. Select Other Folder and then Next. Now navigate to the folder where you stored the offline Spotify songs from the popup window and follow the instructions. The Music Manager will automatically upload any songs you put inside that folder to Google Play.
Once done, open your Google Home and you'll be able to play the downloaded Spotify songs from Google Play account.
More Spotify tips & tricks