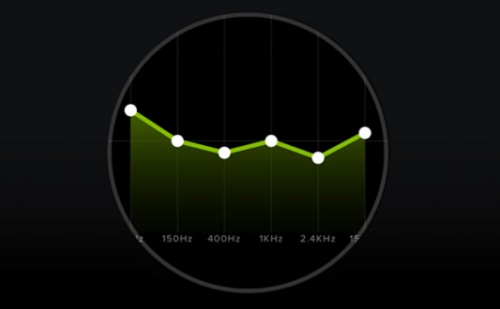 Equalizer, also known as EQ, is a circuit or equipment used to achieve sound equalization by adjusting the amplitude of audio signals at particular frequencies. It's largely used by most online music services in order to meet different music tastes for all users.
As one of the earliest and largest streaming music services in the world, Spotify introduced its own equalizer feature back in 2014 for iOS and Android devices, letting you customize the music sound in the way you like. But as Spotify equalizer is a hidden feature, you may feel difficult to find it. Here we'll show you how to easily locate the equalizer settings in Spotify and how to use it to adjust the sound quality when playing Spotify music on iPhone, Android or Windows.
Part 1. Using Spotify Equalizer on iPhone
If you get used to listening Spotify songs on iOS devices, you can follow these steps to see how to adjust Spotify equalizer on iPhone, iPad or iPod touch.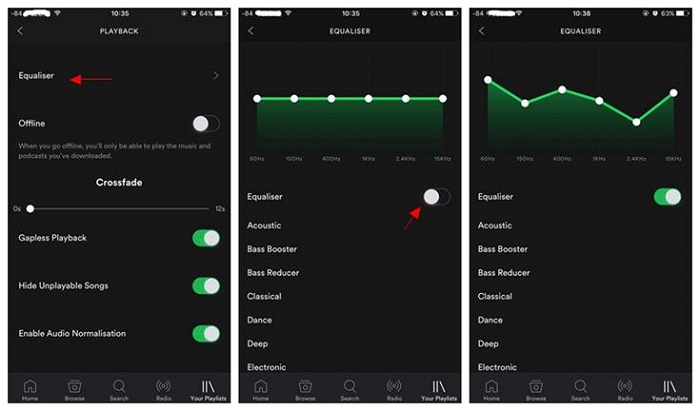 Step 1. Open Spotify app on your iPhone. Tap on Your Library icon at the bottom right corner. Then tap on the Settings gear in the top-right corner of the screen.
Step 2. Press Playback option and then Equalizer. Then the built-in Spotify equalizer will popup with a bunch of presets already tuned to the more popular genres of music. If you want to reset it, you can simply tap on any of the white dots and drag it up or down to adjust the sound quality until it meets your requirements.
Part 2. Using Spotify Equalizer on Android
The process on Android is similar to iPhone. If you are using Spotify music on Android devices, this is what you do.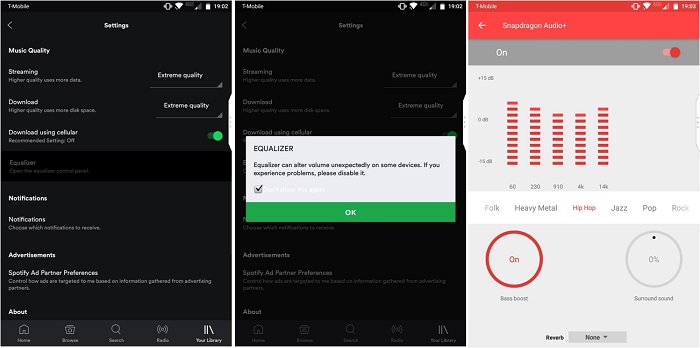 Step 1. Launch Spotify on Android, then tap on Your Library and press the settings gear in the top right corner.
Step 2. Scroll down to the Music Quality section and then tap on Equalizer.
Step 3. Press OK in the popup window to enable the equalizer. Then you'll enter the equalizer interface where you can adjust the sound quality as you like. Make sure the function is turned "On." Then make your adjustments according to your needs. After that, all songs you play in Spotify will be using your new equalizer preset.
Note: Depending on your Android version and OEM, it'll probably vary in terms of configurability and style. But if your phone does not come with a built-in equalizer, Spotify will display its own equalizer at this point.
Part 3. How to Download Spotify Songs Offline as MP3 with Free Account
Currently Spotify for PC doesn't have an equalizer yet. It's also unknown whether there will be one in the future. Fortunately, there's still workaround to install equalizer to Spotify, although it's not an official solution. It's easy and takes three steps only. All you need to do is to download and run the installer of an add-on called Equalify and install the package.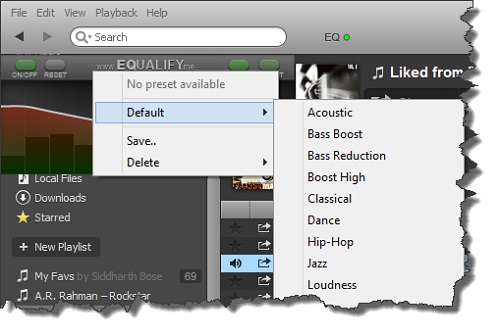 Step 1. Once installed Equalify on your Windows, restart the Spotify.
Step 2. Then browse the Spotify library and begin playing a song. At the top bar, you'll see a small EQ icon.
Step 3. Click on the button to expand the equalizer. You will then be able to edit the bands manually or choose from one of the many presets available.
End Note: Download High Quality Spotify Songs without Premium
It's easy to get equalizer for Spotify on iOS, Android as well as PC. But if you are using Spotify Premium account, it's not too necessary to have Spotify equalizer as you are already offered with the highest quality of the music in Spotify. The cost for this is service is $14.95 per month. If you are using the free account but still want to get the high quality music without paying, you are suggested to try the third-party Spotify music downloader such as TunesKit Music Converter for Spotify which can help you easily download any Spotify track, album or playlist to MP3 at the highest quality as Premium users. For more details, you can visit this guide: How to Get Spotify Premium for Free.
More Streaming Music Tips & Tricks

Matt Smith is an amateur writer engaged in Tuneskit in 2013. He is a movie lover who write a lot of movie reviews for many websites and blogs.