Spotify is one of the most popular digital music services which gives its users instant access to millions of diverse pieces of music from all globally popular genres. With Spotify, you will get almost anything you like in the name of music, from the archived old schools to the latest hits. You just hit play and everything will stream and you will enjoy unlimited and uninterrupted music anytime and anywhere. You can even download the songs and listen to them offline. This sounds amazing, isn't it?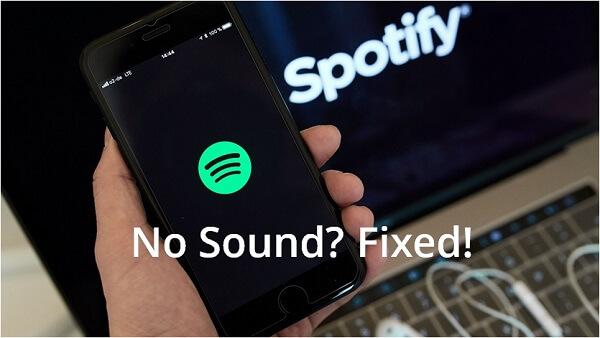 But wait, this will not always be the case. At times, Spotify might lead you to a heart aching situation within no time. You open Spotify and hit 'Play' to listen to some music but you end up hearing two sounds; the first sound being that of your breathing and the other, that of your heartbeat. To mean, you get no sound from Spotify but you can see the song is playing. Your first remedy will be obviously to adjust the volume. But still, nothing happens. So, how do you go about with this?
In general, this problem might arise due to poor internet connection, using out-dated app, overloaded RAM, overused CPU or maybe, your device or Spotify app might just be having some technical problems. Here are some of the possible remedies that can help fixing the problem. In every remedy, you will find the cause it fixes.
Top Solutions to Fix the 'Spotify No Sound' Issue
1. Restart the Spotify app or log out then log in again
Your app might just be misbehaving. An app stopping to respond or hanging is not a strange occurrence. Such problems might arise due to overloaded RAM, overused CPU or some virus. This should be the first problem to check out. To do this, log out then re log in. If the problem persists, restart the app.
2. Update the Spotify app
The problem might arise from the fact that your app is out-of-date. Just like any other software, Spotify undergoes periodic upgrades so as to catch up with and incorporate new trends in technology. So, if you notice the problem, and after logging out and logging in and restarting the app, the problem still persists, then check if there is possible update and if there is, then update your app and try again.
3. Check your internet connection
At times, the problem might be your internet connection. You can check internet speed using other apps. Open any other app which requires internet connection and check the speed. If it takes a century to load, then your internet connection might be the problem. Try a different service provider if you are in a position to, or try changing from 3G to 2G etc and check if the problem gets solved.
4. Try uninstalling then re-installing Spotify
Maybe, you're experiencing the problem due to some corruption in your app. This might be caused by(among other causes), a virus from a file. So, you can try going to the settings, then go to app, click on spotify and clear data. This will mean that you will have to log in again and to download again the music files you had saved to listen to while offline. But if this is not working, then maybe the corrupting factor is so malignant. Try uninstalling the app then re installing it.
5. Free the RAM
If your RAM is too full, you might experience this problem. So, you can go to the storage use and check how much space is left in your RAM. If it is small, say less than 20%, then it might also be the problem. Overloaded RAM will make almost all the applications in your device to hang. To remedy this, you can close some apps you are not using, go to the storage settings and clear RAM if your device has such setting. You can also uninstall some apps you are no longer in need of.
6. Try a different device
Your device might be having a technical problem. So, if after trying out all the above remedies but you still cannot hear any sound, you can check this out, try playing the same music file using a different device. This is made easy by the fact that spotify can play on your mobile, tablet, computer and television. So, if you are experiencing the problem on your mobile, try your computer but with the same internet connection and the same music file. If the problem is fixed, look for a way to repair you mobile phone. Or vice versa, if it can play on mobile phone and misbehaves on computer, know that your computer is having a problem.
7. Download and convert Spotify songs to MP3
If none of the above-mentioned solutions ever works for you, then you are suggested to try the ultimate way, that is, to download the Spotify songs offline and then re-encode the tracks to MP3 format with the help of a Spotify music conversion software, such as TunesKit Spotify Music Converter.
As you may know, only Spotify premium users are able to download Spotify songs offline. But now with TunesKit Spotify Music Converter, no matter you are using free or premium account, you can easily extract Spotify tracks and convert the songs to MP3 or other formats for offline listening. For more details, you should visit the source post: How to Convert Spotify Songs to MP3.
More Spotify Music Tips & Tricks

Matt Smith is an amateur writer engaged in Tuneskit in 2013. He is a movie lover who write a lot of movie reviews for many websites and blogs.