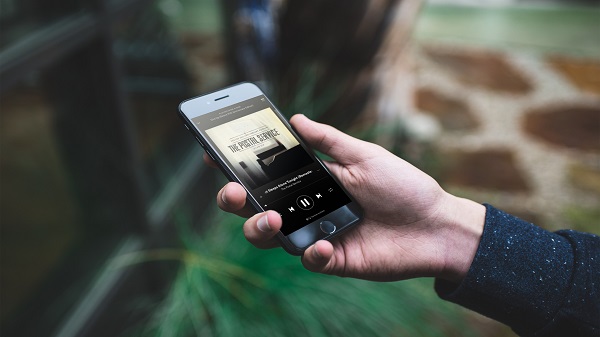 One of the biggest benefits of Spotify Premium plan is the ability to download songs for offline listening. By paying $9.99 a month, you are able to download and save any track, album, or playlist from Spotify onto your computer or mobile devices. In this article, we'll show you how to download Spotify music on iOS, Android, Mac and PC with Spotify Premium subscription, as well as the best alternative for free subscribers to listen to Spotify songs offline on desktop or mobile.
Part 1. How to Download Spotify Songs/Playlists on Computer
It's easy to download music from Spotify if you have a Premium account. Here's how to do it with Spotify desktop app on Mac or PC.
Note: With this method, you can't download Spotify songs individually but have to either download an entire album or save the track to a playlist, which you can then download for offline listening. Besides, the option to download Spotify songs and playlists is currently not available for the web player yet.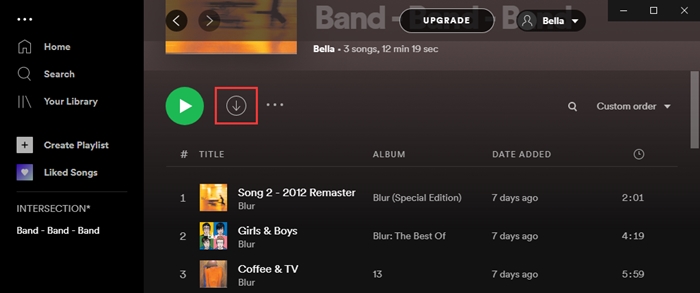 Step 1Add Spotify songs to playlists or library
Firstly, log into your Spotify Premium account and move to the playlists or library where the songs are collected. If you however haven't added any music yet, simply browse the Spotify channel to find some songs you like and right-click on them to add the tracks to your playlist. Or you can press on the three dots button next to the song and add it to the library.
Step 2Start to download Spotify playlists
Once created, navigate to the playlist and you'll see a toggle button as 'Download'. Switch the button to on, and your playlist will automatically download for offline listening. You'll find the 'Download' button turns to 'Downloading', indicating the download is in progress. Once it's completed, it will be replaced by a 'Downloaded' status.
Step 3Force Spotify to go offline
After downloading, navigate to File at the top left-hand side of the Spotify app and click on the 'Offline Mode' option. In this way, you'll be able to listen to those Spotify playlists and songs even when there's no internet connection.
Part 2. How to Download Spotify Music on iOS and Android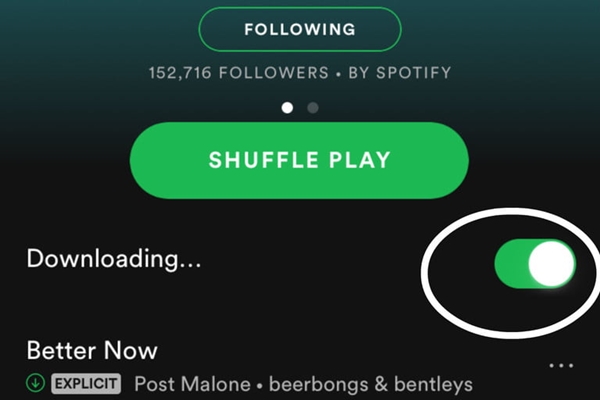 The process to download music from Spotify on mobile devices is similar to desktop app. Simply follow these steps to see how to listen to Spotify songs offline on iOS or Android.
Step 1Navigate to Spotify playlists you want to download
Log in your Spotify account via the music app on your mobile phone or tablet. Go to the desired playlist you would like to download. If there's no playlist yet, simply create one.
Step 2Begin downloading Spotify songs
Switch the 'Download' button on to let it downloading the Spotify music for you automatically.
Step 3Set Offline mode
Once you've downloaded the songs, you can enable Offline Mode by navigating to Settings > Playback from left-hand menu.
Part 3. How to Download Spotify Songs Offline as MP3 with Free Account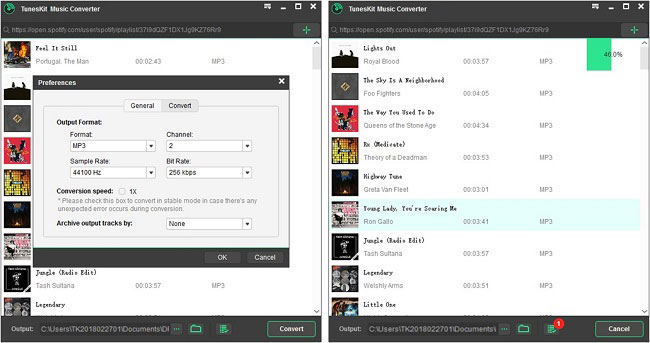 Don't be too excited after downloading those Spotify songs on your device as the next second you might be disappointed to find out it's impossible to share them to your friends or play them in another app. In fact, that's because Spotify songs are encoded in a protected format. Due to which the tracks don't actually save to your phone or PC. So if you want to get the full ownership of the Spotify songs and play them on any device, you'll have to use an extra app to download the Spotify music as MP3 or other common formats. In this case, app like TunesKit Music Converter for Spotify would be of great help. It's a smart Spotify downloader that can download any music and playlist from Spotify as MP3 even if you are using free subscription. Now the following tutorial will show you how to download Spotify music offline with TunesKit.
Step 1Add Spotify playlists to TunesKit
After launching TunesKit Spotify Converter, the Spotify desktop app will be launched automatically. Log into the account and find any track or playlist that you want to download. Then drag the songs from Spotify to TunesKit.
Step 2Set output format
Go to top menu bar and select Preferences. In the popup window, you can choose the output format such as MP3, AAC, WAV, FLAC, etc. as you like. You can also set the audio parameters, quality, speed according to your requirements.
Step 3Download Spotify music offline as MP3
Click the 'Convert' button to begin downloading the Spotify songs as MP3 or other formats to your computer. Once downloaded, you can copy and transfer them to any device or player for offline listening.
For more details and the complete guide of downloading Spotify songs with TunesKit, this post will help: How to Download Spotify Songs with Free Accounts.
More Spotify Tips & Tricks

Matt Smith is an amateur writer engaged in Tuneskit in 2013. He is a movie lover who write a lot of movie reviews for many websites and blogs.