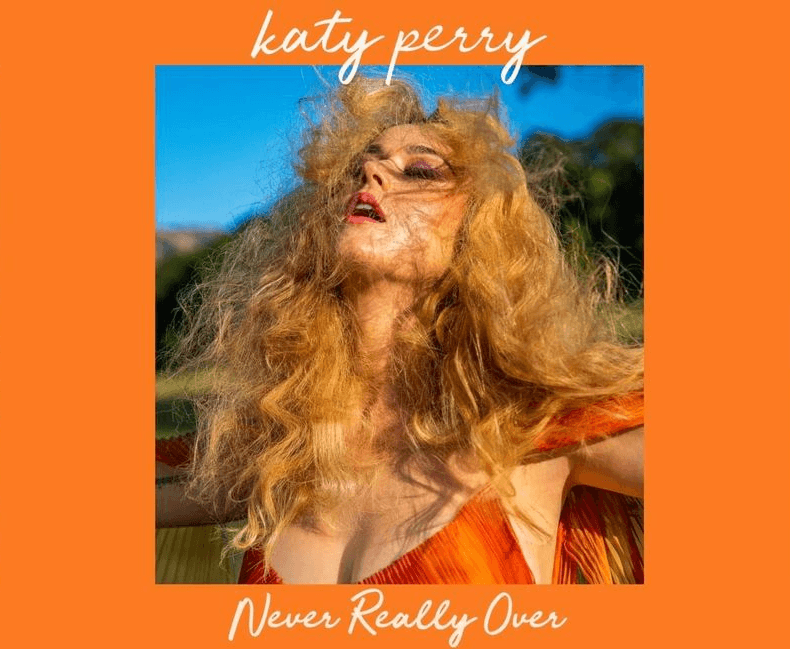 Katy Perry is Back with Her Rousing Song "Never Really Over"!
Katy Perry has shared a brand-new song titled "Never Really Over" on her personal social platform at midnight last Friday, along with a music video. Just as her previous albums "Roar" and "Firework", her new song will certainly stir a new frenzy of debate.
"Never Really Over", co-produced by Petty and her best collaborators including Zedd, Dan Haywood, Leah Haywood, Dagny, Gino Barletta, Michelle Buzz, Jason Gill, and Hayley Warner, is Perry's first new single since 2017. The new single also witnesses her emotional experience in two years during which she dated the actor Orlando Bloom on and off. Finally, she was engaged to Bloom.
Of this new song, Katy Perry said a lot in her music press release:
"All of our relationships - from first love, through failed love, to great love - all become a part of you, so that none are ever really over, and once you accept both the dark and the light, you may find that the darkness brought you to the light."
The lyrics of the new single capture how she feels to be in an on-off relationship cycle. All of these are reflected in her music video where Perry is basking in self-love and light in a flowing gown. Via the song and music video, she wants to tell everyone learn to heal the heart and release self. Surprise! She made her debut in her music video "Never Really Over".
"Never Really Over" Now Available on Spotify, Apple Music, and Deezer
"Never Really Over" has been released on May 31, 2019. You can listen to the full version of this new single on Spotify, Apple Music and Deezer.
Here's the sample of "Never Really Over" on Spotify:
Download Katy Perry New Song "Never Really Over" from Spotify with Free Account
If you have subscribed to the subscription plan on Spotify, you are allowed to listen to Katy Perry's "Never Really Over" without ads and download it to your device. However, if you don't plan to participate in the subscription plan, you can only listen to the single with Wi-Fi. Luckily! I will introduce a method to download Katy Perry new single on Spotify with free account for offline listening.
Here is the way to guide you how to download Katy Perry songs from Spotify with free account.
Best Spotify Music Downloader You'll Need:
All music from Spotify are encoded in the format of OGG protected by the digital right management (DRM). Therefore, you can only listen to music from Spotify within the app. Among all the available Spotify music downloaders, TunesKit Spotify Music Converter is a perfect music solution for Spotify subscribers.
TunesKit Spotify Music Converter specializes in downloading and converting all Spotify music songs, playlists, albums, and artists to other plain formats like MP3, AAC, and M4B losslessly, which can offer you a great experience to enjoy Spotify music offline on any player and device.
TunesKit Spotify Music Converter Key Features
Remove DRM protection from Spotify music
Keep the original audio quality and ID3 tags
Download Spotify songs at up to 5X faster speed
Fully support Spotify free and premium accounts
Step-by-step to teach you how to download Katy Perry New Single for free
Now follow these steps and you'll be able to download 'Never Really Over' from Spotify to MP3 instantly at 320kbps.
Step 1

Drag Katy Perry's "Never Really Over" to TunesKit Spotify Music Converter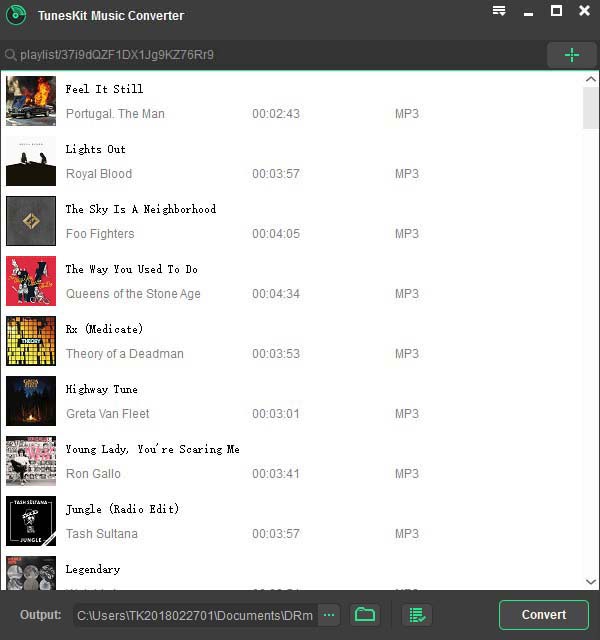 Open TunesKit Spotify Music Converter on your computer and then Spotify app will be automatically opened. Search "Never Really Over" on Spotify and drag the new song to the interface of TunesKit Spotify Music Converter. Or you can just copy and paste the links of the new song to the search box on the interface of TunesKit Spotify Music Converter.
Step 2

Customize Katy New Single as You Like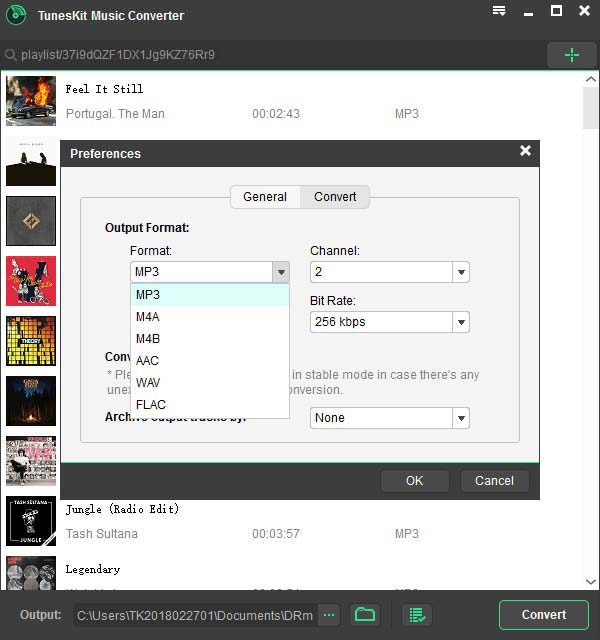 Click the top menu and choose the item "Preferences". Then you can set the output format, audio channel, bit rate and sample rate according to your needs. If you want to download the new song in a more stale environment, you'd better set the conversion speed as 1×.
Step 3

Start Downloading Katy Perry Songs MP3 Free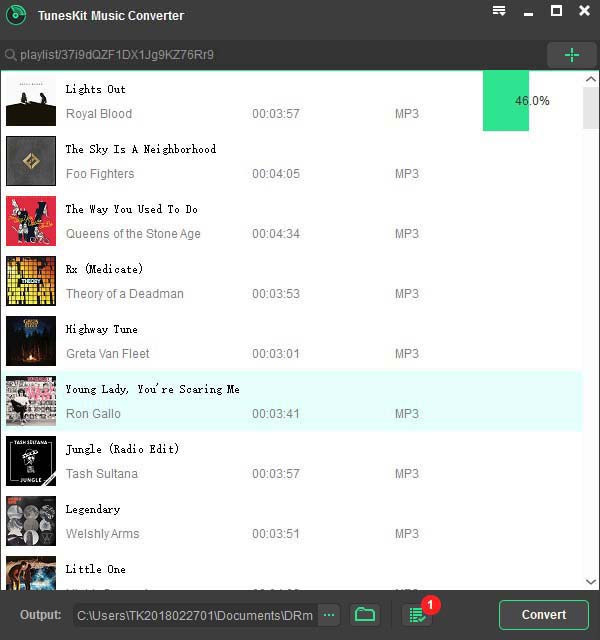 After having set all the parameter of the new single, you can begin to download Katy Perry's "Never Really Over" from Spotify to MP3 or other plain formats by clicking "Convert" button at the bottom right corner. Upon downloading, you will able to copy and transfer the single to any device as you like for offline listening no matter at home or on the move.
Listen to Katy Perry Songs on Spotify in Full below
Perry's latest album, 2017's Witness, debuted at No.1 in the United States and spawned a worldwide tour on top of hit singles "Chianed to the Rhythm", "Bon Appétit", and "Swish Swish". As so far, Perry has released five albums in the past years.
1. Witness (2017)
Witness is the fifth studio album by Katy Perry. It was released on June 9, 2017, by Capitol Records. Witness received mixed reviews from music critics. It topped the charts in Canada, Spain, and the United States while reaching number two in Australia, South Korea, Mexico, and New Zealand and the top five in nine other nations.
2. Prism (2013)
Prism is the fourth studio album by Katy Perry. It was released by Capitol Records on October 18, 2013. Much of Prism revolves around the themes of living in the present, relationships, and self-empowerment. The album garnered generally positive reviews with critics praising its lyrical content for being more "mature" and personal, while others considered Prism to be more formulaic than her previous material.
3. Teenage Dream (2010)
Teenage Dream is the third studio album by Katy Perry. It was released on August 24, 2010, through Capitol Records. Musically, Teenage Dream contains songs in the genres of pop, with influences of disco, electronic, funk, house, gothic rock, Hi-NRG, and hip hop laced throughout the album. Lyrically, it revolves around young love, partying, self-empowerment, and personal growth.
4. One Of The Boys (2008)
One of the Boys is the second studio album by American singer Katy Perry. It was released on June 17, 2008 by Capitol Records. During its production, Perry was dropped from two record labels and went through two canceled albums.
All the above albums can be downloaded from Spotify for free via TunesKit Spotify music converter. Except for Spotify, you can also access all Katy Perry albums and songs on Apple Music, Google Play Music, Deezer, YouTube and more. If you are Apple user, you can play Katy Perry's songs on other devices with the help of TunesKit DRM Audio Converter. Yet if you play music either on Spotify or Apple music, you can download music from the music streaming service you are using through Audio Capture.