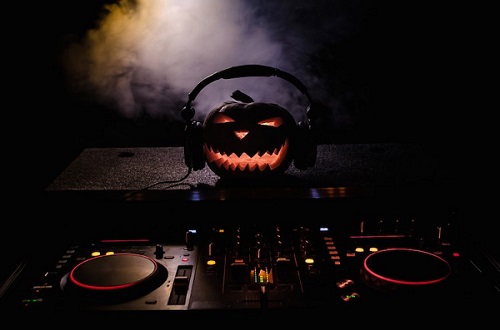 When it comes to Halloween, most of us may come up with the scenarios full of awesome Halloween-themed costumes, well-made snacks, elaborately carved pumpkins, all kinds of spooky parties and more. During the scary night of Halloween, playing some creepy tunes could make the atmosphere more perfect. In case you feel troublesome to find out the best Halloween playlists from a large library out there online, here we have collected some top-rated Halloween playlists Spotify from creepy classics to essential earworms you'll actually love to play at your party with your family and friends.
Top 5 Halloween Playlists on Spotify
#1 Ultimate Halloween Playlist
Containing 100 Halloween songs, this playlist is full of best-known scary and creepy tunes from artists, like Coldplay, Michael Jackson, Warren Zevon, Nina Simone. The big titles in this Halloween playlists include Death and All His Friends, Thriller, Werewolves of London, I Put A Spell on You and much more. If you are looking for the one-stop playlist that covers all kinds of Halloween-themed songs, this playlist could be the best option.
Unlike the first playlist that contains different types of Halloween music, this playlist appears to concentrate more on the Halloween classics. Featuring the classic Halloween songs of all time, you'll find soundtracks like Monster Mash, Haunted House of Rock, Mr. Ghost Goes to Town, Nightmare and more.
This Halloween music playlist is made up of 39 songs on Spotify. It's specially made for you who are fond of the latest fashion trends, instead of the classic styles. Here you are provided with modern Halloween songs, such as Zombie by Jamie T, Living Dead Girl by Rob Zombie, Monster by Lady Gaga and more.
This is an official playlist recommended by Spotify USA for your Halloween party. If you are hunting the tunes to make your party spookier, you can't miss it. Some great tunes like Halloween, I Miss You, Spooky Scary Skeletons are included.
In addition to scary, horrible, creepy, why can't Halloween become gentler, or in other words, sexier? Here we are talking about a sexy playlist full of the sexiest and spookiest songs, including Bad Things, Black Magic, Ghoster, Gods & Monsters and more to play at Halloween party.
Tricks to Play Spotify Halloween Playlist Everywhere
No matter you are using Spotify free or premium accounts, you'll find it's difficult to play those Spotify playlists on different mobile devices, especially offline. That's caused by Spotify DRM protection. So if you are considering copying those Halloween playlists from Spotify to other platforms for playback offline, you are suggested to use TunesKit Music Converter for Spotify that will help you easily download and extract any Spotify songs, playlists and albums to common MP3, AAC, WAV and other formats without DRM lock. For more guide, please visit this post 'How to Convert Spotify Playlists to MP3 for Offline Listening'.

Matt Smith is an amateur writer engaged in Tuneskit in 2013. He is a movie lover who write a lot of movie reviews for many websites and blogs.