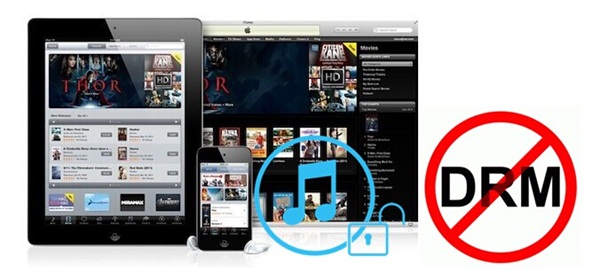 Did you get a movie from iTunes but you want to watch it on Android or media server solutions as well? Then you need to opt for a fairplay DRM removal solution because you can't remove the iTunes movie DRM on your own without a dedicated tool. Removing DRM is very useful if you want to use iTunes content outside the program. It's a very good idea to opt for a DRM removal software when you want to remove any limits created by iTunes. Plus, since you already paid for that content, it's your right to use it in any platform you want. Unfortunately, iTunes will force you to download and watch it solely using their platform...
Thankfully, there are options to focus on in this regard, and that's where the need for TunesKit comes into play. TunesKit DRM M4V Converter is a professional iTunes DRM removal application that will help you remove DRM from iTunes fast and easily without any quality loss. The application works on both Windows and Mac, so it doesn't matter what medium you use, you will receive proper coverage anyways!
This guide is going to show you how to use the best iTunes DRM removal tool - TunesKit iTunes M4V Video Converter for Mac to remove DRM protection from rented or purchased iTunes M4V movies and TV shows by converting the copy-protected M4V files to lossless MP4 format on Mac OS X step by step. If you are using Windows system, you are suggested to test TunesKit DRM M4V Converter for Windows. It works in the same way as the Mac version.
iTunes M4V & DRM: What You Need to Know
Before we start the DRM removal process, it's necessary to know more about the iTunes DRM M4V movies and the magic TunesKit iTunes DRM Video Converter for Mac.
M4V, also known as "Protected MPEG-4", is a video container format developed and used by Apple to encrypt the movies, TV shows, and music videos sold from iTunes Store with DRM protection. Because of the DRM, all iTunes videos, including the purchases and rentals, are locked and restricted to be played on iTunes compatible devices only. Therefore, iTunes DRM removal software like TunesKit iTunes DRM Remover came up to meet the needs to bypass DRM lock from iTunes M4V movies with ease. TunesKit will simply generate a DRM-free video file in multiple formats, including MP4, M4V, MOV, AV, etc. after the DRM is removed. It also preserves original AC3 5.1 surround sound, CC, AD, subtitles, and other metadata. As a result, you can play it back on any non-Apple device, such as Samsung Galaxy, HTC One, Nokia Lumia, etc.
Requirements to Remove DRM from iTunes Movies with TunesKit for Mac
Believe it or not, the entire iTunes DRM removal process is rather easy to do. Before you remove DRM from iTunes videos however, it's important to make sure that you downloaded all the videos you want to process with iTunes and they are authorized to play on your Mac or PC. Simply pay attention to the system requirements listed as below:
• TunesKit iTunes DRM Remover for Mac is workable on OS X 10.8, 10.9, 10.10, 10.11, and macOS 10.12 Sierra
• iTunes is required to be installed on the computer to ensure the success of the DRM removing
• Computer must be authorized with the same iTunes account used to purchase or rent the movies
Now you can get the free trial of this powerful iTunes DRM Remover for Mac and begin to strip DRM off iTunes movie files.
HowTo: Remove DRM Protection from iTunes M4V Movies
1Open TunesKit DRM M4V Converter for Mac
Once you have the preparation done, you will start to remove DRM from iTunes by opening TunesKit. Press Add Files in order to get started and then wait until the application scans your iTunes library. This is why you need to have authorize the videos on iTunes, because you can't remove iTunes DRM otherwise.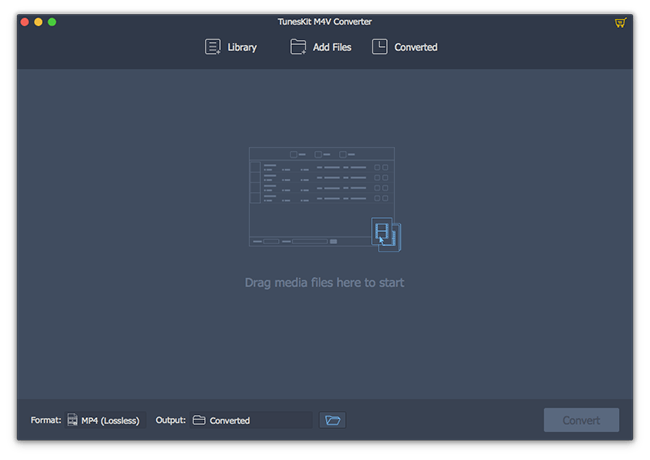 2Select the desired iTunes M4V videos
Pick the iTunes movies (or TV shows, or music videos) that you want to remove the FairPlay DRM for. Then click OK button to load the videos into TunesKit. Of course, you can also drag the media files to the TunesKit conversion window straightforward if they are authorized and can play well in iTunes.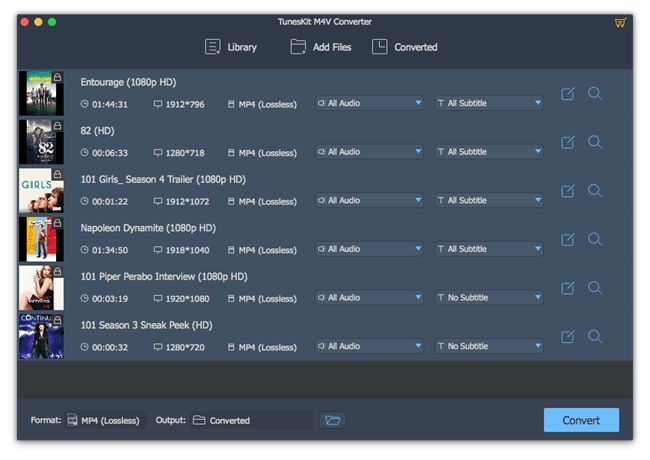 3Customize output settings
When the files are added successfully to the converter, you should find the Format option at the bottom left of the conversion window, where you can choose the output format for the iTunes movies. Currently it supports Lossless MP4, M4V, HD MP4, MOV, AVI, FLV, etc. Just pick up the one according to your own needs and move forward.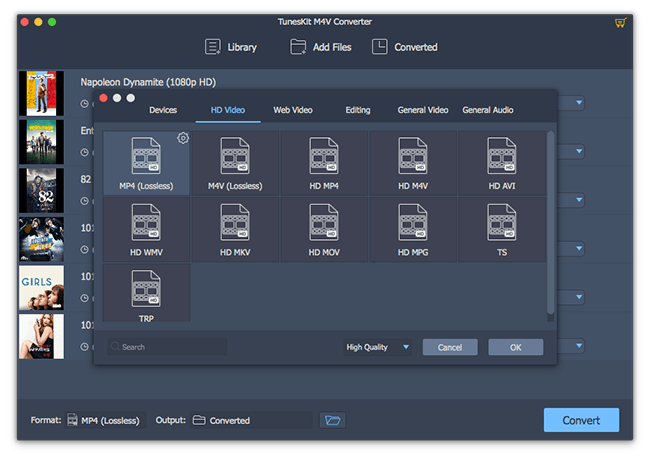 4Start the DRM removal and conversion process
Now simply press the Convert button in TunesKit. Remember that this process can be a little bit time-consuming, mainly depends on the amount of iTunes video files you are converting, so you can leave the app open while it does the iTunes DRM removal. Make sure that you process all the desired files, so triple check your iTunes DRM removal list before you start the process.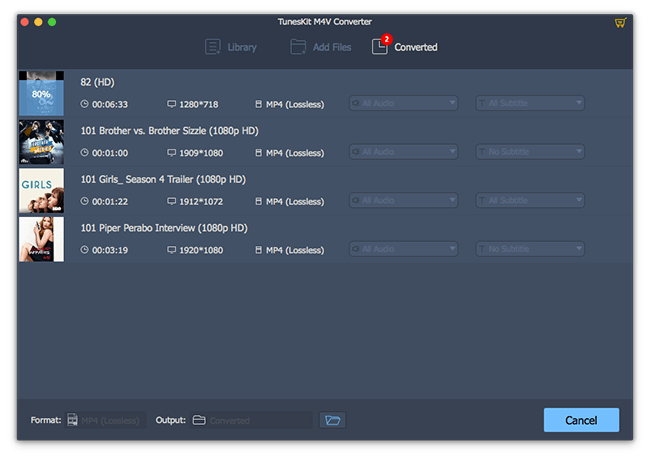 5Wait until completion and start watching your DRM-free iTunes videos
You will have to wait until the process is complete, and then you can check the Converted tab in TunesKit. Here you can find the converted files in a separate folder. The great thing about using TunesKit DRM M4V Converter is that you can do fairplay DRM removal with it, but the app also keeps your original files, which is very important to note. By pressing the magnifying glass button, you will be able to find the current location of these converted files.
In order to make sure that you got to remove iTunes DRM correctly, try to play this in another video player aside from iTunes. This will help you test everything and see if you managed to remove DRM in a proper manner or not.
* Video Demo - Remove DRM from iTunes Movie Purchases and Rentals on Mac
For a more intuitive way of the iTunes DRM removal, here's a video tutorial on how to losslessly remove DRM protection from iTunes movie purchases and rentals on Mac with TunesKit iTunes DRM Remover you can refer to.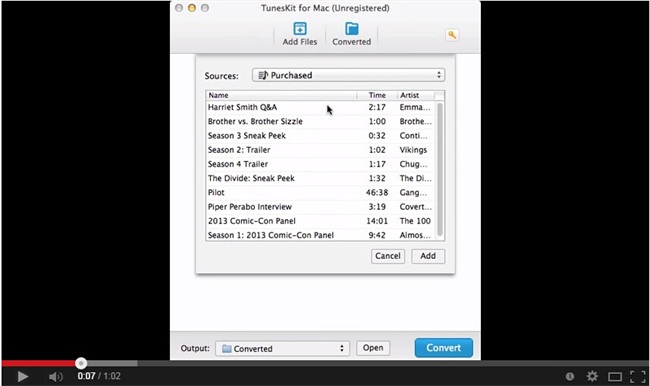 Should You Use TunesKit to Remove DRM from iTunes?
If you want a fast and reliable solution that will help you remove DRM from iTunes M4V movies, TunesKit can be a magnificent fit. It will deliver you the help and value you need, not to mention it works very well with a variety of video types as well. All you have to do is to download TunesKit DRM M4V Converter, give it a shot and you will find results to be second to none in the end. Don't stick with the iTunes DRM, opt for the best way to remove iTunes DRM fast and easy. Download TunesKit now and get the ultimate fairplay DRM removal solution on the market!

Nick Orin is a review writer, software geek and Mac OS enthusiast. He spends all his free time in searching useful software and gadgets to share with others.