Given the high rate at which iPhones get mishaps, it is necessary to sometimes do a reset for a fresher start. Doing a factory reset means that you will be erasing your iPhone's settings, third-party applications, your data or other associated applications. Possible reasons for a reset include the need for an upgrade when your phone is infected with malware or you are simply transferring ownership to someone else.
iPhone factory reset will help you reboot your phone, giving it a brand new software look, particularly if you decide to sell your phone to another individual. Besides, this is the best way to ensure that such individuals do not gain access to any of your social media profiles, personal photos or financial information. However, it is also important to first carry out a backup of your data before going into this. Follow these solutions for a successful factory reset.
Method 1. Reset Directly from An iPhone
Resetting your iPhone using this mode is ideal when you want to totally erase all the available information. Besides being quick, it is pretty easy and usually takes just about 10 minutes to complete the whole process. This is called for especially when you have plans to sell your phone and need to keep your privacy.
However, if you still think that your personal data will be of the essence, then do a back up to avoid losing everything. If it happened unfortunately, you can use a third-party tool such as Tuneskit iPhone Data Recovery to recover it. This iPhone factory reset method is probably the simplest as you only need your iPhone exclusively to go through with it.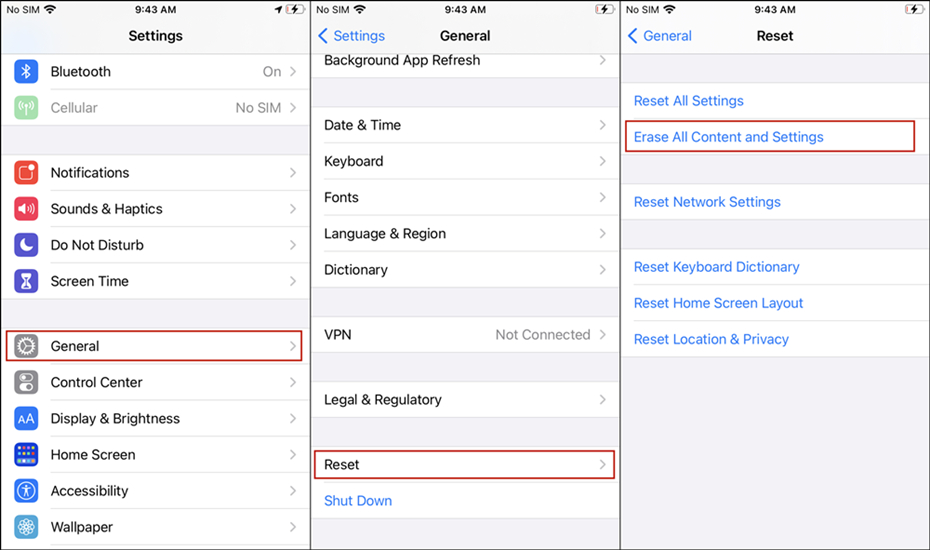 Step 1. Go to the 'Settings' icon from your iPhone's home screen.
Step 2. Tap on 'General' then scroll to the bottom and tap on 'Reset'.
Step 3. From the reset menu, scroll down and tap 'Erase All Content and Settings'.
Step 4. Then key in your iPhone passcode if prompted.
Step 5. Click on 'Erase iPhone' to confirm the reset. Once confirmed, your iPhone will restart and erase all data.
See also: How to Recover Data from iPhone after Restoring to Factory Settings
Method 2. Factory Reset via iTunes
This is also another mode that you can use to reset iPhone to factory settings. You will, however, need a computer in order to go through with this mode. Just keep it in mind that you need to would have synced your iPhone with iTunes, enabling you to access every detail. This method will ensure that all your personal data and other profiles are wiped out from iTunes end, preventing access from any other device.

Step 1. Kick off the process by connecting your iPhone to your computer. You can use a USB cable or simply a Wi-fi connection.
Step 2. Launch iTunes and wait for a while for your iPhone to be detected.
Step 3. Once the phone is available, click on the iPhone button.
Step 4. Go to the 'Summary' tab and click on 'Restore iPhone button'.
Step 5. At this point, you can back up your data as you will be prompted to create a backup.
Step 6. Then click on 'Restore' so that iTunes can begin restoring your phone to its original state.
Step 7. The process will be complete in a while. Your iPhone ought to restart as well. Slide to set up and turn on your iPhone to its new state.
Method 3. Factory Reset your iPhone via iCloud
The latest smartphone versions usually do an automatic iCloud backup. However, there are some iPhone versions that will need an upper hand in this. Note that this solution can only work if there was an iCloud backup in the past. Additionally, you also need to install 'Find my iPhone' app on your phone. This is for the purposes of Apple to be able to identify you as the ideal user. To do a total wipe of your iPhone, you start the process by disabling 'Find My iPhone'. Do this by simply signing out from your Apple ID.
To sign out, open 'Settings' and then tap on your name, at the top menu in order to open the Apple ID page. You can then 'Sign out' after entering your password. Your Apple ID will be cleaned up by this action. The iOS will then send you back to the 'Setting' screen without your Apple name.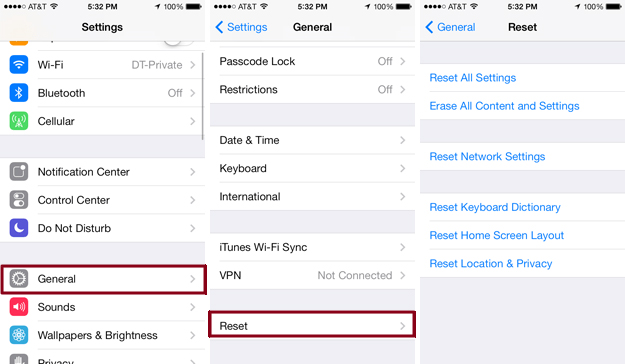 Step 1. Start the iPhone factory reset by clicking on 'Settings' from your phone's screen.
Step 2. Click on 'General' and then go to 'Reset'.
Step 3. Next, tap on 'Erase All Content and Settings' button. Your phone will reboot to the new 'Hello' screen once the factory reset is complete.
Method 4. Factory Reset Using a Third-party Application
There are lots of software that can be used to reset iPhone to factory settings such as Dr. Fone, Spyzie, FoneMonitor and much more. The good thing is that they work in a few minutes, giving you a hassle-free journey to your goal. You will not even need a passcode in most cases. Remember that most of these services are free although you may choose to upgrade to premium level for a free.
Simply visit the application website and download the software. Next, install it on your computer and then launch the programme.
Once installed, connect your iPhone to the computer using a USB cable. Give it time for the computer to be able to detect the phone. Then launch the software and click on 'Start'. Simply follow the application's proceedings to factory reset iPhone.
In Conclusion
Remember that there are numerous occasions which may compel you to factory reset an iPhone. Amidst these, we have highlighted the possible reasons why a reset may be called for. Nonetheless, modern electronic devices can be very disappointing in crucial times. Here is where resetting becomes important as it will totally clear and wipe out problems, relieving you from impair performance, sluggishness, among others.
The above modes give you an avenue to back up your data even when you are in the process of iPhone factory reset. Furthermore, you are able to go through some of these processes without a passcode. Resetting your iPhone from iTunes and using a third-party software will not require you to have in place or remember any passcode.

Brian Davis has covered tech and entertainment for over 10 years. He loves technology in all its forms.