How to Cut iTunes DRM Movies for Free
Posted by Adam Gorden on April 21, 2017 02:11:43 PM • Category:
Resource
4 mins read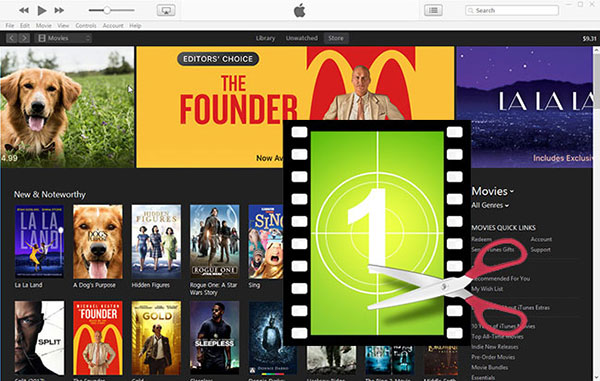 Apple iTunes is the best digital media managing software which offers tons of HD video contents like movies, TV shows and extras. For its high quality video resources, iTunes has become the default choice of video service for many of us and we download iTunes movies for entertainment anywhere at home, office and so on. iTunes videos play a really important part in our daily life.
However, as time goes, the iTunes library become so cumbersome and it will take up all the space of our devices. There are many favorite video scenes we never want to lose and usually we can't keep buying new disks to backup all the episodes. So instead of deleting some videos completely to save space, is there any other better options? Of course, you can also try to cut iTunes videos if you can remove the DRM copyright protection.
How to Remove Fairplay DRM from iTunes Video for Free
iTunes videos are protected with the notorious FairPlay DRM which cripples our freedom to enjoy videos in other players and devices. Needless to say, it is impossible to edit Tunes videos directly either. In this situation, removing DRM is an indispensable step before you can start to cut iTunes M4V movies. Good news is that many DRM freewares available online can remove DRM for free with different features and functions such as MyFairTunes can remove DRM from Apple music, Calibre is a DRM Remover for Apple iBooks, Freeme2 is for handling WMA and WMV DRM files and Requiem supports to break DRM from iTunes videos, songs and ebooks. Therefore to unlock DRM for free from iTunes videos, you can use Requiem. It is a super simple program which can remove digital right protection through accessing the same secret credentials used by iTunes. What you need to do is to download the Requiem 4.1 for Windows/OSX online and double click the Requiem to install and launch the software, then it will start to detect all the iTunes files and crack DRM automatically.
As mentioned above, Requiem is very good as a free tool, but it also has disadvantages. For instance it was discontinued in 2012, so it only works in iTunes 7.05 or lower version. If you don't have such an iTunes version, you need to remove the current iTunes version and then reinstall the older version. I have done that before and it takes rather long time. After doing that once, I never want to do that again personally. If you don't want to waste your precious time either, alternatively you can get a paid software such as TunesKit DRM Media Converter for Windows/Mac which is an leading DRM Remover with lossless quality and fastest converting speed. It supports the latest iTunes 12.6 and lifetime free update & support is available after buying.
How to Cut iTunes Videos without DRM for Free
After removing DRM, the iTunes media files will become standard files without any limitations, you can play and edit them conveniently. If you want to cut the large iTunes files to remove unwanted video parts and keep your preferred clips, you can use the TunesKit Free Video Cutter for Windows/Mac which can losslessly cut videos. It is known as the simplest and fastest video trimmer for quick editing.
Note: This free version of TunesKit Video Cutter only supports splitting your video file into small segments. For a more comprehensive solution to cut, merge, edit and convert your videos or audios, you are suggested to switch to the paid version TunesKit Video Cutter for Windows/Mac instead.
3 Steps to Cut iTunes Videos by TunesKit Free Video Cutter:
Step 1

Load an iTunes video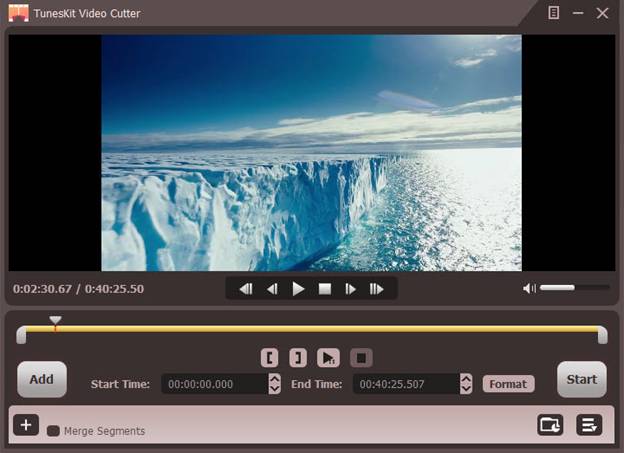 There won't be any digital right protection after removing DRM from iTunes M4V videos, you can simply drag and drop the iTunes video files to the main screen of the Free Video Cutter.
Step 2

Do the trim settings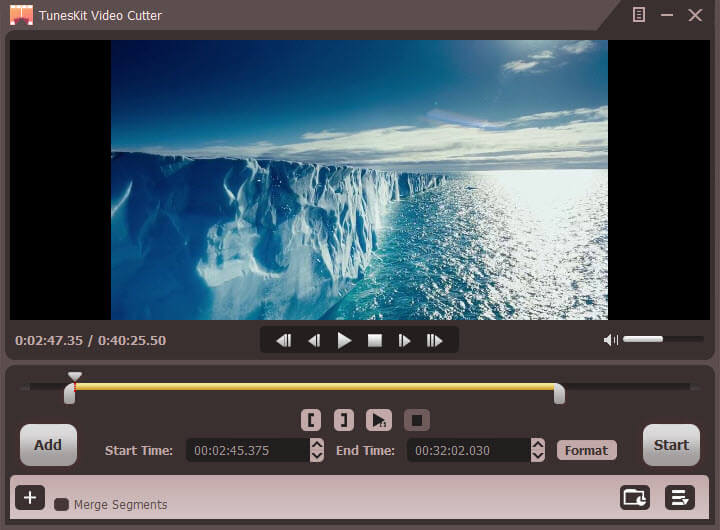 You can use the sliders to mark the start or end time for the iTunes videos or you can input the value precisely. What's more, you can add multiple marks for the iTunes videos, thus you can get your desired scenes more easily.
Step 3

Cut and export the iTunes M4V movie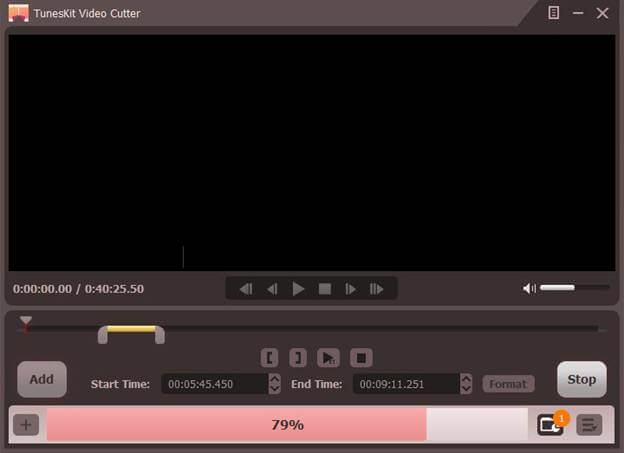 If you want to get a complete movie instead of multiple trimmed segments, you can also select the option 'Merge Segments'. Then you can click 'Start', Tuneskit Free Video Cutter will trim and merge the video clips in a fastest speed beyond your imagination.
Conclusion
It is not so easy to cut iTunes DRM videos compared to other common video files. Due to the DRM protection, you are required to do the extra step to break DRM always. Anyway, this is the general solution to trim iTunes movies nowadays unless Apple change this digital right protection mechanism. For the iTunes video without DRM or other sources of DRM free videos, you can use TunesKit Free Video Cutter to trim them directly. It is an ideal free video cutting tool for personal use.