Samsung Smart TV - Revolution on Online TV Watching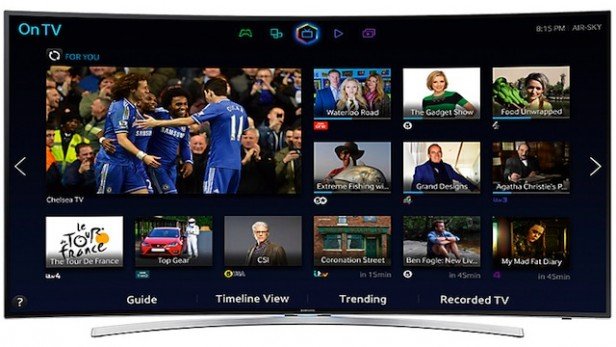 Smart TV is a new hot concept after the smart phone, smart watch. And when it comes to the leader of Smart TV, Samsung Smart TV undoubtedly deserves the name, for it sets a new standard to Online TV Platform. Firstly released in 2013 and updated in 2014, Samsung Smart TV is dedicated to bring us a brand new experience of watching online TV show as well as a brand new method of controlling our digital and business lives. With Samsung Smart TV, everyone will enter a whole new world of home entertainment, because it not only brings us the best TVs, but also let us chat, surf and even share from the comfort of our sofa.
Best Ways to Sync iTunes Movies to Samsung Smart TV for Watching
Although Samsung Smart TV is powerful enough to present us amazing movie resources from different channels, it currently doesn't support streaming movies from iTunes, one of the biggest online media stores in the world, simply because the iTunes videos are encrypted by Fairplay DRM protection and not allowed to be played on any non-Apple devices, including Samsung Smart TV. But don't be upset any more. In the following article, we will introduce several useful methods to help you sync your iTunes movies to Samsung Smart TV by using USB port, HDMI connection, and Apple TV.
1. Bypass FairPlay DRM Protection and Store the iTunes Movies on USB Port
If you have got a Samsung Smart TV, you will see that there is a USB port designed on this smart TV. It was provided for users to connect the TV with USB devices, and import the external content. To play iTunes purchased or rented movies on Samsung Smart TV, we can take use of this USB port by transferring iTunes movies to Samsung Smart TV via this port. But before that, we need to remove the Fairplay DRM from iTunes movies to make the DRM-ed videos recognizable by the USB port of Samsung Smart TV.
In this case, a suitable DRM removal tool is needed. TunesKit iTunes DRM Remover is a great choice, because:
1 Unlike other similar DRM removal software, TunesKit DRM Video Converter actually strips off DRM from all kinds of iTunes videos;
2 TunesKit iTunes DRM Media Converter also converts iTunes DRM-ed M4V videos to DRM-free MP4 format, the most universal video format to fit all popular mobile devices, TV sets and media player software;
3 TunesKit will 100% keep the original quality after conversion. You don't need to worry about subtitles, or 5.1 surround audio tracks lost, because all these data will be retained well in the output MP4 videos;
4 It's easy-to-use and works at 20x faster speed than any other DRM removal tools.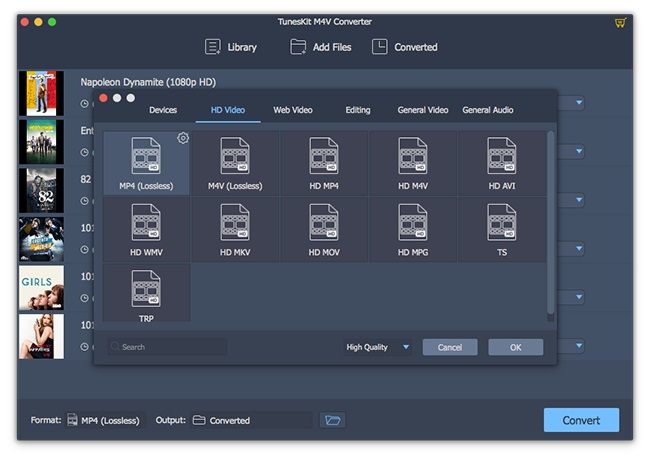 Steps to Remove DRM from iTunes Movies with TunesKit
It comes with two versions, including both Mac and Windows platforms. The whole DRM removing process takes 3 steps only:
Step 1 Add iTunes movies into TunesKit by clicking "Add Files" button in the program;
Step 2 Select output folder, audio tracks and subtitles as you like;
Step 3 Start to remove DRM and convert iTunes M4V movies to unprotected MP4.
As soon as you converted the iTunes movies with TunesKit DRM Media Converter, you can put the converted DRM-free MP4 videos to the USB port. And then connect the USB port with Samsung Smart TV to sync iTunes movies to it. Now you are free to watch any iTunes movie on Samsung Smart TV.
2. Watch iTunes Movies on Samsung Smart TV via HDMI Connection on Mac
This method works only for the users who have a new Mac laptop, which has a HDMI connection. Firstly, make sure your Mac laptop is authorized to play the iTunes movies. As you may know, the movies you downloaded from iTunes can be authorized on up to 5 devices only, including at least one Mac computer. Secondly, connect your Mac laptop to the Samsung Smart TV via HDMI connection. At last, you can play the DRM-protected iTunes movies on your Mac laptop so that you can watch them on Samsung Smart TV simultaneously.
Note: iMacs don't have the HDMI connection.
3. Watch iTunes Movies on Samsung Smart TV via Apple TV 3
Apple TV is a perfect way for streaming iTunes movies/TV shows to other TV sets, including Samsung Smart TV. Connect the Samsung Smart TV with your Apple TV, then play the iTunes movies using AirPlay. Then the iTunes movie content will be shown on the Smart TV with original quality.
Note: Due to the DRM protection, there are some HD rental movies cannot be played on Apple TV neither. In this case, you are suggested to turn back to Method 1 to use TunesKit to remove DRM from iTunes movies and stream them to Samsung Smart TV for playback.
Extended Reading
Some people may wonder whether it's possible to stream the iTunes movies via Plex server. Unfortunately the answer is "No". Plex states clearly that it cannot play iTunes content at all. But if you have got a Plex server and prefer to sync iTunes movies to it, you can simply refer to this tutorial: How to Steam iTunes Videos with Plex Server >>

Andy Miller joined TunesKit since 2013. He likes to spend his time to work on some new skills and gadgets. He's a writer as well as a computer geek.