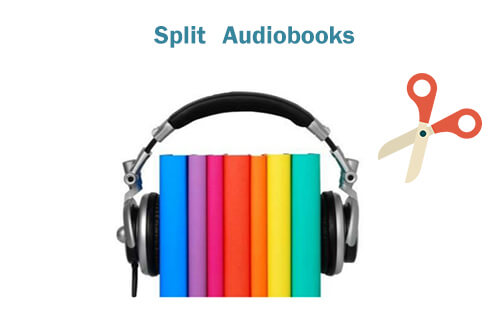 Audible is the largest audiobook provider in the world, it offers all kinds of audiobooks from history to science, technology, classics, fiction, Sci-Fi, Fantasy and much more. By installing the Audible app, usually we can listen to Audible audiobooks on computers, mobile phones, portable MP3 players with chapters. After stopping, we can easily select a specific chapter or resume where you last left off to continue to enjoy the audiobooks next time. However, the Audible audiobooks and the chapters only work in the Audible Manager. If you devices doesn't support Audible Manager or you simply don't like the Audible app, you will be stuck. So is there a better way to listen to Audible files without Audible app while keeping the chapters? The answer is positive, you can convert and split the Audible files into chapters, please just continue with me to find out the best solution.
Best Tool You Need to Split Audible Audiobooks
To begin with, Audible already offer the option for users to download chapters one by one officially too. This is really time-consuming and they are only playable on Audible app as we mentioned above. It is OK if you have only a few Audible audiobooks, but it won't work if you have numbers of Audible audiobooks and chapters. Another better option to do that is to download the entire audiobooks and use a special audiobook splitter tool to help you split all the audiobooks into chapters within a few clicks. Please note a common audiobook splitter may not work since the Audible audiobooks are encoded in AA or AAX formats which are coming with DRM (digital rights management) protection. For instance, if you import the Audible files into free tool iTunes and then try to select the option 'Convert to MP3 version' to split your audiobooks, you will be prompted the message that DRM protected Audible files are not supported. So here I will recommend a best audiobook splitter TunesKit Audible Audiobook Converter for Windows/Mac which supports to get rid of DRM protection and split Audible audiobooks into chapters effortlessly. It runs on both Windows and Mac computers, please simply download the right version you want to your computer to evaluate it.
Intuitive Tutorials to Split Audible Files into Chapters
TunesKit Audible AA/AAX Converter supports bulk converting technology. The processes to remove DRM from Audible files and cut Audible files to pieces are done simultaneously with 100X faster speed. Even if you have numerous of files, they can be finished within a few minutes.
Detailed Tutorial to Split Audible Audiobooks into Chapters
1

Import Audible Audiobooks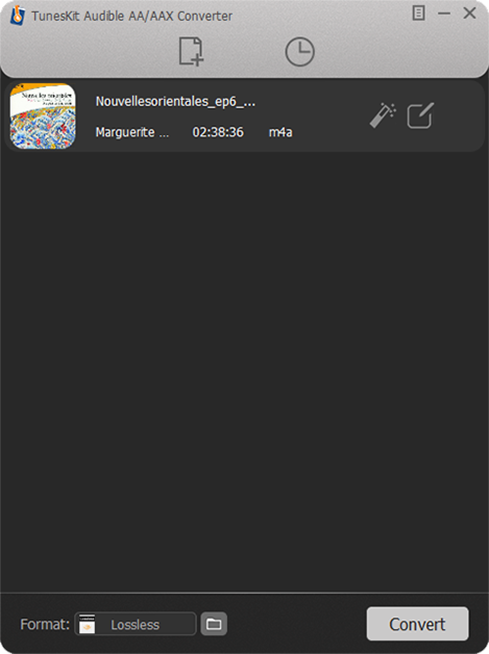 In order to cut the Audible files to small pieces, you have to download the entire audiobooks first. On Windows computer, you can install the Audible Download Manager to help you download the Audible files. On Mac computer, you can download them into iTunes directly. After downloading, you can locate the Audible files AAX or AA from the Windows Explorer or Mac Finder and drag them to TunesKit Audible AAX Converter screen.
2

Split Audible Files by Chapters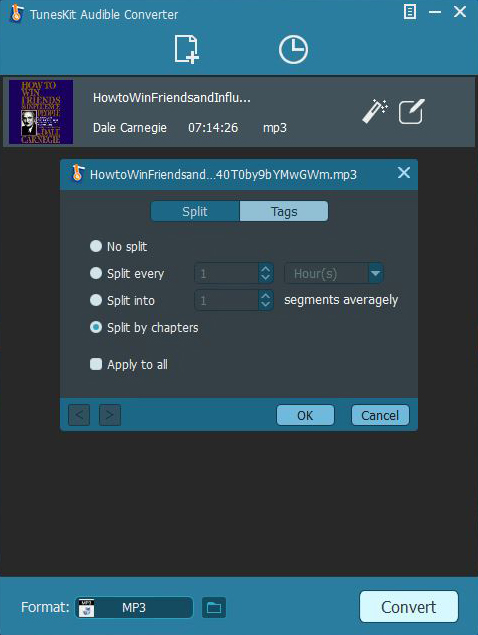 TunesKit DRM Audible Audiobook Converter offers many options for you to customize your Audible audiobooks such as splitting audible books, changing the output format, adjusting the playback parameters. To split the Audible AAX or AA files, you can click the editing icon which looks like a pen, then you will open the settings Window where you can select the option to split files by time or chapter as you want. Besides,.TunesKit Audible AA/AAX Converter offers many output format options such as MP3, AAC, WMA, FlAC, WAV, M4A, etc. In addition, you can change the playback speed, volume, pitch.
3

Convert the Audible Audiobooks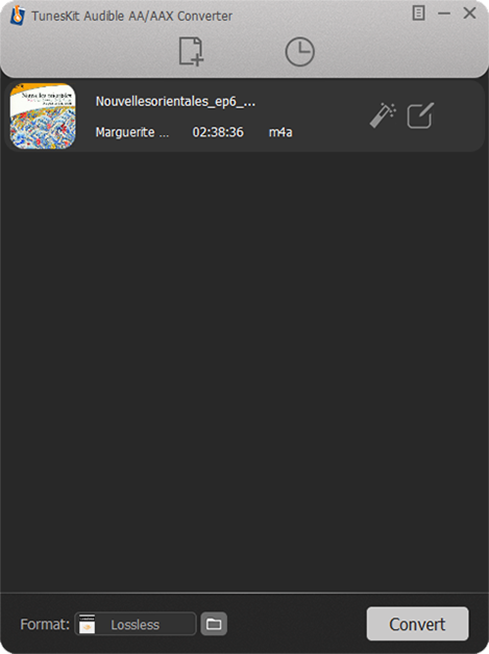 Finally, you can click 'Convert' button to make all the changes take effect. It takes a few minutes only to remove DRM and convert couples of audiobook files effectively. When it is done, you will see all the audiobook chapters are split on the output folder you have selected.
Conclusion
That is so easy, right? By splitting the long audiobooks to small chapters or segments, it will help you remove the hassle of playing audiobooks in a limited storage players and you can easily forward or backward to select the chapter you want to play. What's more, you don't need to worry about the limitation of DRM protection, just play the new audiobooks on any devices you have. Believe it or not, this is the fastest and easiest I have ever found. Any users includeing green hands can split Audible audiobooks like a pro as long as getting the TunesKit Audible AA/AAX Converter. If you still haven't try this fantastic TunesKit Audbile Audiobook Converter yet. Why not just download it to have a try?