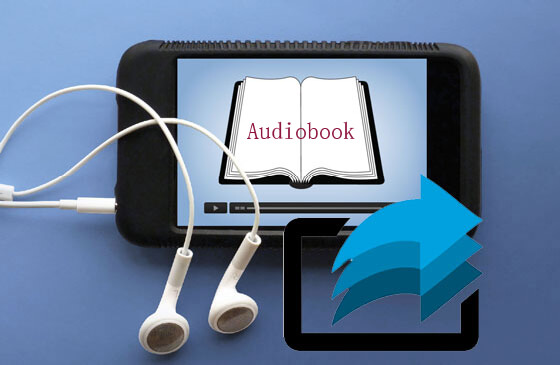 Sharing is a great way to stay connected with your family or friends, it can help others around us and make us happy. Among all the stuffs, digital media contents such as audiobooks are best for sharing because you won't lose them after sending to your friends. Speaking of audiobooks, the most popular catalog is Amazon Audible audiobooks. If you find or get some funny or interesting Audible books, it is highly recommended to share them. However, some users who are new to Audible audiobooks may not be so familiar on how to share them because Audible audiobooks are DRM protected, if you are also interested in it, you can follow this guide to learn the ways to share Audible books.
The official Ways to Share Audible Audiobooks to Friends or Family
As the largest audiobooks seller, Audible is growing at a high rate and currently it has offered two main methods for users to share their favorite audiobooks to friends or family. Both have its own advantages and disadvantages.
Share Audible Books to Any Friends by 'Send this Book' Feature
A friend is the one who knows you best in the world. The 'Send this Book' feature allows users to share their favorite audiobooks to others via email, text or message etc. The recipient who receive the info can get a free credit and use it to redeem the book directly if he accept. To share an Amazon Audible audiobook, you can either do it via the library page, player page of an Audible app on many mobile devices etc. Let's take the Audible app Android version for example, you can simply open the app on a mobile phone and login, then go to the library and you will see a list of the audiobooks you purchased. Next you can tap the more icon beside the book you want to send and choose 'Send this Book' on the popup menu. Finally choose a contact to share directly.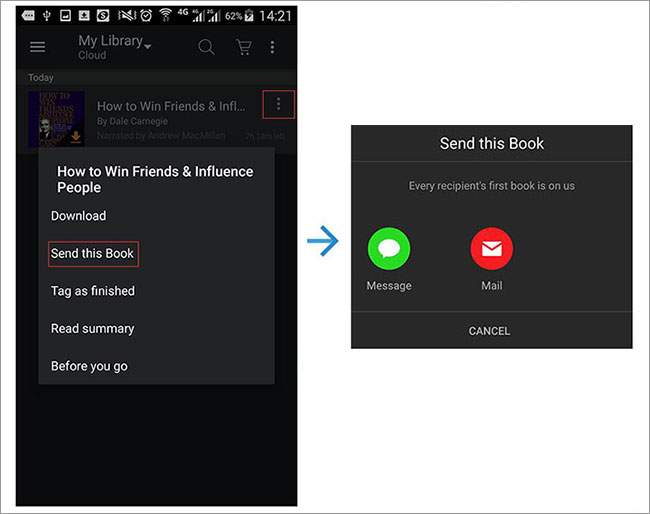 With this feature, you can send the purchased audiobooks to anyone you known and it is completely free, however via this way only new users can get free books and it is limited to only one for each user. If the user is already a regular user, then he won't be able to enjoy this privilege again.
Share Audible Books to Family by Amazon Household Sharing
You may feel bad if you and your family have to buy same books repeatedly. To improve the user experience, Amazon has implemented the Amazon Household Sharing mechanism to let you and your family to share the digital contents like games, apps, videos, music and books etc. just like many other digital contents sellers do on their ecosystem such as Apple, Google etc. Generally you need to create the Household Sharing Center account before you can manage and share the contents. First you can login to the Manage Your Household page of Amazon, then you will see a step-by-step instruction to set up the Amazon Household Sharing account. It allows to add two adults and four kids at most. Second, you can go to the Manage Your Content and Devices page of Amazon from where you can choose the digital contents such as Audible files to add to library or remove from library. When it is done, the users in the same household account can get access to all the shared contents from the family library.
Enable Household Account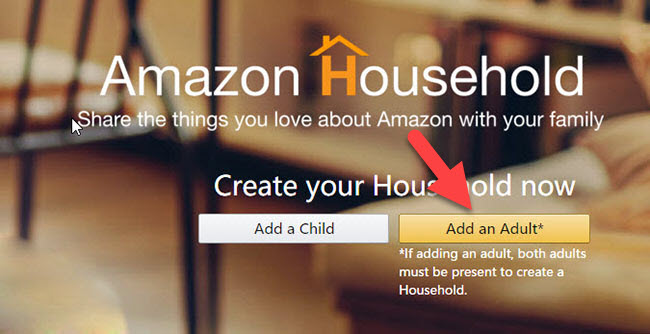 Manage Content and Devices

With this feature, there is no limitation on how many books you share. But it requires you to have an Amazon Prime account for the Household Sharing to work. Also, please note the payment info will be shared to the people in the Amazon Household. So it is not recommend to share the Audible files via this way to friends except family.
Best Way to Share Audible Audiobooks without Any Limitations
We can see from the above mentioned two ways, both are not perfect though. As Audible audiobooks are Amazon DRM protected, they can only be shared via the official Audible app, devices or systems etc. If you want to share all the Audible audiobooks like other common files without any limitations, then it is time to get a third party software TunesKit Audible AA/AAX Converter for Windows/Mac to get rid of the DRM limitation. With the fastest converting speed and reliable ability, you are just a few clicks away to get the DRM free files and share them to your friends easily. But please don't get me wrong here because I don't recommend any illegal use such as reselling the Audible contents etc. What I mean is that you can use a tool to bypass the DRM so that you can use and share purchased contents freely without limitations in a legal way. According to the official website, after buying an Audible book, you can use it for up to four computers, three MP3 players and the mobile devices at once. TunesKit Audible Audiobook Converter offers free trial versions for both Windows and Mac. You can simply try it out by yourselves.
To remove DRM, first you need to download the Audible audiobooks via iTunes on Mac or the Audible Download Manager on Windows. Next, you can load the downloaded Audible AA or AAX files and customize the output formats. In the end, you can click 'Convert' to convert Audible audiobooks to DRM free files with the extensions like MP3, M4A, AAC, AC3, OGG, FLAC and much more. For more detailed tutorial, you can visit: How to Easily Remove DRM from Your Audible AA, AAX Audiobooks. Ultimately, you can copy and paste the DRM free Audible files to share with any of your friends and family.