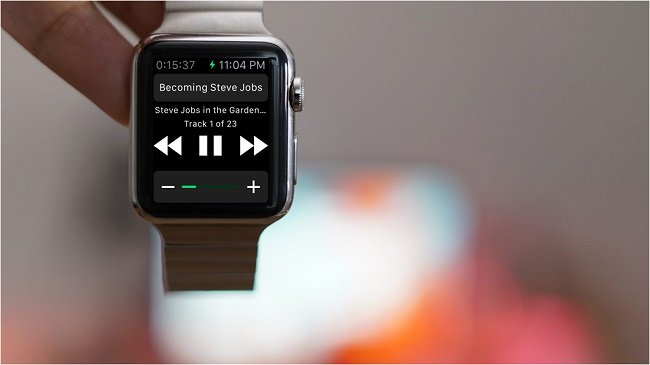 For Apple Watch users, especially those who are runners, listening to music or audiobooks from Apple Watch while running could be amazing and enjoyable experience. But here comes the problem when you want to play audiobooks on Apple Watch. As you should know, the fact that currently Audile app is not available yet for Apple Watch makes it no easy job to listen to audiobooks on Apple Watch without iPhone. But don't worry. Thought it may take a little doing, the good news is that there are solutions that actually works in playing audiobooks from Apple Watch without iPhone.
So if you are looking for a solution to listen to audiobooks from Apple Watch before Audible releases audiobook app to Apple Watch, or meet any difficulty on syncing your audiobooks to Apple Watch, you can simply read on the article here to learn how to easily listen to all kinds of audiobooks, including the DRM-locked audio books downloaded from iTunes or Audible with your Apple Watch series 1 and 2 even without an iPhone nearby.
1. Play DRM-free Audiobooks on Apple Watch
If the audiobooks you are trying to play on Apple Watch are common audios without DRM protection, then you can follow these steps below to easily sync the DRM-free audiobooks to listen to them with Apple Watch.
Step 1. Launch iTunes on Mac or PC and click the Music tab. Then create a new playlist called "Audiobooks" or anything you like.
Step 2. Load the audiobook files you want to listen to on Apple Watch into the newly created playlist.
Step 3. Sync the new "Audiobooks" playlist with your iPhone via iCloud or a cable.
Step 4. Open the Apple Watch app on your iPhone > Music > Synced Music, and select your "Audiobooks" playlist (it should say "Sync Pending").
Step 5. Attach your Apple Watch to its charger with your iPhone within bluetooth range. And then wait it to sync.
Note: Be sure shuffle is turned off on your Apple Watch because that would just suck.
Step 6. Once the audiobooks are synced to your Apple Watch, you can play the audiobooks via Apple Watch freely without a nearby iPhone.
2. Play DRM-ed iTunes/Audible Audiobooks on Apple Watch
Copying a downloaded audiobook to a music folder in iTunes — to make it easier to control and play on an Apple Watch — might be a bit more difficult if the audiobook has digital rights management (DRM) encryption on the file, which might limit or prevent it from being copied to another device. Here we are talking about those audiobooks purchased from iTunes or Audible.com. In order to make those DRM-locked audiobooks playable on Apple Watch, the very important thing we need to do is find a way to remove the DRM copyright encryption from the iTunes and Audible audiobooks before syncing them to Apple Watch.
Now you meet TunesKit DRM Audiobook Converter, a powerful DRM removal tool designed to completely bypass DRM from iTunes and Audible audiobooks while converting the DRM'd M4B, M4A, AAX, AA audiobooks to common audio formats, including MP3, M4A, AAC, WAV, etc. Only after the DRM is stripped off from the audiobooks, we can load them to Apple Watch properly.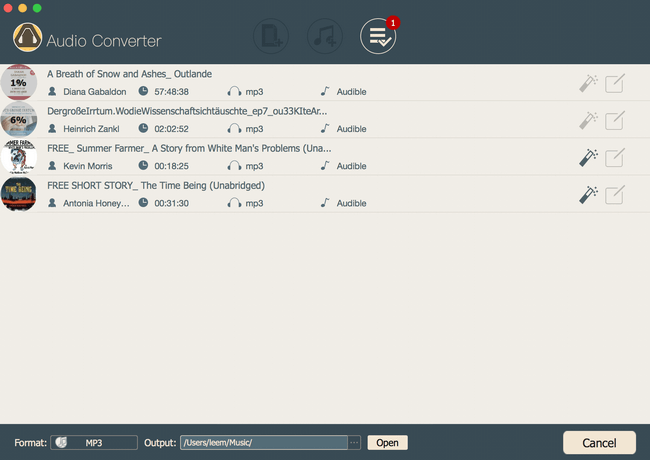 Note: If the audiobooks in your library are all downloaded from Audible, then you are highly recommended to try TunesKit Audible AA/AAX Converter. It's specially developed to crack DRM from Audible audiobooks and convert the DRM-ed AA, AAX audiobooks to DRM-free MP3, AAC, WAV, FLAC and other common formats without requiring you install iTunes at all.
Here we'll take TunesKit DRM Audiobook Converter as an example to show you the simple steps to break DRM control from iTunes and Audible audiobooks with a few clicks only. For tutorial of TunesKit Audible Audiobook Converter, you can follow this post: How to Remove DRM from Audible AA, AAX Audiobooks without iTunes >>
Step 1. Download and install TunesKit DRM Audiobook Converter on your Mac or PC.
Step 2. Open TunesKit and add the iTunes or Audible audiobooks into the converter. You can add the files via "Add Files" button or drag and drop.
Step 3. Once the audiobooks are loaded successfully, choose the output format for the files. Currently it supports MP3, AAC, M4A, WAV, FLAC. Here we choose MP3.
Step 4. Now begin to remove DRM from the audiobooks by clicking "Convert" button.
Wait till the conversion process completes. After that, find the converted DRM-free audiobooks and then follow the method in part 1 to sync the audiobooks to your Apple Watch. Once synced, you can hear the audiobooks from Apple Watch without iPhone.