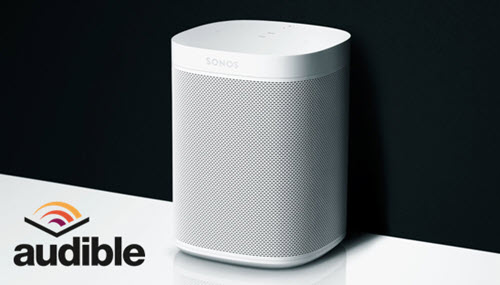 Audible, the world's largest audiobook provider, has made it easy for us to access any audiobook through different devices, for instance, the Sonos speakers. Now with Audible or Sonos app, Audible users can easily play any book from Audible straight to Sonos. Thanks to Alexa, the built-in voice assistant of Sonos, you can even control the playback of the audiobooks with just voice commands.
Here we'll introduce the complete guide to play Audible on Sonos using the apps. In addition to that, there are other simple ways of listening to Audible books on Sonos too. Just read on to find out the 3 most popular ways to stream Audible to Sonos One, Play:1, Play:5, Beam and more.
Method 1. Listen to Audible on Sonos Using Audible/Sonos App
This is the easiest way to play Audible books on Sonos devices. In this way, you only need to add Audible service to Sonos app (or the other way around) and then ask Alexa to play the audiobooks for you. Also, for new subscribers to Audible, you'll get two free credits plus a complimentary audiobook when signing up for its 30-day trial through the Sonos app. Here are the whole steps you can follow:
Getting Started with Audible App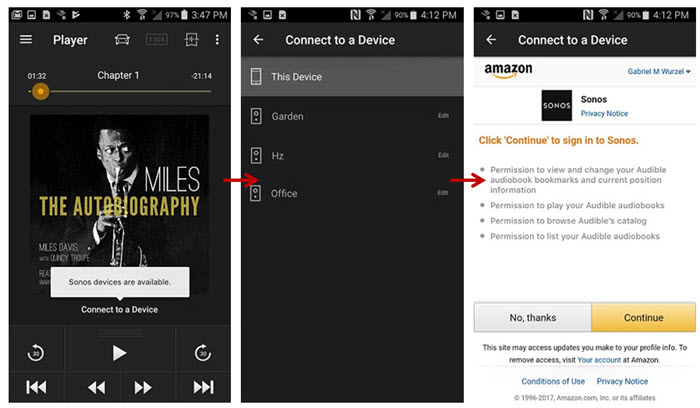 Step 1. Turn on your Sonos speaker. Make sure the system and Sonos app are up to date.
Step 2. Open the Audible app on your mobile device and connect it to the same Wi-Fi network you've set for the Sonos device.
Step 3. Tap on a book title from your Audible library and begin playing it. Then the message "Sonos devices are available" will appear at the bottom of the screen. Tap on "Connect to a Device" under that message.
Step 4. From the list of available devices, choose the correct Sonos speaker. Tap on "Continue" to authorize the required permissions.
Step 5. You'll see a short note saying "Some Audible features, like narration speed are unavailable on Sonos". Tap "OK" to complete the setup process and start listening.
Note: The unavailable features of using Sonos to play Audible books are including narration speed, sleep timer, bookmarks, chapter navigation, Stats and Badges, and Audible Channels.
Step 6. You can use voice commands to control the story telling with Amazon Alexa now.
Adding Audible Service to Sonos App

Step 1. Open Sonos app on your mobile device. Tap "More" button at the bottom right corner of the screen.
Step 2. Select "Add Music Services", then "Audible".
Step 3. Tap "Add to Sonos".
Step 4. Sign into your Audible account to authorize Audible with the Sonos app.
Step 5. After setting up your Audible account, you can return to Sonos app to begin listening.
Voice Commands You Can Use When Playing Audible on Alexa
Now you can take charge of your audios on Alexa with these basic voice commands:
"Alexa, read [the book title]."
"Alexa, play [title of a book] from Audible."
"Alexa, next chapter."
"Alexa, stop."
"Alexa, pause."
"Alexa, volume 6."
"Alexa, go forward."
...
Method 2. Play Audible Audiobooks on Sonos through Line-in Connection
Sonos supports to play music from either Internet or media devices like phones, tablets, computers and TVs which are connected. By connecting different Sonos product combinations via WiFi, it can bring the music to as many rooms as you want.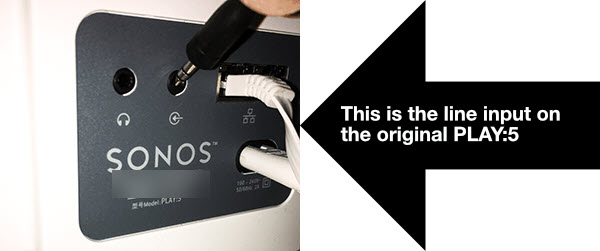 So, another feasible way to play Audible files on Sonos is through the line-in connection. What you need to do is simply connecting your external devices to Sonos speaker via an audio cable. After that, it will stream the audio book to your Sonos easily whenever you play the Audible files on your external devices.
However, not all the Sonos products support this line-in connection. By the way, you can enable the 'auto play' on the Sonos so that the audio can be played automatically when the external devices are connected. Else, you need to select 'line-in' from the Sonos music menu on the Sonos Controller.
Method 3. Play Audible on Sonos Freely by Converting Audible Books to Sonos
Line-in connection is not as convenient as the default app playback, because it requires to play Audible books on specific players such as Audible Manager, Windows Media Player or Apple iTunes. If you still prefer to connect Audible to Sonos via Wi-Fi, there's another easy solution for you. That is, to remove DRM from Audible and convert the audiobooks to Sonos compatible format like MP3. In this way, you can then sync the converted Audible files to Sonos speakers and play them via Alexa. Besides, it's also a great solution to back up your Audible audiobooks on any other device forever.
TunesKit Audible AA/AAX Converter is such a professional tool to convert Audible audiobooks. With the user-friendly interface and simple converting processes, it is effortless to remove the DRM and convert Audible files from encrypted AA/AAX to MP3 for Sonos quickly. It doesn't need to work with iTunes. In other words, you don't need to authorize the iTunes with Audible account before converting the books.
Key Features of TunesKit Audible Audiobook Converter
100% losslessly remove DRM from Audible audiobooks
Convert Audible AAX to MP3, WAV, FLAC, M4A, AAC, M4B
Keep ID3 tags, metadata and chapter info
Convert at up to 100X faster speed
Split large audiobook into small clips by chapters
Guide: How to Remove DRM and Sync Audible to Sonos
Step 1

Import the Audible audiobook files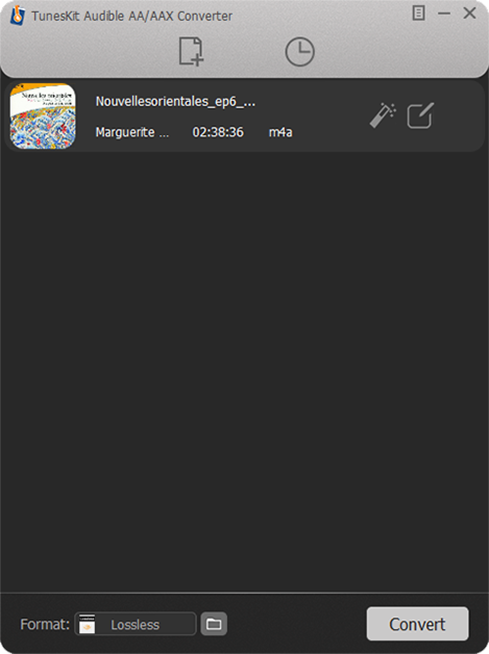 Download Audible files from Audible Download Manager and then locate the .AA or .AAX media files from your computer folder. After that, you can drag them to the software main screen to get started to remove DRM. Or click the adding files icon at the top center of the conversion window.
Step 2

Choose a Sonos compatible format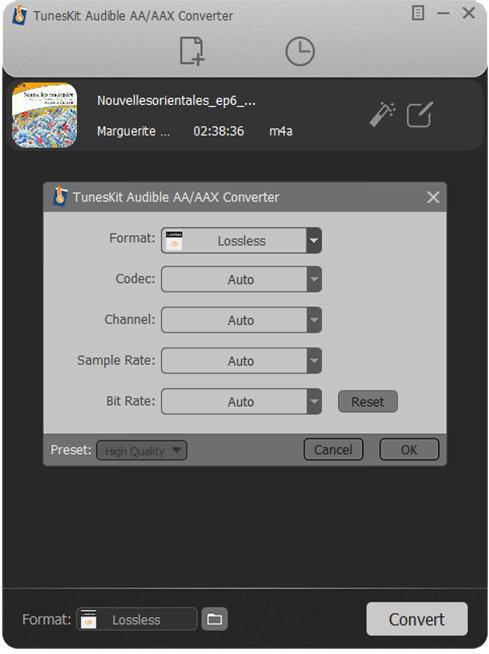 Sonos currently supports to play multiple audio formats such as AAC, MP3, WMA, FLAC, WAV, OGG, etc. Please just pick up one output format you want, for instance, MP3. You can also set the audio quality by changing the codec, sample rate, bit rate or other parameters.
Step 3

Convert the Audible audiobooks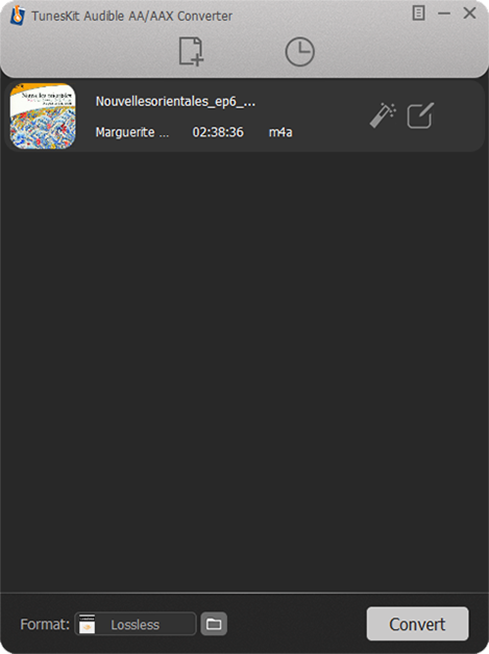 Click 'Convert' button to start converting all the Audible files to Sonos supported format. After that, the DRM will be removed and you can use the Sonos controller to add the audiobook files and play them on your Sonos devices via WiFi connection.
More Audible Audiobook Tips