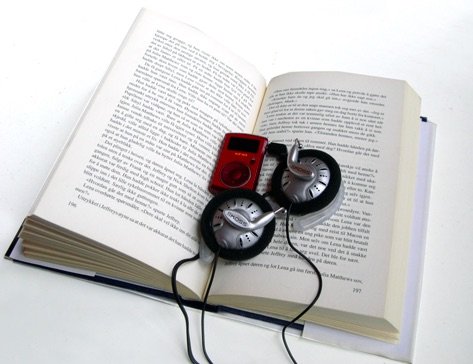 MP3 players have already become the best choice for audiobook lovers to listen to audio books for they are small, portable and easy to use. But in most cases, the MP3 player we are using may not be the best one for audiobooks due to different reasons. So in this article, we will discuss on some necessary things for you to consider when choosing an audiobook player while providing you a top list of what MP3 player is best for audiobooks.
What to Consider When Buying An Audio Book Player
Playback Quality
Playback quality, or sound clarity, is a basic yet important factor to decide whether an MP3 player is good or not. An audiobook player with great playback quality will make you more comfortable when listening to those spoken words. So it will always be necessary for you to try a sample audiobook to test the sound quality before buying the MP3 player.
Battery Life
Generally speaking, an audiobook will often be in hours long. Therefore, a good MP3 player for audiobooks should also be equipped with a long battery life, commonly for 10 to 15 hours in total, with which you won't be interrupted by the sudden power off of the audiobook player when you are in the middle of a good scene of the audiobook.
Storage Capacity
The storage capacity of the MP3 player is another important thing to consider if you have numerous audiobook files to put on the MP3 player. As a complete audiobook file often has a large size, you'd better to make sure your audiobook player has 4GB to 8GB capacity to store all your audiobooks.
Compatible Formats
Usually, a regular MP3 player is supposed to support some common audio formats, such as MP3, AAC, WMV, etc. Before you buy an MP3 player, you should confirm what kind of audiobook formats it's compatible with. You can download free audiobooks from online services like Overdrive, Lit2Go, Librophile, and so on to test whether the audiobooks play well on your MP3 player. But you should also know that some audiobooks are encrypted by DRM and only allowed to be played on certain selected MP3 players. Those well known DRM-locked audiobooks are sold from Apple iTunes Store and Audible.com. In order to listen to the DRM-ed audiobooks, you must either use the approved audiobook players or use some audiobook DRM removal tools, such as TunesKit Audible AA/AAX Converter for Mac or Windows, TunesKit DRM Audiobook Converter for Mac or Windows to remove the DRM from the protected iTunes and Audible audiobooks and convert them to supported audio formats by your MP3 player.
Bookmarking Ability
The bookmarking ability within an audiobook player is to allow you to bookmark a specific chapter or page so that you can come back later at this point without listening from the very beginning of the audiobook again. Since we can't always listen to a whole audiobook once, the basic bookmarking feature of an MP3 player is necessary and important.
Of course, there are other important factors to decide whether an MP3 player is best for audiobooks or not. The ones like price, navigating function, Wi-Fi connection, etc should also take into consideration while buying an audiobook player.
Top 5 Best MP3 Player for Audiobooks
Based on those rules for a best audiobook player discussed above, we've listed the top 5 best MP3 audiobook players for your reference.
1. Apple iPod Nano
The ease of using the click wheel (for the refurbished one) to control backward and forward while listening to an audiobook is one of the reason this MP3 player stands apart from the rest. Besides, it's in small size with a long batter life (30 hours) and large storage capacity (16GB). You can now get the new iPod nano at $149 in Apple store.
2. Apple iPod Touch
An iPod Touch is currently available at $299.00 for the 32GB and $399.00 for the 64GB at the Apple store. The greatest feature of iPod touch for audiobook is that it's able to remember the bookmarks for each book. And you can set audiobooks to play faster or slower than normal so you can hear them more quickly or slowly as you wish.
3. Sandisk Sansa
The SanDisk Sansa is a lot like a thumb drive, you can drag and drop audiobook files to it without having to install any software on your computer. Further more, it uses an expandable memory card slot so that you don't need to rely on your computer or the Internet when you want to listen to audiobooks. So the price for a Sansa mainly depends on the storage you require, usually from $22 to over $200.
4. Creative Zen
The Create Zen works well with audiobooks from Audible.com along with NetLibrary and Overdrive. With this MP3 player, you can easily store up to 10 bookmarks at a time. It's sold at $99 for 8GB model and $139.99 for 16GB.
5. Zune HD
Among all the 5 best MP3 audiobook players listed here, Zune HD might be a little more pricey for a 32 GB Zune is selling at $348.89. But the best part is that it will automatically resume where you left off from each audiobook so there are no bookmarks needed.